If you spend any time at all on cooking blogs, recipe sites, or watching YouTube chefs, you're probably at least familiar with Caraway cookware and bakeware. The Caraway brand has become well known in the culinary community for its claim to healthier cooking through pots and pans that don't contain any harmful chemicals or contaminants.
Its nonstick surfaces release food with ease, leaving you with a healthier meal and a pan that's a breeze to clean. Not only that, but the aesthetic of the cookware is absolutely stunning, available in a wide range of gorgeous hues and a sleek, modern style. It couldn't possibly be as great a brand as it's hyped up to be, right? Well, we decided to see for ourselves.
My family is hard on cookware. Like, really hard. My husband is a chef, and while I left the professional cooking biz behind ages ago, I do still know my way around the flames and blades of a home kitchen. Enter two kids who eat about 17 times a day, and my kitchen is a busy place. So I was curious, to say the least, when it came to Caraway's claims of healthier, easier cooking. Here's what I learned.
Why is Caraway cookware healthier?
Unlike other nonstick cookware, Caraway doesn't use any harmful chemicals or synthetics, like polytetrafluoroethylene (what Teflon is made from). As more and more research has shown, these synthetics can leach out toxic chemicals into the food they're cooking. Furthermore, research has shown that these chemicals, not-so-fondly nicknamed "forever chemicals," can stay in the human body for decades.
Caraway realized how absolutely disgusting this problem was and decided to invent a product that was just as conveniently nonstick, but made from mineral-based coatings that contain zero harmful toxins. Incredibly, Caraway pots and pans also release 60% less CO2 when produced compared to traditional nonstick coatings.
How well do they cook?
I was shocked at how well these pans retain heat. They come to temperature quickly and evenly, giving an even browning to everything I've cooked in them so far — including salmon, shrimp, chicken thighs, numerous vegetables, mushrooms, and even a few late-night pancakes.
I have a gas range, but Caraway products are also compatible with electric and induction stovetops.
These pans are also much lighter in weight than many on the market, making for easy maneuvering around a stovetop when you have several things cooking at once.
Are they really nonstick?
Yes. So much so, in fact, that when I lifted this pan from the oven and tilted it slightly in the process, the whole meal nearly slid right off the pan and onto the floor.
As you can see from the photo, I baked a skin-on salmon filet, as well as zucchini and green beans on the medium baking sheet. On all the ingredients total, I used less than a tablespoon of olive oil, and yet, the stick was completely nonexistent.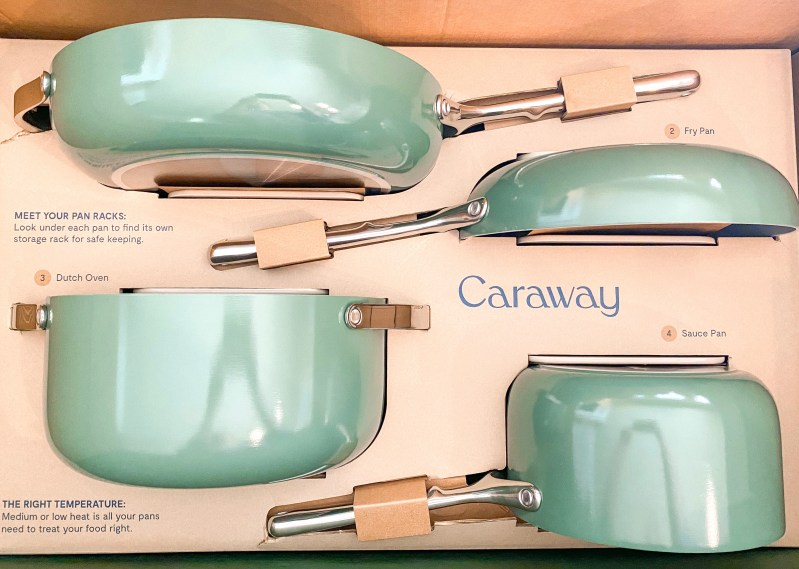 Are they dishwasher-safe pots and pans?
No, but it's not as big a deal as you think. Dishwashers use harsh soaps and detergents that aren't good for the nonstick properties of these pots and pans and can reduce their lifespan. But the truth is, there's really no need to put them in the dishwasher anyway because…
Are they easy to clean?
Caraway pots and pans are ridiculously simple to clean. No overnight soaking, no sweaty scrubbing, and no secretly throwing pans away because you just can't take the gunk. That's all over with these pots and pans. A sudsy run under warm water and a gentle wipe down, and these products are shiny and new again.
A special handy Cleaning Eraser came with a special Cleaning Eraser, but I haven't had to use it.
How long will they last?
Because these are so easy to clean, and there's no need for hard scrubbing or soaking, they'll last much longer than many other brands. When properly used, cleaned, and stored, these pots and pans will last for years. And because my family does so much cooking, in the short amount of time we've had them, we've used them several times. Still, they look absolutely brand new.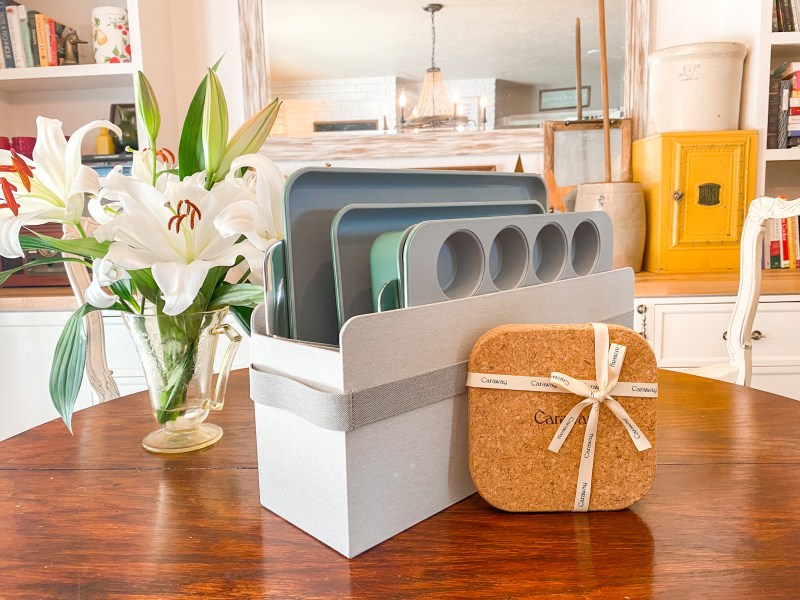 Will they work in any kitchen?
Cleverly and beautifully designed, these products can match almost any kitchen aesthetic. They're traditional, yet simultaneously sleek and modern. The wide range of colors will match any kitchen, and color schemes include the following:
Cream
Navy
Gray
Sage (pictured)
Perracotta
Marigold
Black
White
Rose quartz
Silt green
Emerald
Stone
Midnight
As far as cabinet space, , creating storage caddies and lid pouches that fit into most standard-sized cabinets.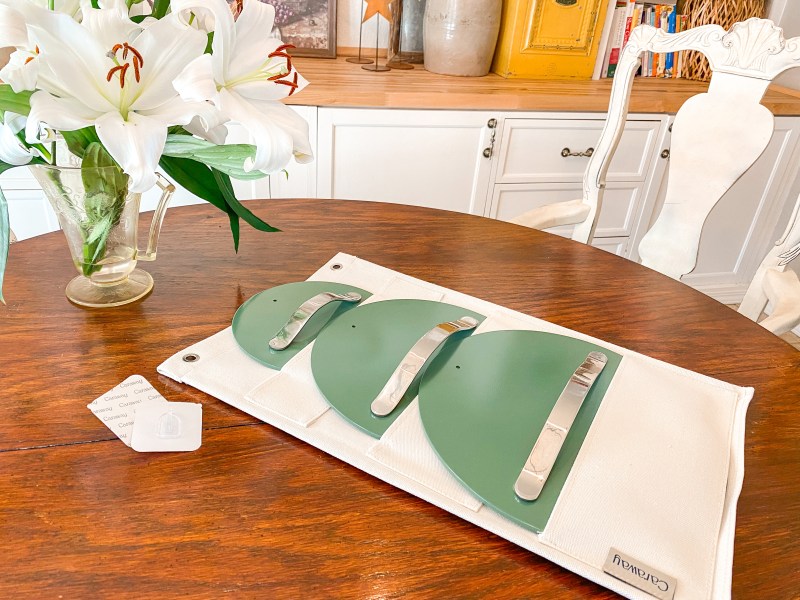 The truth is, for the sake of credibility, we'd love to say we found even the slightest flaw with these incredible pots and pans. But as it turns out, there isn't one.
Editors' Recommendations