Some novels beg for a drink pairing — think Hunter S. Thompson's The Rum Diaries, which pairs perfectly with Puerto Rican rum, The Great Gatsby with a mint julep, or Hemingway's The Sun Also Rises with, well, everything.
Mixologists at Bibliotheca Bar and Book Exchange in Adelaide, Australia, have mastered the craft of inventing imaginative spirit pairings inspired by their favorite novels, including the Harry Potter series (yes, it's similar to butter beer) and classics like Don Quixote, Lolita, and contemporary hit Memoirs of a Geisha.
"We create our cocktails by going over the book we decided to liquify and picking any particular tastes that were in a book and get associated with it," says Marina Tazhdynova, co-owner of Bibliotheca and master cocktail creator. "The defining spirit most of the time would be based on where the book takes place or where the author is from. Say Harry Potter is based in the U.K., so we had a choice of gin or Scotch. However, our Geisha drink is gin-based, but we infused it with nori to bring out a Japanese umami taste. Lolita takes place in the U.S., so that had to be bourbon."
"It's usually a long and painful process of creating new literature cocktails because flavors that are in and around some book not necessarily match and work together in real life. We also want it to be 100-percent spectacular and make our customers want to read the book after trying the drink."
Bibliotheca Bar also has a signature cocktail for The Master and Margarita, Lord of the Rings, Huckleberry Finn, and more. Since you're probably not heading to Adelaide tomorrow, here are the recipes of four novel-inspired cocktails you can make at home.
The Drink That Shall Not Be Named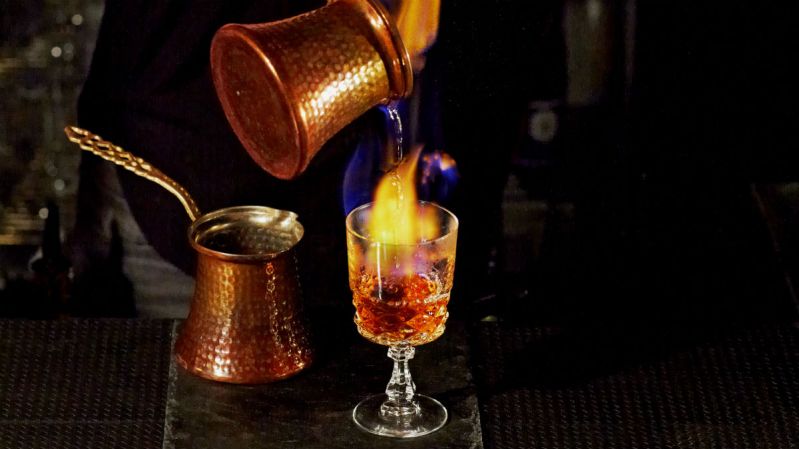 An adult butter beer served in a goblet of fire? Hell yes. However, much like destroying the Horcruxes in the Harry Potter books, this cocktail presents some challenges at home. If you have a skilled bartender friend, by all means, ask for their help.
50 ml blended scotch
15 ml butterscotch
Lemon twist
Pumpkin fizz*
Method: Mix Scotch and butterscotch and pour in cup. Set on fire. Blaze the mixture between two flaming cups (Turkish coffee pots in our case) and pour it into a goblet while still on fire. Spray lemon twist and drop it in the glass. Top up with pumpkin fizz.
*Pumpkin fizz: Juice a fresh butternut pumpkin and boil down the juice with some sugar syrup and water, making a rich pumpkin cordial. Add water to your desired level of sweet and pumpkin flavor. Put in a soda charger to carbonate.
Memoirs of a Geisha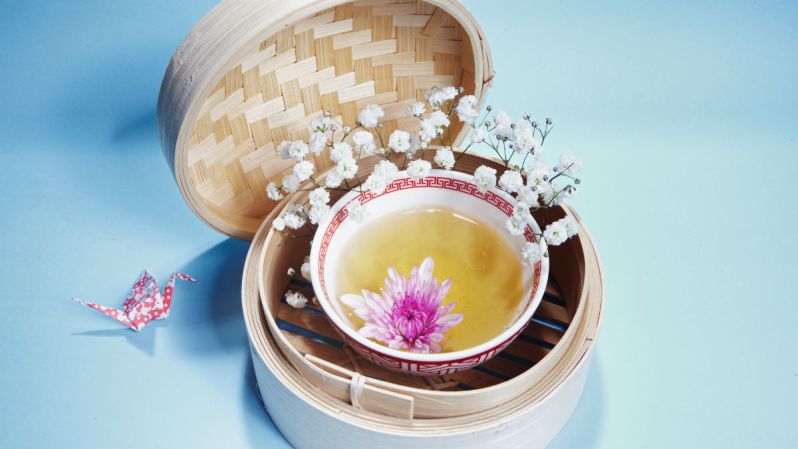 With its nori infusion and ritual presentation, this drink embodies the ornamental and authenticity of Japan, the setting for the best-selling Memoirs of a Geisha by Arthur Golden.
45 ml nori-infused gin
30 ml lychee juice
3 dashes sesame oil
2 dashes peach bitters
1 dash sugar syrup
Edible flower
Green tea
Method: Stir together gin, lychee juice, sugar syrup, and peach bitters, and pour into a tea or rice cup. Float three dashes of light sesame oil and an edible flower. Place cup into bamboo steamer, close the lid, and smoke it with green tea. "We just place green tea on a slate, put it on fire (yes, we love setting things on fire), and place bamboo steamer on top," says Tazhdynova.
Don Quixote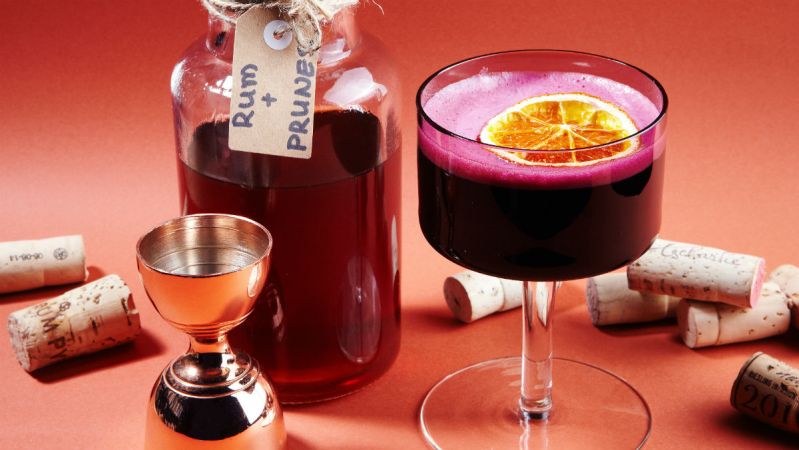 Bibliotheca featured Spanish tastes and heritage for this refined "Spain-in-a -glass" cocktail that is both rich and relaxing. "It's like enjoying sangria on a sunset," says Tazhdynova.
35 ml prune-infused rum (it tastes like sherry but stronger)
35 ml Pedro Ximenez sherry
15 ml fresh lime juice
25 ml Spanish Tempranillo
Dehydrated orange
Method: Shake all liquid ingredients together and fine strain into cocktail coupe. Garnish with dehydrated orange.
Lolita
Described as a young twist on an old Manhattan, this cocktail is the perfect blend of aged and childish. (We're re-reading Vladimir Nabokov's controversial masterpiece just to enjoy this pairing).
60 ml strawberry-infused bourbon
20 ml Dolin Chamberyzette (strawberry vermouth)
2 dashes black walnut bitters
Fairy floss and gummy bears
Method: Stir liquid ingredients and pour into martini glass. Garnish with fairy floss and gummy bears.
Editors' Recommendations