It's easy to associate the Mint Julep with horse racing and a bygone era of porch sipping, somewhere in the south. And while those are legitimate thoughts, it limits a classic cocktail to certain occasions (such as the running of the Kentucky Derby) or particular geographic coordinates. Well, this refreshing drink ought to do more than just that, especially in the heat of season when the cooling powers of ice and mint are all the more welcome.
Per our theme of chatting up industry pros on classic cocktail wisdom, we reached out to somebody in the know. Steve Fette is a Craft Spirit Development Specialist at Allied Beverage Group, which is based in New Jersey. He says a proper Julep should be strong, ice cold, tout minty aromatics, and be just a touch sweet. "No citrus, no shaking," he said. "Just spirit, sugar, mint, and ice."
The mint is easy to overlook, but it's a critical component of the cocktail. "Quality and quantity are paramount for any julep," Fette says. "Choose big, bright, 'happy' mint leaves. Avoid brown or decaying leaves." How many? Probably more than one would think. "A standard Julep takes about 15 decent-sized leaves," he says. "Be sure to save a few happy stems to garnish with."
One major mistake people often make involves over-muddling and thus destroying the aromatic potential of the drink. "People tend to think of muddling as a way to release any anger or aggression by pulverizing whatever is in the cup," Fette says. "When treating mint in this fashion the leaves break, releasing bitter flavors into the cup. Instead, try to lightly tap the leaves with a muddler so you are just bruising the leaves without shredding. You will be able to smell the difference instantly."
A decidedly icy drink, the nature of the frozen water is quite important, too. Fette says crushed ice is the way to go, as it chills and dilutes the Julep faster than other types of ice. Plus, it's just plain fun to work with. "Crushed ice adds an aesthetic touch that can resemble an adult snow-cone," he said.
What about serving it up once it's made? Fette said the preferred vessel is the silver-plated cup, made iconic by the Kentucky Derby, but there are other routes one can take. "There are less expensive stainless steel and copper plated versions available as well.," he adds. "At the end of the day, one only needs a rocks or highball glass with a volume of at least 10 ounces."
Try the classic recipe (below) to experience the purest form of the Mint Julep. For something a little more experimental, try Fette's pear adaptation as well.
Classic Mint Julep Recipe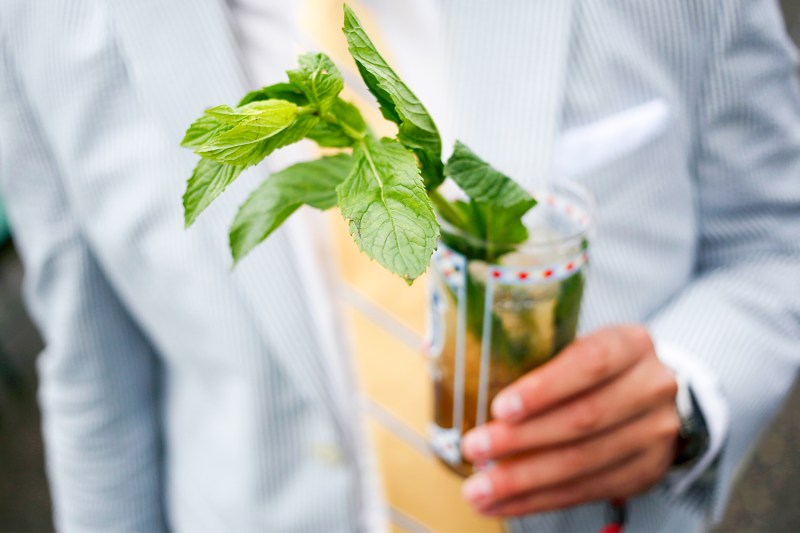 It's a simple drink all about balance and freshness. And if you like mint, go all-in, as it's nearly impossible to overdo it. Focus more and that balance of bourbon to simple syrup and adjust according to your palate, or perhaps the type of spirit used (rye whiskey, for example, might ask for a bit more as it tends to be more spicy and peppery).
Ingredients:
Method:
Muddle the mint in the glass to express the essential oils. Add bourbon, simple syrup, and crushed ice. Stir. Garnish with more mint.
Pear Julep
(Created by Steve Fette, Allied Beverage)
We all know about apple's affinity for brandy and whiskey but a pear is a great candidate too. Here, it plays off a pair of brown spirits and complements the molasses notes of the demerara sugar nicely
Ingredients:
1 ounces Baller Single Malt Whiskey
1 ounces B&E American Whiskey
.5 ounces St. George Pear Brandy
.25 ounces St. George Spiced Pear Liqueur
.5 ounces demerara syrup
12-16 mint leaves
Method:
Add mint leaves and syrup to a Julep cup and lightly muddle. Add spirits. Fill halfway with crushed ice. Swizzle or stir until cup is ice cold. Top with additional crushed ice and form a dome on top. Garnish with a bountiful bouquet of mint, a spiced poached pear slice, and brandied cherry. Sprinkle powdered sugar on top.
Editors' Recommendations