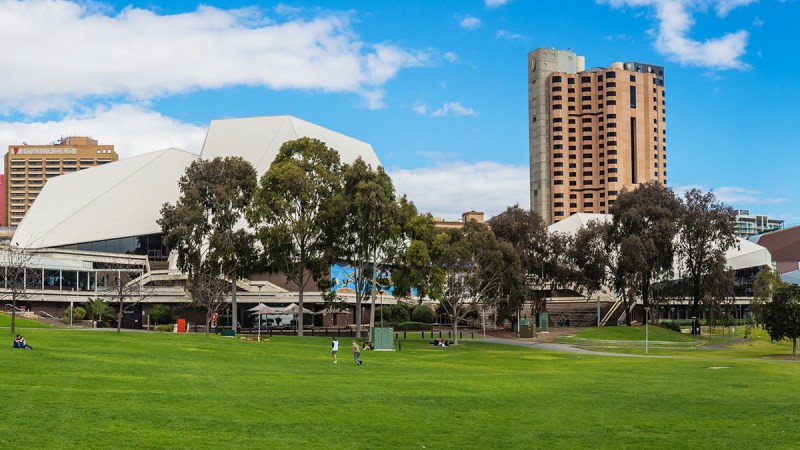 Sure, Australia has Sydney and Bondi and Melbourne, but if you're looking to explore a more homey side to the Down Under, visit the sweet city of Adelaide and its modern bars, stunning beaches, and kangaroo-packed hills. Here are the best restaurants, barbers, booze spots, and local hangs in the capital of South Australia.
Attractions
Cleland Wildlife Park
You may have seen a kangaroo, wombat, or wallaby caged in a zoo, but did you pet them? Feed them from your hand? Cleland Wildlife Park is a zoo without bars where you can go up to wild Australian animals and scratch their heads or give them a nibble of feed. (Obviously, if they growl or are resting in a corner, back the hell off.) A quick 20 minutes up the winding Mount Lofty Summit Road in the Adelaide Hills and you'll be inches away from baby joeys. Spend the afternoon strolling the park, followed by a hike to Mt. Lofty Summit.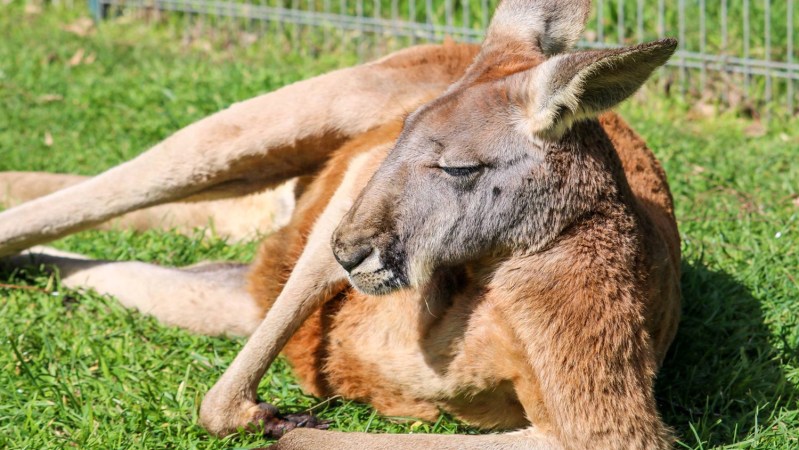 Restaurants
Jamface
An eclectic and homey mini-eatery located in the maze of Adelaide's Central Market (the best place to get lost for the day), Jamface is the passion project of Poh Ling Yeow, a Malaysian-born Australian artist and runner-up in Master Chef Australia. A heaven-sent for brekkie (breakfast), coffee, and lunch, we suggest the Scandi, a beaut of a dish using gorgeous Ora King Smoked Salmon, two poached eggs, horseradish sour cream, pickle fresh, dill red onion, caper relish, and radish on rye toast. Bonus: The coffee is rich and all sweets are made from scratch.
Oyster Bar
Although there are multiple locations around the city, head to Oyster Bar's indoor/outdoor location overlooking Glenelg's Marina Pier. Here you can sip Prosecco to views of luxury yachts, sailboats, and the ocean. And hold your horses before ordering a plate of oysters (duh, Oyster Bar), because the real shucking magic is the salt and pepper squid. This is a popular dish in Adelaide, given its proximity to fresh seafood. Worlds apart from the chewy, rubber-band squid of the U.S., Oyster Bar's squid (dipped in rich aioli) melts in your mouth. OK, OK, order oysters as well, since these mollusks are sourced from the best oyster farms in Coffin Bay. (On a related note, if you don't know how to shuck an oyster, here's how).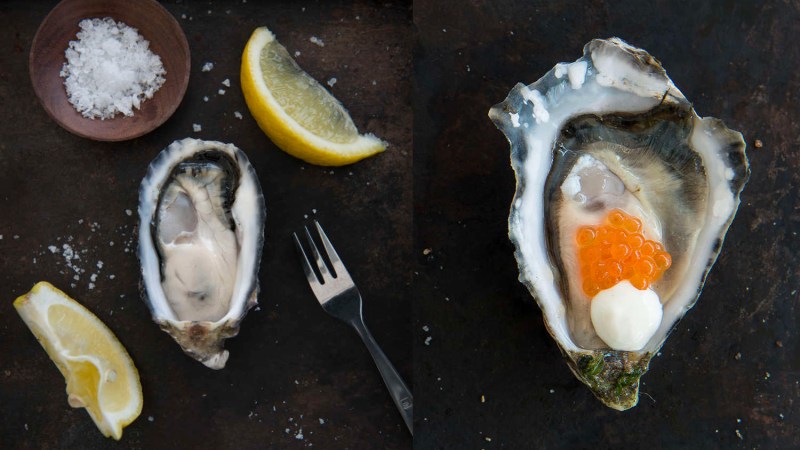 Bars
Maybe Mae
If a bar is in a basement, you know it's gonna be good. Located in a moody basement tunnel between Peel and Leight Street in Adelaide's West End, Maybe Mae offers sustainable craft cocktails in emerald leather booths and Prohibition-era gold lighting. The drinks are brilliantly balanced with classic spirits and bright herbs, such as the Eastside Seventy-Five made of London gin, Champagne, mint, lemon, and cucumber, and then Bill Murray-mixed with Japanese whiskey ("for a relaxing time…"), apricot brandy, mint, lemon, and froth. Honestly, there wasn't one drink on the menu we'd say no to.
The Bibliotheca Bar & Book Exchange
Finally! A bar for the introvert and book nerd (who may have gotten a few dirty looks when they brought a homemade Manhattan to the library). Like to drink great drinks and read great books? The Bibliotheca Bar in Adelaide's Central Business District is a quaint, European-style bar that welcomes both. Bring a book to exchange for another on one of the many bookshelves, order a Rosemary's Child (clean stirred bourbon smoked in rosemary), and enjoy under library-inspired, green-hooded brass reading lamps. With frequent and often literary-inspired changes to the menu, The Bibliotheca also keeps the traditional Old Fashioned, Negroni, etc., so you can read and drink the classics.
Barbers
The Men's Room
Accurately named, The Men's Room holds shop in central Adelaide, offering men in need of a slick cut, style, or trim a place to kick their feet up in an authentic barber's chair and talk footy, power tools, booze, and where to get the best meat pies. Guarded by the famous Lenny, a British bulldog, only blokes are allowed in this rugged, expertly decorated grooming spot. Enjoy an espresso, marvel at the dark wood floors, and ask for a Classic or Clipper Cut.
Coffee Joints
Please Say Please
A coat-closet of a space, Please Say Please makes up for its size by brewing phenomenally rich and sweet beans with the perfect edge of bitterness. The super nice baristas don't mind if you're jetting in for a quick black on-the-go or in the mood to chit-chat. They're happy to oblige (after all, they've been drinking the elixir all a.m.). Ordinarily we order a small black coffee, but Please Say Please called for a creamy latte and macaron — they change flavors every week. On the following visit, we reverted to our black coffee, and it was decadent and satisfying paired with an espresso cronut. We left adequately buzzed for the day ahead.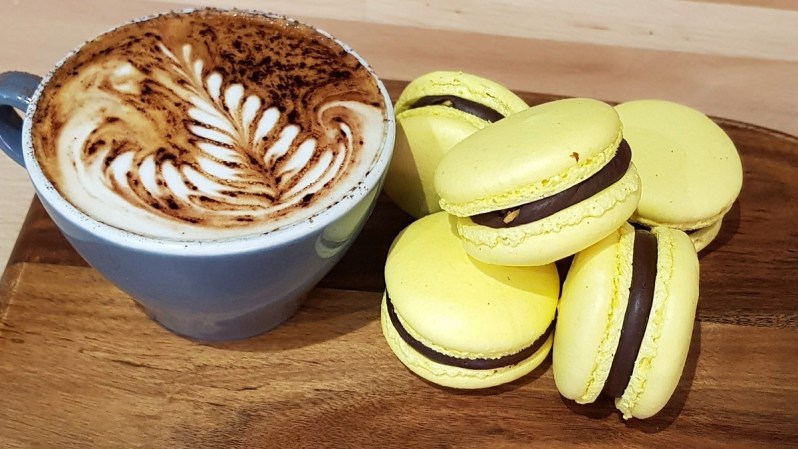 Farmers Union Iced Coffee
There is no trip to Adelaide (Australia, really) without Farmers Union. Consider it a ritual of cultural indoctrination. Sold at gas stations and grocery stores, Farmers Union Iced Coffee has become a cult icon in the country. The sweet, creamy coffee sold in a traditional milk carton tastes like a blend of ice cream and coffee. It's hard to drink tons in the morning due to the immense sugar rush you'll get, but it's a great afternoon sip when you're craving something sweet and caffeinated. A banana for scale: Farmers Union Iced Coffee outsold Coca-Cola in South Australia 3:1 in 2008. So yeah, it's a big deal.
Shops
Cotton On
To be frank, you don't go to Adelaide for upscale boutique menswear (jet to Paris for that). Here in the land of the singlet, your shopping will be condensed to fun, inexpensive tanks. Seek these threads at Jetty Road's Cotton On, a popular Aussie retail chain known for its fast-fashion. You won't find any of the these fun patterns, prints, and patches in the U.S. and you can grab two singlets for around $30. Our favorite was plain white with a small seagull patch on the chest with a backwards "cheers" underneath. These "souvenirs" are also more versatile than a loud "I've Been to Adelaide!" shirt. Style note: If you're buying a regular short-sleeve, you may be surprised by the length. Aussie men's style holds preference to a below-the-hips cut. After changing into your singlet, walk suns-out-guns-out down the Jetty Pier.
Local Secrets
Morphettville Racecourse
Recreate like a local at the Morphettville Racecourse, the main horse-racing track for South Australia and home to the South Australia Jockey Club. The best day to go is Victoria Derby Day, held every year at Morphettville. Locals dress to the nines for the glamorous spring day (Australia's spring is in November) and bet on live racing. Have a cocktail … or four. Although the dress code is black-and-white, the event is first and foremost a party, and has a reputation of getting quite wily quite quick. But it's all good fun.
Editors' Recommendations