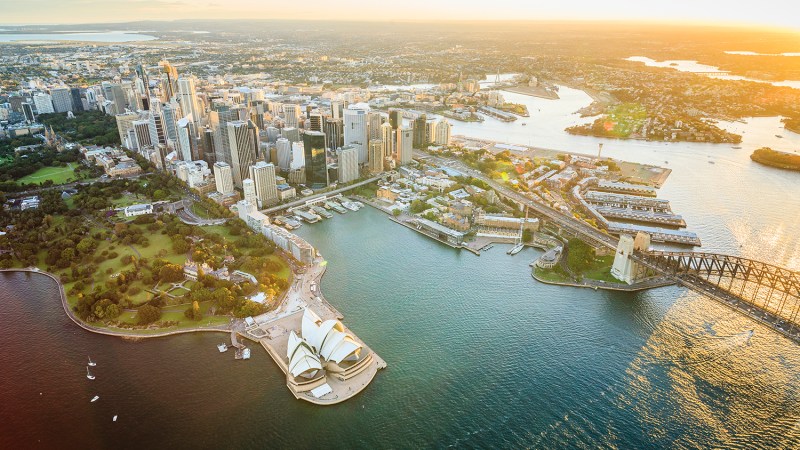 This is your sign: Book a ticket to Sydney, Australia.
Flights aren't cheap, and the 16-plus hour plane ride across the Pacific Ocean might be the longest you'll ever chart, but Australia is a land and culture well worth the trip. We recommend going in winter (Australia's summer) and staying for at least two weeks (please refer back to the 16-hour plane ride; most travel to-and-from Australia is over 24-hours long, and most experts say you need as many days as time zones you cross to recover from jet lag).
So, pack your thongs (sandals), togs (swim suit), exchange your USD for colorful Australian dollars (our dollar is doing pretty well since $1 U.S. equals $1.25 Australian), and memorize this list of best barbers, suit shops, booze stops, and tourist attractions that make Sydney one of the most amazing cities in the world.
Attractions
Sydney Opera House
Make sure you're staying in the city — we recommend Primus Hotel Sydney on Pitt Street, which is equal distances to the Opera House, Darling Harbor, and China Town. The second you drop off your bags, get moving on the streets. Staying awake and exploring will help you adjust to the time difference. Sydney's Opera House is an easy bucket-list item you can reach with a 10-minute walk. This multi-venue performing arts center is one of the 20th Century's most famous buildings and makes for the perfect #wemadeit photo op. Instead of shelling out cash for a tour, take a long walk around Bennelong Point, catching views of the Sydney Harbor Bridge (one of the most iconic bridges on the planet) and the fresh salty air. Take a seat below the Opera House ceiling shells beside the water and order a flat white from the Opera Bar.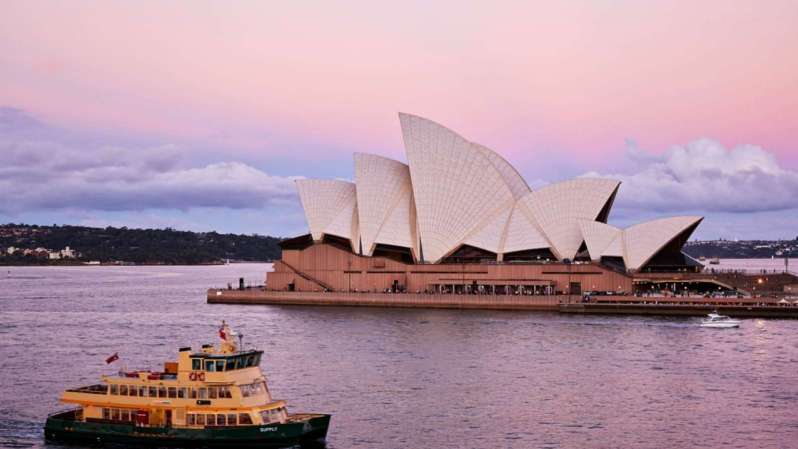 Quick note: If you're an iced coffee fiend like ourselves, you won't be able to get one in Australia. Order an "iced coffee" and you'll get a latte-sized affogato (espresso with milk and a scoop of ice cream). Stick with your espresso-based coffees while in the southern hemisphere.
The Royal Botanic Garden Sydney
After taking in the gorgeous architecture of the Opera House, follow one of the many paths leading from Sydney Harbor to a beautiful green space in the heart of the city. This 74-acre garden acts more as a city park, as it's open every day and free to wander (a great spot for a morning run). Opened in 1816, the Royal Botanic Garden has since flourished into a rich oasis that is home to some of the rarest trees, flowers, and foliage on the planet — perhaps why the garden is called one of the most important historic botanical institutions in the world. Divided into four major gardens with smaller groves and wooded lawns within, we gleefully lost ourselves for the rest of the day amid blooming magnolia trees, classical sculptures, native Kookaburra birds, and agave as tall as houses. Seriously, don't miss this sight.

Bars
The Baxter Inn
Only top-shelf whiskeys allowed. Need we say more? The Baxter Inn will be your happy hour refuge from the busy rush-hour streets of Sydney. (Enter through the sketchy loading dock.) The refined little brother to the low-lit Shady Pines Saloon cowboy bar, The Baxter Inn ditches themes and gimmicks for a classic speakeasy vibe that doesn't charge too much, which is why it is considered one of the world's best whiskey bars. If whiskey isn't your bag, I'd still recommend drinking here and ordering instead an expertly mixed gin cocktail.
Burrow Bar
The best bars in Sydney are hard to find (let that be a rule of thumb) and it applies to the basement hideaway Burrow Bar. Cocktails, craft beer, boutique spirits, and wine make up the menu of this local-loved, orange-lit escape. It feels more like drinking with friends and family in this cozy room, backed by sandstone walls and enclosed in timber ceilings. Cocktails are refreshed every two to three weeks, but expect earthy and herbaceous twists on mezcal, rum, and rye. To find it, go down De Mestre Place and stop at the fire door decorated with an ornate letter "B." Look for AstroTurf.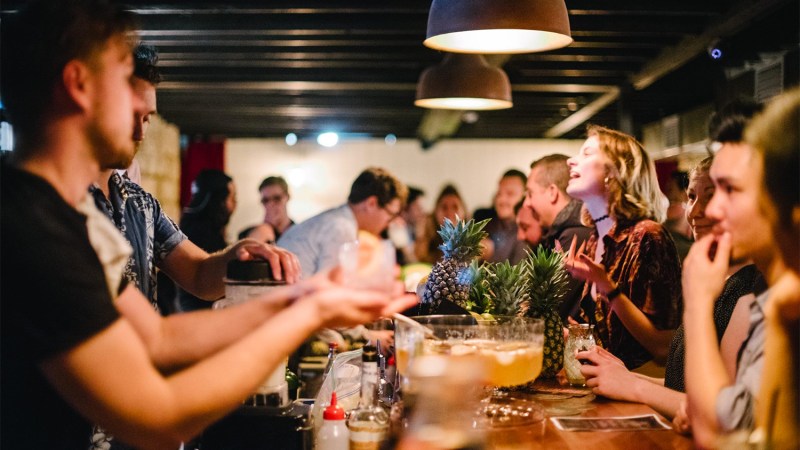 Papa Gede's Bar
Voodoo décor and a wild menu of rum-based cocktails and monthly comedy shows make Papa Gede's one of the most fun and delicious spots to booze in Sydney. Seriously, look at this insane menu. Witch-doctor apothecary and plenty of well-placed tiki tributes have hit a note with locals, who tasted the herbal elixir "punch" and dubbed this their go-to bar in all the city.
Restaurants
The Morrison Bar and Oyster Room
We had one dish on our minds since landing in Sydney: oysters. You'll be hard-pressed to find a bad catch, but if you're looking to slurp the best of the best, head to the Johnson's Building for The Morrison's Oyster Room, a joint centered entirely around the salty delicacy. Offering a variety of Rock oysters and Pacific oysters, expect creamy, fresh, and full mollusk morsels that are sustainably sourced. If you've never had a Rock oyster, be prepared for mineral flavors and vegetal notes (we mean really rich and creamy). Pair with a cheeky cocktail and duck fat fish and chips for the main.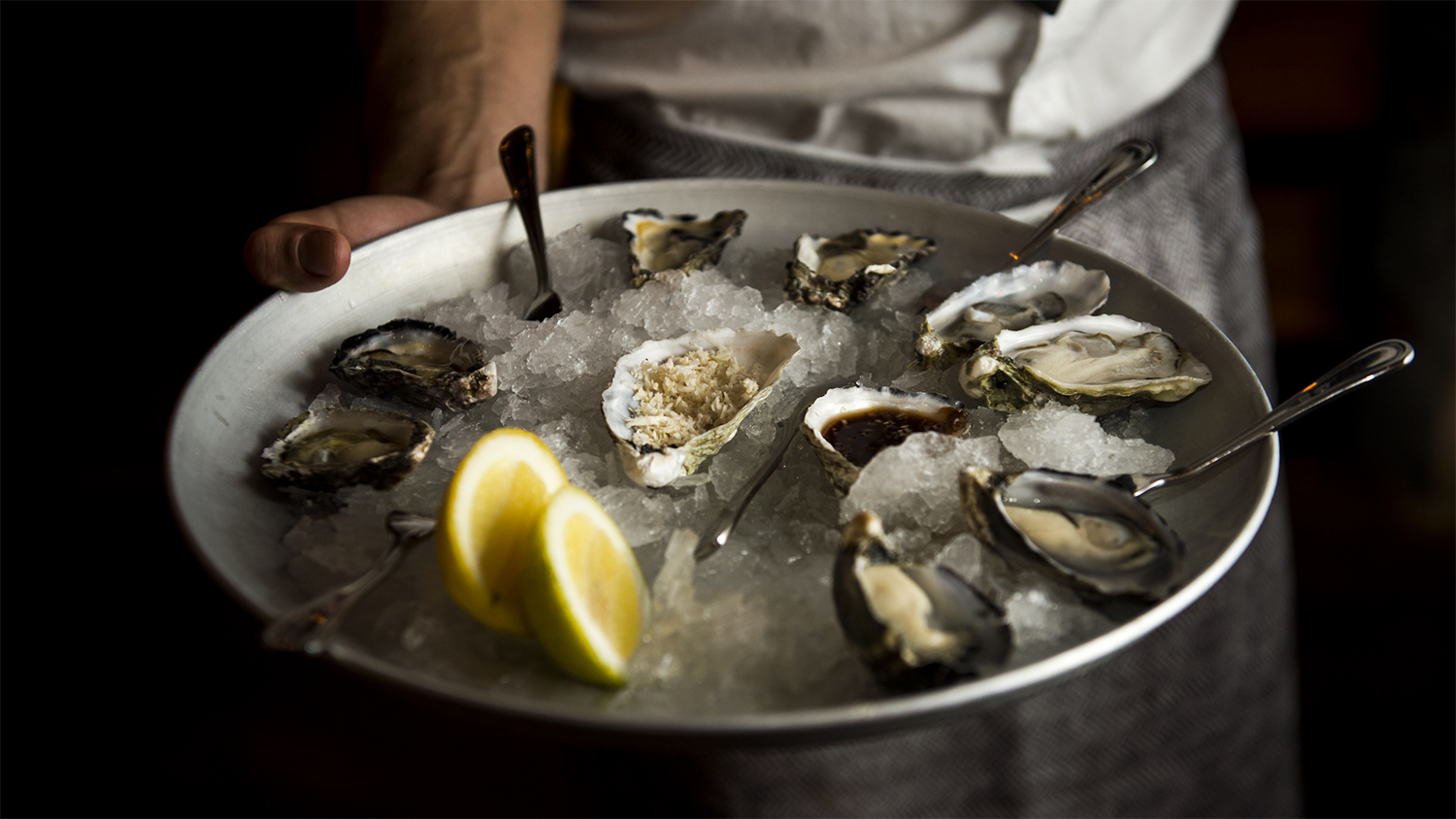 Korean Noodles
We're not going to assign one particular spot since most of them are nearly untraceable online, impossible to pronounce, and difficult to return to in the busy Koreatown of Sydney's Pitt street, but many of these restaurants offer roughly the same menu of Korean barbecue, jajangmyeon (Korean noodles with black bean sauce), and vegetable or meat-packed rice noodles. These menus are plastered like billboards to the outside of the eateries with images of each dish. Your mission: be brave and adventurous. We fell in love with a little spot that served domestic Korean beer with jajangmyeon mixed with at least four different types of mushrooms.
Shops
M.J. Bale
This Sydney-born menswear label (and like-named shop) combines the finest Australian Merino wool with artisan fabric weavers from Italy before reaching master tailors in Japan to create suits of exacting fit and finish. One of these bad boys will set you back a pretty penny, but it's a suit you need in your closet. The label even created a "crumple-free" suit that will withstand the beating of your long flight home. M.J. Bale has a few locations around the city, but opt to shop in the Queen Victoria Building built in the gorgeous style of Romanesque Revival. This "mall" puts U.S. versions to shame and really gives you the sense of being out of country. Plus, there are easy-going cafes amid the luxury shops.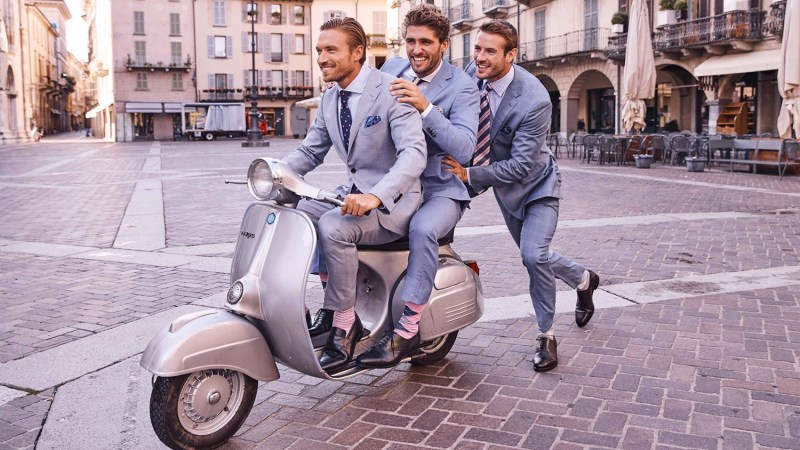 Joe Banana
There is no Australia without party shirts. Definition: a button-down, often short sleeve, with a wild, colorful pattern. Joe Banana, the iconic Australian menswear designer, is the king of upscale party shirts. With a focus on sharp patterns and stylish jackets, hand-woven in silk and linen, the colors, cuts, and character of these threads are for the stylistically brave — perhaps why they're worn by celebrities like Elton John, Stephen Fry, and Cliff Richard. Take a risk and fall in love with one of the eclectic prints (for example, Underwater Aliens, Neon Garden, or Kaleidoscope).
R.M. Williams
Boots, boots, boots. We love R.M. Williams boots, established in Australia in 1932. Founded by Reginald Murray Williams, a rugged bush cobbler, these exquisite leather boots were born to fit the man who is a passionate explorer, pastoralist, horseman, stockman, stonemason, leather craftsman, and businessman. Design your own and R.M. will cut, thread, elastic, and stitch them into being, all from one piece of leather. After 80 years, you better believe they have it down to a science.

Barbers
Men's Biz
The motto at this hole-in-the-wall barber is: "A better life through better grooming." We couldn't agree more. One-part barber and one-part product shop, Men's Biz experts hand-pick a curated selection of grooming essentials, including skincare, hair care, and fragrances — accounting for the full spectrum from modern to classic, affordable to high-high-end. The skilled barbers are the real deal, while the vibe is a throwback to old-school barber shops.
Moe & Co
Find yourself across town exploring Darling Harbor? Go underground to the punk-rock Moe & Co for a shave or cut in the small, graffiti-walled salon founded by Aussie brothers Bill and Moe. The environment is relaxed and they stick by the "no appointment necessary" creed. If you're traveling with a co-pilot, she can get a blow-out while you're getting shaped.
Beaches
Bondi Beach
Packed no matter if it's Tuesday or Saturday, Bondi Beach is a well-known destination for both international travelers and local beach bums. Just a 40-minute bus ride from Sydney or 15-minute Uber, at Bondi, the waves are tough but the vibes are nice. We suggest only going to Bondi if you're itching to see the iconic Bondi Iceberg Club in person. Otherwise, avoid all the kitschy souvenir shops and crowds for these secret beaches …
Jarvis Bay
Hello, white-sand beaches, turquoise water, and wide-open lunge space. Jarvis Bay is the perfect beach escape for swimming and relaxing. It's also one of the best spots in Australia to witness humpback whales on their annual migrations (June through to November). The unspoiled coastal and country villages around the area have local produce markets, boutique shops, and art galleries … but let's be real, you'll want to stay on the beach. Pack your crisps (chips) and a Vegemite sandwich for a long day in the sun.
Hayms Beach
This seaside village notorious among Sydney locals as a tourist-free escape for surfing, white-sands, and camping may be two and a half hours south of the city, but it's a gorgeous drive down the coast and well-worth the excursion. This plot of perfect beach is a part of Jarvis Bay and receives gentle (if any) swells, making for a perfect swimming spot. (Back in Bondi, the surf will knock you over at only calf-deep.) This is truly a pristine and jaw-dropping beach. Make a weekend out of it and get a tent at the luxury glamping Paperbark Camp.
Juice Bars
Joe and the Juice
A trendy juice and coffee spot with modern tropical design makes for the perfect midday fuel-up (in both taste and aesthetic). Choose from juices, shakes, "Joegurts," shots, sammies, and coffee, all with a ridiculously fresh and vibrant taste. Readers from Chicago, New York, and even Stockholm may know what we're talking about, as Joe and the Juice has international locations. Its Sydney spot is prime, however, because after a day in the humid heat, your body will be craving a fresh squeeze.
Boost Juice
A long-standing Aussie smoothie chain, Boost Juice is a quick-stop staple among locals — and seriously the best smoothie we've ever had. Plus, it's a cheap alternative to another pricey coffee. (Australians love their coffee.) The founders were inspired to start the company after seeing the juice craze rise in the U.S. in the early 2000s. Learn to phrase it right among your Aussie comrades: "Want a Boost?"
Editors' Recommendations