Editor's Note: Last November we had the pleasure of spending 10 captivating days in Scotland. Below is but one adventure of many from our stay. We hope the joy we experienced comes through in all our posts and missives from our adventure, which no doubt read better with a wee dram in hand.
This week, we speak with Benjamin Patchett, owner of Benjamin's Barbershop in Edinburgh, Scotland.
For Benjamin Patchett, barbering isn't just about cutting hair and shaping beards. It's an art he's truly passionate about, and one that he has mastered at his shop, Benjamin's Barber Shop, in Edinburgh, Scotland.
When you step into Benjamin's Barber Shop, there's a sense of nostalgia in the air.
Now 30 years old, Benjamin started cutting hair when he was just a wee lad at 16. He remembers the first cuts he made in his parents' garage using his dad's Wahl branded clippers that his father used to shave his own head. Benjamin admittedly acknowledged the learning curve to getting started in the business, "Soon after a few sketchy garage cuts, I landed an apprenticeship at the local salon my Mum used to visit, sweeping hair, making cups of tea, and learning to cut both ladies' and gents' hair."
In 2013, he set out to start his own venture and opened Benjamin's Barber Shop in Edinburgh, Scotland. Since then, his customer base and popularity in the city has grown beyond unimaginable heights. Benjamin's shop has been listed by lifestyle website WOW 24/7 as one of the five best barber shops in Edinburgh, and he was also featured as the "Business of the Week" by What's on Edinburgh.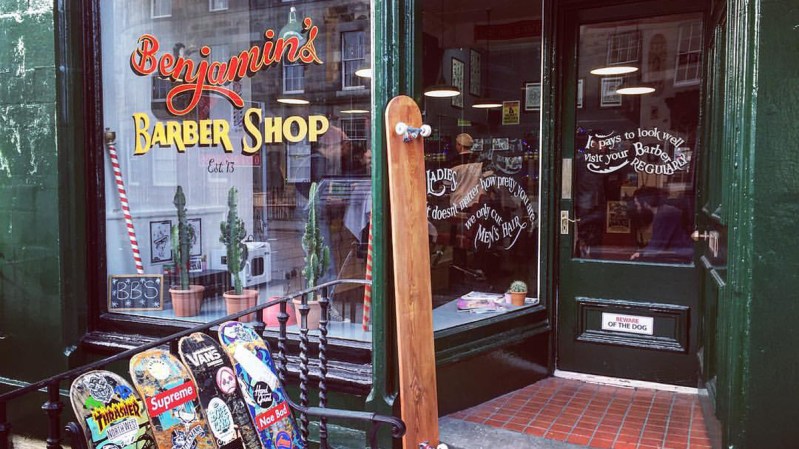 So why do the men of Edinburgh prefer Benjamin's Barber Shop to the competition? It's because Benjamin prefers to keep things around his shop strictly old school. You see, he's a traditionalist – someone that believes if it ain't broke, don't fix it.
At Benjamin's shop, you'll notice the rustic hardwood floors beneath your feet, vintage decor including a giant, stuffed wild boar's head and skateboards lining the walls, the slight hint of good whiskey and Benjamin's homemade Bay Rum wafting through the shop, and his 2 year old French bulldog Oswald (Ozzy for short) rolling around with his favorite baseball. When you step into Benjamin's Barber Shop, there's a sense of nostalgia in the air.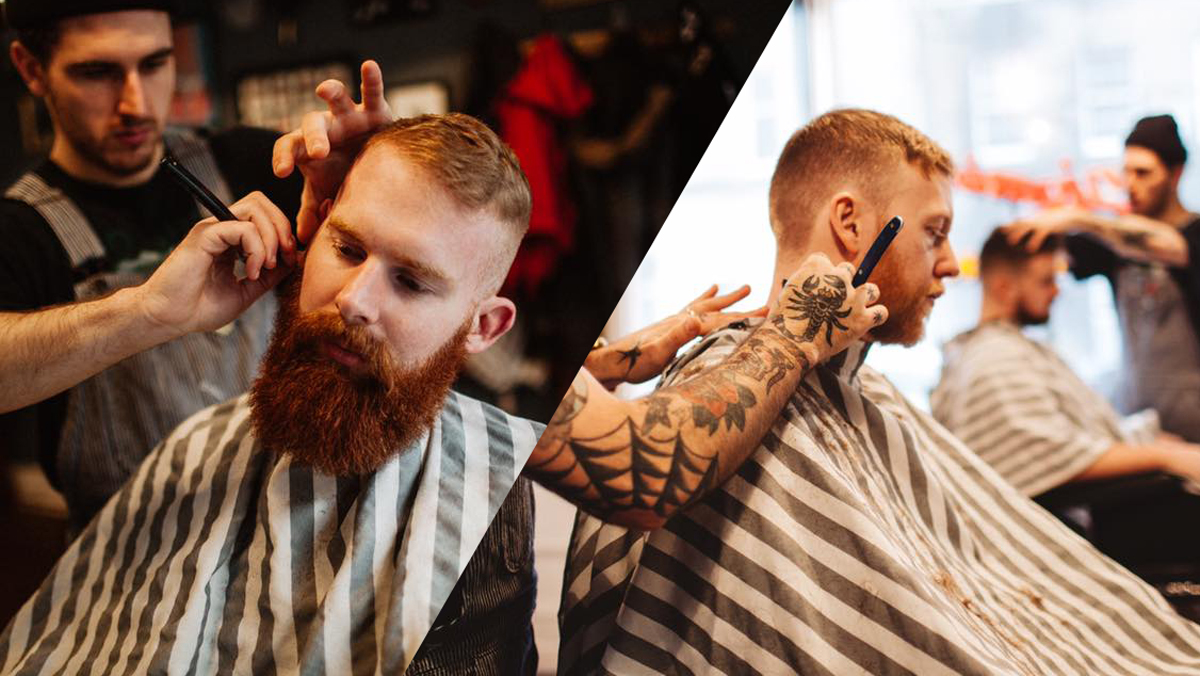 You won't find anything fancy or glamorous at Benjamin's shop, but for him and his loyal clientele that's just fine. Since day one at Benjamin's Barber Shop, Benjamin has stuck with his old-fashioned approach to running a small business and his philosophy has paid dividends.
We sat down with Benjamin to talk about his craft, shop, and to get to know him a little bit better.
When did you decide that you wanted to be a barber?
I think trends in barbering are becoming more global than regional, as we see barbers from all over the world sharing ideas over social media, doing guest spots etc…
After eight years of service (in the salon), I jumped from the salon into the barbershop and never looked back! I learned the craft of barbering and worked hard everyday, trying to improve myself with every cut. With my goal and dream always in focus, I eventually opened my own shop. A friendly, good old fashioned, neighborhood barber shop.
How has business progressed since you opened in 2013?
The last 3 years have flown by and Benjamin's Barber Shop continues to go from strength to strength, sending out sharp, clean, precise, and super cool men's haircuts.
What types of cuts do you specialize in?
We specialize in short, classic, traditional cuts but don't shy away from more punk or modern styles. We have a very mixed clientele which means no day is the same, and keeps us on our toes.
So, what's the story behind the mounted boar head and skateboards that line the walls of the shop?
I put the boar head up as soon as we moved in. It was a gift from my parents. When pomade first came around, it was made from boar fat and crushed apples, so it was a nod to barbers way before my time. I just love the look of him too!
I grew up skating, so basically everything in the shop really is a reflection of me as a person. I love the 5Boro brand, and they released a limited run of boards with a tattoo shop I love called Smith St. Each borough of New York, with a pin-up girl, reflecting each neighborhood. I had to have them!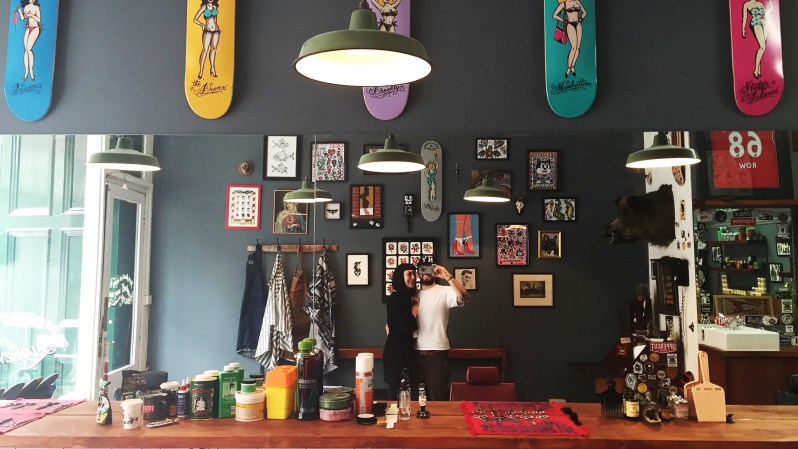 What's the one hair product that you can't live without?
Our homemade Bay Rum! It's my own secret recipe and we sell it in-store.
Who are your hairstyle icons?
Morrissey and Forrest Gump.
Are there different hair trends in Scotland compared to the US?
I think trends in barbering are becoming more global than regional, as we see barbers from all over the world sharing ideas over social media, doing guest spots etc…I personally think this is amazing, it helps us share knowledge, educate, communicate, push boundaries and build relationships with like minded people. It's a great time to be a barber.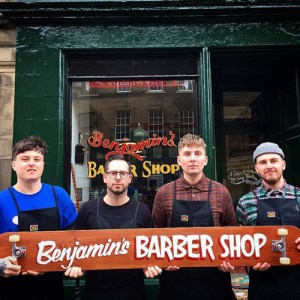 Benjamin Barbershop Crew
What's your all-time favorite cut that you've ever done for a customer?
Straight razor head shave.
What hairstyle are you currently rocking?
Skin fade, high and tight – with a quiff… and a mustache.
Drink of choice?
Wild Turkey, straight up. (We knew we liked this guy.)
What is one unforgettable experience from your life that you'd like to share?
Marrying my beautiful wife, Cheryl, last year.
Don't forget to give Benjamin's Barbershop some social media love. You can follow Benjamin on Facebook and Instagram.
Images courtesy of: Laura Meek/Instagram – @itslaurameek