If you call Bible Club PDX, a restored 1920s rotary phone will ring.
One with a cord. And by "ring," we're talking a metal-on-metal action. Lead barkeep Jessica Braasch might answer mid-conversation with a patron while grinding cloves by hand with a mortar and pestle.
In creating Bible Club, owner Ryk Maverick left no detail to chance, from crocheted doily coasters that would make any grandma proud to absinthe atomizers lit by the glow of a neon cross lightbulb on the host's stand. Even the ice is local, which they shave on a cutting board for a perfect fit in the glass. And drinks calling for crushed ice? Time to break out the hammer.
Once you take a seat at the dimly-lit bar on the first floor of a 1922 craftsman house, you'll know you're not in Portland anymore.
Head barkeep Nathan Elliott says Bible Club and fam initially expected to be a neighborhood joint, but their clientele quickly grew to include denizens from all over the world looking for a transportive, prohibition-era experience. Like the speakeasies the past that truly had to keep hush-hush, Bible Club's cat is out of the bag now that Portlanders and travelers alike are realizing what a charming time capsule it is.
The barback is bedecked with vintage signs championing the repeal of the 18th Amendment and, along with the general decor and underground atmosphere, you would be forgiven if you started to believe you had fallen into a time warp and landed squarely in the days of Al Capone and rum runners. The name "Bible Club" is in keeping with the tradition of tongue in cheek names contrasting the suspicious activity going down in such establishments.
Your Must-Try drink: the Log Road Legger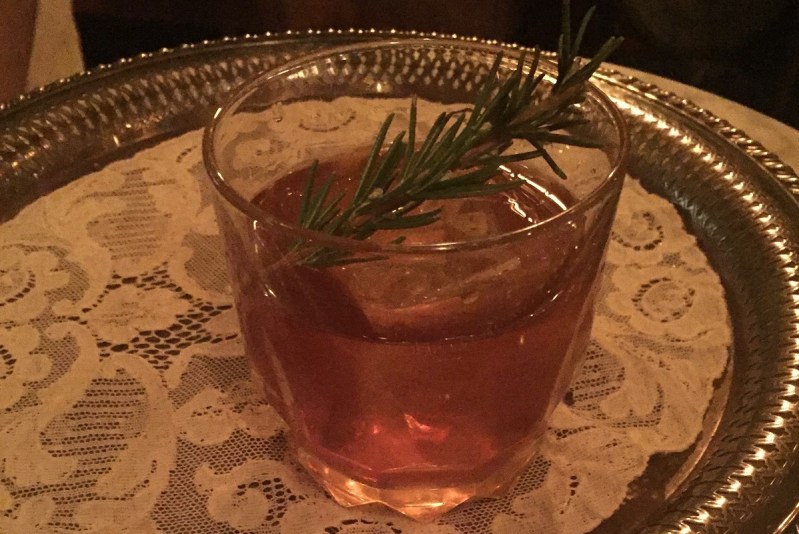 Ingredients
Chanterelle and Cinnamon Syrup*
Bridge City Smoked Vanilla Bourbon Bitters
Torched Rosemary
It's an autumn-inspired old fashioned so popular it's stuck on the ever-changing cocktail menu for good. It tastes like a meandering walk in a pine forest on a foggy morning, the smell of last night's campfire left behind on your clothes.
The drink's top note is provided by a sprig of rosemary lit with a match just long enough for a spark or two to fly, smudging the small space with a nice woodsy aroma. The only drawback to that is that it might keep the perennial ghost stories away.
So if you're looking for the perfect nightcap spot to punctuate a snowy evening on the town, or you're in the mood to channel F. Scott Fitzgerald while sipping something truly extraordinary — this is the place to do it, old sport.
Editors' Recommendations