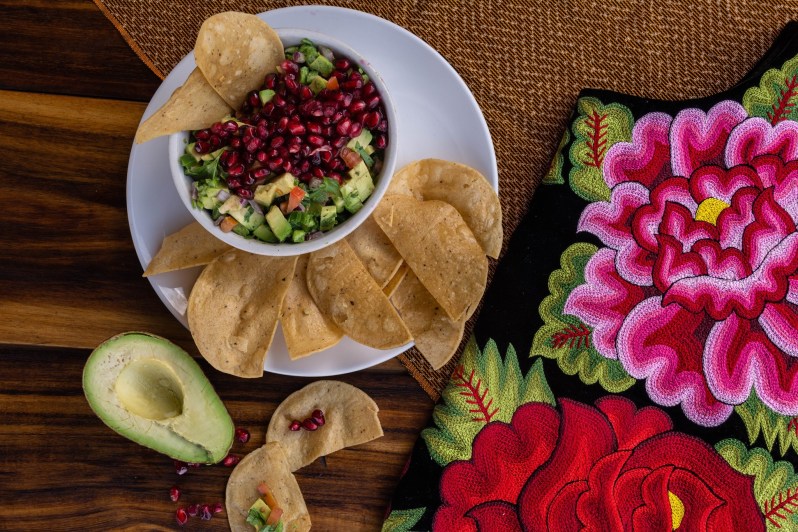 We adore guacamole of all kinds, from the stuff hit with tequila to the fresh batches made tableside at your favorite family restaurant. For something truly tasty, we checked in with one of the best Mexican restaurants in the country, Barrio Café in Arizona.
The recipe is below and features an unexpected cameo by pomegranate fruit. There's also a nice kick by way of jalapeño pepper. Made fresh at your abode, whether for the upcoming Super Bowl or just anytime you feel like noshing on avocado's greatest achievement, it'll transport you straight to a comfy table at the Phoenix restaurant and southwest institution.
Related Reading
Barrio Café Guacamole
As you work your way through what's about to become your new favorite guac recipe, take note of a few things. If you can, find and use a genuine Spanish onion, as the style tends to be a bit sweeter and offers some nice overall balance. Freshness is key, especially so when making guacamole, so opt for just-juiced lime as well as just-diced cilantro. As the restaurant suggests, if you can't find good pomegranate, go with dried cranberries as a substitute.
Ingredients:
1 avocado
1 heaping tablespoon diced tomatoes
1 heaping tablespoon diced Spanish or red onion
1 heaping tablespoon of jalapeño, seeded and diced
1 heaping tablespoon diced cilantro
1/2 of a fresh lime
Salt and fresh-cracked pepper to taste
1 heaping tablespoon fresh pomegranate seeds
Method:
Dice avocado into small chunks and place in a serving bowl.
Add tomatoes, onion, jalapeño, and cilantro. Squeeze fresh lime juice over mixture. Sprinkle with salt and pepper to taste.
Fold together gently. Add pomegranate seeds. Mix gently and serve immediately.
Barrio Cafe Restaurant
The food at Barrio is so good it recently lured President Joe Biden and Vice President Kamala Harris for a visit and some bites. No word on exactly what the new U.S. leaders ate, but we are willing to bet it involved the restaurant's iconic appetizer (actually, it's so good you may just want to make a second batch and make it an entree).
We generally picture guacamole as a green-hued slurry. But Barrio's could not be further from soup, and that's a great thing. It boasts a texture more like a salad, with chunks and pieces as opposed to paste. The consistency will remind you just how fresh things are with each and every bite. We won't judge if you run out of chips and just dig in with a fork for the last few helpings.
Don't forget to throw some good salsa on the table to accompany your guac. If you're thirsty, crack one of the best cheap beers or whip up your own Michelada. You may even want to go the route of margarita, or, if you're still enjoying the clarity of Dry January, opt for a mocktail. And don't forget that you can make your own chips out of cut-up tortillas and a little time in the oven. You'll love how well they stand up to hearty dipping.
Editors' Recommendations