When it comes to party-ready snack foods, nachos rank pretty highly in terms of ease, share-ability, and deliciousness. How could they not? You can put pretty much anything you want on the chips — meat, cheese, salsa, guacamole, you name it — and the individual chips mean it's easy to scoop a few onto your plate without making too much of a mess.
One of our favorite toppings to add to nachos is a nice, homemade chili. There's just something about the mix of meat (and sometimes beans) with spices and dark, savory sauce piled high on a slightly salty nacho chip that gets us.
We love chili, specifically, because of its malleability when it comes to spice. Not to say we wouldn't top our nachos with spiced brisket or any other meat, though, because we so would, but for all intents and purposes right now, we're sticking with chili. It can be as mild or as hot as you want to make it. We usually go with as hot as possible, but also understand that sometimes it's about flavor, not burning your taste buds off.
One way to spice up your chili — and by proxy, your nachos — while maintaining a mouth-watering flavor is to switch up the type of hot sauce you're using. Who says you need to stick to the typical Frank's Red Hot or Tabasco when there's a whole wild world of hot out there. (You could use this hot sauce, but you'd have to be a bit crazy to do so.) This time around, we're going across the world and utilizing the rich sweet and spicy flavors of Korean cuisine to kick this snack time favorite up a notch. Specifically, we're using Chung Jung One Gochujang Korean Chili Sauce. Sweet, savory, and rich in umami, it has the right amount of heat to liven up just about any meal. When you mix those flavors with beef and cheese, well, you've got yourself a surefire winner right there.
Texas-Style Gochujang Chili Cheese Nachos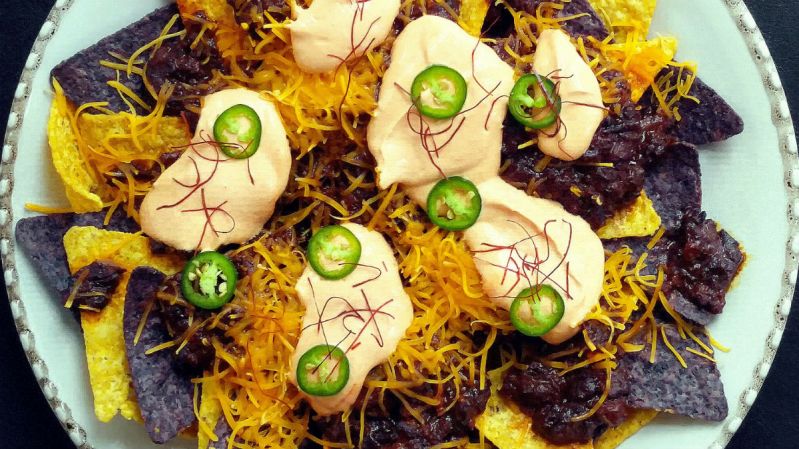 (Serves 6-8)
Chili
Ingredients:
4 lb beef chuck roast, cut into .5-inch cubes
1 bottle dark beer, 12 ounces
1 can diced tomatoes, 28 ounces
4 cups beef broth
6 tbsp Chung Jung One Gochujang Korean Chili Sauce
3 tbsp vegetable oil
2 tbsp brown sugar
1 tbsp ground cumin
5 tsp salt
1 tsp ground coriander
2 oz chipotle peppers in adobo sauce
6 garlic cloves, minced
2 jalapeño peppers, finely chopped
1 large onion, finely chopped
Method:
In a large pot, heat 2 tbsp of oil over high heat. Working in batches, brown the meat and transfer to a paper towel-lined plate.
Add the remaining 1 tbsp of oil and heat over medium heat. Add onion, garlic, and jalapeño pepper. Sauté for 3 minutes until wilted.
Add Gochujang Sauce, chipotle peppers, brown sugar, cumin, coriander, and salt. Cook for another 3-4 minutes. Then add beer, beef broth, and diced tomatoes.
Simmer for about 2 hours, or until meat is very tender. Let cool to room temperature and adjust seasoning with additional salt as needed.
Serve right away, or for best results, let cool in the refrigerator overnight and reheat the next day.*
Sour Cream
Ingredients:
4 oz sour cream
2 tsp Chung Jung One Gochujang Korean Chili Sauce
Method:
Mix Gochujang Sauce and sour cream together in a bowl and keep refrigerated until ready to use.
Nachos
Ingredients:
Texas-Style Gochujang Chili
8 oz yellow and blue tortilla chips
2 oz sharp cheddar cheese, shredded
1 serrano pepper, thinly sliced
Gochujang sour cream to top
Method:
Lay out the tortilla chips on a plate. Ladle about a quarter of the chili over chips. Sprinkle cheese over chili while still warm, so that the cheese begins to melt.
Dollop sour cream over the cheese and garnish with serrano peppers. Serve immediately.
*Note: Use leftover chili for an additional batch of nachos, topping baked potatoes, or thin with beef broth to serve as a soup.