The season is heating up fast and we need to make time to enjoy it. You've already set up your backyard oasis and now you have your eye on some outdoor party equipment. We put together a list for outdoor entertaining, ideal for those days and nights you just want to be outside with friends and family. No matter the occasion, you will be ready to entertain outside at a moment's notice.
Here are some of the best backyard pieces you need in order to complete your outside party space. Think of this as the quintessential backyard party checklist for your next BBQ function.
Outdoor Bar Furniture
You need a place to stash your cocktail glasses, mixers, and shakers. It's so much easier to have everything at the ready instead of running back and forth into the house to grab something. It's a lot easier to manage the items you'll need for the party when you know they will all be in one location, your outside bar.
Leisure Season Ltd. Outdoor Bar With Storage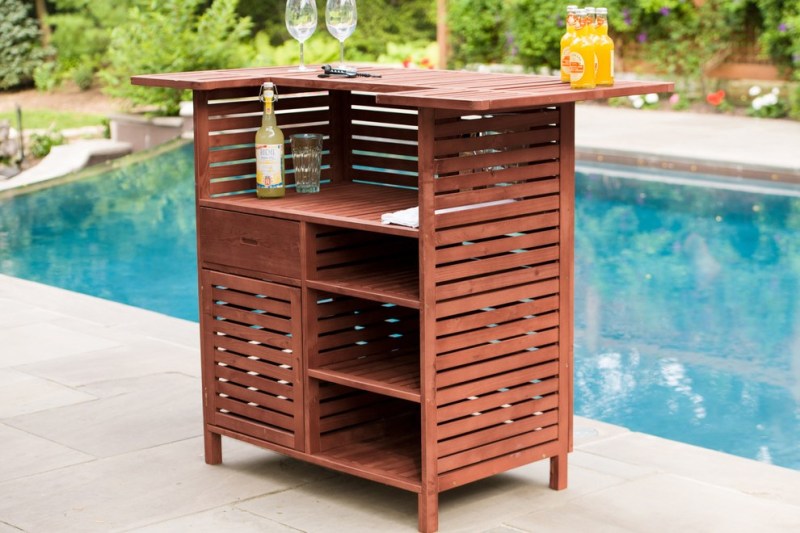 The Outdoor Bar with Storage has the convenience of style and storage space. There is a spacious tabletop for open bottles of wine and spirits. You can keep the unopened bottles on the shelf behind it. There is a drawer for storing your wine openers, napkins, and reusable straws.
Galvanized Metal Rolling Wagon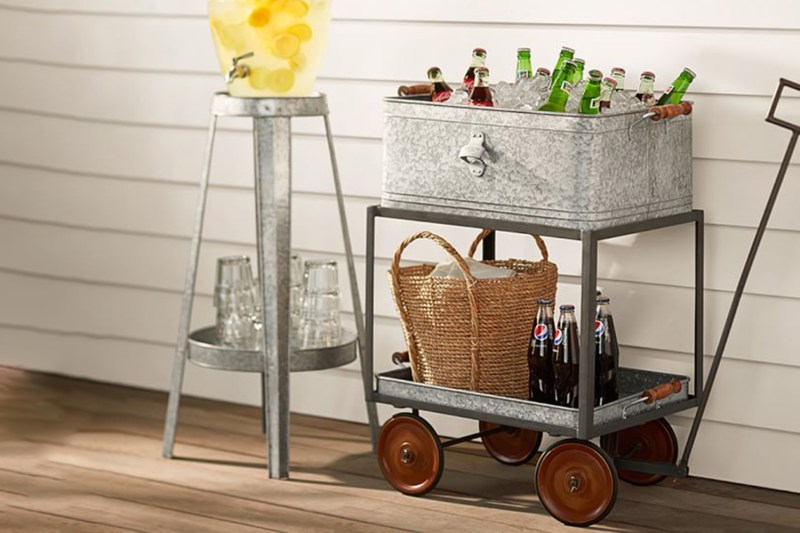 A great accessory to the outdoor bar is this Galvanized Metal Rolling Wagon. It holds all the ice to keep the cold items cold. There's a handy-dandy bottle opener attached to it and a storage shelf.
Outdoor Patio Lights
The lighting is perfect during the day but when the sun sets, you need something a little inviting to create that calm, cool atmosphere. Nothing creates a warm space like patio lights. You can string them however you like and they can go just about anywhere.
Wayfair Basics 48-Feet Outdoor String Light
The Outdoor 15-Bulb Standard String Lights are similar to the Edison Lights that have become so popular. The LED lights are dimmable, year-round all-weather lights that have end-to-end connections so you can add as many as you need. There are 15 bulbs on every 48-foot strand offering a minimum of 25,000 hours.
Brightown 25-Feet Outdoor String Lights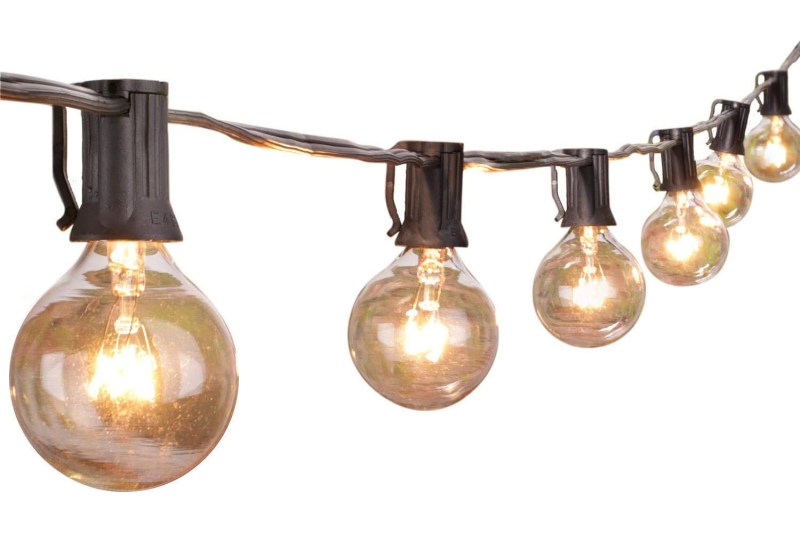 If you're looking for something a little bit smaller, these 25-foot string lights are perfect for a small deck or apartment patio. These Brightown outdoor string lights lights provide a warm yellow light for outdoor gatherings or relaxing nights.
Outdoor Fire Pit
Sitting around the fire pit is a perfect way to wind down the evening. You can get them in virtually any shape or size. The best ones are those that are lower to the ground so you can see the people sitting across from you. We've put together a couple of styles to chose from, one wood-burning and the other is natural gas or propane. Each equally convenient.
Greyleigh Tuscola Steel Outdoor Fire Pit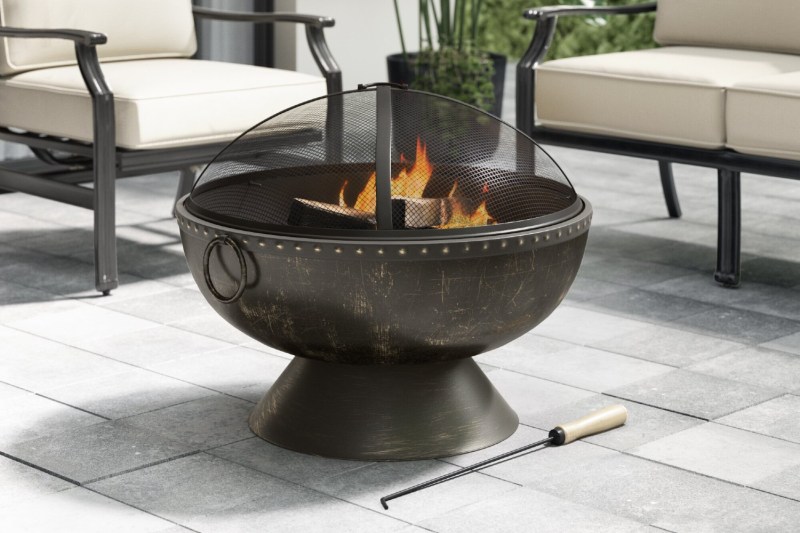 The Greyleigh Tuscola Steel Outdoor Fire Pit is a half-sphere design with handles for easy transportation. This wood-burning fire pit has a mesh spark screen to protect any hot embers from floating away. It is sleek and low to the ground so you can continue your discussions long into the night.
Aly Fiber Reinforced Concrete Outdoor Fire Pit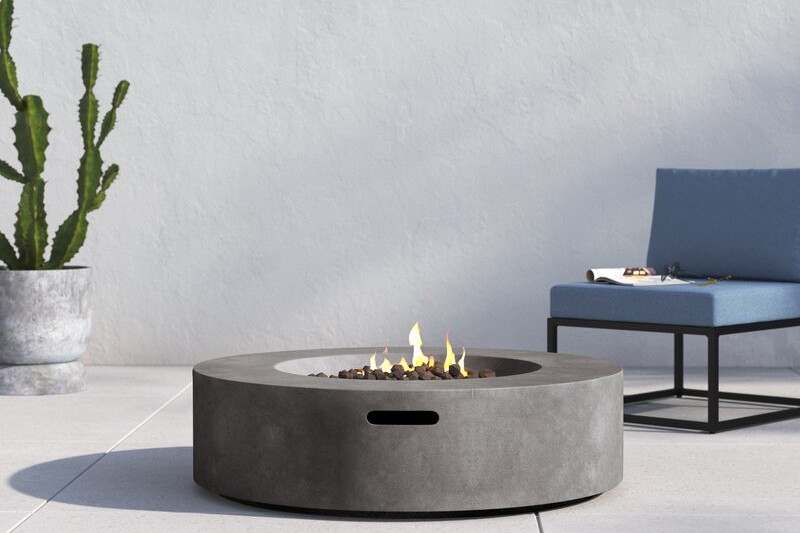 If wood-burning isn't possible, then the Aly Fiber Reinforced Concrete Outdoor Fire Pit is the next best option. It is also sleek and low to the ground. It is an environmentally preferred piece of equipment and weather resistant that runs on natural gas or propane. The concrete finish gives it that modern look and feel, and has an adjustable flame height control knob.
Outdoor Grills
Of course, no outdoor party is complete without a grill. There are several options available and you can choose from charcoal grills, electric grills, gas grills, and even smokers. The two most popular grills on the market are charcoal and gas grills. Charcoal grills take more time to prepare than their gas counterparts but can be well worth the added time. Of course, gas grills are easy to use and ready in as much time as it takes to preheat. No matter if you go for the gas grill or the charcoal grill, you will need to pick up a few BBQ and grilling accessories. They make grilling life so much easier. And grab your best grill recipe to start cooking.
Kenmore 3-Burner Propane Grill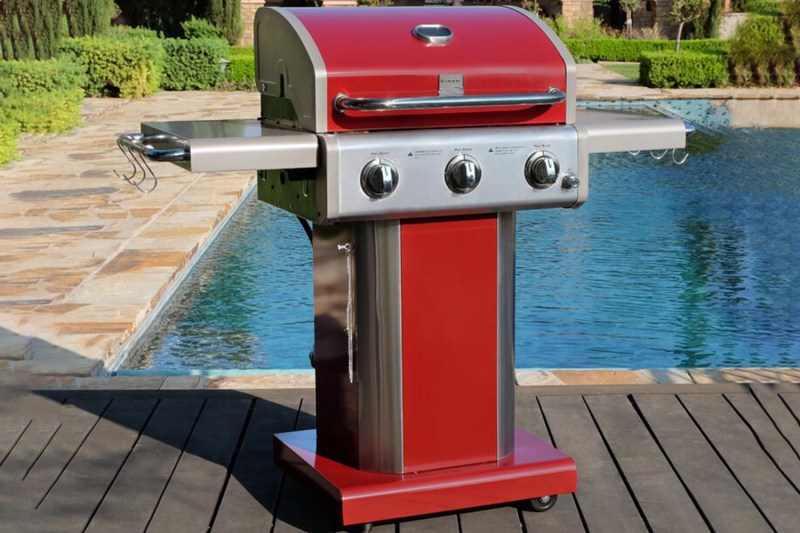 The Kenmore 3-Burner Propane Grill has a cooking grate made of cast iron and has a secondary cooking rack. It has foldable side shelves for storage and prep area. Cooking on this gas grill is as easy as pushing a button — an ignition button that is. The Kenmore is on locking wheels so you can maneuver it to any backyard location.
Weber Performer Deluxe Charcoal Grill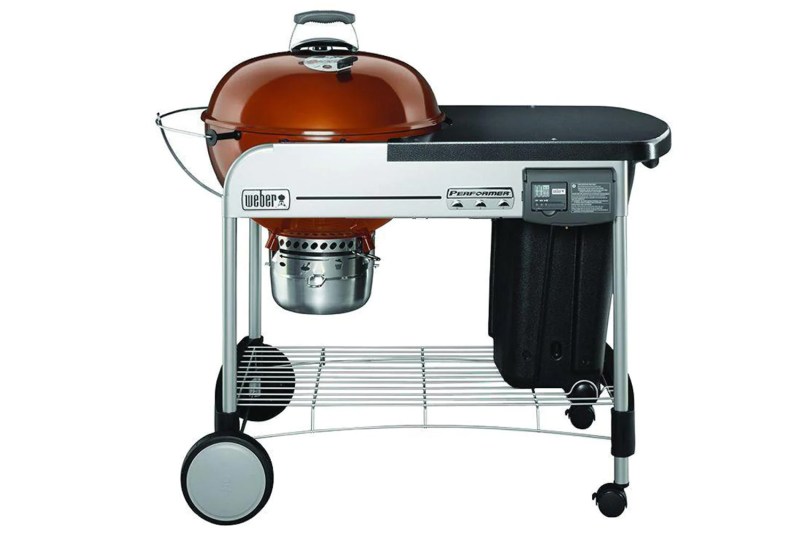 The Weber Performer Deluxe Charcoal Grill is a wonder to behold. The lid and the bowl are porcelain-enameled so it holds heat longer. The cleaning system makes it a breeze to clean the spent charcoal. It has a built-in timer and thermometer. You can be worry-free that you won't forget the bag of charcoal outside in the elements because the Weber Grill even comes with a weather-protected bin for charcoal storage. The lid slides easily off and on into a Tuck-Away lid holder so you don't have to place it on the ground or a table.
There you have it. The top backyard party essentials necessary for transforming your oasis into your own personal outdoor cafe. Make sure you grab plenty of environmentally friendly bug repellent and some yard games for that oh-so-friendly competition.
Editors' Recommendations