"In Catholicism, the pint, the pipe, and the Cross can all fit together." – GK Chesterton
From "church keys" to "the angel's share" to Jesus turning water into wine, beer and booze have a long, intertwined history with the divine. For some, that intertwining takes a rather literal approach. With more than 4,000 churches closing their doors each year, some crafty (read heathen) entrepreneurs are breathing new life into the recently deconsecrated buildings. Here are five of our favorite bars and breweries that used to be churches.
Pitcher and Piano
Nottingham, United Kingdom
The Pitcher & Piano micro-chain boasts nearly 20 locations throughout the United Kingdom, but none are as amazing as their Nottingham outpost. Situated in a former Unitarian house of worship, this church-turned-bar boasts stunning original details like towering stained-glass windows, ornate stone archways, and, of course, the impressive architecture of the building itself. A large, oval bar serves as the centerpiece with various high-top tables tucked into every nook and cranny. The extensive food and drink menus include an entire submenu dedicated to — what else? — specialty gin and tonics.
The Church Brew Works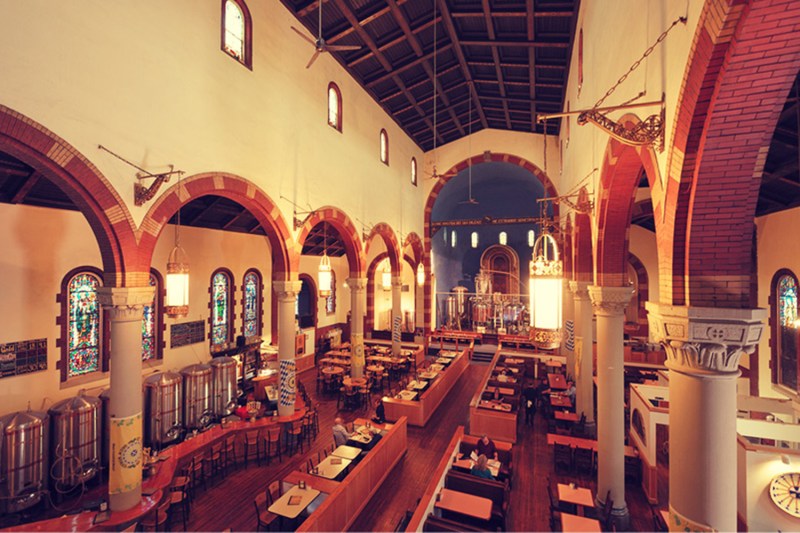 Pittsburgh, Pennsylvania
Situated in Pittsburgh's working-class Lawrenceville neighborhood, you'll find The Church Brew Works. The aptly named brewpub pulls inspiration from its Roman Catholic roots. While it's been heavily renovated, most of the century-old bones — including the windows, arches, and even the altar — were left intact. The award-winning beer list features kitschy, church-inspired names like Pious Monk Dunkel and Pipe Organ Pale Ale. The lunch and dinner menus include hearty pub favorites like ribs, cheesesteak sandwiches, and lobster mac n' cheese.
Vessel NOLA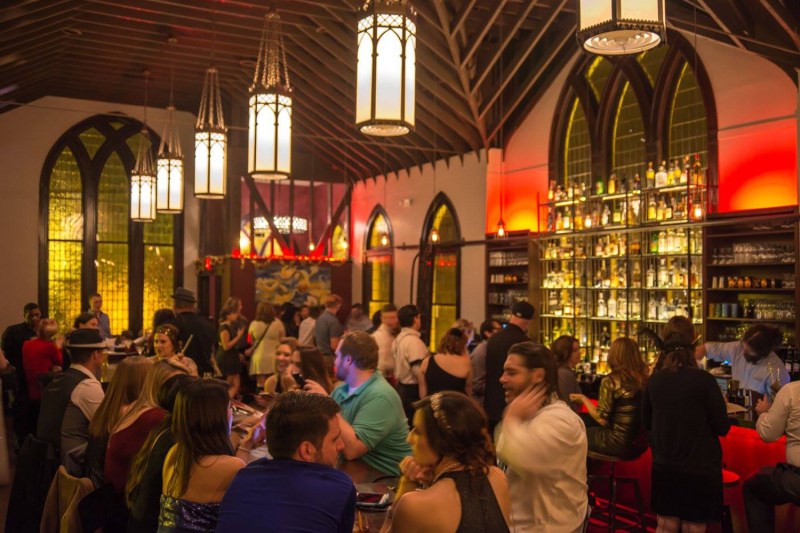 New Orleans, Louisiana
New Orleans is home to some of the best watering holes in the country. But Vessel NOLA might be the most beautiful. From the outside, the century-old church in Mid-City looks much like any other Louisiana chapel. A step inside, however, reveals something altogether different. Raw timber beams overhead, communal bar tables, and red, nightclub-inspired mood lighting exude a swanky, upscale lounge atmosphere. The cocktail selection includes classics like Mai Tais and Tequila Old Fashioneds, while the food leans heavy on Southern- and Gulf-inspired favorites (think smoked fish dip, crispy pork belly, and crawfish croquettes).
The Church of the Seven Candles Nightclub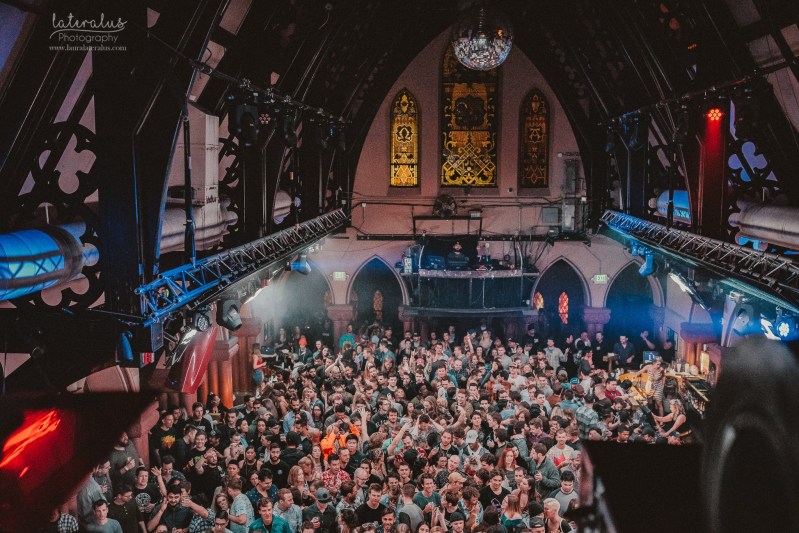 Denver, Colorado
Even if the club scene isn't your thing, Denver's The Church Nightclub is worth a visit if only for its remarkable history. Founded in 1889 as St. Mark's Episcopal Church, it served the surrounding community for the better part of a century. In its subsequent incarnation as Sanctuary, it hosted legendary punk shows and club nights with bands playing at the former altar. In 1996, it rebranded as The Church of the Seven Candles (or just "The Church") and has hosted worldwide acts like Moby, Everclear, and even Prince in its twenty-plus-year history.
The Church Bar and Restaurant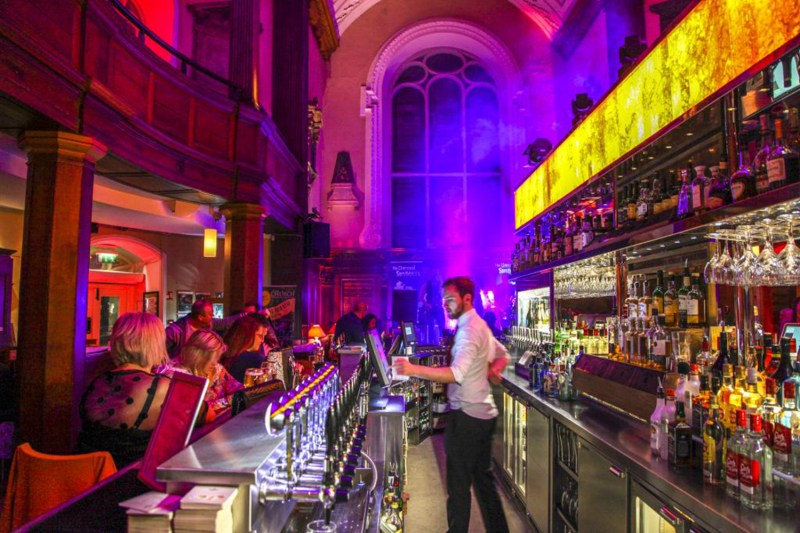 Dublin, Ireland
Ireland may be home to more churches per capita than almost anywhere in the world. Many of those one-time churches have closed within the last few decades. Formerly St. Mary's Church of Ireland, The Church Bar and Restaurant complex opened in 2005 as one of Dublin's swankiest, most happening bars, restaurants, cafes, and clubs. Many original elements like the stained windows and a beautiful Renatus Harris organ remain. If you're feeling at all blasphemous about day drinking in a former church in one of the most historically religious countries on earth, take heart. None other than Arthur Guinness was married here in 1761. So, you might say, you have his blessing.
Editors' Recommendations