The Manual Spirit Awards recognize the best damn booze in America. Across nine categories — Bourbon, Rye, Single Malt Whiskey, Unaged Rum, Aged Rum, Vodka, Flavored Vodka, Gin, and Brandy — we blind-tasted multiple products from around the country to determine our champions. Each of the winning bottles was judged on appearance, aroma, palate, finish, and how well the product represented the category as a whole. Our focus on smaller craft distillers in the U.S. allowed us to highlight spirits that, we hoped, our readers have not tried yet.
Best Rye Whiskey
Still 630 RallyPoint Rye
In order to be considered a rye whiskey, the spirit's mash bill must be at least 51 percent rye. This rye grain typically gives the liquor a spicier flavor, making it an important component in other whiskeys as well. Rye whiskey, unlike bourbon, can be produced anywhere.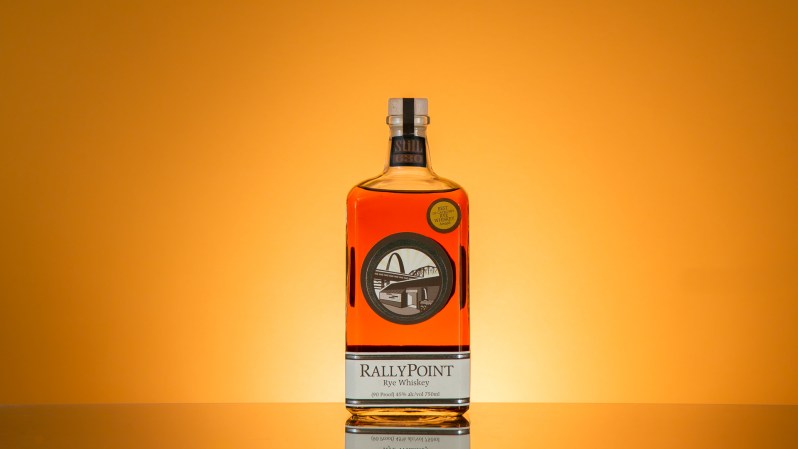 We really enjoyed the mix of heat and flavor in RallyPoint Rye , produced by Still 630 Distillery in St. Louis, Missouri. While tasting a little young (read: hot) at first, a few drops of water really open it up. The spiciness from beginning to end makes it a prime candidate for sipping — let a large rock of ice to slowly melt in a glass with the whiskey.
RallyPoint Rye is 45 percent alcohol by volume and made from a blend of 90 percent rye and 10 percent malted barley. It is available in St. Louis and Columbia, Missouri, only.
Tasting Notes
Appearance: RallyPoint Rye is amber in color.
Nose: A little hot at first, but the heat is quickly replaced by caramel, a little vanilla, and rye flavors like cinnamon and allspice.
Palate: An initial warmth brings burnt caramel and more cinnamon to the forefront. The warmth on the gums brings with it allusions to oak mixing and smallest hint of malt. A few drops of water really helps to open the whiskey up, bringing out vanilla cookie notes.
Finish: A long, spicy, baked finish. The rye spices take over, with baking chocolate playing second fiddle on the end.
About the Distillery
Former futures trader, Dave Weglarz, started Still 630 Distillery in 2012 as a means of establishing a legacy for future generations. The name comes from the distillery's home, St. Louis (SL), and the 630 is representative of the city's most iconic structure, the St. Louis Arch, which is 630 feet tall. Still 630 produces a number of different liquors, including multiple whiskeys (bourbon, rye, white whiskey, coffee-flavored whiskey, and sorghum whiskey), gin, and rum.
How to Enjoy It In a Cocktail
Manhattan
In the canon of rye-based cocktails, nothing stands out more than a Manhattan. The spice of the rye combines with the herbal, sweet vermouth and the bitterness of the Angostura to create a perfectly balanced, spirit-forward cocktail. For step-by-step instructions, check out our detailed video on how to make a Manhattan.
Glass: Cocktail glass (aka martini glass)
Tools: Stirring spoon, strainer, large ice cube maker
2 oz Still 630 Rallypoint Rye
.75 oz sweet red vermouth
1-2 dashes Angostura bitters
Cherry
Method: Stir rye, vermouth, and bitters together with large cube of ice. Strain into a chilled cocktail glass. Garnish with a cherry.
Best Rye Whiskey Runners-Up
| | |
| --- | --- |
| Tattersall Straight Rye Whiskey | Sagamore Spirit Cask Strength Straight Rye Whiskey |
| Tattersall Distilling A | Sagamore Spirit |
| Minneapolis, Minnesota | Baltimore, Maryland |
| | |
| Tattersall Straight Rye Whiskey, crafted in Minneapolis, is a Monongahela-style rye (the first style that was popular in the United States) with a 100-percent rye mash bill. This creates a very big, very bold spice character. | Bottled at cask strength, Baltimore's Sagamore Rye Whiskey brings a full-bodied, chocolatey, somewhat citrusy flavor to the table. It's great for drinks that take a higher-proof whiskey to stand up to the other ingredients. |
Editors' Recommendations