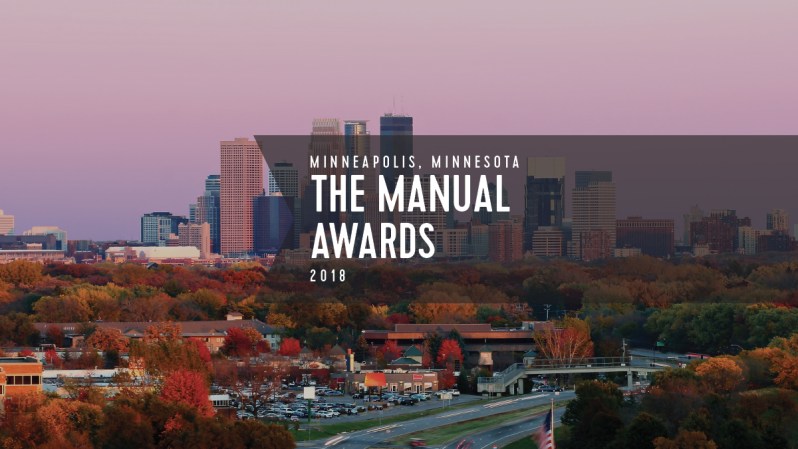 This piece is part of The Manual Awards 2018, an annual series of awards given to the best restaurants, bars, local brands, shops, outdoor experiences, barbershops, and coffee shops across the United States. From Milwaukee to Minneapolis, from Houston to Boston, The Manual Awards are an opportunity to shine a spotlight on all of America's up-and-coming establishments, wherever (and whatever) they may be.
The larger half of the Twin Cities, Minneapolis sits on both banks of the Mississippi River and contains thirteen of the state's ten-thousand lakes. While it may be cold for large parts of the year, that shouldn't stop you from visiting this increasingly-hot city. Great food is made from scratch and served every day (much by James Beard-nominated and awarded chefs and restaurants), you can take in four different sports (five if you head across the river to St. Paul to watch the Minnesota Wild), and if you're looking for something more cultural, Minneapolis is the third-most literate city in the country. If the only thing you know about Minnesota is what you learned from the movie Fargo, then it's about time we changed that with the best that Minneapolis has to offer.
This restaurant, widely hailed as one of the best in the state, takes the idea of dinner theatre to a whole new level (and leaves behind the highfalutin, upturned nose mentality of many dinner theater performances). There's a reason that the word "Amusements" is part of the restaurant's name. Not only will you indulge in a prix-fixe tasting menu created using seasonally-available products, but you will engage in merriment the entire time. You will watch the kitchen staff prepare your food (and then serve it to you, because they also do that) and you will be encouraged to interact throughout the meal. Not for someone who wants to eat quietly and enjoy a meal, but for anyone with a sense of humor, Travail is a must.
Featuring a seasonal menu, Marvel Bar is one of the hippest places to go for a drink in the entire Twin Cities area. Found in Minneapolis' Warehouse District (and sitting underneath the restaurant The Bachelor Farmer), Marvel Bar is a delight for those looking for interesting cocktails that feature ingredients you might not reach for when making a drink at home. The current menu features such beverages as the London Bridge (cascara, licorice root, Beefeater, water), the Ebenezer (absinthe, Muglio, Lazzaroni Fernet, Beefeater), and the Oliveto (olive oil, egg white, lemon, Licor 43, Gordon's)—all of which go down way to quickly when you're not thinking about it.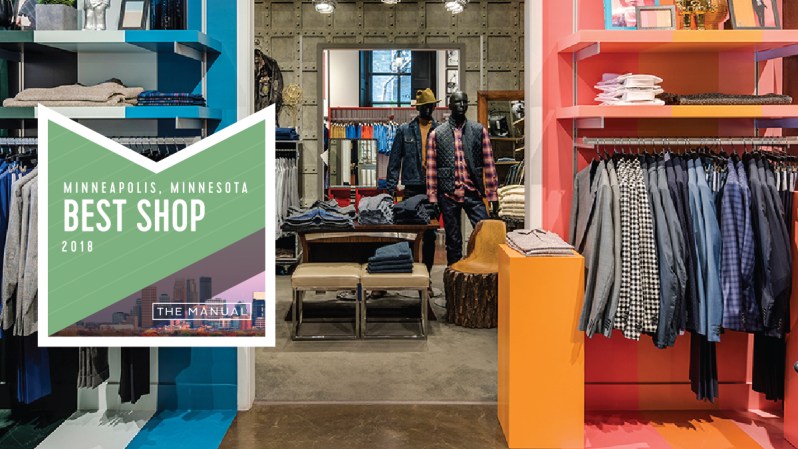 Classic, yet contemporary, Martin Patrick 3 is the epitome of a Manual shop. Founded as an interior design company in 1994, this Inner Loop store now creates sophisticated and elegant interiors, but also sells home furnishings and damn good menswear to boot (outside of food and drink, this place is a one-stop-shop for all the things we love). Beyond menswear, Martin Patrick 3 also offers up accessories, apothecary goods, and more. This should be your first stop before a night out on the town in Minneapolis. You might also want to make it your last stop before leaving, too.
With two locations in the Minneapolis area, Five Watt is a community-oriented coffee shop bent on making great coffee and having fun while doing it. You can get cups of coffee they roast themselves (such as their espresso, Mic Check) or you can go with a specialty drink. Two of our favorites are the Gin Basil Smash (Cold press, basil simple syrup, Five Watt gin bitters, cream) and the Big Easy (Cold press, chicory and nutmeg simple syrup, black walnut bitters, cream). As a fun bonus to the potable goodness, Five Watt coffee "employs" Fred the Unicorn, who takes over the Facebook page and answers coffee-related questions for those seeking answers.
Not technically in Minneapolis, but located just down the road in Red Wing, Minnesota, this shoe and boot company has been stitching up high-quality foot gear since 1905 when shoe merchant Charles Beckman started the company. In addition to producing a wide range of work boots, the company also has their Heritage collection, the Irish Setter hunting boots, and many more styles of footwear designed for specific areas of work, whether you're a logger or a miner.
A hit with craft beer lovers since day one, Surly Brewing has been pumping out award-winning beers for over a decade now. The Surly Destination Brewery houses their 100-barrel brewhouse as well at the Surly Beer Hall, where you'll find an entire menu of delicious bar food in addition to their beer. The quality of the beer is high across the board, but if you're visiting (or even just out at another spot in Minneapolis) their year-round offerings Hell Lager and Furious IPA are both necessary drinkers while their annual Russian Imperial Stout, Darkness, is one to travel for. (Traveling to their annual Darkness release day is also highly encouraged.)
Prohibition Barbers was started by Iraq war veteran Chris Pomeleo in 2015 after working on his craft both overseas and at another spot in the city. Since then, Prohibition Barbers has been wildly successful because Pomeleo simply knows how to cut hair. The space has a classic feel, and with the wide variety of clientele that the shop tends to, you're safe in knowing that whatever you request will be done with the highest level of care and quality. Oh, and to top it all off Prohibition Barbers has the best mascot—Bertha Mae, the pit bull.
Attracting over 850,000 visitors every year, Minnehaha Falls Park is one of the most popular destinations in the entire city and for good reason—it has a little bit for everyone. From historical sites such as the Longfellow House to a dog park to the 53-foot-tall Minnehaha Falls (fun fact: the word Minnehaha is the Dakota word for waterfall), you could spend a day here or you could spend a week exploring the nooks and crannies of the 167-acre park. If you're looking for a little more action, you can also play on the nine-hole disc golf course, then cool off in the wading pool. Thanks, Minneapolis.