Depending on what how intense your love of bacon is — ranging from "I will eat it and enjoy for breakfast" to "I named my first child Bacon and subscribe to multiple bacon subscription boxes" — every day, might be National Bacon Day for you. If it is not, we've got two things to say: First, maybe try celebrating bacon every day, it might do you good. Second, if you only need one day to celebrate bacon, then do we have a breakfast recipe for you.
While there will surely be plenty of establishments and companies celebrating National Bacon Day (September 1), the Snooze, an A.M. Eatery chain based in Denver, which serves breakfast all day long, really turns the bacon dial up to 11 by offering a series of dishes that feature this pory delight to the extreme. This year — the restaurant's tenth celebrating National Bacon Day — Snooze will be serving up a bacon-ized Bloody Mary, a cinnamon toast bacon sticky bun pancake, and an eggs Benedict dish called the Bacon Blanket Biscuit Benny.
If you're near a Snooze location, you can indulge in all things bacon while also helping local food banks; 10 percent of proceeds from National Bacon Day go to food banks and food-related nonprofit organizations in the communities where the restaurants are located.
If you're not near a Snooze location, don't worry — Snooze has shared its Bacon Blanket Biscuit Benny recipe so you, too, can indulge in National Bacon Day wherever you are.
Before that, though, we'd be remiss in not pointing out that Snooze and Tender Belly, the sole provider of all Snooze's bacon, have partnered up to give four lucky fans free bacon for a year. Yes, you read that right. To enter, go to Snooze, an A.M. Eatery on Facebook, click on the Events tab, find the Bacon Day Event happening near you, RSVP, then comment within the event and share a dish you would like to make with bacon! You can comment multiple times for more chances to win.
And now, onto the benny!
Bacon Blanket Biscuit Benny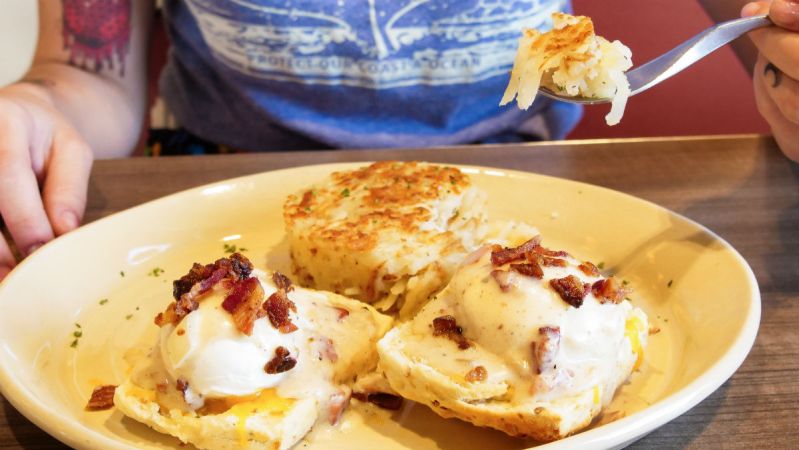 Ingredients:
2 poached eggs
.25 c shredded cheddar cheese
1 bacon potato biscuits*
Bacon gravy**
2 (or more) slices bacon, optional
Method:
Cut biscuit open and sprinkle cheese on.
Top cheese with bacon (if using), eggs, and gravy.
Bacon Potato Biscuit
Ingredients:
2 c flour
2 tsp baking powder
.25 c bacon fat
1 c buttermilk
1 tbsp chives, finely sliced
.75 c mashed and seasoned hash browns, warmed
Method:
Measure out .75 cup of seasoned hash browns and cook them for an extra five minutes until soft.
Mash the slightly overcooked hash browns with the back of a fork until 80 percent pureed.
Add mashed hash browns and other ingredients into a mixer with paddle attachment and mix on speed 1 until incorporated. Add more flour if need be, but the dough should be a little sticky.
Bacon Gravy
Ingredients:
2 oz chopped bacon
.25 chopped yellow onion
2 c milk
3 tbsp flour
1 tbsp butter
1 tsp salt
Method:
Heat small pot over medium heat and add bacon.
When the bacon is cooked, add onion and cook until translucent.
Add butter. When butter is melted, add flour and cook for one minute.
Whisk milk in and continue whisking milk until gravy has thickened.
Editors' Recommendations