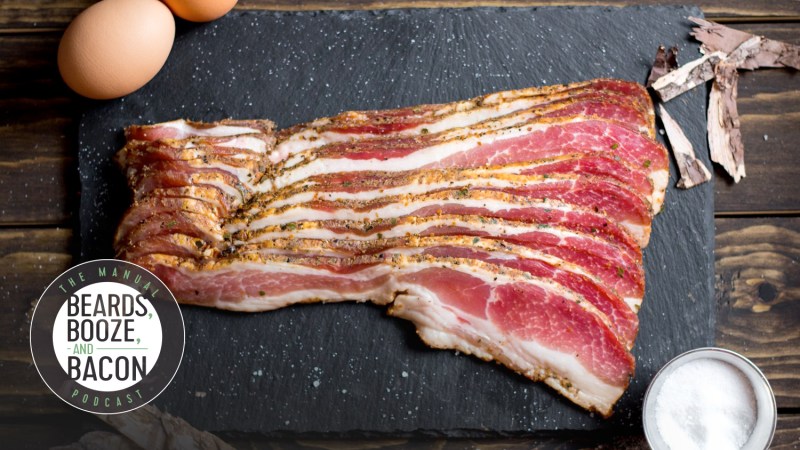 What new bourbon are we pumped about? Which hiking trail are we exploring? Why is the next supercar so cool? The Manual is dedicated to helping men live a more engaged life. Each week, our editors and guests get together for a round-table discussion about what's new, exciting, and unique in the men's lifestyle world. So pop open your favorite brew, step into your man cave, and start streaming. 

For this week's episode of Beards, Booze, and Bacon: The Manual Podcast, the round-table — Associate Editor Chase McPeak, Food and Drink Editor Sam Slaughter, and host Greg Nibler — chat with special guests (and brothers) Erik and Shannon Duffy of Tender Belly, which produces some of the best bacon The Manual staff has ever tasted.
The conversation begins with the most pressing question: How did the Duffy brothers get into the bacon business? The answer is a little more practical (and blunt) than you might expect. The group then turns their attention toward the specifics and technicalities of cured versus uncured bacon (it all boils down to semantics), how the hogs that go into Tender Belly's beautiful bacon are raised and produced (they're heritage), how large the pigs have to be before becoming bacon (300 pounds max), and the ever-controversial argument about which method is the best to cook bacon (the brothers have differing opinions).
Finally, the guys share their preferred bacon-doneness and briefly talk talk about flavored bacon before landing on Tender Belly's fantastic Bacon of the Month club, which you can subscribe to here.
Further Reading
Editors' Recommendations