Of all the sandwiches in all the world, there is perhaps no sandwich that is as simple and yet as complex as the grilled cheese. In America, the grilled cheese's origins were humble — it's widely regarded that an open faced, heated cheese sandwich named the Cheese Dream was the first iteration of a grilled cheese. It was created during the Great Depression and was seen as a cheap meal that could be easily reproduced for large crowds. From there, societies around the world took it and run.
On the very basic level, everything you need to know about a grilled cheese sandwich is contained within the name. You've got cheese, you've got bread, and you've got heat. From there, though, the possibilities are literally endless. What kind of cheese? What kind of bread? Are you using butter or oil to coat the bread before heating, or are you putting the fat source on the pan? Are you using a pan or the microwave or the oven? What about the American staple, the George Foreman Grill ?
We haven't even gotten into toppings and we're still at the point of having myriad possibilities.
Don't you worry, though. April is National Grilled Cheese Month (yes, month) and we know you want to celebrate in style. That's why we talked to someone who knows his grilled cheese: Melt Shop CEO and founder Spencer Rubin.
Rubin shared Melt Shop's gooey and delicious Maple Bacon Grilled Cheese. It's got everything we love in a sandwich: cheese, more cheese, and bacon. Check out the recipe below and enjoy!
Maple Bacon Grilled Cheese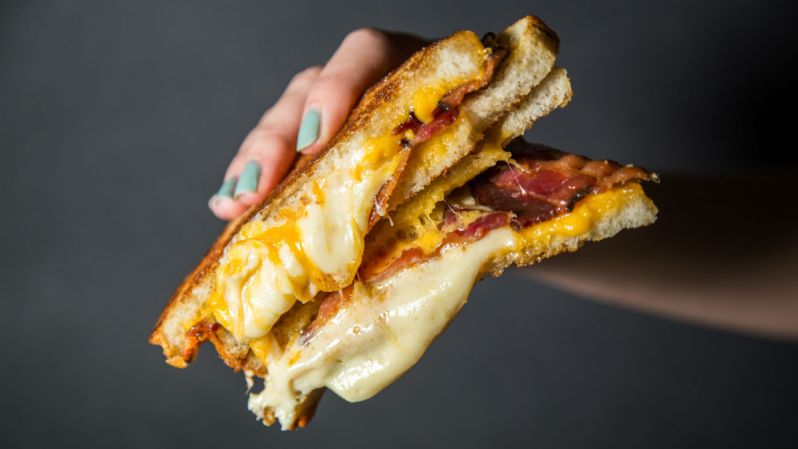 Ingredients:
2 slices sourdough bread
2-3 slices thick-cut applewood smoked bacon
3 oz aged yellow cheddar (sliced or shredded)
1 oz sharp cheese spread (brick spread)
1 oz Vermont maple syrup
2 tbsp salted butter (room temperature)
Method:
In frying pan, cook bacon until crisp; set aside on paper towel to remove excess grease.
Pre-heat cast iron skillet to 350 degrees Fahrenheit.
Butter one side of each slice of bread and place butter side down on cutting board.
Place half cheddar cheese on one slice of bread.
Cover cheddar cheese with sharp cheese spread by breaking it into a few small chunks and distributing evenly.
Cover cheese spread with bacon and remaining cheddar cheese.
Close sandwich with second slice of sourdough bread, butter-side up.
Place sandwich in pre-heated cast iron skillet and place weight or plate on top; let cook for 2-3 minutes until golden brown, flip and repeat.
Once sandwich is golden brown on both sides and cheese has melted, remove sandwich, open, and pour maple syrup evenly on the inside.
Cut in half, serve, and enjoy the maple bacon-y cheesy deliciousness.
Editors' Recommendations