Following the success of the Omega MoonSwatch, Swatch has decided to produce a crossover timepiece with another well-known Swiss watchmaker and produce a series of functional, desirable, and affordable watches. This time around, it's Blancpain getting the Swatch treatment.
The new collection just dropped and is a significantly cheaper take on Blancpain's famous Fifty Fathoms collection of men's watches and Swatch's early '90s Scuba range. An actual Fifty Fathoms watch will set you back over $14,000 — but like the MoonSwatch collection, these particular timepieces are very affordable. While the MoonSwatch collection consisted of eleven watches (all eight planets, plus Pluto, the Sun, and The Moon), the "Blancpain X Swatch Scuba Fifty Fathoms" collection consists of just five. Each dive watch represents one of Earth's oceans.
The Blancpain X Swatch collab has five ocean-inspired designs to choose from
As you may expect from a dive watch, the Scuba Fifty Fathoms are all pretty substantial in size. Each watch has a 42.3mm diameter and 14.4mm of thickness. They're also rated to a depth of 300 feet. This is more than double the depth recreational divers tend to go.
In terms of looks, each of these men's watches has its own aesthetic:
The Pacific Ocean model has a yellow and black theme with a white face.
The Arctic Ocean model also carries a white face with a coral or orange bezel and strap. The Arctic watch also features a nifty little nuclear symbol on the dial.
The Antarctic Ocean watch is grey, with a navy blue stripe running through the strap — giving a battleship-esque look to the watch.
The Indian Ocean is green and black, with a coral stripe running through the strap.
Finally, the Atlantic Ocean has a striking navy blue design, with lighter blue tones and a white stripe running through the strap.
All of the designs come on a matching NATO strap, which makes perfect sense. The material is ideal for diving, and the look complements the watch body perfectly. If you're planning to switch the NATO strap out for something a little more "high-end," be aware that these may look a little odd on leather. In keeping with the themes of sustainability and the sea, each NATO strap has been manufactured from recycled ocean plastic.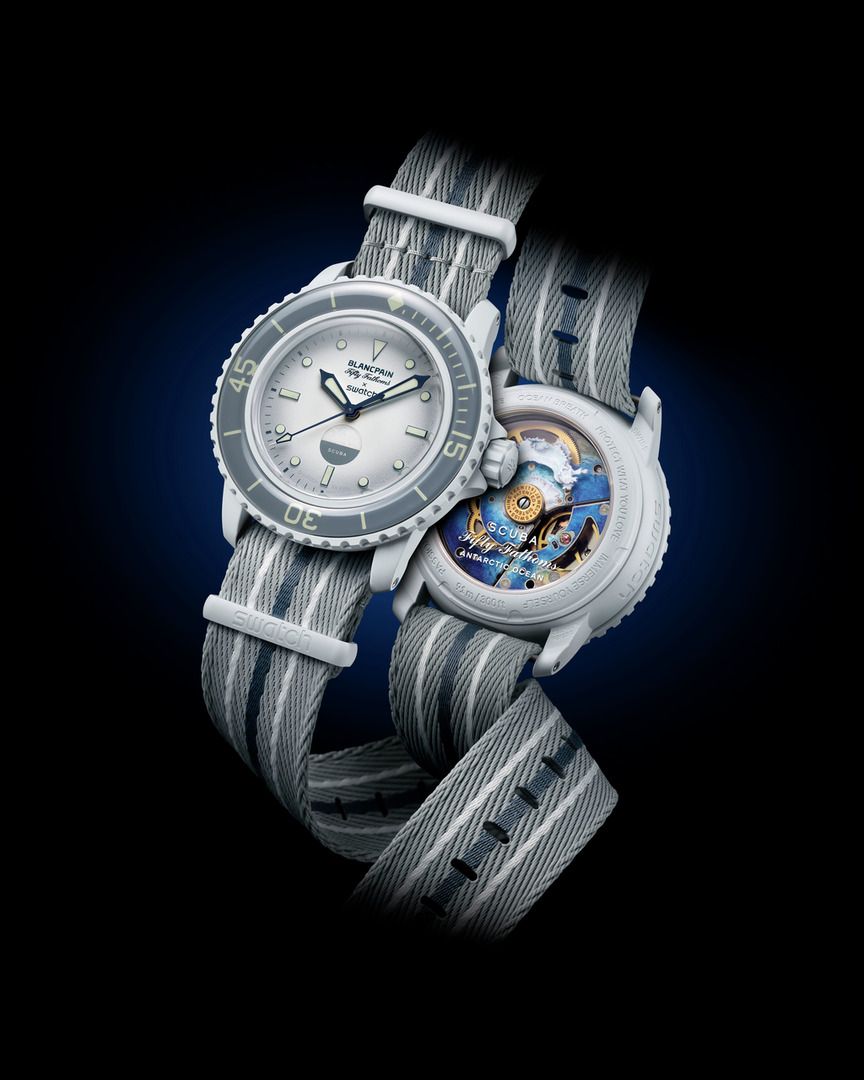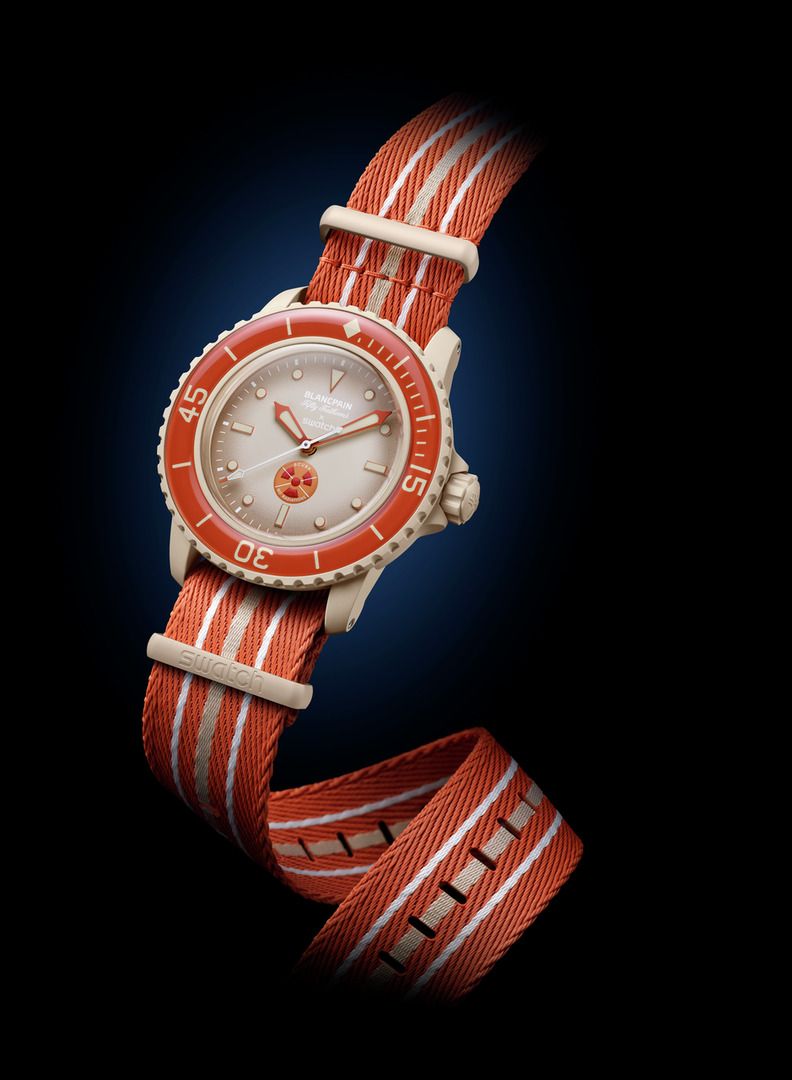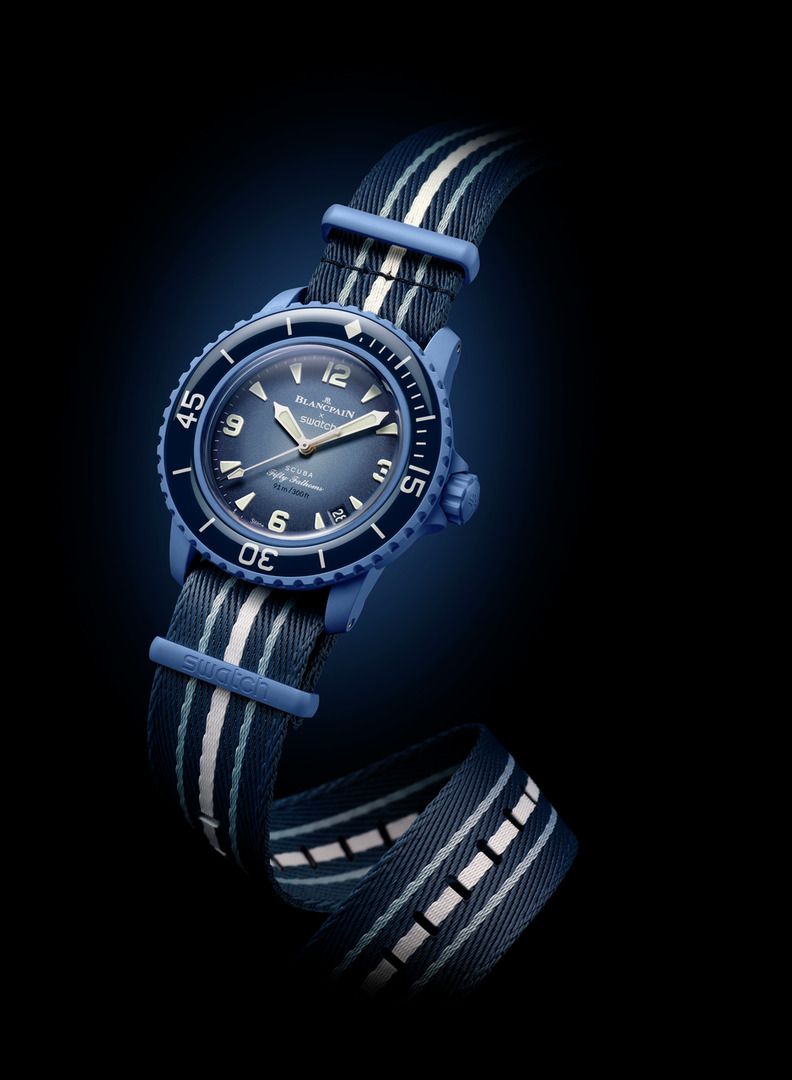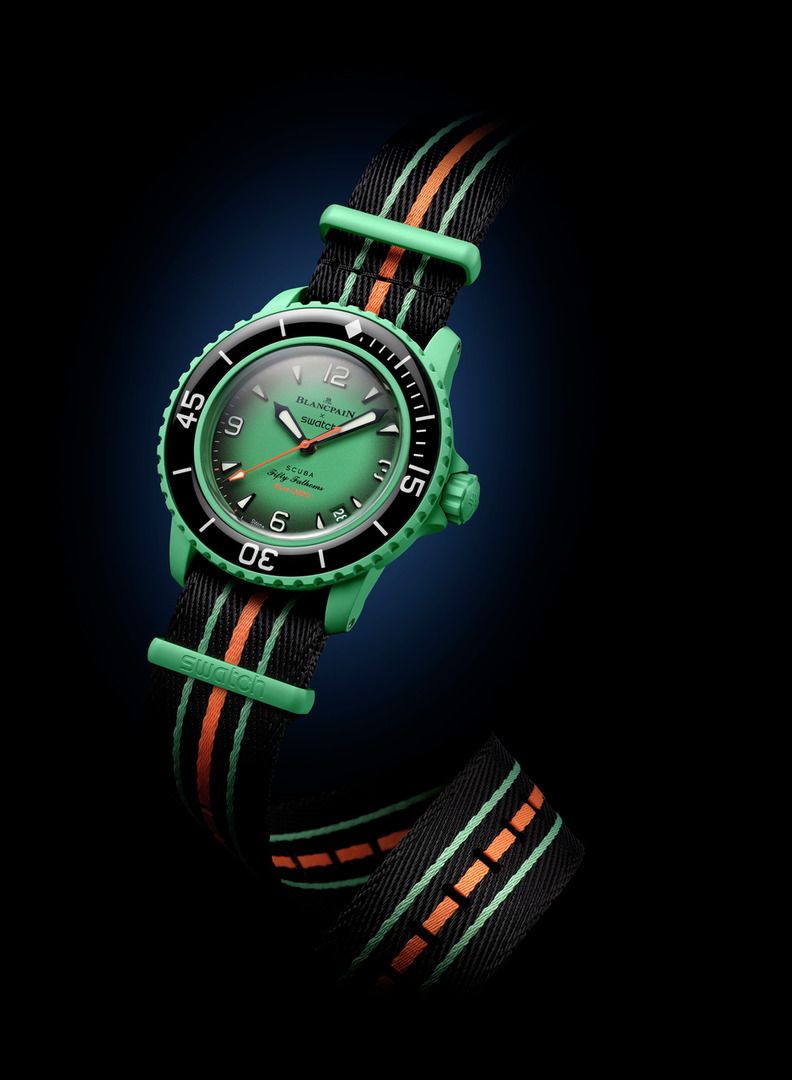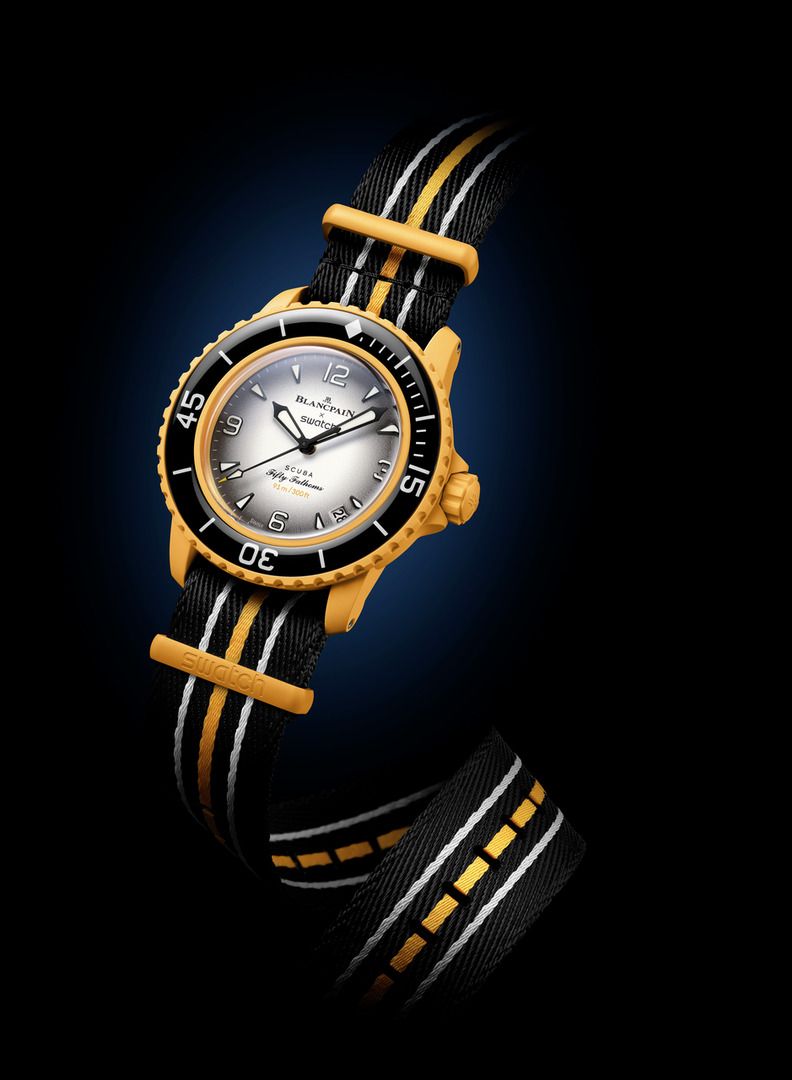 These watches are made of plastic, but it's a special plastic
While these aren't true designer watches, you may still expect some luxury touches. So, the fact the Scuba Fifty Fathoms are made from plastic may come as a bit of a shock. But Swatch claims it uses a special, more eco-friendly polymer in its manufacturing process. And arguably, the unorthodox material choice adds a little more uniqueness to the watches. The plastic, or "Bioceramic" as Swatch calls it, is made from a combination of castor beans and zinc oxide.
It's also quite difficult to work with, which is why production of the MoonSwatch wasn't as quick as you might have expected. That, in turn, is why supplies of the in-demand timepiece were pretty limited. It is not yet known if Swatch has refined the process, but the Blancpain X Swatch collection is non-limited and will be available in greater numbers.
This new release does have one "luxury" feature the MoonSwatch doesn't: The Scuba Fifty Fathoms collection has an automatic movement, specifically Swatch's Sistem51 movement. As its name suggests, the movement contains just 51 parts. It also boasts a fairly impressive 90-hour power reserve. While its +/- seven seconds per day accuracy qualifies it for chronometer status, it's nowhere near as accurate as a quartz movement, which loses or gains less than a second on average. Still, automatic movements are preferred by enthusiasts due to the skill and care involved in their creation, so this is a significant step up from the MoonSwatch.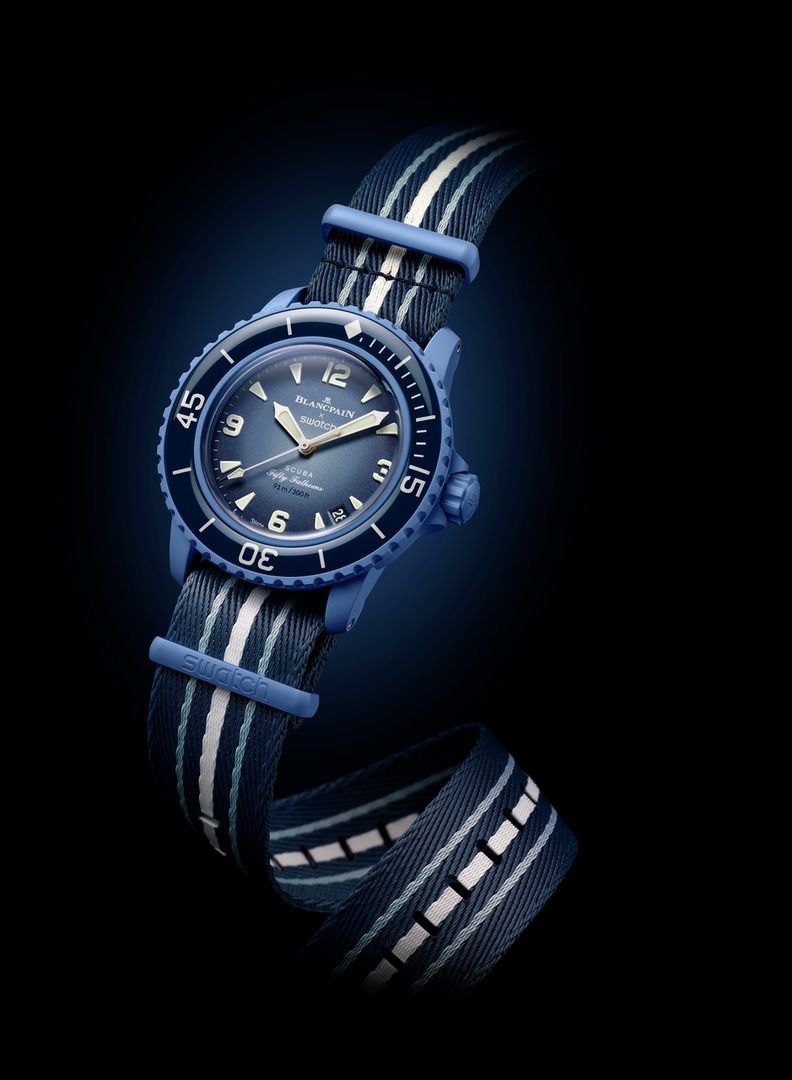 You can get one for $400, if you can get one at all
While the idea of buying one of these watches because the design appeals to you or because you have a connection with a certain ocean is appealing — things aren't that simple. As with the MoonSwatch, the Blancpain X Swatch Scuba Fifty Fathoms dive watches are only available from certain stores. The U.S. stores listed are New York New York in Las Vegas, 5th Ave and TSQ in New York City, Powell in San Francisco, Houston Galleria, Miami's Lincoln Road, Millenia in Orlando, Dallas' NorthPark, and Ala Moana in Hawaii.
If the previous Swatch collaboration is anything to go by, stocks of the relatively cheap watches will go pretty fast. So don't be shocked if the location near you has sold out and has a fairly long backorder list. There isn't a hard cap on the number of watches that will be produced, so it isn't limited in the "1 of 300" sense. But you are really at the mercy of Swatch's mass production capabilities on this one. If you do manage to get your hands on one early, expect to part with $400 plus tax.
Editors' Recommendations