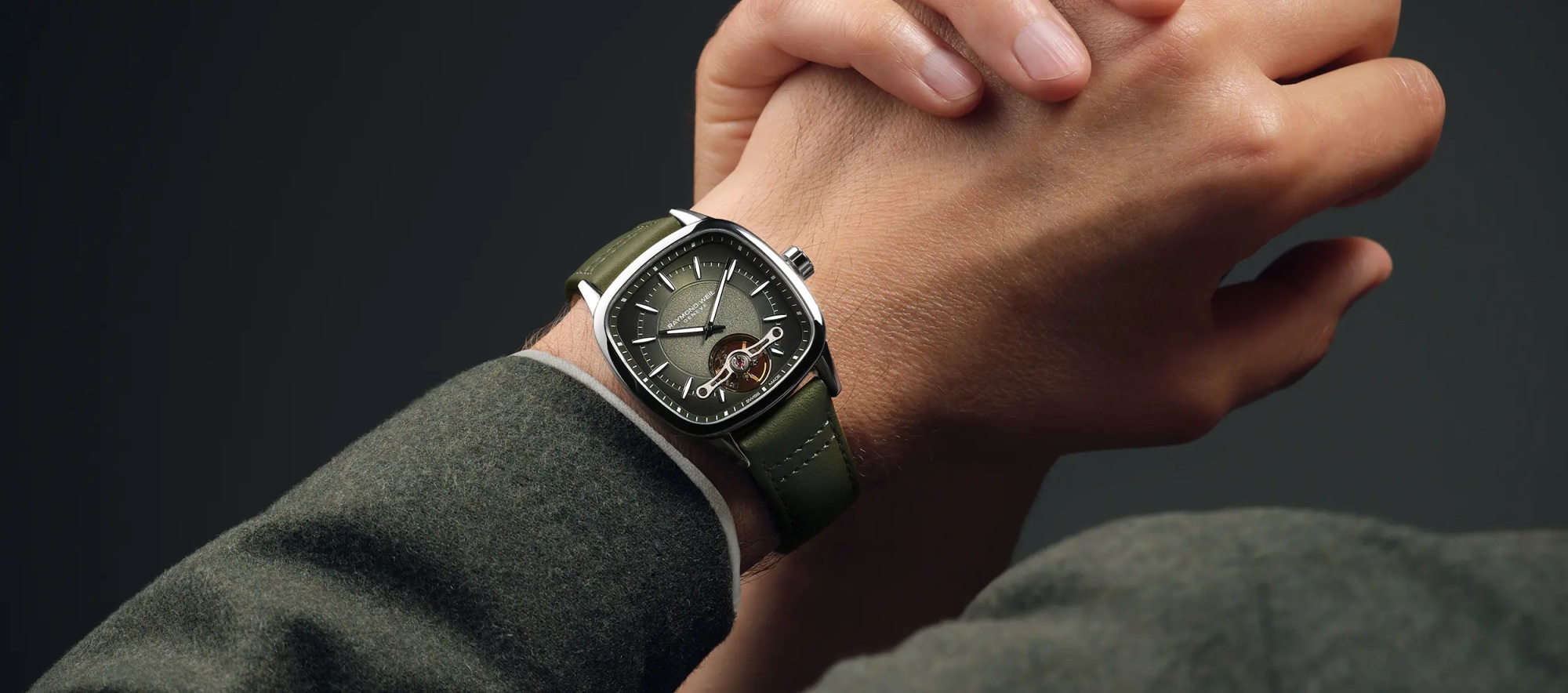 When you think of luxury watches for men, a few names immediately come to mind. One of these names is Raymond Weil. With a legacy dating back to 1976, it has always been known for its impeccable craftsmanship and timeless design. But now, it has done something a little different. Raymond Weil watches have gone square, and it's a move that's got the watch world buzzing.
Like other companies, Raymond Weil has a history of having traditional circular casings, but the new Freelancer Collection marks a daring break from the past. What sets these watches apart visually are the square cases, measuring 40 x 40 mm with a thickness of 10.5 mm, which makes us wonder why this development took so long to come about.
This unique square shape is a selling point, departing boldly from the traditional round cases. It's a pro for those who appreciate unconventional designs, though it may not suit those who prefer a more classic look. Raymond Weil has confidently jumped into the square watch pool rather than just dipping its toes in. It's obvious the company is creating its own trends rather than merely following them.
The devil is in the details
Men's watches are all about the details, and Raymond Weil knows this well. The Freelancer Collection is a masterclass in craftsmanship. The intricate dial designs, the precision movement, and the choice of materials all speak volumes about Raymond Weil's dedication to quality.
These watches cater to the discerning gentleman and come in two striking colors, dark green and blue, allowing you to choose the one that resonates with your style. Additionally, you have the option of a leather or stainless steel strap to suit your preference. It's essential to note that leather straps may wear over time, and for increased durability, the stainless steel alternative might be best.
The standout feature of this timepiece is its mechanical self-winding, in-house movement, the RW1212, which incorporates a visible balance wheel. This movement not only adds an exclusive touch to the watch but also guarantees accurate timekeeping. With a respectable power reserve of 38 hours, this watch allows you to carry on your daily activities without the constant need for winding.
The screw-down case back features a sapphire crystal, providing extra protection and a glimpse of the movement, a delightful touch for watch enthusiasts. The sapphire crystal also has an anti-reflective coating, enhancing legibility and safeguarding the dial from scratches. With a water resistance of 100 meters, this watch is versatile and practical, suitable for various water-related activities. The watch's dial features a large opening at 6 o'clock, with hands and indexes enhanced with white Super-Luminova. The use of Super-Luminova ensures readability in low-light conditions, a practical advantage.
Adding to its functionality, there's a date window at 3 o'clock, helping you keep track of the date. The screw-down, polished stainless steel crown, bearing the RW monogram, is a fine detail that contributes to the watch's aesthetics.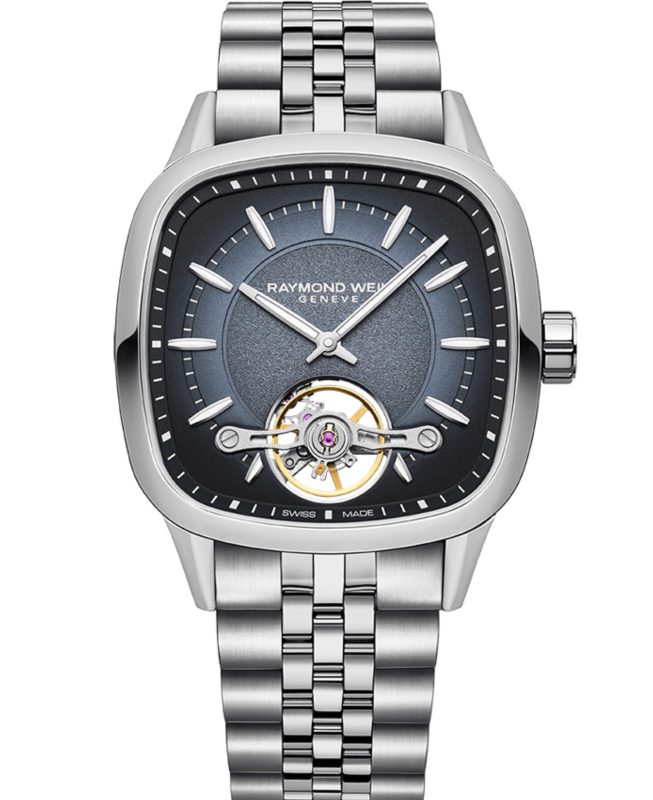 Timeless design meets contemporary edge
The square case design is bold and elegant. It's a statement piece and a conversation starter and it's perfect for those who want a watch that's as unique as they are. The doesn't shy away from playing with shapes and angles, and the result is a collection that's classic and contemporary.
A common concern when transitioning from round to square cases is comfort. Will a square watch sit comfortably on your wrist? Raymond Weil has thought of that, too. The Freelancer Collection features a thoughtfully designed case with rounded corners that ensure it sits comfortably and securely. It's the perfect balance between aesthetics and wearability.
If you're a watch enthusiast looking for something that stands out, something that sparks conversations, the Freelancer Collection should be on your radar. Raymond Weil has proven that square can be just as alluring as round, and it has done it with its trademark craftsmanship and style.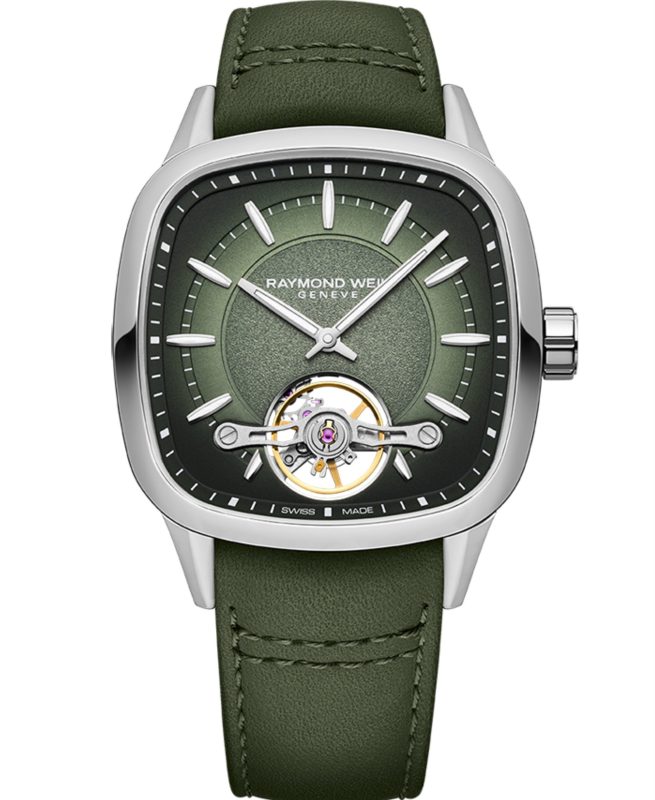 Pricing and accessibility
Raymond Weil has created something extraordinary with the Freelancer Collection, and that's evident not just in the design but also in the price point. These watches offer a level of luxury that's accessible without breaking the bank. It's a refreshing change in a world where luxury often comes with an exorbitant price tag. The watches with leather straps come in at $2,450 while the stainless steel strap will set you back $2,495.
Editors' Recommendations