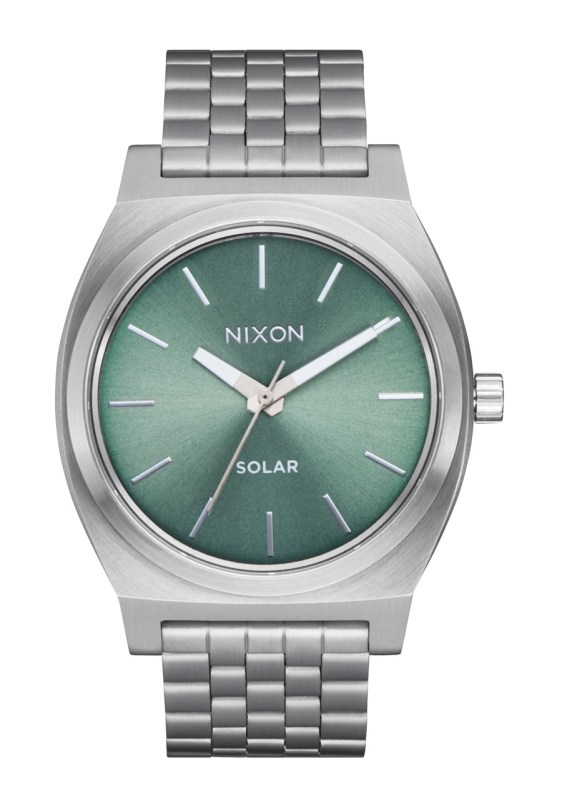 No matter how fancy the watch is, when it comes time to replace the battery, we all act like it's easier to buy a new watch than to change the battery. The hassle of taking it to a jeweler is daunting and trying to swap it out yourself isn't going to happen. Nixon knows this, and took a classic staple and gave it a feature that won't leave you frustrated. Here's why you should get excited about the Nixon Time Teller Solar collection.
The upgrades to look out for
Solar panels, solar lights, and now you can add this Nixon watch to the collection of your favorite things that run on the sun. They gave the Time Teller a few new features.
Everyone gets upset trying to put a watch on (especially when in a hurry) and the thing just won't clasp shut. Nixon made the clasp easier for everyone, where you won't need additional tools (or an extra person) to get the watch on or to make any adjustments to customize it for your wrist.
Made the case larger, but in a good way
This thinner version sits a bit wider for a more comfortable wear, giving it a sleeker look.
Of course, the solar aspect was added
The best part is the solar panel is discreetly hidden in the dial. One charge up will get you four months of precision time-telling, so even the laziest of us could keep this watch running smoothly — as long as we give it a little light.
But the Nixon Time Teller has all the other details you want, like the Japanese Quartz movement, stainless steel details, raised indices on the dial, and that 100 meter/10 ATM water-resistant rating.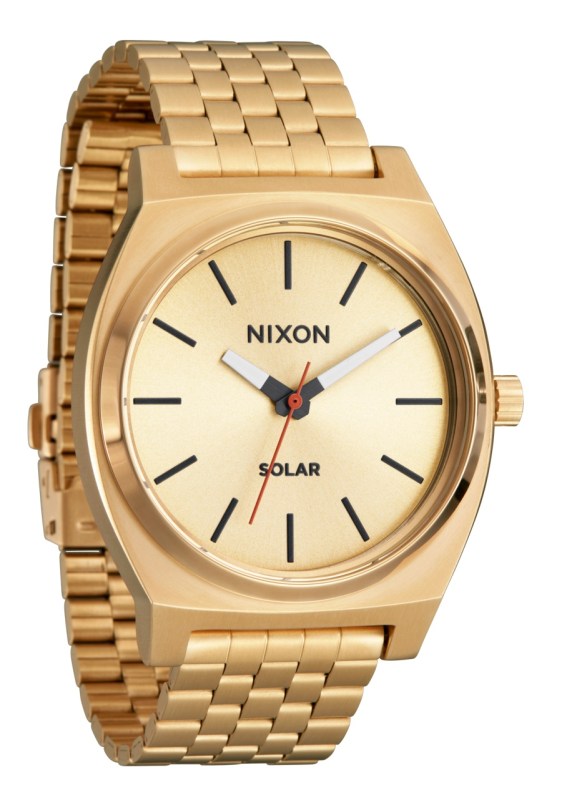 You'll have options to choose from
Thankfully for you, if you like to match your timepiece to your outfit or can't decide which color to get, Nixon made sure you have all the options to pick the one that fits your personality.
The colors
All gold with black accents

All black with white accents

Silver with a Jade sunray

Silver with a dusty blue sunray
The price is right
All of the watches come in at $150, which is a great deal for all of the upgrades, especially knowing you won't have to worry about that battery life. For how long the watch will last, the value for the quality is a no-brainer.
Hollywood loves the brand
Nixon has been styling celebrities and characters in movies, too.
Justin Bieber wore a white Nixon The Newton at the Nickelodeon Kids Choice Awards back in 2010.

Linda Hamilton sported a Nixon Regulus in

Terminator: Dark Fate.

A Nixon Ragnar was on Thomas Cocquerel's wrist in

The Divorce Party.

Ryan Reynolds was on the case with a Nixon Siren watch in

Detective Pikachu.

In The Way, Way Back

, Sam Rockwell's character Owen showcased a Nixon The Fader.
For a company that launched its first watch only as far back as 1998, they've come a long way from being the go-to Dad watch of choice. The Nixon Time Teller is a piece that exudes minimalistic luxury while making a darn good piece of wrist candy.
Editors' Recommendations