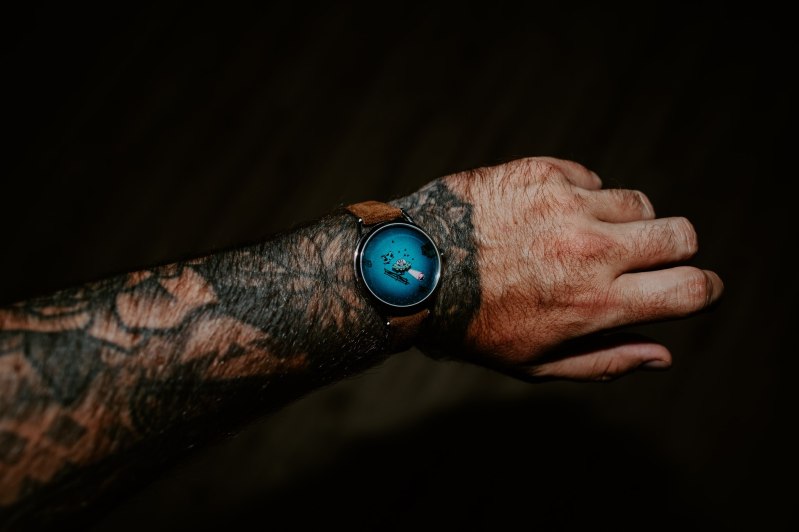 If you want something interesting on your wrist and don't take things too seriously, then you may want to consider Mr Jones Watches' new mechanical option. The London-based watchmaker has released an automatic version of its popular "Beam me up!" watch, which features illustrations from French artist and author Xavier Broche.
Like its quartz equivalent, the new "Beam me up!" features a cartoon pig doing its best to escape a tractor beam shot out by a flying saucer. The beam doubles as the minute hand, while the confused swine acts as the hour marker. The rest of the face is a two-tone green and features a cow, a fence, and a small flock of birds. The mechanical variant of the watch is a little bigger than the quartz one. So expect the scene to take up 40 mm of wrist space instead of 37. It's also 11 mm thick.
In terms of longevity, it comes with a year's warranty as standard — though the company says it's "happy to help" if problems arise after that. It can also tolerate five atmospheres of pressure, which equates to roughly 164 feet of depth.
When describing what inspired him to daub the watch's design, Broche said:
"I wanted to describe an alien encounter in a playful way. I imagined how it would be for a simple pig to be at the heart of this historic event. I found it funny to imagine the alien traveling endlessly across space searching for intelligent life, only to encounter a bewildered pig at the end of this epic journey! Don't worry about the pig though — he'll outwit the alien in the end!"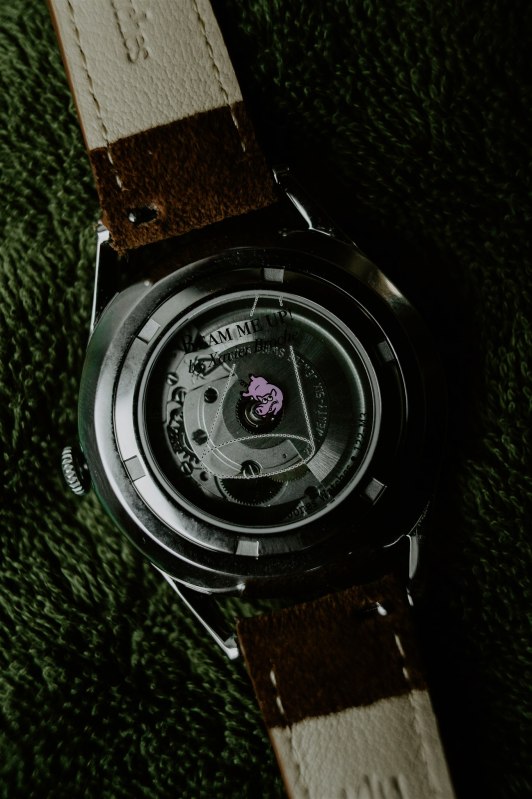 Mechanical watches are already a talking point
If we're judging things on accuracy or practicality, mechanical watches are inferior to those with quartz movements. A quartz watch keeps time by running a small electrical charge through a piece of quartz crystal. The crystal then vibrates at a frequency of 32,768 hertz, and this can be broken down to measure a second. As a result, even cheap quartz watches are accurate to within 1 second per day. On the other hand, a COSC-certified chronometer, which is an excellent mechanical watch, can lose up to 4, or gain up to 6 seconds per day. You don't have to wear or wind a quartz watch either.
So why are we obsessed with men's watches with mechanical movements? Well, they're more technically impressive. Especially when a watchmaker designs something particularly accurate, adds complications, or develops a different way of doing things. They're a talking point, and they're absolutely beautiful to look at.
As for the movement Mr Jones is using, we don't know much. But we do know it is Swiss, automatic, and uses 26 jewels. We discerned this by looking through the back of the watch, and you can, too, thanks to the glass case back. Said case back also includes an illustration of the pig, which seems to have been trapped by the tractor beam. You can grab the automatic "Beam me up!" from the Mr Jones Watches website. At the time of this writing, it's retailing for $595.
Editors' Recommendations