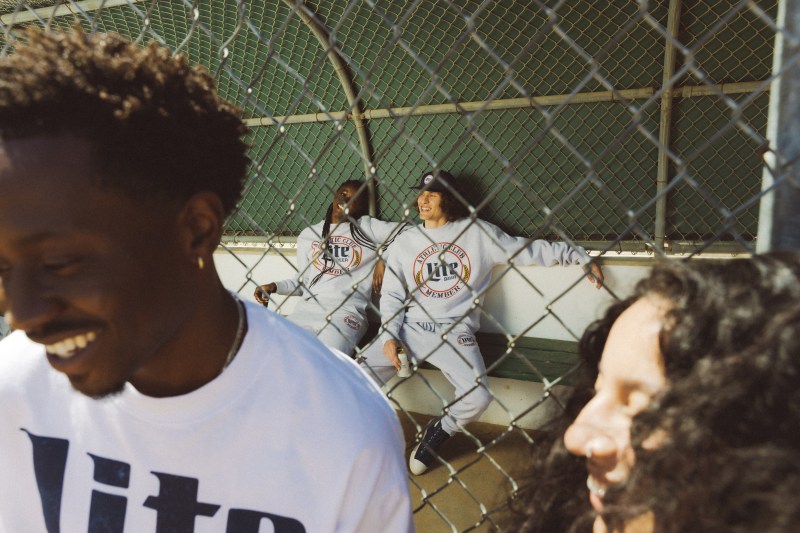 It seems everyone loves the '80s, and honestly, what's not to love? The simpler times, the yuppies, MTV, and, of course, the fashion. Mitchell & Ness Nostalgia Co., a renowned seller of historically accurate vintage sports apparel, is capitalizing on that throwback trend with another partnership with Miller Lite. Together, they have launched a limited-edition collection that "gives a fresh take on the nostalgia of the original Athletic Club line" that originated in that decade. That's right! Now you can own vintage-inspired crew necks, sweatpants, t-shirts, windbreakers, and hats that will take you all the way back to that classic '80s vibe.
What's in the collection?
Pieces from the collection range from $35 to $100, according to a press release, made with "premium fabrics, providing high-quality pieces that are built to last." This includes a classic crewneck sweatshirt that is unisex and comes with ribbed side panels for maximum stretch, ribbing at the cuffs for a truly '80s look, and the Miller Lite Athletic Club emblem on the front for $80. Also in the collection are the snapback hat in navy ($35), a navy windbreaker (because you can't have a throwback line without a windbreaker) for $100, sweats, and a 100% polyester unisex satin navy jacket ($95) to cap off the look. It can't get much more '80s than this.
"Nostalgia and vintage threads are currently on-trend, making it a seamless transition to bring back such an iconic line," said Kevin Wulff, CEO. "Members of our team remembered the original Miller Lite Athletic Club and were thrilled to be a part of bringing back such a classic collection that focused on vintage and authentic sportswear, which is the root of Mitchell & Ness."
The history
Miller Lite launched their first Athletic Club line back in the 1980s, and fans of the brand could sign up and "collect prizes, attend special events, and of course get their hands on pieces from the original merch line." Today, you can find the collection at Mitchellandness.com or on site. Keep in mind you must be over 21 to order any of the items from this line.
"For years, people have been begging us to bring back the Athletic Club, but we needed the right partner to reimagine this iconic line in a modern way," said Kelsey Ott, Associate Marketing Manager for Miller Lite. "We've loved working with Mitchell & Ness over the past few years, and our latest collab together is no different — it's a modern take on vintage athletic apparel and perfect no matter if you're in the field or on the couch."
There is nothing to be mad about in this collection. Anything that brings up a bit of nostalgia and connects us to our past is a good thing. Well-made, vintage-inspired clothing that's comfortable and stylish? Sign us up.
Editors' Recommendations