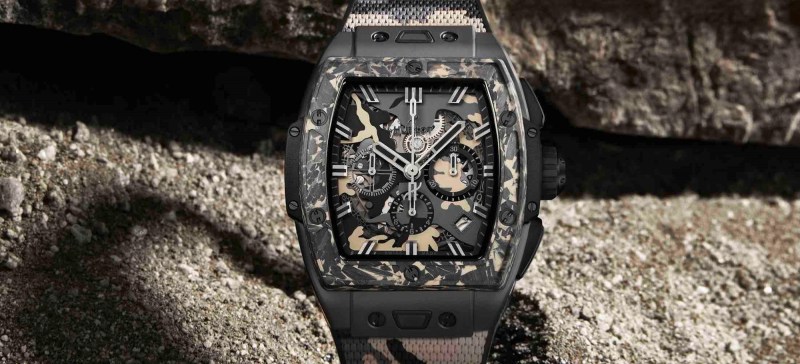 Hublot, the epitome of opulence in the world of watches for men, has once again pushed the boundaries of style and innovation with its latest creation, the Hublot Spirit of Big Bang Ceramic Carbon Beige Camo. This timepiece doesn't just tell time; it makes a statement. Let's delve into the details and discover what makes this limited-edition camouflage chronograph a must-have for watch aficionados.
When it comes to luxury timepieces, Hublot watches stand in a league of its own. The brand's commitment to excellence is evident in every timepiece it produces, and the Spirit of Big Bang Ceramic Carbon Beige Camo is no exception. As you explore the watch, the craftsmanship and attention to detail become unmistakably Hublot.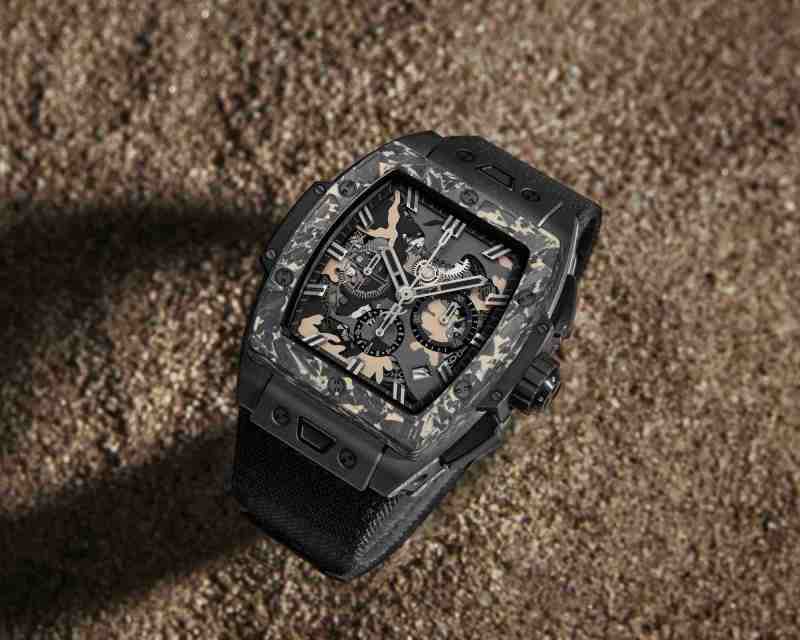 Technical marvel: Inside out
The 42 mm micro-blasted black ceramic case establishes the tone for a sophisticated and robust timepiece. This high-tech ceramic isn't just a choice; it's a testament to its sturdy nature, offering near imperviousness to scratches. Crafted from zirconium, and subjected to intense sintering, this material emerges as an epitome of resilience, ensuring the protection of the intricate mechanism within and an enduring presence through the sands of time.
The matt beige frosted carbon bezel celebrates the union of elegance and exploration by adding a tough yet classy touch. Protected by a sapphire crystal dial and anti-reflective treatment, the dial provides a clear view into the intricate workings of the HUB4700 self-winding skeleton chronograph movement with 50 hours of power reserve.
Enthusiasts will appreciate the inclusion of dual straps, effortlessly interchangeable through Hublot's ingenious one-click strap system. One option boasts a chic black and gray rubber strap with a structured design, mirroring the camouflage aesthetics of the case. Meanwhile, the alternative is a dynamic black Velcro fastener fabric strap, exuding a sporty vibe. The former is adorned with an elegant deployant buckle crafted from black ceramic and black titanium, while the latter features a sleek black ceramic sport buckle, adding a touch of versatility to the timepiece.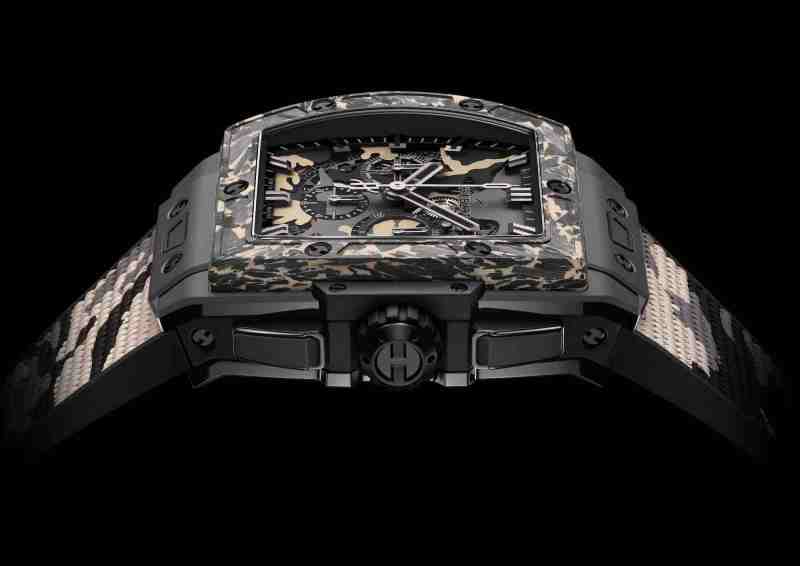 Embracing the elements
The Hublot Spirit of Big Bang Ceramic Carbon Beige Camo doesn't just celebrate style; it pays homage to the rugged beauty of the American desert. This Hublot watch has a color palette inspired by the desert landscape, adding a touch of adrenaline to your wrist, making it the perfect companion for both urban escapades and wilderness explorations. With water resistance up to 100 meters, this limited-edition chronograph isn't just a showpiece; it's ready for any thrills you throw at it. Bungee jumping anyone?
In the realm of luxury watches, Hublot has consistently raised the bar, and the Spirit of Big Bang Ceramic Carbon Beige Camo is a testament to its commitment to originality and flair. This limited-edition chronograph isn't just a timekeeping device; it's a symbol of adventure, precision, and exclusivity.
In a world where watches are not just accessories but expressions of personality, the Hublot Spirit of Big Bang Ceramic Carbon Beige Camo stands out as a bold and assertive choice. With a price of $29,100, it's certainly an investment, especially for a watch with such a sporty vibe; however, the technical aspects make it well worth it.
Editors' Recommendations