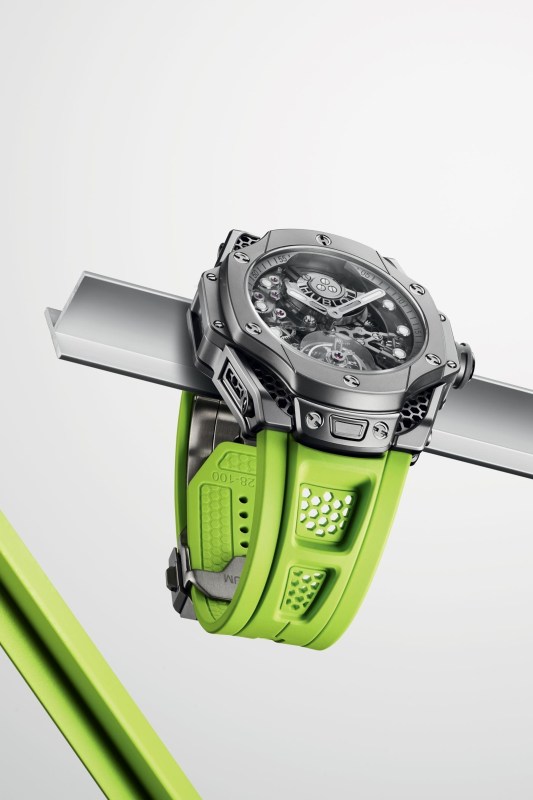 In the world of haute horlogerie, where craftsmanship meets innovation, there exists a timepiece that transcends the ordinary. The Hublot Big Bang Tourbillon SR_A by Samuel Ross is not just a watch; it's an intricate masterpiece — a fusion of creativity and engineering that demands our attention. As we delve into the fascinating world of Hublot watches, let's explore what makes this timepiece a true standout in watches for men.
Before we dive into the specifics of the Hublot Big Bang Tourbillon SR_A, it's essential to acknowledge Hublot's legacy. Hublot, a Swiss luxury watchmaker founded in 1980, has consistently pushed the boundaries of watchmaking. The brand is renowned for its innovative designs and unmatched craftsmanship, making it a symbol of luxury and precision. The Hublot Big Bang series, in particular, has been a testament to the brand's commitment to excellence.
Size matters, and so does style
At first glance, what strikes you about the Hublot Big Bang Tourbillon SR_A is its size. With a bold 44 mm case, it makes a powerful statement on your wrist. This watch isn't for the faint of heart; it's a declaration of confidence and style. The shiny micro-blasted titanium case and bezel give it a futuristic and edgy appeal that's hard to ignore. The shimmer of the titanium is reminiscent of a sleek sports car, and wearing this timepiece is like strapping a piece of automotive elegance to your wrist.
It boasts a respectable water resistance of 30 meters or 3 ATM, so you won't be wearing it for deep sea diving anytime soon, but it can definitely handle the occasional splash without breaking a sweat. It's a practical feature, ensuring your investment remains intact even during unforeseen encounters with water.
The Hublot Big Bang Tourbillon SR_A doesn't just tell time; it showcases it. The sapphire crystal dial isn't only scratch-resistant but also features an anti-reflective treatment. This ensures you can admire the intricate details of the watch without any annoying glare, even under the bright sun.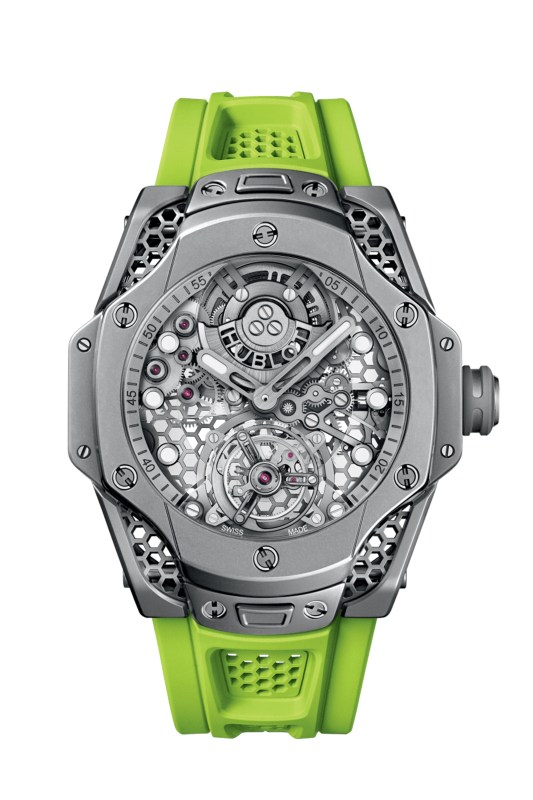 The heart of the machine
What's inside a watch matters just as much as its exterior. This Hublot watch is powered by the HUB6035 Manufacture Automatic Tourbillon Movement. The tourbillon movement is a masterpiece in itself, a marvel of engineering that compensates for the effects of gravity, ultimately leading to enhanced accuracy. With a 72-hour power reserve, you won't have to worry about winding it every day.
The band of the Hublot Big Bang Tourbillon SR_A is a smooth rubber strap that complements the titanium case exquisitely, and while it comes in black and white, its most vivid option is bright green. The comfort of the rubber strap makes it perfect for everyday wear, and if you're feeling daring, the green adds a pop of color to your wrist. It's a symbol of Hublot's willingness to break the mold and challenge traditional norms.
Exclusivity in limited edition
Building on the success of the original collaboration piece from the previous year, this latest iteration is once again produced as a limited edition, with only 50 exquisite examples to grace the wrists of the fortunate few. This rarity makes it a collector's dream. It's not just a watch; it's an investment in artistry, a piece of history that speaks volumes about your taste and discernment.
From its 44 mm size to its tourbillon movement and limited-edition status, every aspect of this watch oozes sophistication and elegance, including its additional titanium case components. This watch is not for everyone. It's for those who understand that time is more than just hours and minutes; it's an art form. The Hublot Big Bang Tourbillon SR_A is a fusion of technology and tradition, a harmonious marriage of aesthetics and engineering. It's the kind of timepiece that turns heads and starts conversations.
What sets this new release apart is its attention to detail. The thoughtful inclusion of a trio of interchangeable straps allows wearers to customize their watches to suit any occasion. However, the luxury of this caliber comes at a price. The new Hublot Big Bang Tourbillon SR_A by Samuel Ross does cost a bit more than its predecessor, with an official retail price of $127,000 USD. It's a significant investment and could appear a bit much due to the simple straps. It's undeniable that this price tag might raise eyebrows, but it's essential to consider the context. In a world where even the least expensive Hublot Big Bang Tourbillon models cost a minimum of six figures, the price of the new Big Bang Tourbillon SR_A starts to seem more reasonable.
Editors' Recommendations