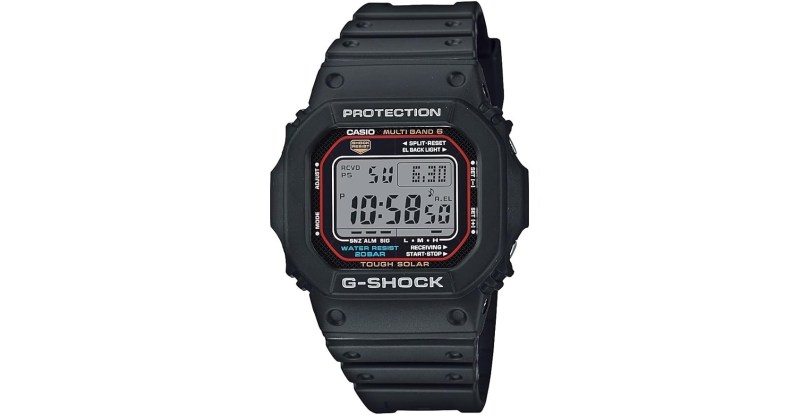 If you've been putting off buying another digital watch, Amazon has the deal that you've been waiting for. Right now one of our favorite watch brands, Casio, is selling one of its cheapest and most reliable watches, the G-Shock GWM5610-1, at a significant discount. Normally $150, this watch is down to just $99 after a 34% discount. It's not every day you can save $50 on a purchase that will last for years. If you're not convinced that a G-Shock is for you, keep reading as we dig into its capabilities. Here's the highlight: It's solar powered.
Why you should buy the Casio G-Shock GWM5610-1
Casio has been making digital watches since the mid '70s, and to be honest, they haven't changed all that much. The G-Shock line has carved a place for itself as some of the most rugged and durable watches available, and that means they last for decades at a time. While the watches may have gotten a few more digital "complications" (meaning more points of data on the watch face), the G-Shock is primarily known for surviving rough conditions and not breaking.
To that end, Casio has made the newer G-Shocks even tougher. This G-Shock GWM5610-1 does so by charging itself in the sun. You can charge the battery just by wearing it outside, meaning fewer battery replacements over its lifetime. Even if you were to live in a cave and never see the sun, the G-Shock GWM5610-1 would survive for 10 months without light. Think about how long the battery will last just by soaking in a few rays every day.
The GWM5610-1 also has all the standard features: water resistance to 660 feet (anything short of scuba diving), an automatic backlight, shock resistance and a few alarms.
As part of Amazon's teases for Black Friday G-Shock deals, you can grab the Casio G-Shock GWM5610-1 for only $99 today. We're not sure what the bulk of the sale will look like yet, but we'd be surprised if this watch got any cheaper in the coming weeks. If your decades-old Casio finally kicked the bucket, you're just in time to grab this cheap replacement while it's even cheaper.
Editors' Recommendations