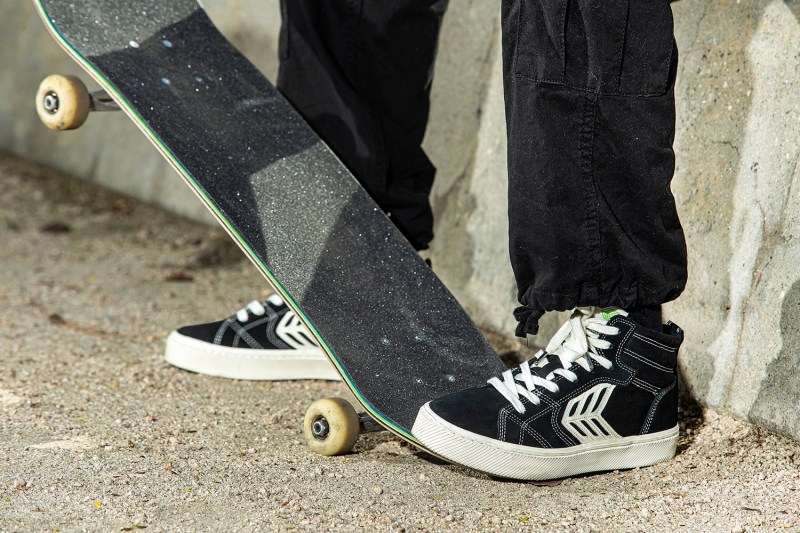 They say the reason for an Ivy League education is the connections you make, for access into the rooms where deals are made. You know the type: wood-paneled, ringed with cigar smoke, all collegial handshakes and crossed legs in leather wingback chairs. But Cariuma , which was founded in 2018 by Brazilians David Python and Fernando Porto, credits its origin story to a ski lodge where the founders were playing hooky from Harvard Business School. "I almost visited every resort in my two-year MBA," Python, 38, tells The Manual. "I didn't study business at all. I was there just to snowboard." It's only the first aberration of many that has led to the fledgling company doing everything differently in the best possible way.
Related Guides
The wunderkind was recruited mid-MBA to manage a family-run women's shoe business which specialized in fast fashion. There, he soberly slugged it out for seven years, overseeing around 600 employees while smothering countless personnel fires. "I look back on how I reacted to emails and routines and deadlines," he says. "I saw there was a better way to trust people's work, to allow for mistakes in a creative environment, and to have a different relationship with time."
Concurrent to this, Porto was knee-deep in his own fashion career. Python says Porto had started his first shoe company in Brazil at 18 and was bankrupt by 23 before rising again from the ashes. He was a "product freak magician, with a crazy attention to detail," and sure enough, when the two founded shoe brand Cariuma in 2018, he slid seamlessly into the role of product engineering and sourcing. They were two sides of the same coin sandwiched around a background of action sports – surfing for Python and skateboarding for Porto.
But despite the pair's footwear experience, the plan was never specifically to start a shoe company.
"I told my wife and my friends 50 times that I would never start a [shoe] company. Never," Python says, remembering back to the frenetic pace and quality of life for everyone involved. Rather, his partnership with Porto was one of the right people rather than the right project. "We started with 'who,' not with 'what' or 'how,'" he continues. "We started with this belief that amazing people can do great things together."
Why shoes, beside the pair's obvious wealth of experience? In the end, it was because no one has yet done it right. Here are some questions: What if products were designed to be classics rather than cutting-edge, therefore less susceptible to the whims of the season? What if components were sourced from sustainable, greener materials? And what if working for the company was considered a badge of honor rather than the only option?
"No sustainability plan can happen without putting together a group of people who truly believe in it," Python says, and so like its founders' partnership, Cariuma began with the people themselves. The two visited 12 factories, narrowing it down to two native Brazilian options. Employees receive fair wages, safe working conditions, and bountiful resources that allow them to tend to their mental, emotional and physical health. This was Python's domain. Porto turned to materials. Bamboo, natural rubber, sugarcane, cork, and organic cotton were cut into classic silhouettes, dyed with Blue-certified chemicals, presented in recycled packaging, and shipped by carbon-neutral standards. No company had ever achieved such sweeping environmental and personnel standards because no other company had established these values from the start.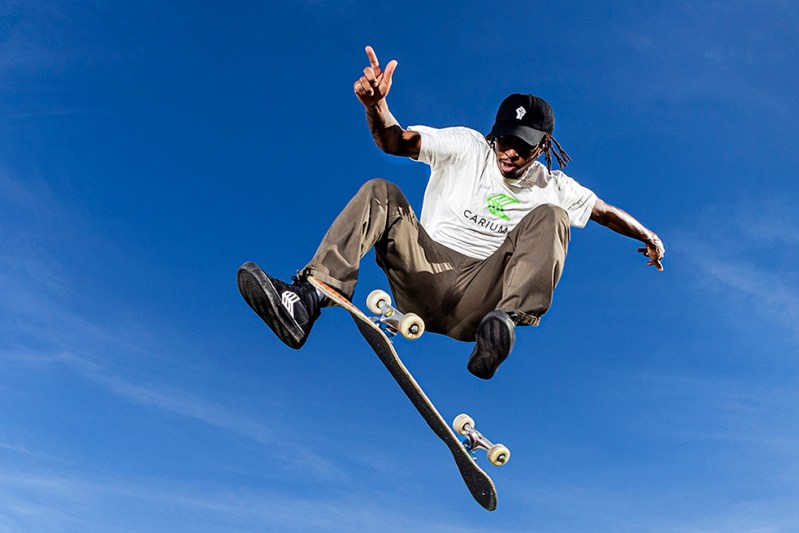 "Our vision is to become a global brand in an example of how a profitable fashion business can prosper without harming the planet," Python says. "And that's a vision that no big corporation can embrace."
Wasting no time, Cariuma opened its first brick-and-mortar in 2019 less than a year after hanging their digital shingle online. It was a three-month pop-up location in Venice Beach meant to provide a beachhead into the American market. It was there that a curious thing happened: skateboarders began picking up its shoes.
To provide brief context, most products in skateboarding are temporal: urethane wheels wear down, metal trucks grind off, and seven-ply Canadian maple decks snap with one misplaced landing. Shoes may take the greatest brunt of destructive forces thanks to the sandpaper-like griptape on their tops, and in as little as a week for some pros they may wear through the sides and into the sock. It's for this reason that companies have, for decades, only been able to raise prices so much for essential hardgoods, which has meant that they must be produced as cheaply as possible to maintain profit margins already remarkably low. Environmentalism, if considered at all, only has so long of a runway.
But Cariuma already had made a thousand right decisions from an environmental standpoint, and it already had been leaning on the sport through its classic silhouettes to inspire modern design. Really, it was a Field of Dreams-like scenario, and in the fertile ground of the Southern California industry hub, Cariuma found that what it built had encouraged like-minded skaters to come. There was a market for sustainable shoes if they could be made, and so the company set out to make one.
Porto, moving in and out of the skate scene, recruited a surprising number of team riders that first summer, including some of the best in the world from both the U.S. and Brazil. These athletes became real-time wear testers, destroying prototype shoes nearly as fast as they were made. The fallen soldiers were collected by Porto and, along with feedback, would contribute to the next iteration and the next and the next. The result was its Catiba Pro , the company's first performance skate shoe, which was released in September 2020.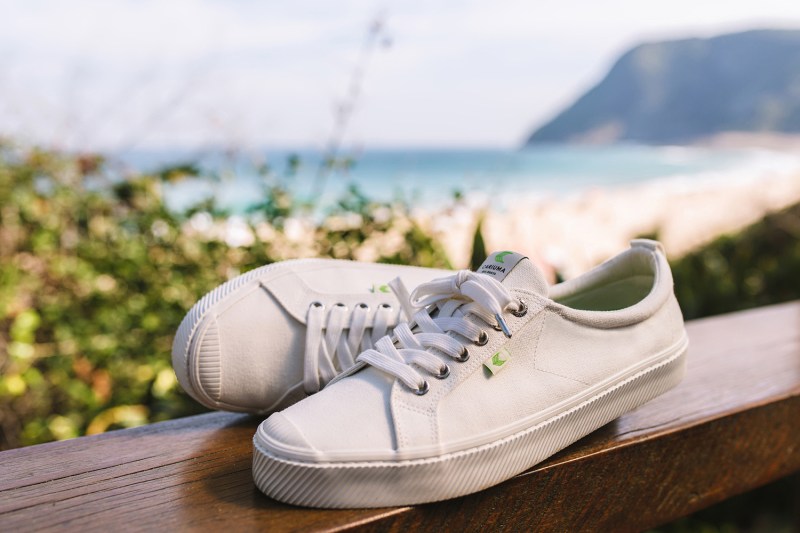 "I am a firm believer in that each and every one of us experiences the effect of a culture we have taken part in creating," says Steve Berra, a former professional skateboarder who co-founded The Berrics content house and private skate park, which has taken a lead role within the industry. The Berrics also partnered with Cariuma for a special-edition Catiba Pro and has been one of the company's biggest (and most influential) advocates. "We have a responsibility for what happens right now because not only will we experience the effects of it tomorrow, but so will our kids. [Cariuma's] impact on the skate community should be significant as I'd like to believe that skateboarding has been ahead of the general population in almost anything that's culturally relevant and important."
In a time when skate shops, the traditional hubs for local skate communities, are under duress with COVID restrictions and the encroachment of online sales, Cariuma has bucked the trend and only increased its support. To date, it's working with 50 different shops around the country with innovative models of distribution and product design, the latter of which includes selling single shoes , which allows single-side skaters to extend the lives of their footwear and reduce waste. Everything about Cariuma's interactions with these small businesses is intimate, down to the head of the program itself, which is Python. "The chances of you getting an email from me if you buy Cariuma is one in 10," he says with a laugh.
But for those of us who have moved past the days of ollieing stair sets and bombing hills, Cariuma still makes a hell of a walk-around shoe. Its cork-based insoles are super comfortable, and its styles, which clearly nod to classic skate and tennis styles, go with just about everything. The best part: With every pair, the average guy is contributing to about half a dozen causes, from the quality of life of Brazilian factory workers to the proliferation of greener materials and the reconstruction of the environment itself. On the latter, the company is expected to hit a million trees replanted in Brazil's shrinking pockets of coastal rainforest by the end of 2021. (Cariuma plants two for every pair of shoes sold.) Python, who has indigenous heritage, says the company will expand this program into the Amazon this year.
For all its good, Cariuma proves that the end result is the sum of myriad smaller decisions. But then again, those decisions are always made by people themselves. "The story of Cariuma is the story of two friends getting together," Python says. "Each one of us came with his own perspective on his own contribution to the world."
Editors' Recommendations