As summer's golden rays beckon us to embrace the outdoors, it's time to indulge in the season's most cherished pastime — beach days. Whether you're catching waves, lounging by the pool, or simply basking in the sun's warmth, the right board shorts can elevate your summer experience to new heights of style and comfort. At The Manual, we believe that the best board shorts for this season go beyond just looking good; they embrace eco-friendly practices, aligning with our commitment to sustainability. From recycled fabrics to thoughtful design innovations, we've curated a collection of board shorts that not only make a splash with their vibrant aesthetics but also leave a positive impact on the environment. Join us as we dive into the world of the most fun, comfy, and eco-conscious board shorts — handpicked favorites that promise an unforgettable summer, both for you and the planet.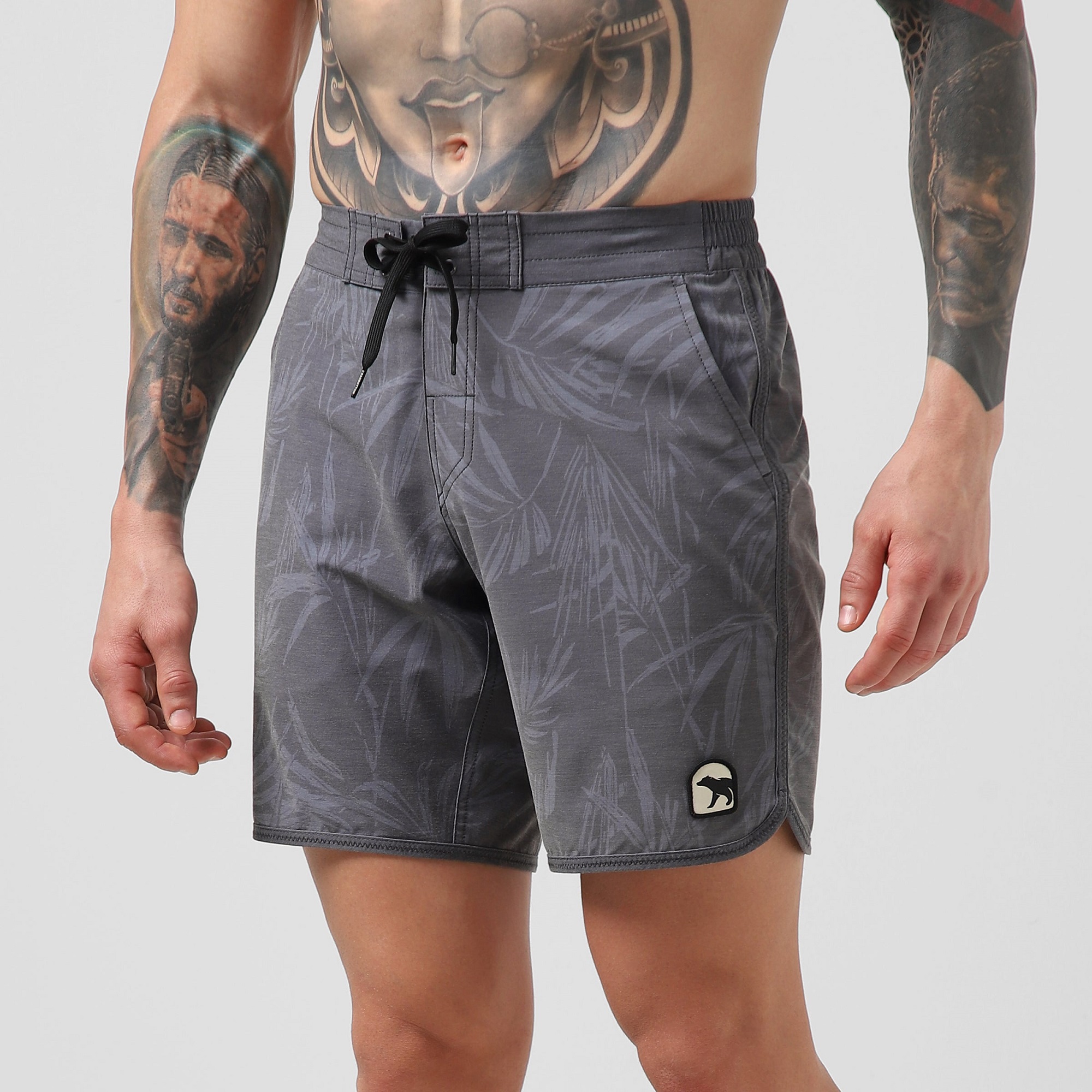 Bearbottom board shorts
At the core of Bearbottom's philosophy lies a commitment to eco-friendly practices and materials. By prioritizing durable and versatile clothing over fleeting trends, Bearbottom ensures that its products stand the test of time, reducing the need for constant replacements. Designed with the active lifestyle in mind, these shorts offer comfort and flexibility, allowing wearers to fully immerse themselves in every sun-soaked moment.
Crafted from quick-drying and 4-way stretch fabric, Bearbottom board shorts ensure all-day ease both in and out of the water. Available in five different muted tones, the unlined design features a back-elastic waistband for a perfect fit that moves with you. With its durable water-repellent (DWR) finish, you can confidently embrace every splash and wave. The relaxed fit and lightweight construction ensures unrestricted movement and a carefree experience. Made from a blend of 80% recycled polyester, 12% cotton, and 8% spandex, these board shorts are a sustainable choice for eco-conscious adventurers.

Quiksilver: Made Better 18.5″ Amphibian Boardshorts
Quiksilver is a brand with a rich history in surfwear, meaning you can absolutely trust them to make a perfect pair of board shorts for you. The Quiksilver Made Better 18.5″ Amphibian Boardshorts offer an eco-conscious design crafted from 100% recycled polyester fabric. The design includes a waste-reducing pattern and branded embroidery. Embrace sustainability without compromising on style, as every aspect of the Quiksilver Made Better 18.5″ Amphibian Boardshorts is thoughtfully created to ensure you feel good wearing them and feel good about them.
These board shorts are designed to offer both functionality and comfort, making them a must-have for surfing, water skiing, wakeboarding, and every other water activity. Embrace the freedom of movement with the elastic waist and drawcord, ensuring a perfect fit that stays in place while the pullover closure simplifies dressing up, allowing you to focus on enjoying the sun and waves. With side and back pockets, you'll have convenient storage for your essentials while on the go.
Roark: Shorey Paradaiso 16″ Boardshort
Sizing considerations are at the forefront of Roark's design philosophy, as they strive to offer board shorts that accommodate various body shapes without sacrificing style or functionality. Whether you're a seasoned surfer or an adventure enthusiast, Roark's board shorts are a perfect fit.
The Shorey Series of boardshorts by Roark is crafted from a recycled polyester and hemp blend; these board shorts not only offer exceptional softness but also contribute to sustainability efforts. The 4-way stretch technology and durable water-repellent (DWR) coating ensure freedom of movement and quick-drying properties during aquatic escapades. With two side seam hand pockets and a back patch Velcro flap pocket, these board shorts provide convenient storage for small essentials. The elastic waist with a drawstring ensures a customizable fit for maximum comfort.
Hurley: Phantom Naturals Sessions 16″
Hurley's board shorts, a staple for summer adventures, are crafted from recycled P.E.T. plastic bottles, making a significant impact in reducing plastic waste and minimizing their ecological footprint. By utilizing recycled materials, they actively contribute to the reduction of reliance on natural resources.
Hurley Phantom Naturals Sessions 16″ Boardshorts are crafted with stretch fabric enhanced with a DWR (Durable Water Repellent) coating, not only ensuring excellent mobility but also providing durability and quick-drying capabilities. The 16″ outseam, complemented by a straight leg and stretch taping, ensures a comfortable fit during every water activity. Practical features include side pockets with mesh pocket bags and a back pocket with secure button closure, allowing you to carry essentials with ease. To add a distinctive touch, the boardshorts sport the "One and Only" patch, a symbol of authenticity and quality.
Outerknown: Apex Trunks By Kelly Slater
These board shorts have been perfected by the 11x World Champion, Kelly Slater, who developed and tested them on the best waves around the globe. Made from 100% post-consumer waste, including 89% recycled polyester, 6% recycled spandex, and 5% spandex, these trunks are a testament to the brand's commitment to eco-consciousness. The trunks boast an ultralight 4-way stretch recycled polyester, providing maximum mobility for surfers seeking optimal performance. With stitch-free welded seams and a smooth inside fly, the design eliminates chafing, ensuring a comfortable experience in the water. Moreover, the double-bonded rear seam adds durability to withstand the rigors of intense surf sessions.
Not only do these board shorts perform exceptionally, but they also feature Quick Dry technology, reducing water absorption to a minimum. The thoughtful inclusion of laser-cut details at the side seam and back pocket ensures weightless drainage and ventilation, enhancing comfort throughout your time in the water.
Outerknown's dedication to sustainability is evident in the choice of materials and manufacturing process. The 100% post-consumer waste recycled polyester used in these trunks reduces CO2 emissions compared to virgin polyester, contributing to a more sustainable fashion industry. Furthermore, the board shorts are sewn in a Fair Trade Certified factory, ensuring that the makers receive fair wages and have a say in using the additional funding to better their lives.
Patagonia: Men's Hydrolock Boardshorts – 19″
Patagonia's board shorts are meticulously designed and rigorously tested to deliver top-notch performance even in the most challenging surf conditions. Crafted for surfers who seek lightweight, high-performance trunks, these board shorts feature streamlined four-way stretch, made from recycled polyester to support the brand's commitment to sustainability. The contoured waistband is designed to ensure a secure fit, keeping the trunks in place, even in heavy surf. With a 19″ outseam, these board shorts offer a mid-length style that strikes the perfect balance between coverage and mobility. The Lock-Down Waistband System moves with your body while preventing the shorts from slipping.
The eco-friendly fabric has quick-drying capabilities, ideal for surfers who want to stay comfortable and dry both in and out of the water. The bonded, forward-set side seams ensure chafe-free comfort, while the textured drawcord helps secure the knot and keeps the trunks on during heavier surf conditions.
Editors' Recommendations