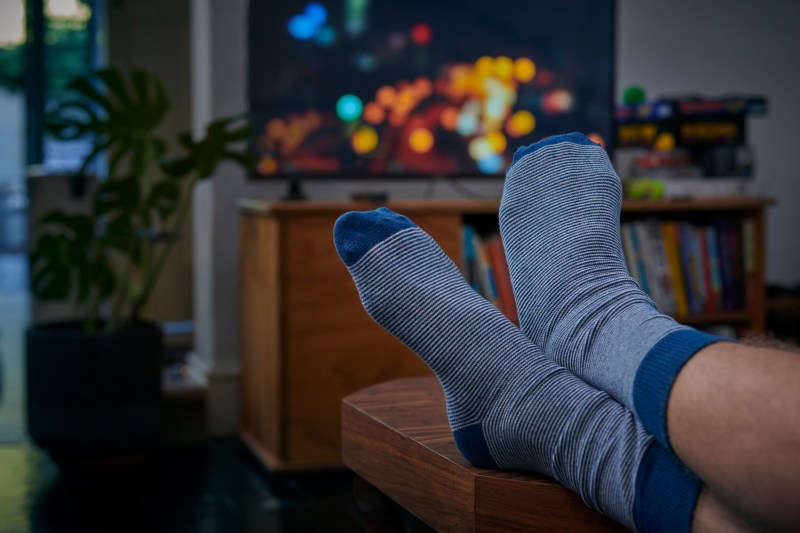 We love talking about having a good pants-to-shoe ratio, as footwear plays a significant role in enhancing your overall look. Of course, we can't deny that shirts, jeans, and even accessories can help transform your fashion sense. But we can't forget to discuss the most underrated article of clothing: socks.
Sadly, the importance of socks is still underestimated. The best socks for any occasion have the power to instantly give you a certain je ne sais quoi. Men's socks also offer endless versatility, since they can be paired with business or casual attire and footwear — from fancy dress socks for your dress shoes to fun socks to express yourself.
There's a lot of variety to choose from, though, when it comes to picking out the best socks. You've got different types of socks, including athletic socks, hiking socks, travel socks, compression socks, the list goes on. You'll also find a range of fabrics to select, from moisture-wicking, antimicrobial merino wool to cotton, blended fabrics, even cashmere. Length also plays a role: Crew socks, ankle socks, no show socks, and calf dress socks are all options. Not to worry, we've waded through all the options to find you the best socks available right now.
Retro Sporty Socks
Wear these with: These are your everyday socks. You can wear them with workout gym shorts when you're working out or even cropped trousers and denim jeans. There is something about the retro sporty vibe that makes these selects cool for hype beasts, VSCO boys, and average Joes. You can tuck in sweatpants (it's a look), show them off with a cuffed hem, or pair them with your Jordan's or a pair of dad sneakers for a 90's fashion style.
American Trench Retro Stripe Crew Socks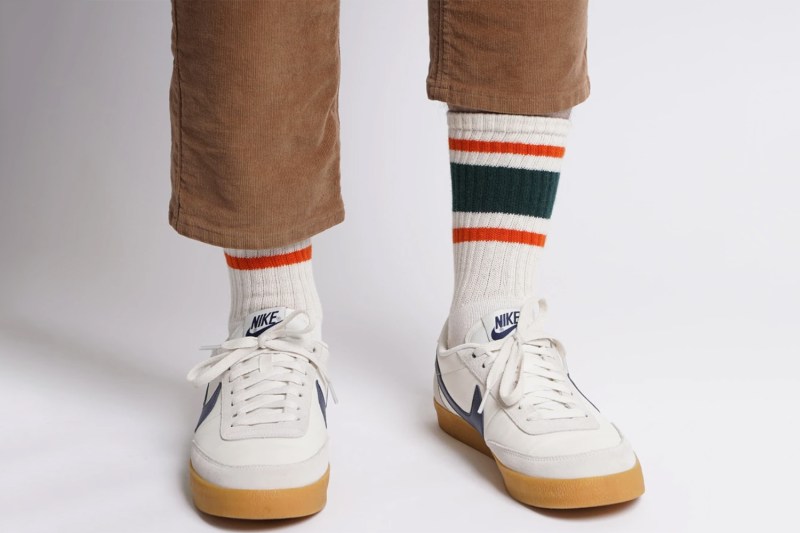 Really commit to the retro style vibe in these 1970s Olympics-inspired midlength calf socks. Manufactured from natural U.S.-grown cotton, the pair is designed for comfort thanks to the cushioned footbeds. Try partnering the socks with sneakers or boots for a more sporty feel.
Nike Everyday Crew Training Socks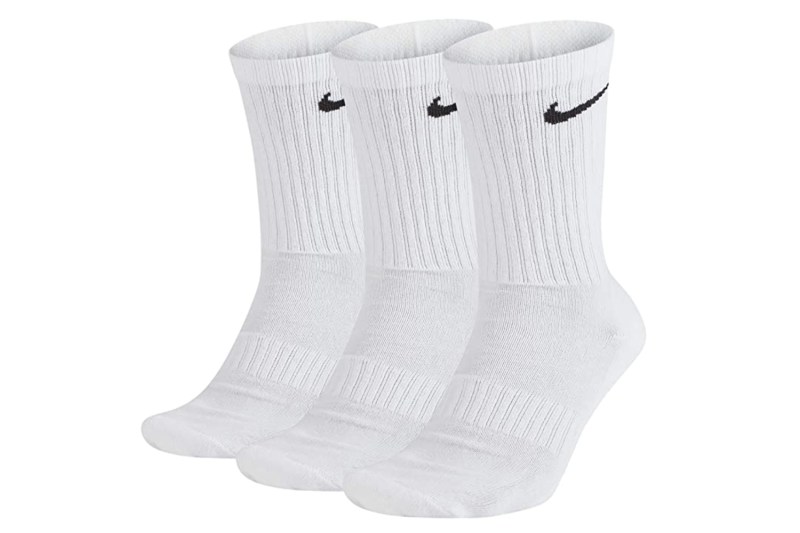 This is the one pair of socks everybody and their brother should have in their sock drawer. They are reliable and always in style, perfect for individuals who do not like keeping abreast with current fashion trends. Other than that, you won't have to endure your feet's malodorous odor since this pair offers moisture control to keep them dry. Bye-bye, stinky feet!
Bombas Men's Vintage Calf Stripe Socks
Bombas is a feel-good brand because when you buy a pair, the company donates another to someone in need. These have a great cushion, just enough compression, and are made from moisture-wicking materials.
Personality Socks
Wear these with: A suit. Yes, you heard that right. These socks allow you to express yourself to your colleagues and peers. Think of these as your business on the outside, party on the inside mentality. They are thin enough to fit comfortably with dress shoes or crisp white kicks. These are best when they play peek-a-boo when you sit or move, not to be fully exposed all the time. We recommend coordinating them with your tie or pocket square.
Happy Socks Dressed Telephone Socks
Swedish brand Happy Socks was founded by Mikael Söderlindh and Viktor Tell with the vision to transform pairs of socks into colorful everyday essentials. The brand has a plethora of eye-catching socks on sale, and the Dressed Telephone Sock caught our eye because of its odd and pleasing design. Not only will this be a great conversation starter among your peers, but it is also a perfect fashion statement for art history enthusiasts since the design is inspired by the neo-concrete art movement. Aesthetics aside, the pair is manufactured from durable mercerized cotton for all-day comfort.
Pact Premium Crew Socks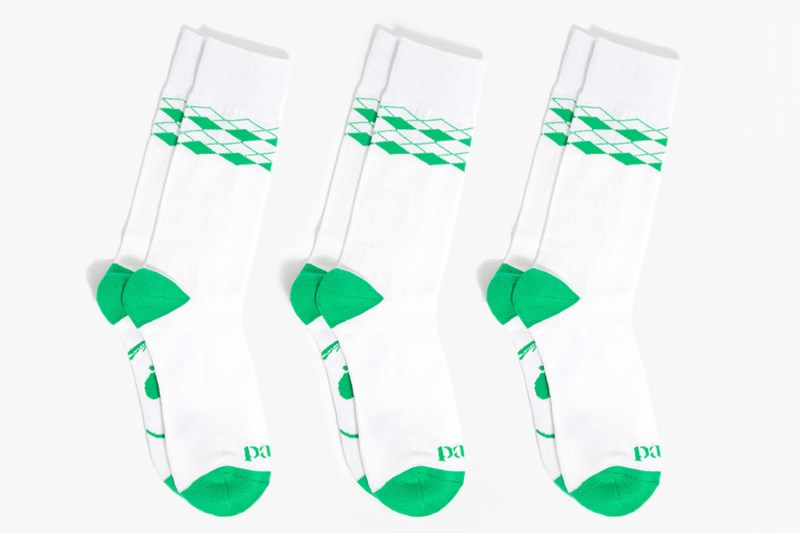 This three-pack of Pact socks is sustainably and ethically made. The variety of colors works well to mix and match, and the materials feel super soft.
Hot Sox Hot Sauce Crew Socks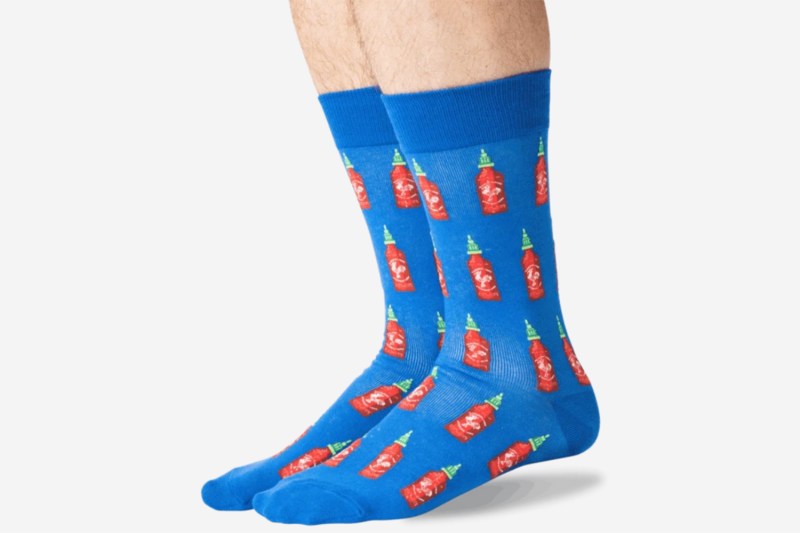 If you really want to get crazy, browse through the Hot Sox collection on the brand's website or online retailers. Since Hot Sox is known to partner with creatives and brands, you will find random prints that speak directly to your hobbies, memes, or inside jokes.
Sophisticated Socks
Wear these with: A suit for formal occasions. While the option of personality socks is great to have, you should also be armed with truly sophisticated socks in your closet for those more serious situations. Keep it neutral in navy and black, and go for a soft cotton microfiber blend so they won't stretch out too much.
Calvin Klein 3-Pack Cotton Blend Socks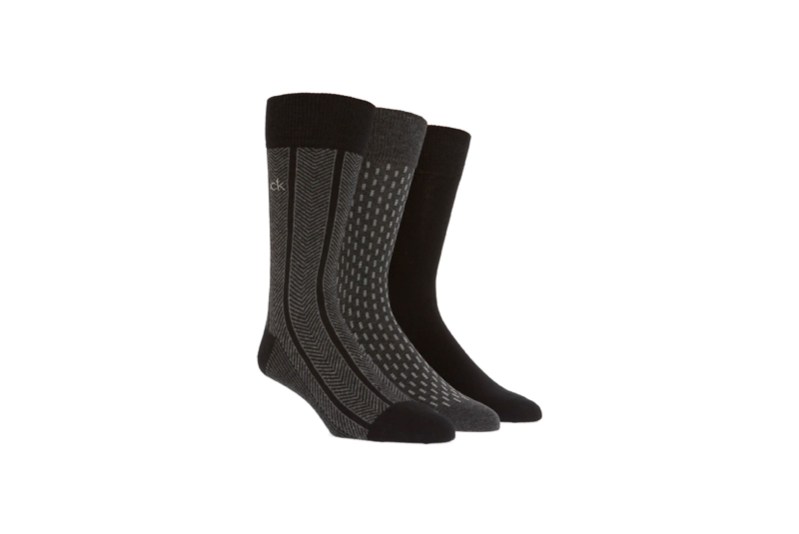 Suit men know that just like Calvin Klein underwear, #InMyCalvins hit differently, socks included. This pair is our top pick as it features a fine toe seam to minimize friction, helping you stay comfy and classy during special occasions.
Boardroom Socks Navy Merino Wool Over the Calf Dress Socks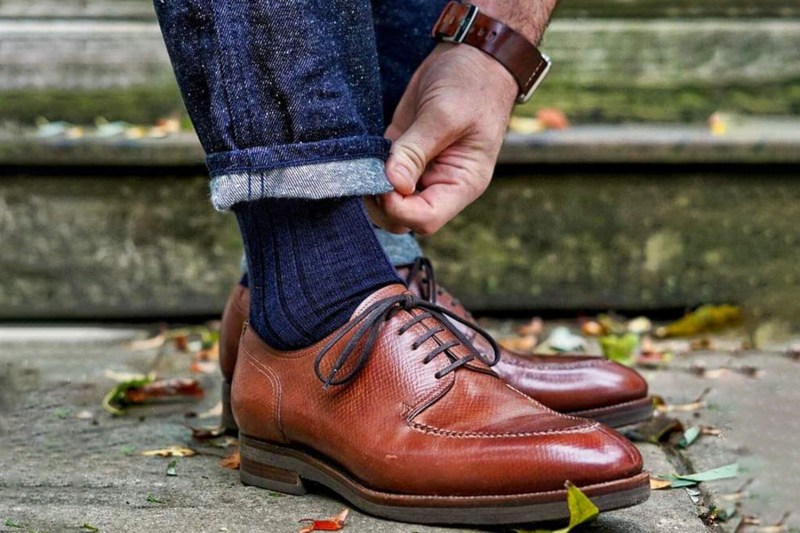 Extremely affordable but expensive-looking, The Board Room makes socks that inspire confidence and exhibit a whole new level of dapperness. Made from Merino wool material, this pair boasts a reinforced heel and toe for durability and comfort, making it the pair of socks for busy professionals.
Polo Ralph Lauren 2-Pack Patterned Socks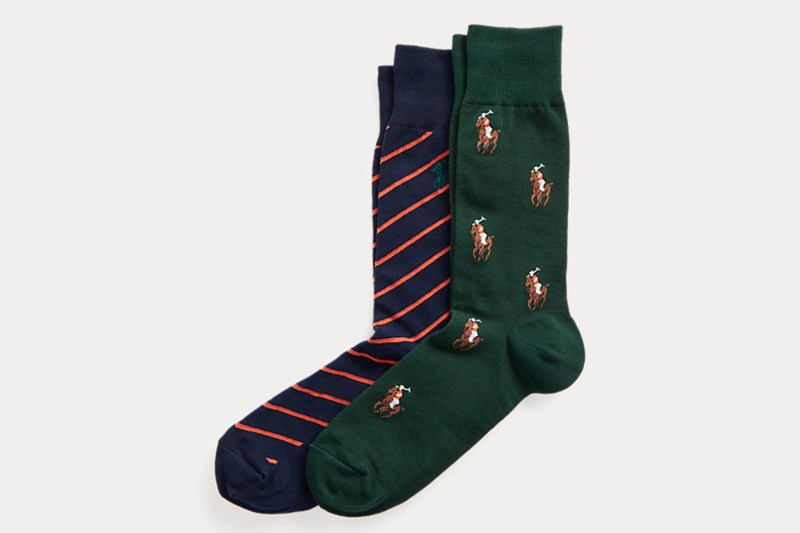 Just because you're being a bit more sophisticated, that doesn't mean you have to be boring. These Polo Ralph Lauren socks give just enough pizazz while still being appropriate for the most important business meetings.
Athletic Socks
Wear these with: Any and all activewear clothing. Don't be shy of the midi or crew length. Remember to be intentional with your dressing. If you're going to show the socks, then really show them. When you're trying to hide ankle socks that peek just above your sneaker, it can sometimes come off as unpolished or sloppy.
Stance Big Lebowski Really Tied Crew Socks
This wouldn't be a socks roundup without Stance. The brand makes the coolest, most comfortable socks to ever exist. While many styles are pop culture-inspired, this pair of performance socks in floral print turns any gym outfit into a stylish one.
AllBirds Trino Sprinters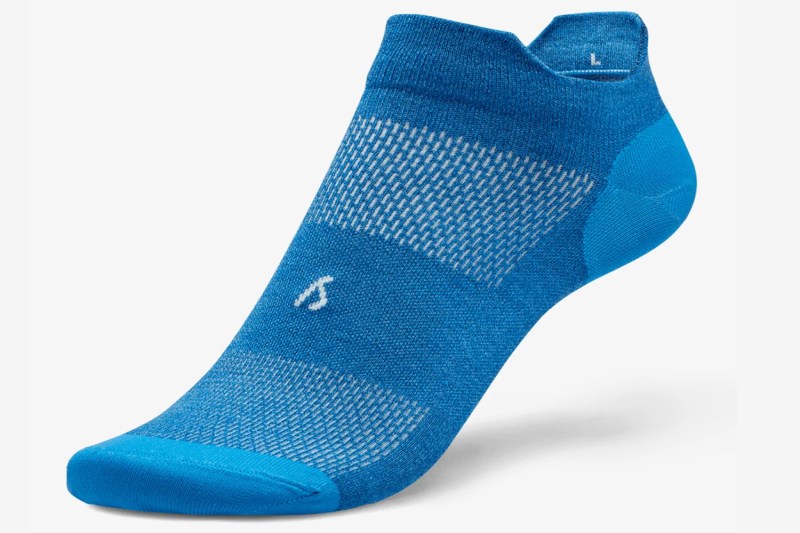 The Earth-friendly shoe brand recently launched high-tech Merino wool socks that feel like you're wearing a cloud. They are a perfect fit under their wool Runners.
Strideline Men's Mid Socks 1 Pack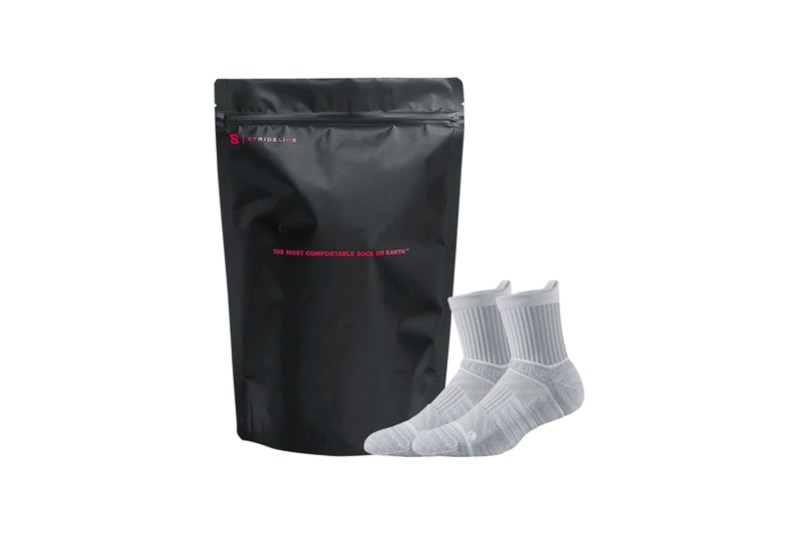 Pro athletes are obsessed with Strideline for good reason. They hug your foot in all the right places and claim to improve performance in all things when you're wearing them.
The No-Show Socks
Wear these with: Slip on Vans or any other sneaker shoes of similar height. Also, loafers, huaraches and more! This category new for most guys. And man, let me tell you just how life-changing they are. There is nothing worse than a guy wearing cool Vans with socks that ruin them. If you take anything away from this article, remember that clean lines are your friend.
Vans Classic Super No Show Socks
If you're wearing slip-on Vans, you might as well purchase socks made specifically for the shoes. They will line up perfectly with your footwear to hide themselves.
Kane 11 Men's Laylo Socks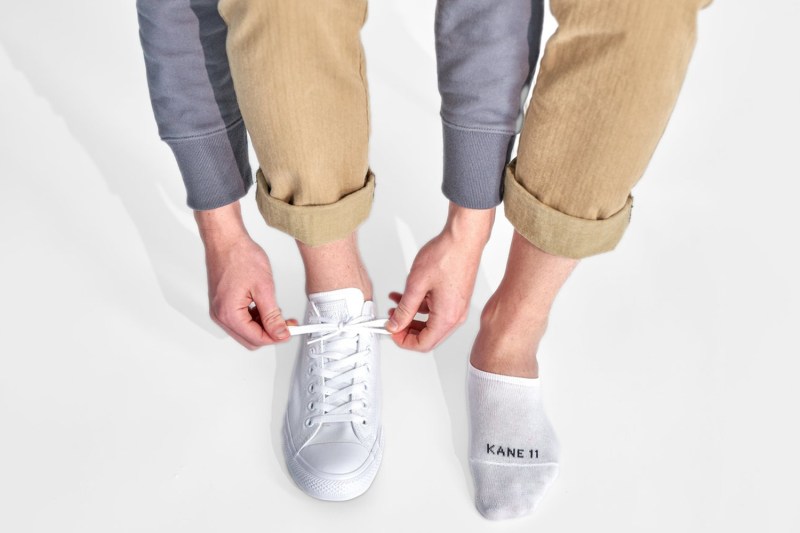 We've written about these from Kane 11 before. There is nothing worse than your no-show socks slipping off from either side. These are designed to avoid that while remaining thin enough so your shoes fit comfortably.
Mack Weldon 2-Pack Stealth Socks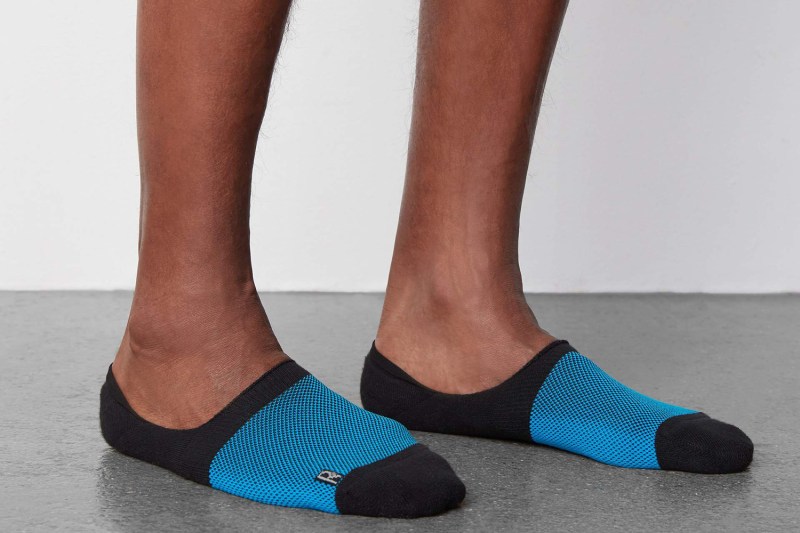 Mack Weldon basics have a cult following. And yes, no-show socks are now considered a basic in your closet. These provide great comfort without showing themselves for lower-cut dress shoes or loafers.
Editors' Recommendations