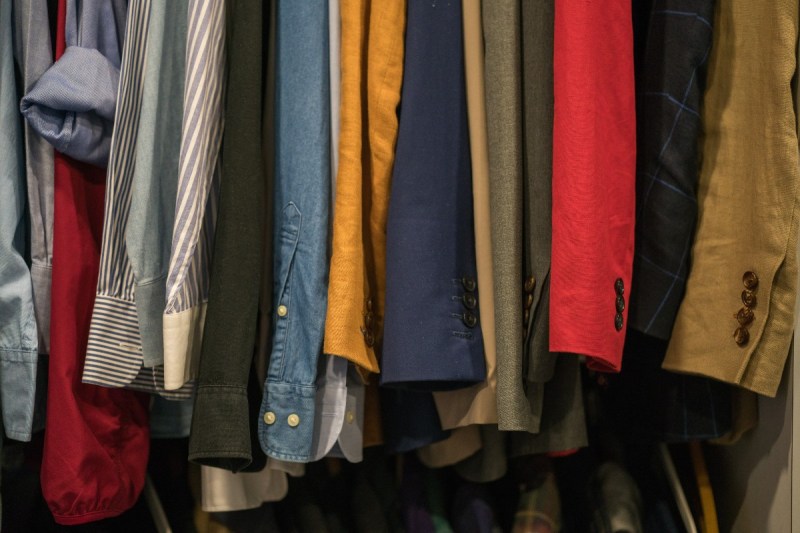 When you feel like a little spring cleaning (even if it's not spring), we often start with decluttering that overgrown closet. It's likely that you have clothes in there that have still never been worn, piled up on the shelf (or the floor). Purchasing clothes has changed a lot over the years and it's not always necessary, or convenient, to go to the department store.
Luckily, because you can shop online clothing stores from the comfort of your own home, you can also sell your clothes online as well. Instead of tossing those clothes into the clothing donation boxes, or the other thrift stores, try giving them another home by using the best online consignment shops. Not only does it create a sustainable wardrobe, but you can also make some of the cash back you spent on the clothes you never really wore in the first place.
Here are some of the best men's consignment online shops with tips on how to successfully sell your like-new and gently used clothes. Keep in mind that most of these sites will not accept clothing that is worn, damaged, or majorly wrinkled.
Best for outerwear: Poshmark
Chances are you know someone that either buys or sells on Posh. Sellers here take photos to upload and then determine the price of their own items while including a short description. Think of it as a little online boutique of your unwanted items. Buyers can make an offer and you can negotiate. Once you get into the swing of things, it can become as addicting as a video game. Soon enough, you'll rack up that account balance. The site takes a 20% commission and sends you an automatic shipping label for every sale. Brand names like Lululemon and Patagonia do well here.
Best for vintage clothes: Depop
Depop is known as the creative community's marketplace. It has a more indie, Brooklyn-hipster vibe to the items listed. Similar to Poshmark, it's super easy to use and runs on an app only (not a website). Depop is great for your grandfather's no-name old Hawaiian shirts hanging in the back of your closet that you've been saving for a costume party. Anything marketed as "vintage" here does well, whereas on Poshmark it might not. And the platform only takes a 10% commission.
Best for streetwear: Grailed
Although not as widely known, Grailed is one of the best online-selling platforms for menswear. The interface is extremely user-friendly and aesthetically pleasing, and more importantly, sales only entail a 6% commission, not including PayPal fees. The standards, however, are a bit high as the Grailed community is fashion-educated and the marketplace is curated. Streetwear brands like Supreme, Off-White, and Vetements do well here.
Best for novelty clothes: eBay
As the OG buy-and-sell-from-home platform, eBay is still among the best places to sell your items online. And this goes beyond just the closet. eBay takes a percentage of all sales, ranging from 1.5% to 12% depending on the value and shipping costs per item. Because you can buy and sell just about anything on eBay, it's not as streamlined as the more closet-focused apps. Novelty items (like this Nutella hoodie) do well on eBay.
Best for luxury items: Vestiaire Collective
Your Gucci loafers and Prada briefcases will find a second home at this online consignment platform specializing in luxury items. Selling your pieces is a breeze on Vestiaire. Simply fill out a form with your item's info, including season, size, and designer, and a brand representative, will let you know if your garments are fit for the marketplace. If approved, you'll receive a shipping label to send your items to the platform's Paris headquarters for authentication. Vestiaire takes up to a 35% commission.
Best for entire outfits: Well Suited
If you want on-trend, curated outfits and a place to complete the look with shoes, watches, suitcases, and scarves, Well Suited is the place to be to sell those items taking up space in your closet. This is a great place for men who used to work in the office and want to trade out their suits and office clothes. It's an easy website to maneuver and you can easily check your balance once clothes are sold.
Other popular places to sell clothes online
The RealReal
The luxury consignment store is one of my favorites for selling off designer clothing pieces, from Tom Ford sunnies to an A.P.C. sweater. You can request a mailer via the site or set up an in-person appointment at the store or your home with a specialist. Sellers get to keep up to 85% of the sale price and items typically sell pretty fast!
LePrix
LePrix works with some of the best store boutique partners around the world that are expert purveyors of authentic and pre-owned luxury. LePrix offers a few ways to sell via the platform; on your own, through consignment, or via trades with other sellers. Although the site specializes in high-end products, you can definitely sell more accessible priced items via the platform as well.
ASOS Marketplace
Unlike a lot of its counterparts, this online consignment option doesn't focus on the brand, but the aesthetic of the pieces. It's great for selling those retro concert tees, distressed denim clothes, and repurposed vintage pieces just hanging around. You set the price but ASOS Marketplace does take a 10% commission on the sale price of each item.
Buffalo Exchange
The popular thrift store with locations all across the U.S. now offers mail-in options for that summer closet cleanout. It's a super effortless process; just request a free bag online. Within a few weeks of receiving your bag, Buffalo Exchange will send you 25% of our selling price in cash via PayPal or 50% in-store trade. For any items the company is unable to take, you can have them returned for the cost of shipping or donate them to deserving local nonprofits through programs that give back.
Crossroads Trading Co.
Crossroads has been leading the resale fashion industry for over 27 years. Catering to fashionable and eco-conscious customers, the store offers a "mail-in" option that you can request via the website. The company looks for gently used seasonal clothing for cash or trade; that's right, not consignment, so you get paid 30% of the sale price upfront!
Editors' Recommendations