It only makes sense that for gear that moves with you, a brand like Banana Republic would turn toward a superstar athlete who knows a thing or two about mobility: That'd be Los Angeles Rams star quarterback Jared Goff, the face of the new Banana Republic Core Temp collection — and a budding style aficionado himself.
The summer campaign – here at a time when stylish guys desperately need to stay cool while looking great – is the first coming from a brand partnership with Goff that was announced earlier this year. The star of the Core Temp Collection has to be the technology behind it. That fabric tech, called 37.5 Technology, involves the use of innovative fabrics designed to keep your core temperature at a just-right, not-too-hot, not-too-cold 37.5 degrees Celsius, which, if you're an American might not mean anything. To put it in perspective, 37.5 Celsius is about 98 degrees.
Still with us on the science front? Come for the technology, stay for the range of versatile menswear, including the Slim Core Temp Blazer (made to keep you cool during summer weddings aplenty) and the more casual Slim Core Temp Short (at home at the bar or on the driving range).
Banana Republic Slim Core Temp Blazer
Banana Republic 9″ Slim Core Temp Short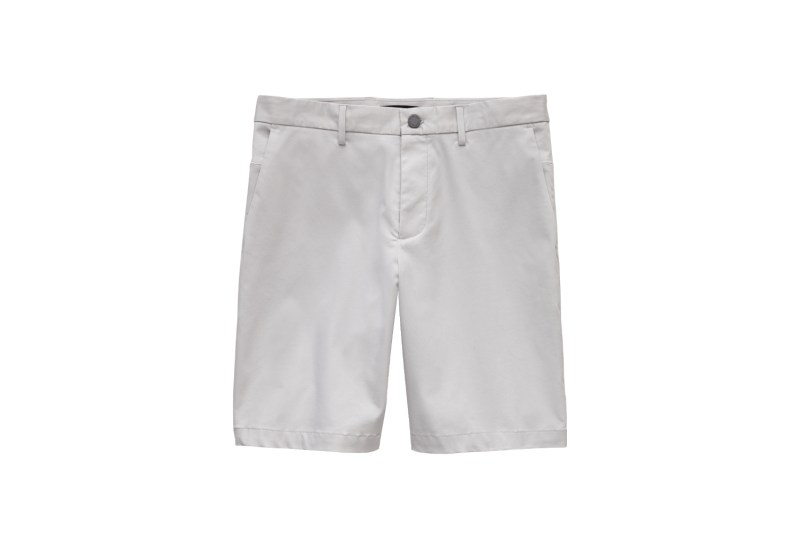 Styles like a coach's jacket and tapered cargo pants add utilitarian form and function to the collection since these are pieces designed to be mixed and matched with ease, keeping you cool and collected all the while. Goff's role in the partnership only makes more sense when you consider the collection is designed and oriented toward active guys on the go. And, in fact, the 37.5 Technology system also helps increase stamina by conserving energy. In short, it's a win-win all around.
Truth be told, the collection's biggest fan might be Goff himself.
"They're incredible. The way you can move in them and be comfortable — and still look like you care. I love that they made cargo pants cool again — literally. I was shocked I didn't heat up at all, even when running through fire and smoke on set," Goff said about the partnership and its creation. "The 37.5 Technology in those pieces is no joke."
We'd say you shouldn't just take Goff's word for it. Try the collection for yourself, but hurry; you don't want to get caught in the heat without the Core Temp Collection.
No you know what to wear to keep you cool, it's time to take a look at the best grooming gear to use when the heat is on.
Editors' Recommendations