If we were to tell you that around the beginning of the 1990s, there was one name that single-handedly dominated a professional sport for nearly the entire decade, winning championship after championship to such an extent that they then decided they needed a new challenge, you might start wondering why there's an article about the history of the Chicago Bulls in the Auto section of The Manual. But that name we are describing is actually McLaren. And unlike Michael Jordan, when this automaker decided to switch focus and build its F1 road car, it was arguably even more successful.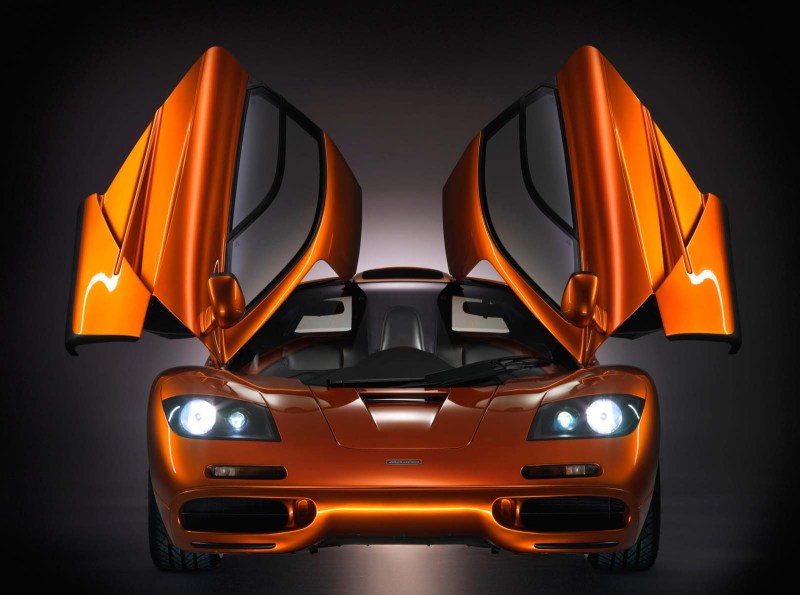 History of the McLaren F1
So the years don't align perfectly, but in 1988, McLaren's Formula One team was crushing the world. It finished its racing season, winning 15 out of its 16 races and making a mockery of legendary racers like Honda and even Ferrari. At that point, the company's technical director, Gordon Murray, convinced founder Ron Dennis to open his pockets and bankroll this momentous project. After getting approval, Dennis teamed up with stylist Peter Stevens to help bring his superlative vision to life.
Murray and Stevens focused on maximizing the car's power-to-weight ratio to recreate the Formula One success on the street. Creating the ultimate supercar was by no means a slam dunk, so the design team focused on keeping the car's overall size down and creating that car using 5,000 unique pieces. Those parts were made out of a plethora of lightweight, exotic materials, such as carbon fiber, titanium, and magnesium. Sparing no expense, the F1 went so far as to become the first car in history to have its monocoque chassis comprised entirely of carbon fiber.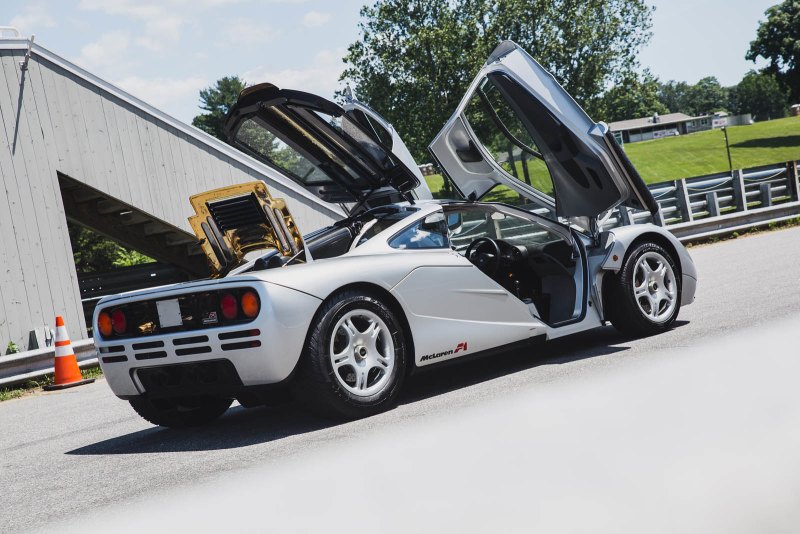 What engine came in the McLaren F1?
There is a saying that "everything happens for a reason," while Murray wouldn't have agreed with that sentiment when Honda, his first choice to build the engine for his dream car, refused. The reason was coming fast. Undaunted, Murray then approached BMW's M division for the assist, and being no stranger to building dream cars, Bavarian Motor Works was happy to join the team.
Murray tasked the German hot rodders with a precise checklist of details he wanted for the McLaren F1. The engine had to make 550 horsepower and not weigh more than 550 pounds. Beyond that, Murray also wanted the F1's engine to be naturally aspirated to provide drivers with a more predictable and uniform power delivery. He also believed forced induction engines were less reliable and wanted potential owners to have the most fun with the least headaches.
That list proved to be something BMW could not deliver, however. Built specifically for the McLaren F1, the S70/2 was an all-aluminum 6.1-liter DOHC V-12 featuring variable valve timing and a dry sump oil setup. Thanks in part to a racecar-level 11:1 compression ratio, that big motor did not need any supercharger or turbo. However, despite using copious amounts of magnesium to help keep weight down, BMW overshot its weight limit … by 36 pounds. But the M division made up for the letdown by also exceeding its target power peak. In total, the McLaren F1 made a staggering 627 horsepower (618 SAE net) at an incredible 7,400 rpm and 479 pound-feet of torque at 4,000 rpm.
Aside from that incredible power, the McLaren's massive motor generated an immense amount of heat. With a nearly unlimited budget, the design team went back to fundamental physics and found the best heat conductor available to help dissipate all that energy, making the McLaren F1 the first and only car (to date) to have its engine compartment lined with gold foil.
That power was routed from the engine through a transversely mounted traditional 6-speed manual transmission onto the rear wheels. No paddle shifters or all-wheel drive systems were allowed, as they would not only add unwanted weight, but also take away from allowing the F1 to provide the purest driving experience possible.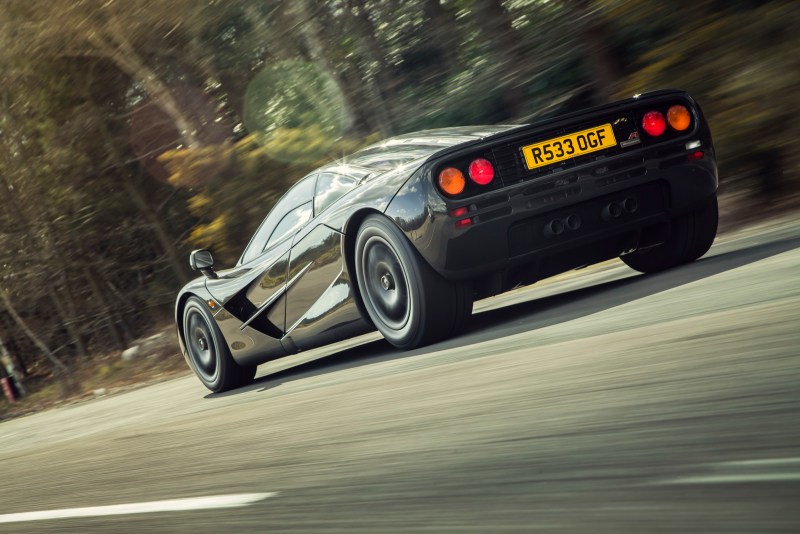 How fast was the McLaren F1?
The 1990s was a Golden Age of speedsters. Pulse-quickening cars like the venomous Dodge Viper and the dynamic-yet-drivable Acura NSX had just debuted. While those (and many other) vehicles were frighteningly fast for 99.9% of the population, the McLaren F1 put them all to shame. All of them.
Creating the ultimate supercar requires more than just prodigious power. The McLaren F1 was the recipient of an aluminum double-wishbone suspension, lightweight wheels, and exclusive tires that were made in a collaborative effort by Goodyear and Michelin. All of those details added up to a chiseled 2,509 pounds, which, for some perspective, would make even the svelte and exotically exciting Ferrari F50 a little self-conscious about its weight.
In 1994, Car and Driver had the good fortune to get its hands on one of these cars to test, which didn't disappoint. The McLaren F1 rocketed from 0 to 60 mph in a scant 3.2 seconds, from 0 to 100 mph in a mind-melting 6.3 seconds, and through the quarter mile in an NHRA-level 11.1 seconds at 138 mph.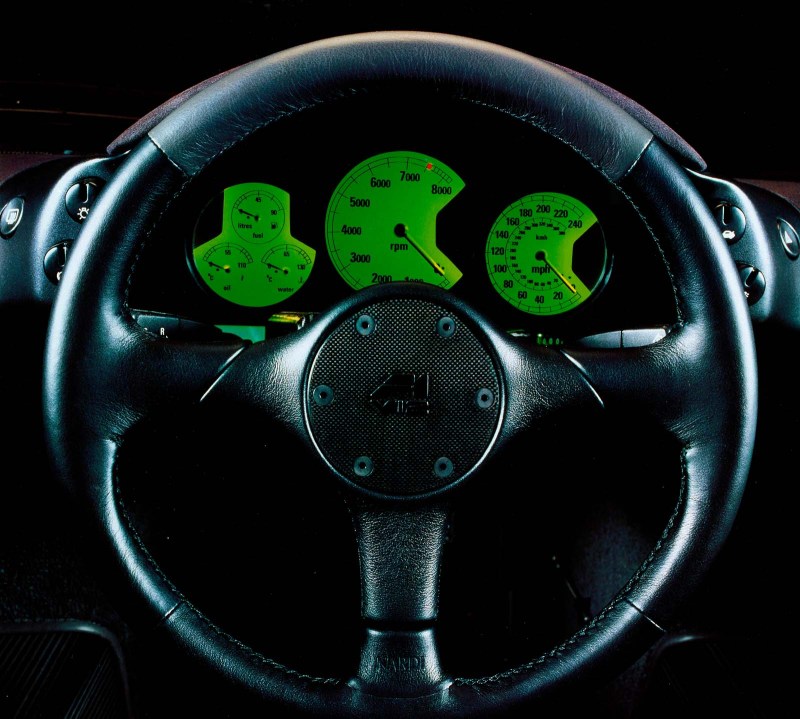 But those brave enough to keep their foot on the gas would be privy to the F1's low 0.32 drag coefficient, thanks to its deliberate design that used underbody channels and a three-part rear diffuser to keep the car planted to the road at high speeds. On its first top-speed run, McLaren tested the F1 to a stunning 221 mph. But realizing that the limiting factor to its terminal velocity was the engine's redline, which was already a lofty 7,500 rpm, engineers decided to unleash the car's full power. Raising the rev limiter another 800 rpm and allowing that big motor to spin to a sky-high 8,300 rpm allowed the F1 to set the land speed record for a production car, topping out at an unbelievable 240.1 mph.
How much is a McLaren F1 worth?
As the saying goes, "If you have to ask …" Including unique models and prototypes, only 106 McLaren F1s were made from 1992 to 1998. While the original sticker price for one of these remarkable cars checked in at a bankruptable $815,000, which ended up being over $1,000,000 after markups, that McLaren F1 price now seems like a screamingly good deal. Rarely do any of these cars come up for sale, the last of which sold at auction in 2021 for $20.5 million.
Why does this car sell for the same price as a small island when there are now faster cars in the universe? The answer comes from a combination of factors. The McLaren F1 offered a pure driving experience complemented by the most unique seating arrangement anyone has ever seen. The driver was seated in the car's center and flanked by two removable passenger seats on either side.
The F1 also didn't use any power-assisted steering, opting instead for a manual setup, providing better road feedback (and reduced weight). And though they've become more commonplace in the exotic circle recently, the F1's scissor doors also put it in exclusive company back in the day.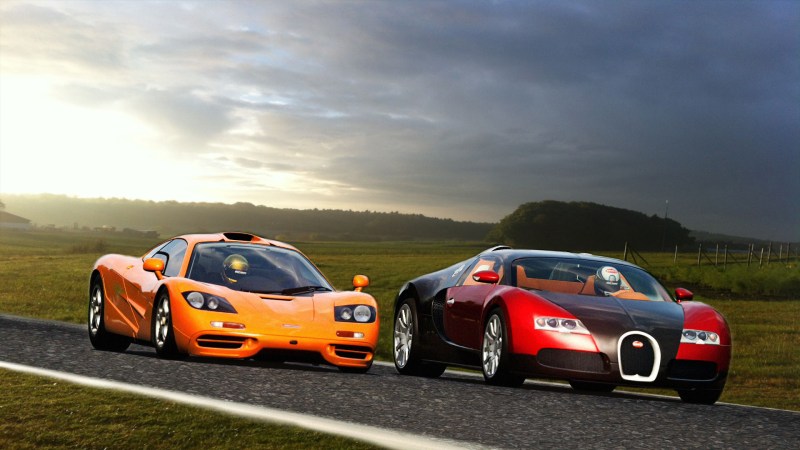 And while many people will remember the Bugatti Veyron for being the first to break the McLaren's top speed record (253 mph), the caveat to that title matters. The Bugatti needed 16 cylinders and 4 turbochargers to make enough power to challenge the mighty F1. McLaren's masterpiece still retains the title of "fastest naturally aspirated production car" almost three decades later.
So unlike when Michael Jordan left basketball to (unsuccessfully) try his hand at baseball, when McLaren changed its focus, Gordon Murray and company created the Babe Ruth of road cars. Long live the king of speed.
Editors' Recommendations