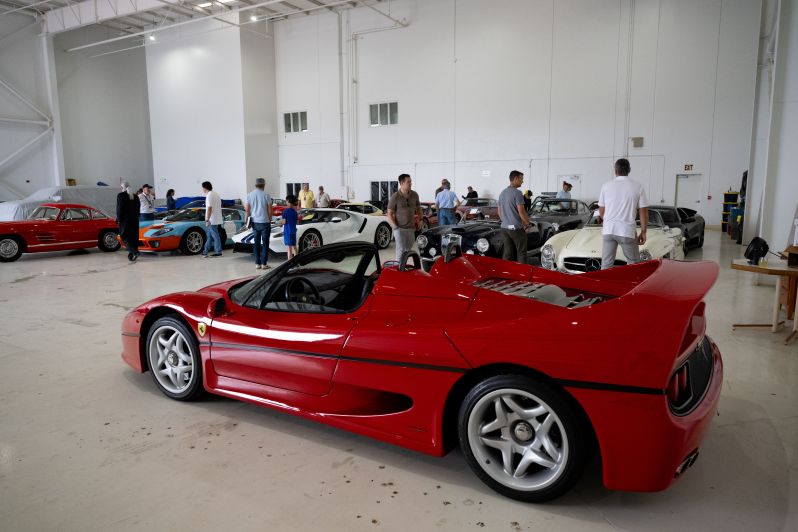 Recently, we reported about a herd of Italian thoroughbreds that were lost in time, spending fourteen years from 1990 to 2004 in a Floridian barn. Then, after Hurricane Charley laid waste to the Ferraris' farmhouse, the Italian stallions were moved to a weatherproof warehouse across from the Indianapolis Motor Speedway, where they ironically laid motionless for nearly the next twenty years until the precious few who knew of this buried treasure decided to finally set these cars free in what RM Sotheby's deemed 'The Lost & Found Collection.' With some incredibly captivating backstories, these 20 Ferraris were expected to bring in a king's ransom, and no one could have predicted that this collection would bring in enough to buy the whole kingdom.
The Lost & Found Collection made over $16.7 million
The Lost & Found Collection ended up finding $16,756,160 from the pockets of Ferrari enthusiasts. And although that total is extravagant in its own right, it is just a fraction of the total that Monterey Car Week brought in. According to the Hagerty Automotive Intelligence team, the grand total of the five auction houses was a staggering $400.1 million, with an average sale price of $477,981 of the 837 total vehicles sold, proving that supercars of any era will always be in high demand.
When asked why these older Ferraris, whether in good shape or not, are still revered and valued at such an amazingly high level that they can bring in such extraordinary amounts of money, Brian Rabold, Vice President of Automotive Intelligence at Hagerty said, "Ferrari has always been synonymous with performance and exclusivity, and the early cars' reputation and availability combine to keep values high."
This Ferrari F50 brought in over $4,000,000
One of the most surprising sales came from what we believe to be the most underrated Ferrari ever, the mighty 1995-97 F50, which was the least valuable of all Ferrari halo cars in 2015. This particular 1995 example caught the eye of one wealthy buyer who agreed with our assessment and ponied up a mind-blowing $4,240,000 to own one of the 349 of these Prancing Horses in existence.
When asked how and why the F50 went from being the lowest-valued Ferrari Halo car in 2015 to the highest in 2023, Kenneth Ahn, President of Marketplace & Radius for Hagerty, said, "It's likely a result of a shift in the demographics of the collectors. Enthusiasts who came of age in the '90s now have the means to buy the car they've always dreamed of, and for many enthusiasts—even at this price point—that car was the F50, which was made from 1995 to 1997. In fact, according to Hagerty's Automotive Intelligence, just under a quarter of F50 owners are in their 30s or 40s."
The Monterey Car Week, particularly RM Sotheby's Lost & Found Collection, has shown us one inalienable truth. No matter what the ups and downs of the economy happen to be or what the state of the world in general is, one of the steadfast and reliable truths we can always count on is that supercars, and Ferraris in particular, will always be coveted and sought after as the dream cars they were built to be. So whether it's $40 for a framed poster to put on our bedroom wall or $4,000,000 for one that will adorn our garage, Ferraris will always have a place in our collective hearts.
Editors' Recommendations