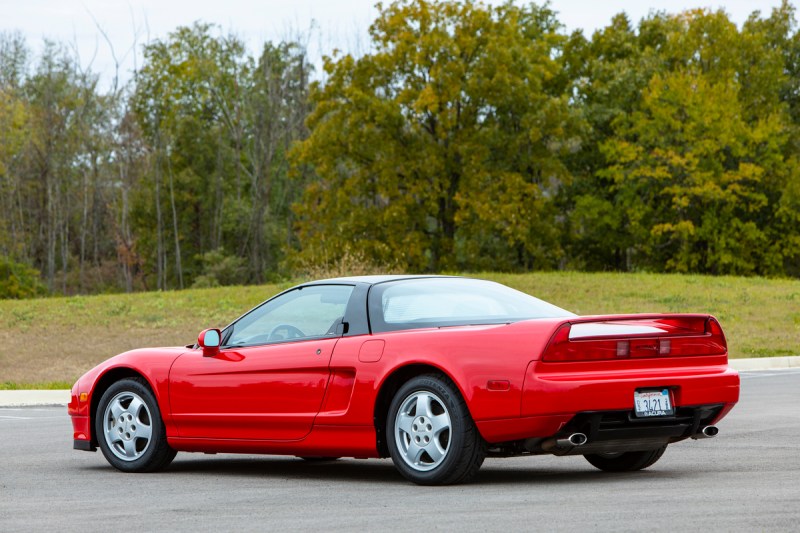 Back in the late 1980s, those who had the means to buy a genuine supercar had to confront some harsh realities and make a tough decision before they were able to drive off in their new toy. Although many of the Italian exotics from Lamborghini or Ferrari would undoubtedly have attracted the attention most owners craved from spectators, the price of owning such a vehicle (apart from the obvious financial strain) meant giving up the luxury of driving a car for extended periods, let alone every day. However, everything changed in 1990 when the Acura NSX was introduced and revolutionized the world of supercars forever.
Acura's Ferrari-fighting NSX
Acura's parent company Honda, decided to take on the Italians, explicitly targeting the Ferrari 328 as its benchmark and later the Ferrari 348 (which eventually replaced the 328). Honda engineers and designers were smart enough to realize that just adding another crazy fast car to a market already littered with them wouldn't be sufficient to make a great first impression on the automotive world.
Instead of just the outright speed-at-all-costs mentality that many of its competitors used as their mantra, Honda set out to create a car that could perform and be used as a commuter car if so desired. Beyond that, it knew that design and a good visual first impression were paramount to being classified as "exotic." So with that in mind, Honda commissioned arguably the most successful Italian car design firm in history. Pininfarina has created some of the most incredible Ferraris (among others) we have ever seen.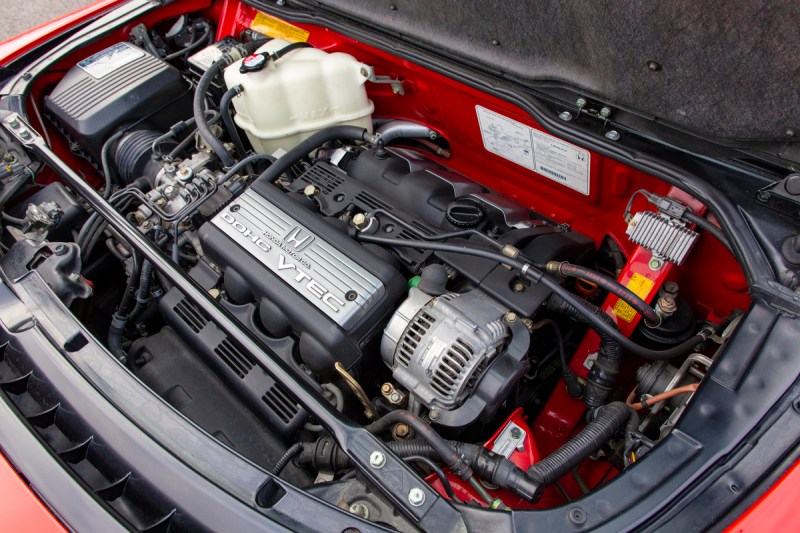 The NSX debuted with 270 horsepower
Unlike a car as the massively powerful Ferrari F50, Honda's Project NS-X (for New Sports eXperimental) was initially made do with a model-specific aluminum block and heads, mid-mounted, 3.0-liter naturally aspirated V6 that made a reasonably impressive (for 1990 anyway) 270 horsepower and 210 pound-foot of torque. That power is routed through a 5-speed manual or less exciting 4-speed automatic transmission. However, opting for the auto lowered total output to a lesser 252 horsepower. In either case, that power then went through the rear wheels.
Honda also made a few more decisions prior to selling the NSX. First, it did away with the dash in the NS-X before the car went up for sale, and second, its luxury division Acura would be a much better platform to sell a new exotic car from. It seemed better to have the NSX sitting beside cars like the Legend and Integra and not wedged between a Honda Accord or CRX.
When it finally hit showrooms, the NSX became the first Honda vehicle sold in the U.S. to employ its now-famous VTEC variable valve timing. The NSX also became the first production car anywhere to use an aluminum semi-monocoque design, allowing the Acura to be structurally sound and lightweight while maintaining a low center of gravity.
Initial curb weight checked in at about cheeseburger over 3,000 pounds (3,010 to be exact), and even at its most rotund from 1997 to 2001, the NSX weighed just 3,164 pounds, which is nearly half a ton lighter than the second generation NSX that debuted in 2017.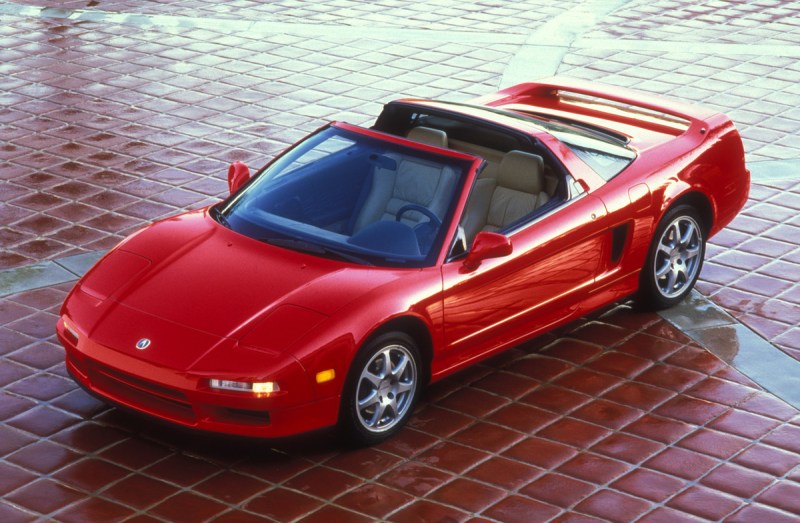 Open-air driving in the Acura NSX-T
That increased weight in its later years didn't come from a few extra pints of Ben & Jerry's in the gas tank. The NSX got a bigger 3.2-liter V6 engine that now made a more impressive 290 horsepower and 225 pound-foot of torque. But once again, that is only if you opt for the manual transmission. Choosing the automatic still relegated owners to the previous 3.0-liter 252-horsepower engine.
The other significant cause of added heft came in 1995 when Acura introduced the Targa top version of the NSX, appropriately called the NSX-T. The lack of an actual roof meant the chassis needed to be beefed up with additional bracing to compensate for the lost rigidity. But all that extra mass added up to just about 100 pounds, a more-than-acceptable compromise for owners to experience open-air driving in their NSX.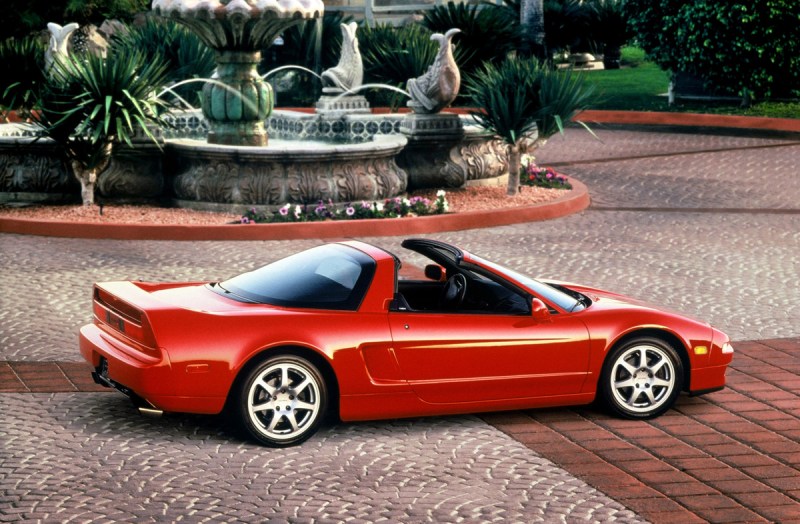 The NSX sprinted 0-60 in 4.7 seconds
Although one major complaint about the NSX during its run was that it needed to be more powerful, again, Honda didn't set out to create a top-speed superhero. It wanted the NSX to be an exceptionally well-balanced, all-around sports car that could not only kick tailpipe at the track but also drive comfortably to and from that track.
That being said, the NSX was anything but slow. The top-tier Acura could sprint 0-60 mph in a scant 4.7 seconds, through the quarter mile in just 13.2 seconds at 106 mph, and on to a top speed of a still-impressive 175 mph. For some perspective, that kind of speed put it directly on par with the Corvette ZR1 and far surpassed its Ferrari 328/348 benchmark. Thanks to its compact, naturally aspirated V6, the NSX managed an impressive 19/25/22 city/highway/combined mpg, which also outshined most of its competitors regarding performance at the pump.
Unlike many competitors, the NSX offered a litany of "luxury" features inside its F16-inspired cockpit. Power windows, power locks, air conditioning, airbags, and a premium Bose stereo system all worked with supple and supportive leather seats, making the NSX as livable as a Honda Prelude … with a bit more performance.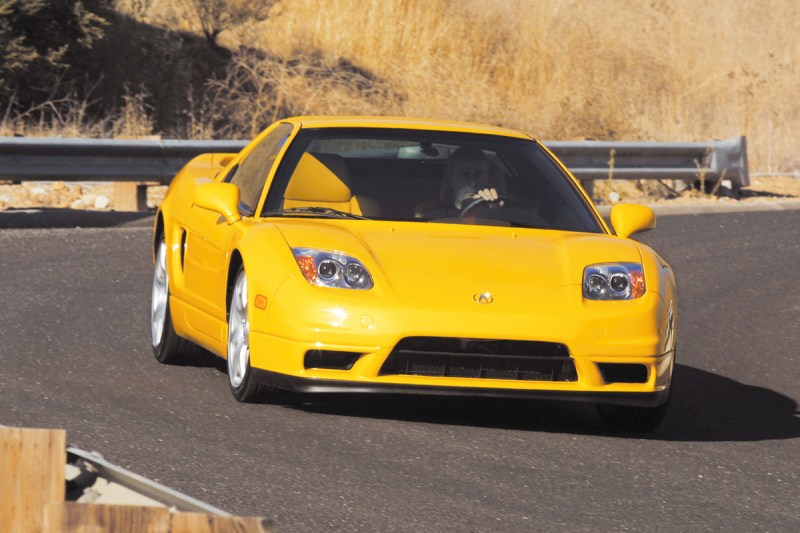 2002 brought the first and only update to the NSX
Before it ended production in 2005, Acura gave the NSX its first and only true visual update (NSX-T notwithstanding). A new front fascia did away with the archaic yet beloved-by-some flip-up headlights in favor of a new fixed set of high-intensity discharge (HID) lights. Acura also took the opportunity to tweak the suspension and give the NSX larger rear tires. It pulled the hardtop model from the U.S. market, as most owners chose the open-air Targa version.
When it debuted in 1990, the NSX cost about $60,000, which is equivalent to about $140,000 today. Somewhat surprising is that today, depending on condition and mileage, an Acura NSX can be had for anywhere from $70,000 to $130,000.
When the Acura NSX came along, it changed how people viewed supercars forever. No longer did buyers need to choose between speed and comfort. Honda showed the world that a high-performance car didn't have to punish its owner for driving it longer than an hour. And with that, the NSX forced the rest of the automotive world to change its ways or risk being outsold by the Acura's supercar daily driver.
Editors' Recommendations