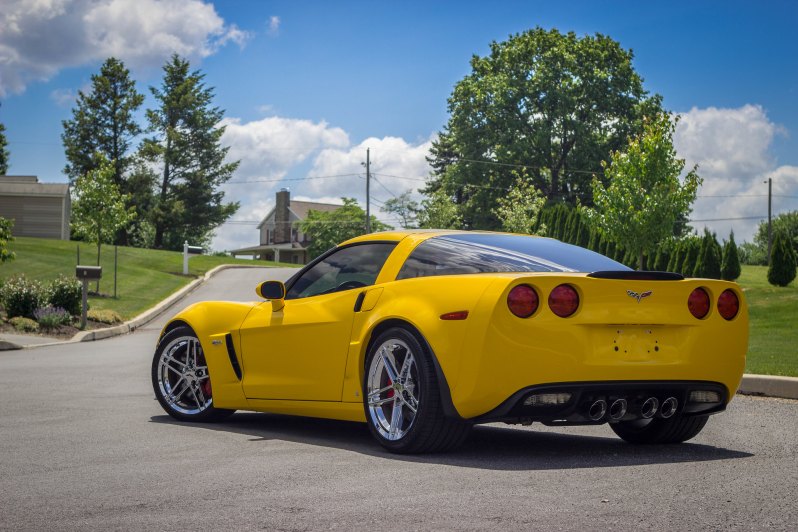 In the landscape of automotive superstardom, domestic cars often catch a tremendous amount of disrespect. Cars like the sleek and sexy Acura NSX or any number of elite BMWs have always (and rightly) been credited for their amazingly sophisticated engines or exceptional track capabilities. And even when the fabulously fast C5 Corvette Z06 came along in 2001, not only was it gone by 2004, but despite being one of the fastest Corvettes to date, it still just wasn't quite enough to garner Chevy's halo car the title of "supercar." But when the C6 Z06 stormed onto the scene in 2006, the only thing that seemed faster than the car itself was how quickly it changed people's perception of what a Corvette could be.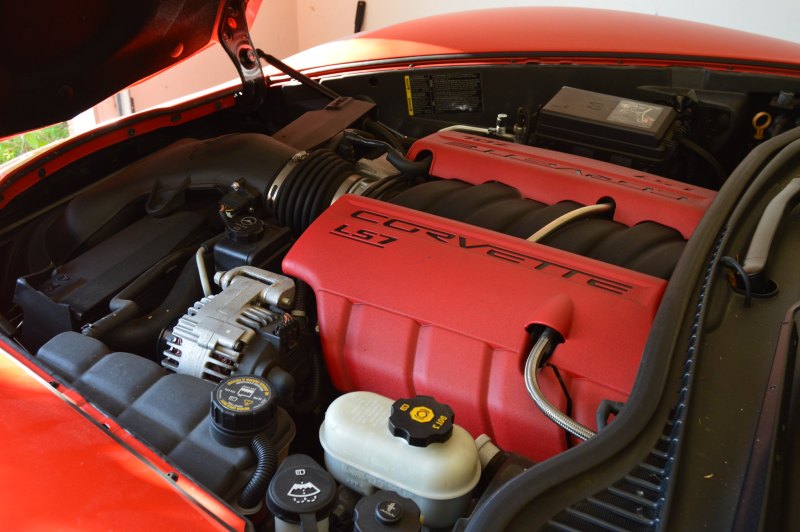 How much HP does a C6 Z06 have?
The C6 Z06 began with a spectacular engine, as all great Corvettes should. In fact, the code-named LS7 engine in the C6Z is not only one of the best engines in Corvette history, it is debatably one of the best performance engines ever made, period.
While some scoff at the idea of an overhead valve engine in a world of VTEC and VANOS, the C6 Z06's LS7 made a compelling case for old-school cool. This handbuilt all-aluminum V8 displaced a massive 7.0 liters and teemed with a bountiful array of performance parts rivaling even the most race-ready speed shops. The crankshaft, main-bearing caps, and pistons were all made from forged steel. At the same time, titanium was the material of choice for the connecting rods, and a dry-sump eight-quart oil setup kept things lubricated to help make the bottom end of this motor nearly bulletproof.
On the top end of the LS7, a set of CNC-machined cylinder heads again used titanium for its valve composition. Air was brought in via a low-restriction air cleaner and through a composite intake manifold, while hydroformed manifolds dispersed with exhaust gasses through a big three-inch exhaust system. When it was all said and done, the LS7 put down a ridiculous 505 horsepower and 470 pound-feet of torque and, thanks to its racecar roots, was capable of revving to an astounding 7,000 rpm.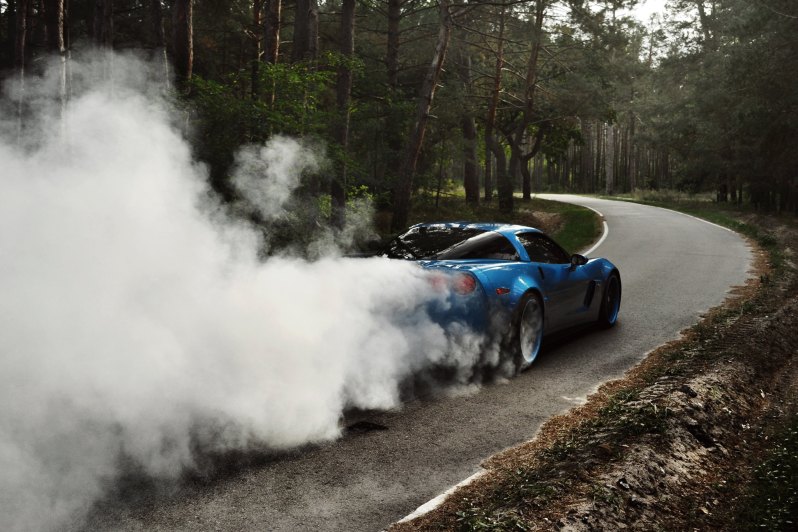 Why is the C6 Z06 so fast?
While having a monster motor is an excellent start for a great car, you can't be a thoroughbred by being a one-trick pony, even with 500 of them under the hood. GM engineers knew this and made the C6 Z06 a capable street fighter, no matter which way that street happened to turn.
Power from that big engine then got sent through a rear-mounted six-speed manual transmission and onto steam-roller-sized Goodyear Eagle F1 rubber that measured 325/30ZR-19 out back, while 275/35/ZR-18 handled directional duty upfront. Bigger anti-roll bars, stiffer springs, and a lightweight aluminum chassis combined with plenty of carbon fiber for the body panels helped the Z put all of that power to the pavement with alacrity and efficiency.
Scrubbing off that speed were six-piston calipers clamped down on manhole-cover-sized 14.0-inch rotors up front, with four-piston units grabbing 13.4-inch rotors out back. In the C6 Z06's later years, Chevy introduced the Z07 and Carbon Edition trims, offering an optional, and even more serious carbon-ceramic brake package.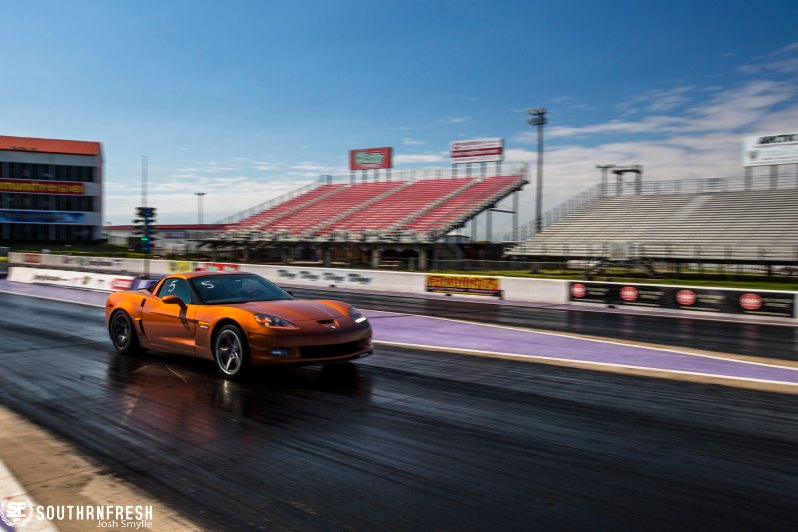 Is the Z06 C6 faster than a Hellcat?
That depends. While the Corvette Z06 remained essentially unchanged for the entirety of its model lifespan from 2006-2013, there were various Hellcats over the years, stemming from two different base models, the Challenger and Charger, some faster than others. It would seem initially that the Hellcats' 202-horsepower advantage would be more than enough to rip apart the naturally aspirated Vette on a racetrack.
But while the Hellcat may have had a distinct power advantage with its 6.2-liter supercharged V8 that made a silly 707 hp and 650 lb-ft of torque, both the Challenger and Charger Hellcat tipped the scales at an average of just about 4,500 pounds, which is a portly surplus of 1,350 pounds when compared to the svelte 3,150 pound C6Z. For the mathematically challenged, the Z06 has just 6.23 pounds to move per horsepower. In comparison, the heavier but more powerful Hellcats have to move 6.37 pounds for each of its ponies under the hood, making these two closer competitors than some might initially think. According to Chevy's own testing, the C6 Z06 could sprint from 0-60 mph in a scant 3.7 seconds, through the quarter mile in 11.7 seconds at 125 mph and on to a top speed of 198 mph.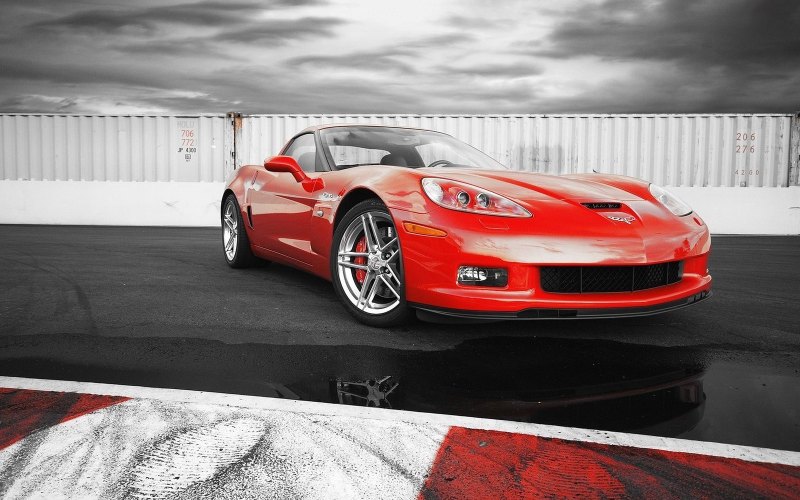 The Hellcat trim was made available on both the Charger and Challenger from 2015-2023, and there have been countless tests over that period. The big issue with asking if a Z06 is faster than a Hellcat is that there have been several spin-off sub-trims to the original Hellcat. Depending on where you look, the original Charger and Challenger Hellcat, and even the more powerful Hellcat Redeye models (which featured a 797 hp power output) have been tested and ran 0-60 mph anywhere from 3.4-3.7 seconds and through 11.2-11.8 seconds, almost all trapping the same 125 mph as the Corvette. The Hellcat's top speed also ranged from 199 to 204 mph. If you start allowing trims like the drag race-prepped SRT Super Stock or the ridiculous 1000+ horsepower Dodge Demon, those numbers skew much further in favor of Dodge.
However, while on paper, it may look like the original Hellcats have a slight speed advantage over the C6 Z06, things are very different out on the street or track. Road surface, tire wear, reaction time, and even barometric pressure can play into winning or losing a race. A quick search on YouTube can also prove that plenty of "slower" cars can, and have, beaten far more powerful competition thanks to the all-important 'driver modification.'
To wit, speed also doesn't just imply a straight line. If and when the track starts to turn and twist, odds are, the C6Z's colossal weight advantage and perfect 50/50 bias will help it shine, whereas the bulkier Hellcats would have a bit more trouble lumbering through any track that didn't measure things in a straight line.
Why is the C6 Z06 special?
The sixth-generation Corvette Z06 brought every ingredient a sports car enthusiast could want. A naturally aspirated 505 hp powerhouse power plant capable of revving to 7,000 rpm, an unbelievably balanced chassis, and a tried-and-true six-speed manual transmission all wrapped up in a sleek and sexy low-slung, aggressively stylish package that is still head-turning today. While the C6 Z06 has been out of production for an entire decade already, this LS7-powered Corvette is still fast enough to keep up with all but the most exclusive upper-echelon, ungodly expensive hypercars today.
What's even more impressive is that unlike so many underrated and underappreciated factory hot rods of days gone by that are now selling for exponentially more than they cost new, according to Classic.com, the C6 Corvette Z06 can be had for less than $50,000, making its price tag arguably its most attractive feature of all. To answer why the C6 Z06 is so special, in short, the C6 Z06 could do things only a handful of cars on earth were capable of. And though the definition of 'supercar' can be debated, to paraphrase Supreme Court Justice Stewart, "We know it when we see it."
Editors' Recommendations