If you were to ask most BMW fans what their favorite model was, odds are it would start with an 'M.' Cars like the E30, E46, and E92 M3 are some of the most excellent drivers' vehicles in automotive history. In a separate yet related affair, if you ask any group of people what their favorite James Bond car happens to be, there is a better-than-average chance that they would probably mention one of his amazing Aston Martins. But what if there was a car out there that could, and arguably should, be the answer to both of those questions? Let us introduce, or possibly reintroduce, the magnificently underappreciated BMW Z8.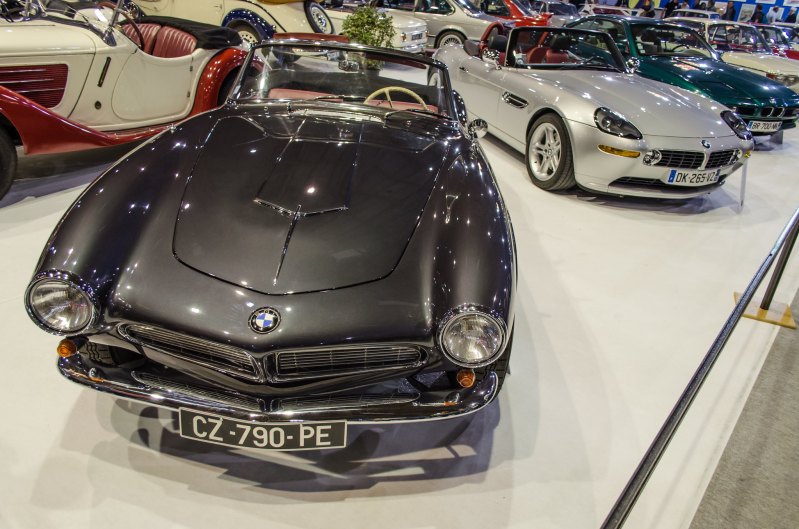 From 507 to Z8: history repeats itself
If the name Henrik Fisker sounds familiar, it's because he founded Fisker Automotive and designed the beautiful but short-lived Fisker Karma. But a decade before his own company began, Henrik was commissioned to pen the Z07 Concept, which was meant to be an homage to BMW's classic 507 from the 1950s. Keeping with the traditional long hood/short deck sports car template, Fisker created a beautifully flowing and muscular design that looked fast from any angle and could stop passersby dead in their tracks asking, "What is that?!"
Although he doesn't get as much credit, Chris Lempert is responsible for designing the Z8's unabashedly austere yet exquisitely elegant interior, which now feels centuries older than some of today's techno-intensive cabins. The "banjo-style" steering wheel is the only thing aside from the perfectly raked windshield that stands in the way of looking out over the Z8's bulging hood and fenders. The unique center-mount analog gauge cluster sits on top of aluminum-trimmed HVAC vents and controls, with the only Z8 badge tucked between the two Nappa leather-covered seats. This simple yet sophisticated style allowed the Z8 to give a nod to the past while still maintaining BMW's air of nobility.
The BMW Z8's interior is clean, classic and somehow contemporary
Though it didn't have an "M" in its name, the Z8 did draw its power from a modified variant of the mighty 4.9-liter M62 V8, which also powered the incredible E39 M5 (another headliner on the 'favorite BMWs.' But unlike the comparatively portly sedan, the svelte Z8 could use all 394 horsepower and 369 pound-feet of torque even more effectively and challenge everything and anything from Ferraris to a Chevy Corvette Z06 (more on that in a moment).
That naturally-aspirated nightmare then sent power through a traditional six-speed manual transmission and onto the rear wheels where big 275/40/WR-18 rear Bridgestone Potenza RE040 tires sat ready to claw and grab as much of the tarmac as possible while a set of 245/45WR-18 rubber took care of directional duties.
The Z8 ran from 0-60 in just 4.2 seconds
The Z8 weighed in at 3,487 pounds thanks to an aluminum monocoque space frame, which helped balance the Bimmer's mass in a perfect 50/50 front/rear split. To give a little perspective, that clocks in right around five hundred pounds lighter than its M5 sibling. With an even more performance-oriented power-to-weight ratio, the Z8 could rocket from 0-60 mph in a blistering 4.2 seconds. Keep on the throttle, and 0-100 mph would come and go in a mere 10.2 seconds, while the quarter-mile could flash by in a Dodge Viper-fighting 12.6 seconds at 111.8 mph.
Its coil-over front and multi-link rear suspension allowed the Z8 to zip around the skidpad to the tune of 0.90 g of lateral grip, while 13.1-inch front and 12.9-inch rear brakes helped rein in all that speed, taking just 116 feet to stop from 60-0 mph.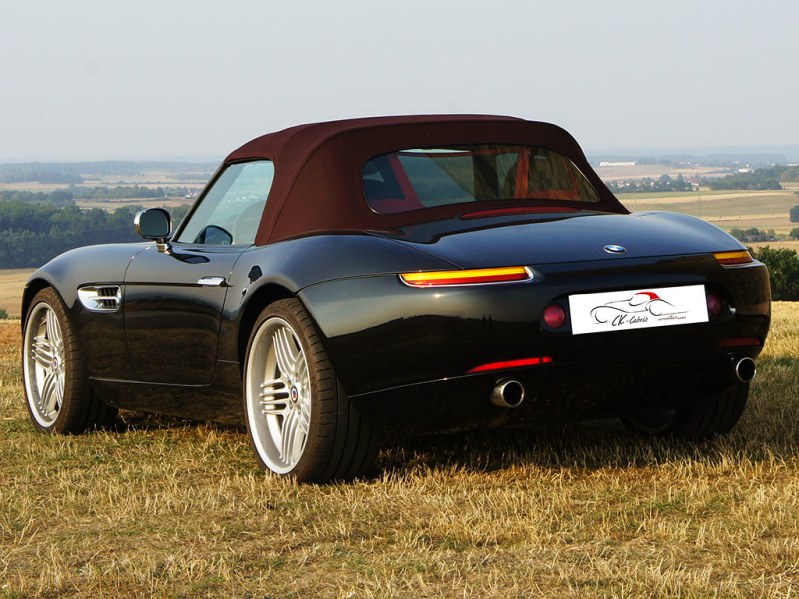 The Alpina Roadster V8: a grand touring version of the Z8
In total, BMW created 5,704 Z8s for the entire world from 1999-2002 (as 2000-2003 models), with 2,543 of them being sent to North America. Once production of the Z8 ended in November of 2002, car lovers everywhere were in despair, but only briefly. In 2003, BMW tuner Alpina took possession of the Z8, and the Alpina Roadster V8 was born.
Though they may have looked the same, the ethos of the Alpina Roadster V8 starkly contrasted with the car it replaced. If the Z8 was a fire-breathing Olympic-level sprinter ready for a 100-meter dash at a moment's notice, the Alpina Roadster was made to be more of a professional marathoner. The goal of the Roadster was to be a more comfortable Grand Touring sports car akin to the Aston Martins 007 was accustomed to driving as opposed to the Z8's more hardcore track-day Ferrari-like racer mentality.
Alpina used a slightly smaller 4.8-liter V8 code-named M62. This engine was tuned to provide a more even flow of power. Peak horsepower dropped to 375, while peak torque was raised to 383 pound-feet, and the Z8's manual transmission got ditched in favor of a ZF five-speed automatic. The Alpina's suspension was also tuned to be noticeably softer than the taut Z8's slalom-slicing setup. Only 555 Alpina V8 Roadsters were ever built, making them markedly more rare than its predecessor by about a factor of ten.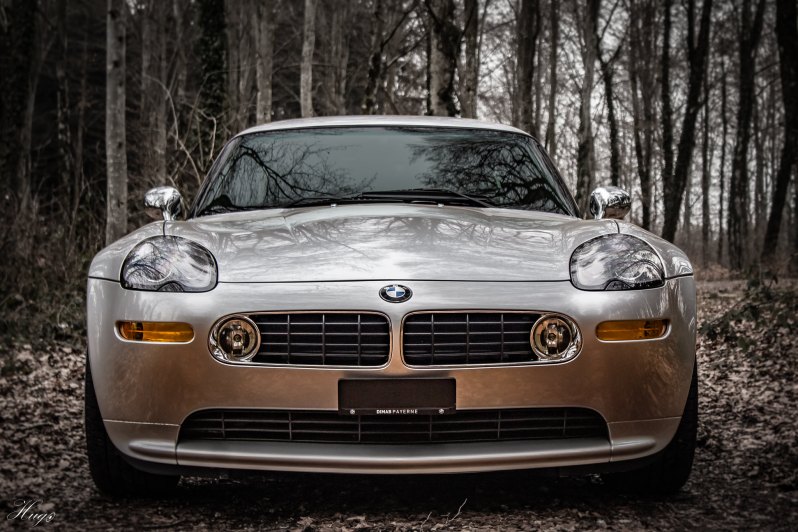 Even MI6 would have trouble affording a BMW Z8 today
As with so many things, the Z8 never got the proper respect it deserved in its day. But with a couple of decades of perspective, the Z8 is finally getting noticed by collectors. It also doesn't hurt that the Z8 is a bona fide movie star… more or less. As 007 movies go, The World Is Not Enough is not widely renowned as a fan favorite. Perhaps the 1999 Bond film would have landed higher on lists had James' darling BMW Z8 not been inexplicably sawed in half barely 14 minutes into the movie.
That said, the Z8 has jumped considerably from its original $128,000 price tag. According to Classic.com, a Z8 sells for just over $200,000. Even more astonishing is that the Alpina V8 Roadster's current resale value is just shy of $290,000, which is more than double its original $140,000 price tag.
When it comes to the world of Bond cars and BMWs, there are so many options for favorites. And while the Aston Martin DBS and BMW M5 are unbelievably exciting cars in their respective categories, one look at the Z8, and it becomes clear that the Z8 might just leave you shaken and stirred.
Editors' Recommendations