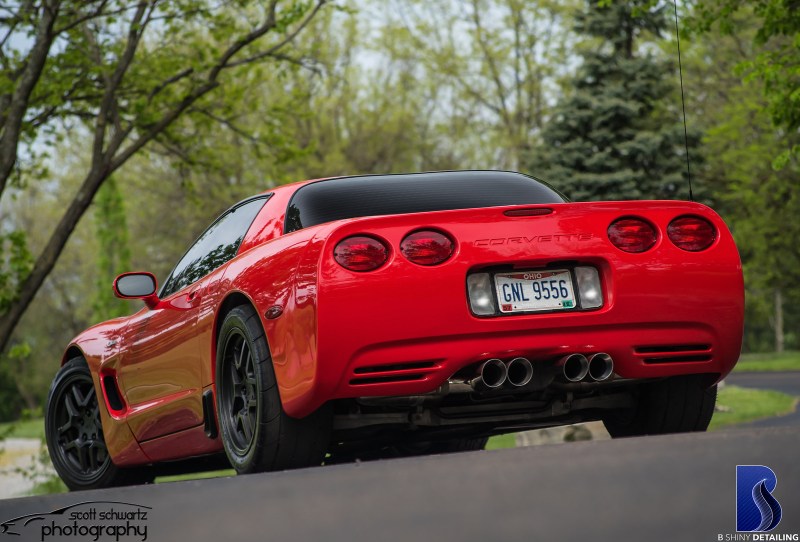 When it comes to what's considered a "modern" Corvette, most fans of the Crossed Flags will agree that it was the C5 Corvette that ushered Chevy's halo car into the future. When the fifth generation Corvette debuted in 1997, or C5 as it is known, it brought not only a brand-new chassis that had a rear-mounted transmission for better weight distribution, but it also introduced hydro-formed rails for a more robust yet lighter frame. It also brought a brand-new, all-aluminum, small-block V-8 with a code name: the LS1.
Although the LS1 was an incredibly potent engine, and the base C5 was worlds better than the C4 it replaced, Dodge's Viper terrorized everything and anything on the street. Even the newest 345-horsepower Corvette was powerless to stop it. So, in 2001, General Motors decided to send its esteemed prize fighter back to the gym for a little more muscle, and the result was the C5 Corvette Z06.
The C5 Corvette Z06's racing roots
Whereas Carroll Shelby was the godfather of performance for all things Ford, his nemesis was unquestionably Zora Arkus-Duntov. A Belgian-born engineer, Arkus-Duntov was responsible for bringing fuel injection to the Corvette in 1957 and developing the silly-fast lightweight Grand Sport in 1963. When it was first offered, the Z06 option was only a $199 option on the C2, equating to just under $2,000 in today's money. A more powerful engine, a firmer and more race-ready suspension, a bigger fuel tank, a close-ratio 4-speed manual transmission, and a Positraction rear end all made the Corvette into a race-ready street fighter.
Fast forward nearly three decades, and Chevrolet has the uncomfortable realization that its super sports car Corvette needs a little more oomph to compete on the highest level of sports cars and be able to fight Dodge's Cobra-incarnate, the Viper. So, with that in mind, it decided to resurrect Arkus-Duntov's mythical RPO code, the Z06.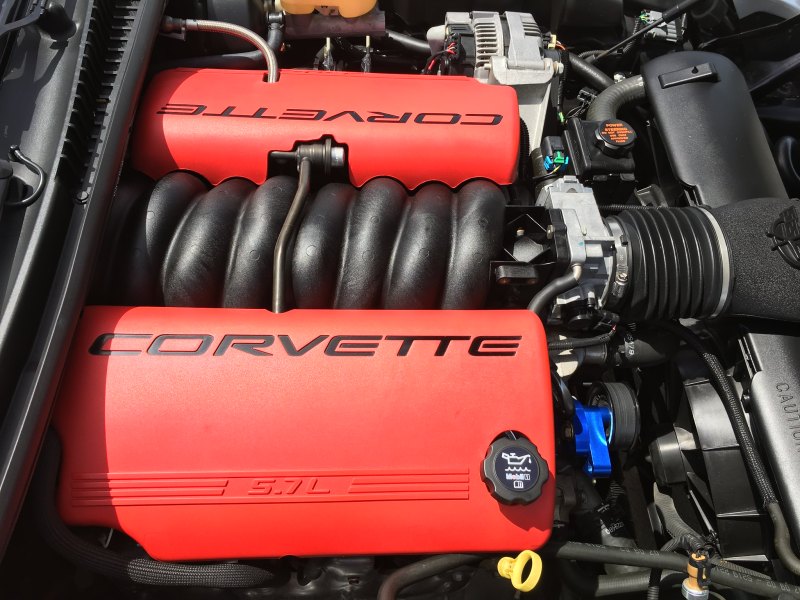 The C5 Z06's LS6 engine makes 405 horsepower
Although some believed that the new C5's LS1 engine was already good enough to take on all comers, the truth was, it wasn't. The 'Vette's Dodge-built nemesis was putting down 100 more horsepower into a car that weighed roughly the same as the Corvette, and it didn't take a physics professor to realize the Corvette was in trouble when it came to challenging the Viper. So, as they would do for years to come, Chevy engineers used some old- and new-school hot rod tricks to tweak the LS1, so much so, in fact, that the new engine was given its own designation: the LS6.
A higher lift camshaft combined with a higher 10.5:1 compression ratio cylinder heads, a better-flowing intake manifold, as well as stronger valve stems, and a titanium exhaust helped allow the new motor to redline at 6,500 rpm, which was 500 rpm farther than when the LS1 had to tap out. What is the net result of all these tweaks and mods? A perfectly symmetrical 385 horsepower and 385 pound-foot of torque for the LS6 and Z06's debut in 2001.
The Z06 improved on an already amazing C5 Corvette
Despite finding a 40 horsepower surplus over the initial C5 (which was subsequently raised to 350 horsepower, thanks to a hand-me-down intake manifold from the Z06 in 2001), those upgrades were still not quite enough for many. So, after a little more tweaking with things like a lower-restriction mass airflow sensor and air cleaner, sodium-filled valve stems, and an even higher lift camshaft, the 2002 to 2004 Z06 was able to pound out an even more impressive 405 horsepower and 400 pound-foot of torque.
That magnificent power was then sent through the rear-mounted M12 6-speed manual transmission. The Z06's transmission also differed from the base C5s in that the Z's M12 got shorter gearing, which allowed for more brutal acceleration off the line, but did come at the cost of a couple of miles per hour at the very top end. More on that later.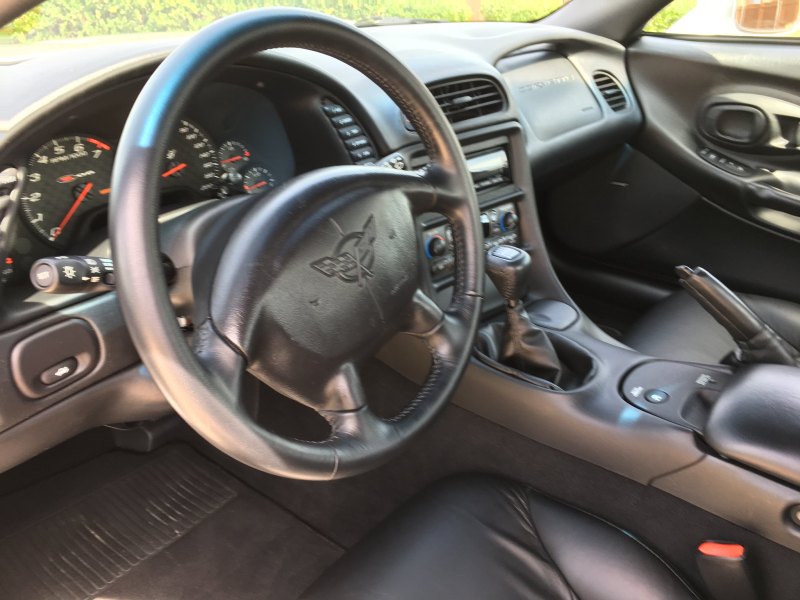 The Chevy C5 Z06 offered a comfortable interior
Throughout history, the Corvette has earned a reputation for being a great performance car value — and rightly so. Few cars on earth have ever been able to match the power, performance, and panache at anywhere near the cost the 'Vette offers. But, if there is one weak point in the Corvette Z06, it would be its interior. However, it does matter what kind of lens you view it from.
On one end, it was clear that GM decided not to try to match the Dodge Viper's Spartan level of passenger conveyance and instead build a car that could be driven every day without needing to have masochistic tendencies. So much like Honda did with its incredible NSX, the C5 Corvette Z06 was bestowed all the luxuries of a modern car. Leather seats, air conditioning, power door locks, power (glass) windows, keyless entry, a CD player, and the first use of a digital heads-up display for a production Corvette.
The interior of the Z06 was available in one of two colors, either all black or a black-and-red motif that, when combined with the magnetic Electron Blue exterior (no pun intended), was referred to as the "Spider-Man" paint combination, as the two vibrant colors nearly matched the web crawler's suit perfectly.
The C5 Chevy Corvette Z06 ran 0-60 mph in 4.0 seconds flat
Thanks to thinner glass, less sound-deadening material, and the fixed roof design (the lightest of the three models), Chevy engineers could trim off even more weight from an already svelte C5 body. The Z06 tipped the scales at a chiseled 3,118 pounds, giving it an incredible power-to-weight ratio.
With less mass to move around, more power to move what mass there was to move, and a gearing setup to help it move out quickly, it should be no wonder why the Z06 became the quickest Corvette in history to date, making more than a few classic Ferrari owners shake in their horseshoes.
At its best, the Z06 could launch 0-60 mph in a scalding 4.0 seconds flat, 0-100 mph in only 9.5 seconds, and then trap the quarter-mile in 12.5 seconds at 115 mph. Keep on the throttle, and the Z06 could hit its top speed of 171 mph with relative ease, given a proper amount of space.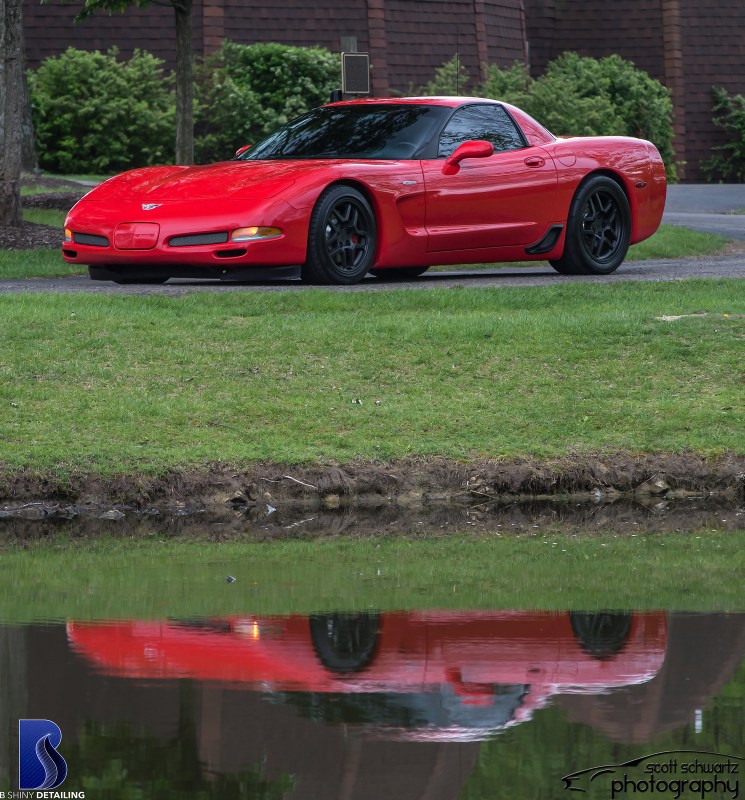 The C5 Z06 had perfect 50/50 weight distribution
In an ironic twist of fate, with shorter gearing, the Z06 became the quickest C5 by a wide margin, but technically also the slowest because the base C5's gearing allowed it to reach 175 mph. Strangely, not many base C5 owners used that as much of a bragging point as they were staring at the Z06's taillights rocketing away from them at a stoplight.
Much in the same way, Acura viewed its NSX, the Z06 was built to be more than just a straight-line boulevard bruiser. With perfect 50/50 weight distribution, a trim-specific FE4 High-Performance suspension setup, and staggered 17-inch magnesium wheels up front, with 18-inch out back, both shod in Goodyear Eagle F1 rubber measuring P275/35ZR-18 (rear) and P245/40ZR-17 (front), the Z06 could hustle around the skidpad to the tune of 0.99 g.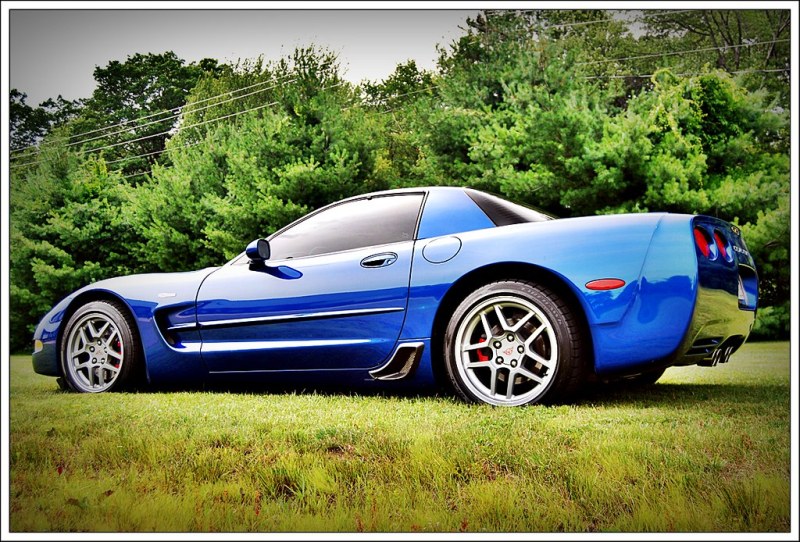 Get a used C5 Z06 for about $30,000
When it first debuted in 2001, the Z06 had an MSRP of $48,055 off the lot. Today, as the C5 Corvette Z06 is, at minimum, about two decades old, there are a lot of cars out there in very different condition levels. But a used example with average mileage can be used for around $30,000.
Like most used cars, that price has steadily increased over the last few years. Yet, the C5 Corvette Z06 remains a relative bargain three Corvette generations later. And though it never was able to consistently beat its Viper nemesis in a straight-line run given equally talented drivers, what the Z06 did was offer a lovely package of performance, passion, and pizazz that was comfy enough to use as a daily driver, but powerful enough to make a statement at the track. All for a price thousands less than its rival from Dodge, ironically leaving many Viper owners feeling just a tad snakebit after all.
Editors' Recommendations