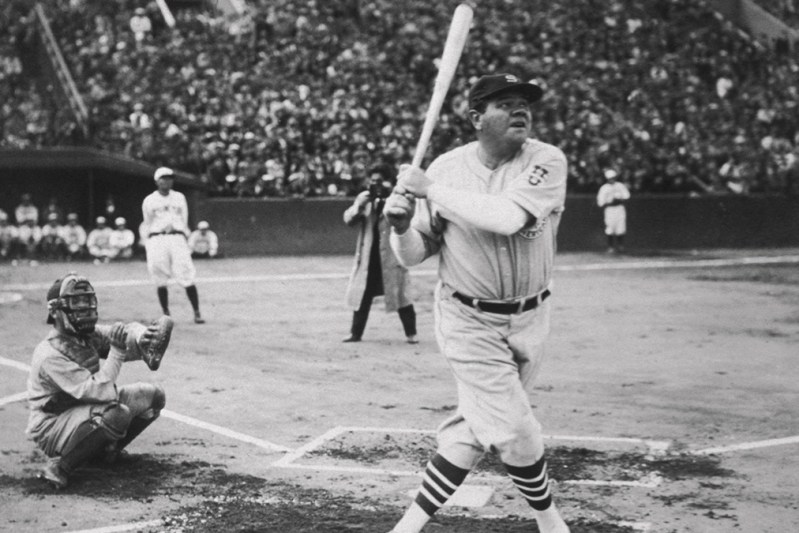 We all know that hitting a baseball is not as easy as it may seem. You've got to be incredibly precise, and given the speeds that your average fastball hits, you have a remarkably narrow window to actually hit the ball. What's also true, though, is that people have been swinging bats at balls for more than 100 years, and for a lot of that time, the best hitters have been getting paid quite a bit to do it.
One of the best hitters of all time was undoubtedly Babe Ruth, and in a recently resurfaced video, he offers a pretty succinct explanation of two different types of hitting. As the Great Bambino explains, there were two popular styles of hitting at the time. The first was called "choke-hitting," and the second "swing-hitting."
Choke-hitting vs. Swing-hitting
As Ruth makes clear in the video, choke hitters don't use the full length of the back, and they plant their feet when they take a swing. As a result, their swings are less powerful, but this type of swing also gives a hitter more control over the bat and is more likely to lead to a hit as a result. That hit might not be a home run, but in theory, at least, it's more likely to get you on base.
Swing-hitting is, by contrast, a much bigger gamble. It involves putting your hands all the way at the end of the bat and putting all your weight on your back foot as you start your swing. As you move through your swing and attempt to hit the pitch, though, your weight shifts to your front foot, allowing for a much more powerful swing, but one that is also more likely to lead to a strikeout because you have less control over the bat. As Ruth says in the video, "I favor this style of hitting, and I often strike out."
Almost 100 years later, these two styles of hitting are still dominant in professional baseball. As was the case in Ruth's day, swing hitting is preferred by most batters, in part because it gives you a greater probability of hitting a big play. There are some times, though, when it makes more sense to choke hit, either to bat a run in or because you're looking for some other tactical advantage. Ruth may have been one of the great hitters of all time, but even he knew that there was a balance to be struck between the two styles.
Would Babe have prospered in today's MLB?
As this video indicates, Babe was not just a great hitter, he could be a very smart player as well. Given his talent as a hitter, though, many have wondered whether he would be up to snuff in the modern MLB. It's impossible to solve that question, and it's the kind of what-if that defines so much sports talk. Generally speaking, though, great players are great not because of when they played but because of their unique attributes, and those attributes usually transcend eras.
Editors' Recommendations