If you enjoy camping in your car, there are a few essentials that would make your camping trip more comfortable. Of course, you will need the best car camping tent, a mobile camp kitchen, a portable shower, and a portable power bank if you want to have a cozy outdoor adventure.
But what if you owned, leased, or rented a big electric pickup truck, van, or SUV that's perfectly suited for camping? The best EVs for camping aren't just big enough to make it easier to pitch a tent, but they also include bidirectional charging technology to power your electrical gadgets using AC and DC sockets — it's like having an EV charging station with you at all times, but charging capabilities for your devices instead.
Here are the 8 best EVs for camping with bidirectional charging technology.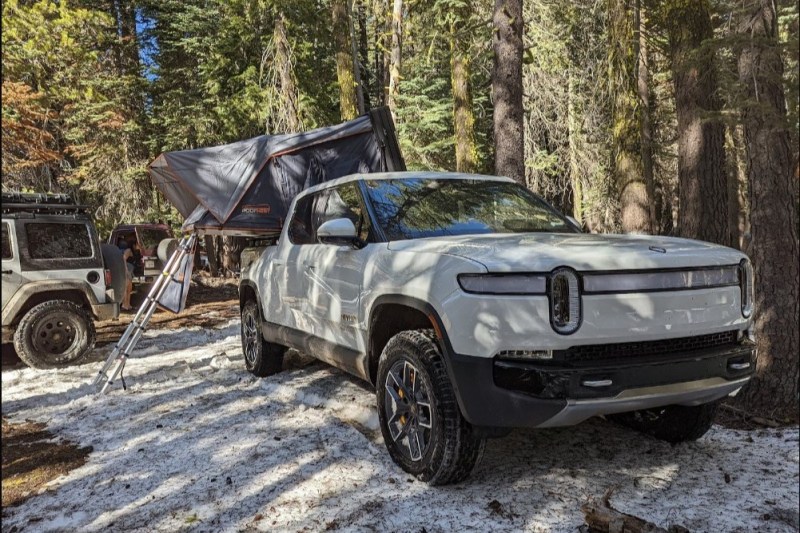 Rivian R1T/Rivian R1S
Both the Rivian R1T electric pickup and the Rivian R1S have vehicle-to-load bidirectional charging capabilities. In other words, you can use your Rivian R1T and Rivian R1S to run your electrical appliances, such as your fridge, microwave, TV, and deep freezer using 120-volt outlets while you're off-grid camping. However, the Rivian R1T and R1S come with a 1500-watt inverter — this means they're not equipped to run multiple high-power consumption devices at the same time.
If you want an EV that includes a built-in camp kitchen with an induction cooktop, the Rivian R1T is a better option. There is also plenty of space on the truck bed to pitch your tent. There is only one problem — Rivian dropped its camp kitchen and tent option for the R1T from its online gear shop. But you can find a solution to that problem if you buy an aftermarket camp kitchen specifically designed for the Rivian R1T. Currently, the Rivian R1T aftermarket camp kitchen is only available from Thunder Bolt Adventure Supply.
If you prefer the Rivian R1S, you can flatten the back seats so you have room to put up a mattress and sleep. Alternatively, Rivian offers a three-person tent that you can set up on the roof of your R1S.
Kia EV6
The Kia EV6 SUV is one of the best EVs for glamping or camping. For starters, it's built with vehicle-to-load charging capability with a maximum output of 3.6 kW — this is more than enough to power your TV, kettle, toaster, heater, and lights when you're out in the woods.
If you're worried about running out of battery charge when you're camping, you can set up your Kia EV6 to stop running your electrical devices below a certain minimum charge. For instance, the EV can stop powering your appliances if the battery charge drops to 30%, 40%, or 50%, depending on your preference.
Another cool thing about the Kia EV6 is that it can accommodate a twin air mattress for camping with adequate space for two people — but you need to roll down the seats. However, if the back is too squeezed for your comfort, you should consider an SUV tent if you want more space.
Hyundai Ioniq 5
The Hyundai Ioniq 5 isn't very different from the Kia EV6 considering that they're both manufactured by the same automaker. In fact, the Hyundai Ioniq 5 is rated to support a maximum V2L load of up to 3.6 kW just like the Kia EV6. In addition to that, the Hyundai Ioniq 5 is available with 58 kWh or 77.4 kWh battery capacity, which are the same specifications you will find in the Kia EV6.
However, the Hyundai Ioniq 5 has a slightly bigger cargo space with the rear seats folded than the Kia EV6. It's big enough to sleep comfortably in the back even if you're 6'4" tall.
Ford E-Transit
If you want an electric camper van, the Ford E-Transit may be what you're looking for. Although the Ford E-Transit is targeted at commercial customers, you can convert it into a fully equipped camper van.
What can you expect from the Ford E-Transit? It's available with a built-in power board that you can plug most electrical devices into, including your freezer, refrigerator, coffee maker, electric stove, and power tools — as long as they don't exceed 2.4 kW of power. There is also a doorway that connects the driver cabin to the cargo space, and the wall panels are easier to insulate.
Ford offers the E-Transit in three sizes — low roof, medium roof, and high roof. You can also choose a wheelbase body length of 10.8 or 12.4 feet. Depending on your configuration, you could spend between $49,995 and $55,995 without customization options. This means that it qualifies for the EV tax credit.
The only thing we're concerned about the Ford E-Transit is its 68 kWh battery with no option to upgrade. Because of this, you're limited to a range of up to 126 miles. However, Ford says it could offer an extended-range battery in the future.
Volkswagen ID Buzz
The Volkswagen ID Buzz is a good option if you want an electric camper van with a bigger battery for EV charging than the Ford E-Transit. The U.S. model of the VW ID Buzz is available with an 85 kWh battery, which is expected to deliver a range of up to 260 miles. It also comes with a wheelbase length of 10.7 feet, which is almost the same size as the standard Ford E-Transit.
Beyond that, the VW ID Buzz features V2L capability so you could camp off-grid without relying on fossil fuels. Volkswagen also announced that the ID Buzz will be capable of backing up your home using its battery during a power blackout. However, Volkswagen's electric microbus doesn't have a height advantage considering that it's only 76 inches tall. In comparison, the Ford E-Transit is 25 inches taller.
The VW ID Buzz is expected to be sold in the U.S. market in 2024 as a three-row microbus that can accommodate up to seven passengers. If you want the electric VW California campervan, you may have to wait longer or convert the ID Buzz passenger van into a fully equipped campervan. But if that's too expensive, you can always recline or remove the backseats and put up a mattress when you're camping.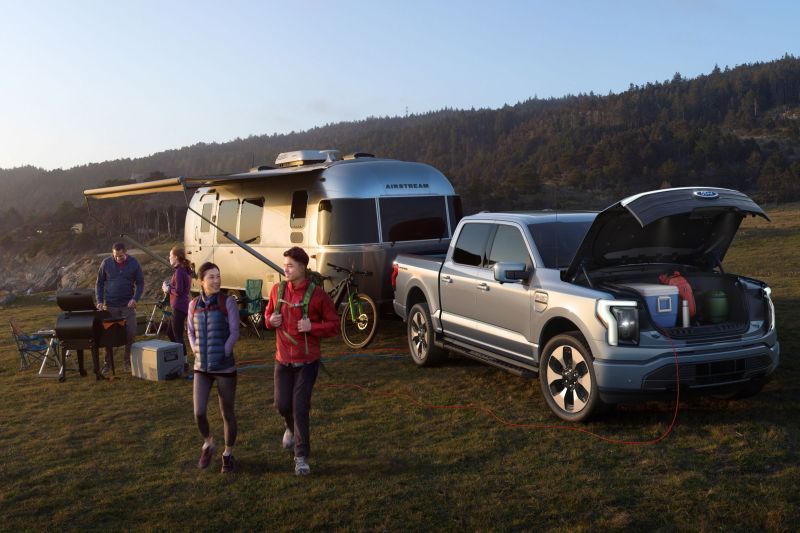 Ford F-150 Lightning
With a starting price of $49,995, the Ford F-150 Lightning is more affordable than most electric pickups on the market, including the Rivian R1T. Better yet, you could reduce its price by $7,500 since it qualifies for the EV tax credit.
The Ford F-150 Lightning doesn't just power your home, but it comes with eight 120-volt outlets and a single 240-volt outlet to power your electrical appliances on a campsite. If you plug your devices into the sockets directly, the power output will max at 7.2 kW using the upgraded Pro Power Onboard option. However, if you've installed an inverter and a transfer switch at your house, it should deliver up to 9.6 kW of power.
The standard battery on the F-150 Lightning has a capacity of 98 kWh, while the extended range is available with 131 kWh. Whichever battery you choose, it should be more than enough to power your essential camping devices for at least a week.
Of course, you can add an aftermarket camper on the truck bed, but it will reduce the battery range. Another option would be to order a camping tent from Ford's online shop that fits on the truck bed, or you install a rooftop tent.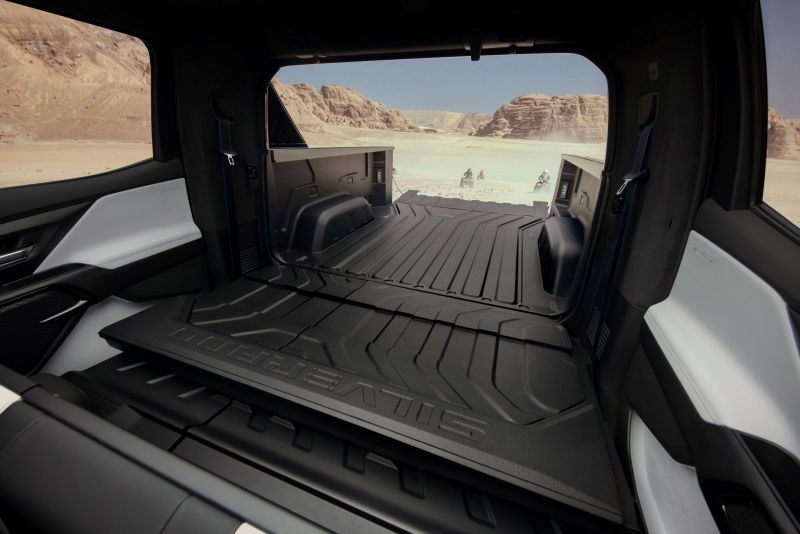 Chevy Silverado EV
The Chevy Silverado EV is within the same price range as the F-150 Lightning. It also includes vehicle-to-home bidirectional charging capabilities just like the Ford electric pickup — but you may have to wait until 2026.
Even so, the Chevy Silverado EV is available with a bigger battery capacity of up to 200 kWh that can deliver a range of up to 450 miles. To put it into perspective, a fully charged Chevy Silverado EV with a 200 kWh battery is enough to supply electricity to your off-grid camping site for at least two weeks.
As for the cargo space, the difference between the F-150 Lightning and the Chevy Silverado is negligible. But the Silverado makes it more convenient by adding a mid-gate system that folds down the wall between the cabin and truck bed so you could have more space.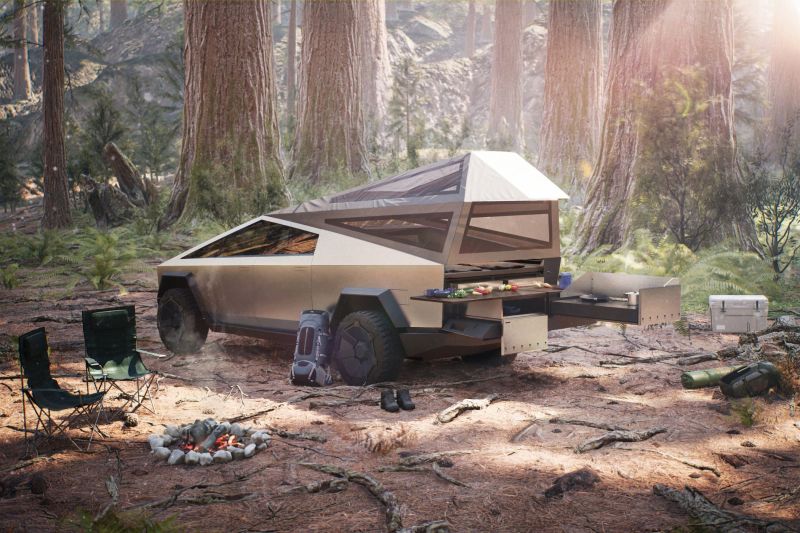 Tesla Cybertruck
When the Tesla Cybertruck was unveiled in 2019, Elon Musk said that it would be available with 120-volt and 220-volt on-board outlets. To demonstrate the Cybertruck's vehicle to load charging capabilities, Tesla charged its electric quad bike using a power outlet on the truck bed. If Tesla delivers on its promise, the Tesla Cybertruck would be a suitable EV for camping.
However, until the Tesla Cybertruck goes into production, we won't know its exact specifications. For now, we can speculate that the Cybertruck will likely be almost the same size as most heavy-duty pickup trucks after sighting its release candidates. Not to mention, Elon Musk revealed in Tesla's 2023 second-quarter earnings report that the Cybertruck will be a "sub-19-foot pickup" so it could fit in a 20-foot garage.
Besides that, a few startups like Space Campers and CyberLandr are working to develop fully equipped campers with a kitchen, bed, and toilet for the Tesla Cybertruck. But until they have a production vehicle to work with, it could take a few years before they're ready.
Editors' Recommendations