If you want an electric pickup, the Ford F-150 Lightning is one of the few available options on the market. With a starting price of $39,974 when it was first sold in April 2022, the Ford F-150 Lightning was the most affordable electric pickup. However, Ford was forced to increase the price of its cheapest F-150 Lightning model to $59,974 by March 2023. This was due to the global chip shortage, inflation, and other trending car factors in 2023. Ford also increased the BlueCruise subscription from $200 to $800 per year.
But even with a starting price of $59,974, the Ford F-150 Lightning was still a cheaper option than other electric pickup trucks like the Rivian R1T and GMC Hummer EV that are currently on sale. However, there was still a problem on the horizon — the Chevy Silverado EV and Tesla Cybertruck expected to be delivered in late 2023 and early 2024 could overthrow the F-150 Lightning as the most affordable electric pickup. That's if the Chevy Silverado and Tesla Cybertruck will be sold as advertised.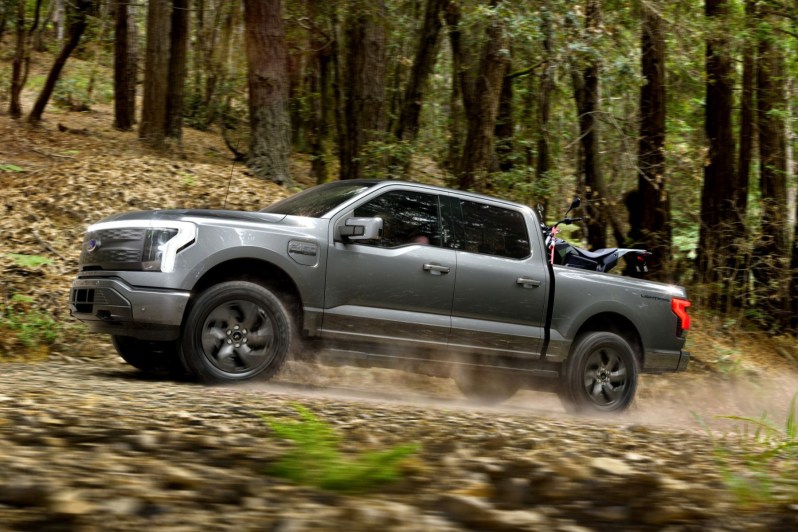 The cost of a Ford F-150 Lightning
Well, Ford isn't going to take any chances, and it slashed the prices of its electric pickup by almost $10,000. In the announcement, Ford revealed that the F-150 Lightning Pro trim will now be sold at $49,995, down from $59,974. With the Chevy Silverado EV starting at $52,000, it means the F-150 Lightning will still hold the title for the most affordable electric pickup in America.
Besides that, the most expensive F-150 Lightning model is now sold at $91,995 after Ford slashed its price by almost $6,000. Additionally, the Lariat Extended Range model is now available at $77,495. This makes it eligible for the federal EV tax credit since it's now sold for less than $80,000.
The F-150 Lightning Lariat standard range price has been reduced to $69,995, which is the same price as the XLT Extended Range model. Alternatively, you can choose the F-150 Lightning XLT standard range at $59,995. However, if you want the cheapest option after the Lightning Pro model, you can buy the XLT standard range (311A) at $54,995.
Coincidentally, Ford made the announcement to reduce the prices of the F-150 Lightning models after Tesla announced that the first Cybertruck rolled off the production line. If the Cybertruck starts at less than $40k, it could be the cheapest electric truck — but that's unlikely to happen considering that it's almost four years since it was announced and Tesla removed its price from its website.
Editors' Recommendations