While you may not recognize the name Earl Trammel right now, by the end of this article, if you are a true car enthusiast, it will feel like you've known him your whole life. You see, although Trammel was a true car fanatic. He used his success as an Alabaman businessman to fund his passion for collecting cars. As we've seen recently with a stable full of Ferraris, sometimes these collections just end up lost in time, which is how you can end up with a 1998 Chevy Corvette Indy 500 Pace Car Edition with just 23 miles on it or a 1990 Corvette ZR-1 whose interior is still wrapped in plastic. And those are just two of the twenty-three cars found in this horsepower-laden time capsule.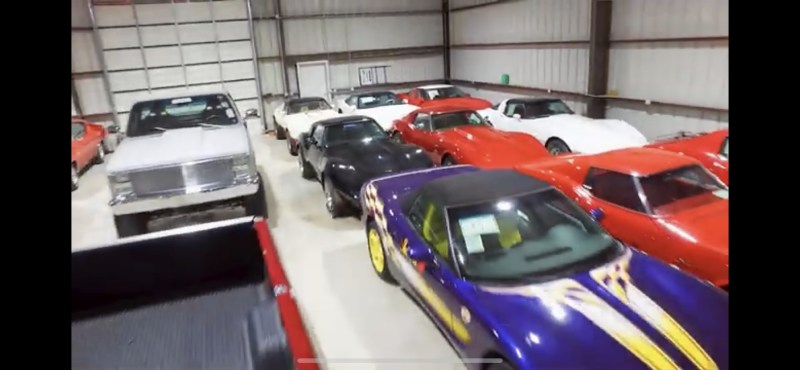 Stingrays and SVTs and muscle trucks, oh my!
This unbelievable find came to light after Mr. Trammel passed away. His ex-wife, trying to settle the estate, contacted GiveMeTheVin.com to offload the collection. The company's founder, John Clay Wolfe, and his business partner, John Piece, detail the revelatory experience on The John Clay Wolfe Show's YouTube channel, "It was in a tiny little barn in Alabama that looks ridiculous, like you'd never expect there were a million dollars worth of cars in there." Although his website specializes in buying and selling cars, he dubbed Earl Trammel's collection "…by far the biggest find of my career."
Trammel favored Chevrolet's flagship sports car, which accounts for nine of the 23 total cars in the collection. Aside from the two already mentioned, there is also a 1988 35th Anniversary C4 with just 25 miles on the odometer, a 1997 C5 with 100 miles, a 1979 Stingray with 41 miles, and a 1971 Stingray, which is the oldest Vette in the collection, with just 1,600 miles. In case you were curious, a 1974 Stingray is the most heavily driven of any car in the Vette group, with 30,000 miles on it, which averages out to about 612 miles per year.
Although this assembly of dream machines seems to be Chevy-centric, plenty of other cars can be equally drooled over by non-Bowtie fans. For the Blue Oval fans, a 1965 Mustang convertible sits in good company with its great-great-grandchild, a 2003 SVT Mustang Cobra with 4,900 miles on it, while a 1999 SVT F-150 Lightning pickup truck with a ridiculous 46 miles on its odometer rounds out team Ford. Other highlights include a cult-classic 1987 Buick Grand National with 13,800 miles, a stunning bright red 2001 Pontiac TransAm WS6 with a mere 247 miles, a 1973 Lincoln Continental Mark IV, and a 1996 Porsche 911 C4S. There are also a few non-Covette Chevrolets in the mix: a 1956 Chevy 210 Sedan, a 1968 Camaro SS, a more modern 2010 Camaro SS with only 47 miles, a 1966 C10 pickup, and a 1990 Chevy 454 SS pickup truck with a showroom-level 19 miles to its name.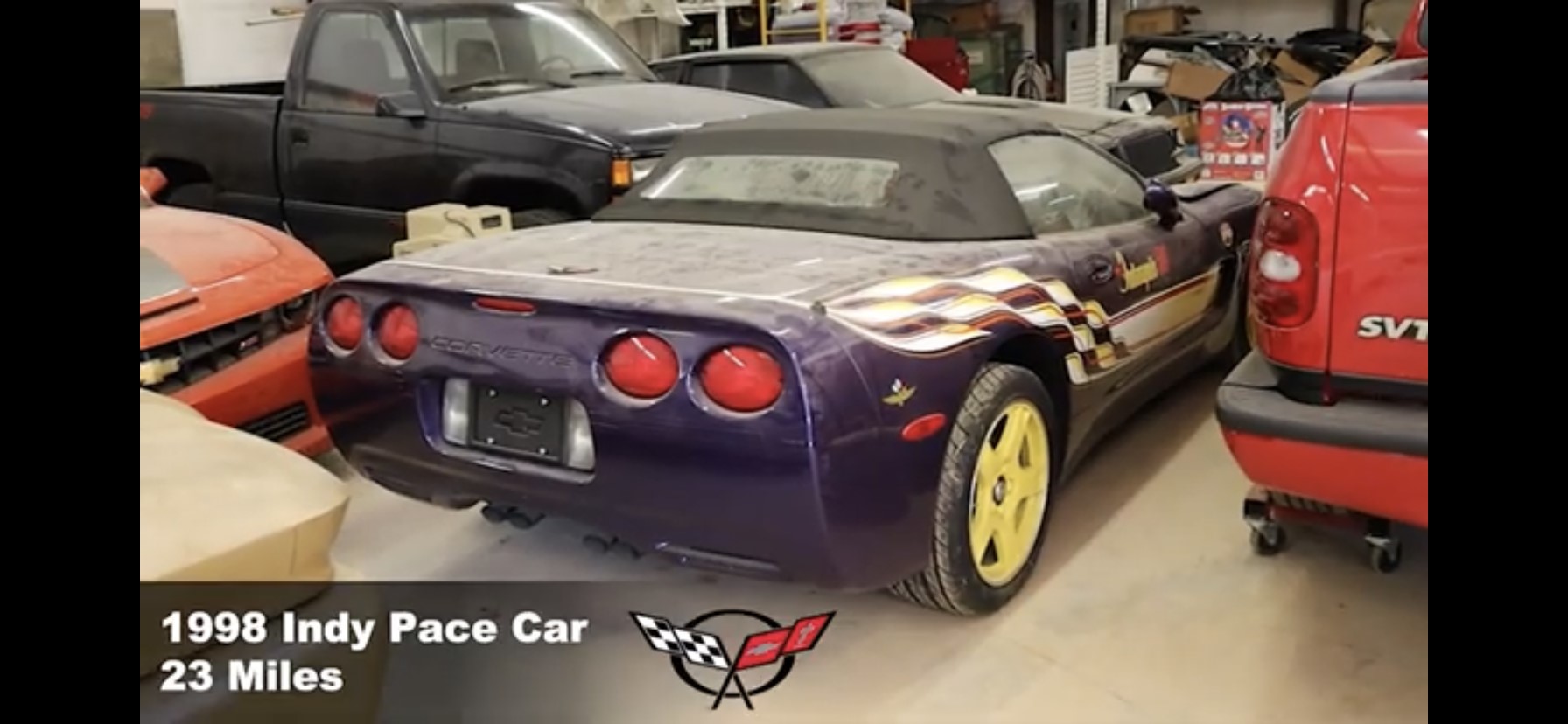 A 1998 Corvette Indy Pace Car Edition and 1990 454SS have a combined 42 miles total
Wolfe says that his team will spend the next few months bringing each of these extraordinary treasures back to life but admits, "They don't need too much." The plan is to put them up for auction when they are all cleaned up, which will undoubtedly bring in a lottery-winning level of cash like so many other poster cars have to date. But Wolfe, like any true car fanatic, already seems to be having second thoughts, saying, "I don't want to sell them, so I don't know what we're going to do."
It's a problem many of us wouldn't mind having, and it is all thanks to one man who had the money, resources, and, most importantly, the obsession to go after his dream car(s). His digital obituary says of Earl, "He was a part of so many people's lives he as Dad, Grandad, Unc, Paw Paw, Pop, King Wormy, and Papa Smurf." After learning about his life-long love affair with some of the coolest cars of the last 75 years, we would also like to add "kindred spirit" to that list because even though we never met him, one look at his choice of cars and it's as if we've been friends forever.
Editors' Recommendations