Although many prefer to stay home on a snowy winter weekend, others prefer an ideal winter getaway. If you're in the latter camp, you'll be happy to see the hotels we've found for the perfect "winter wonderland weekend". Whether you prefer snow-covered mountains or warm desert landscapes, we're confident we have a great "winter wonderland" for you here.
These are some of our favorite hotels for the ideal winter getaway.
Halcyon Hotel Cherry Creek
Denver, Colorado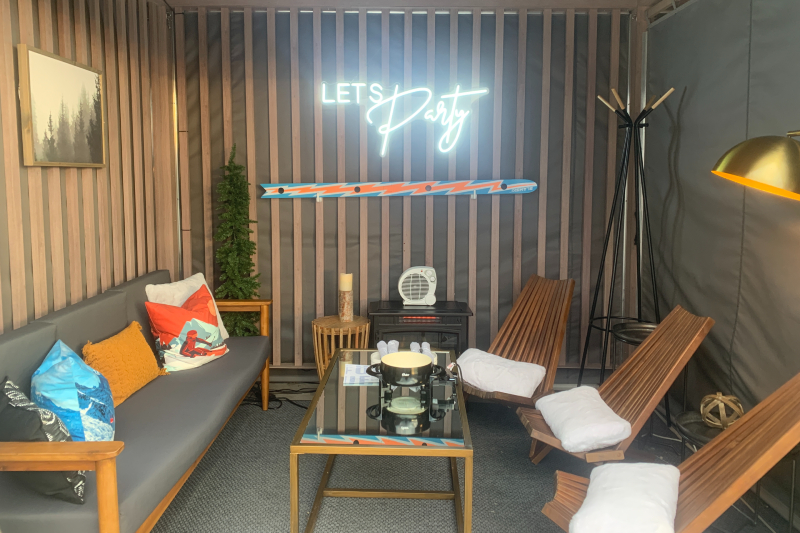 Learn how to Après in the Clouds in Denver this winter. Though many prefer to head to the Western Slope when flying to Colorado for a winter ski trip, the Halcyon might have you rethinking your Colorado itinerary. Sporting a sporty rooftop with gorgeous views, live music, complimentary drinks, hotel-wide high-speed Wifi, a 24-hour fitness center, in-room Nespresso machines, and even a comprehensive Gear Garage full of everything you need for your outdoor adventures, the Halcyon has all the drip you need for an unbelievably cool Colorado trip.
Throughout the winter season, the Halcyon offers a few unique winter outdoor activities, such as a winter cabana experience. Each cabana is decked out with plush blankets, chic winter décor, a vinyl record player, and a four-course dinner (think fondue and hot toddies). Along with a fire pit, the rooftop also hosts open-air live concerts by local artists every Friday and Saturday, as well as "The Roaring Game" (or curling). And whenever you're ready to head to the slopes, the Halcyon's "Hot Handlers" are your concierge team to handle all your ski needs.
Fairmont Scottsdale Princess
Scottsdale, Arizona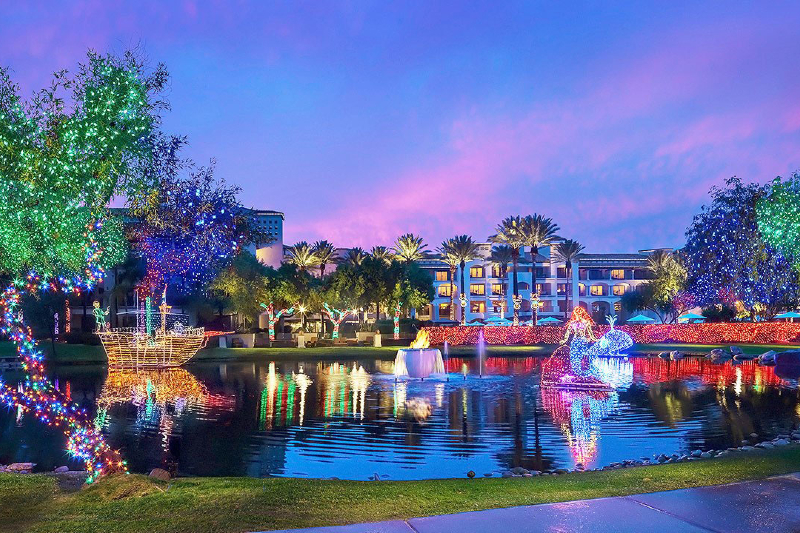 If you prefer palm trees over pine trees, then the Fairmont Scottsdale Princess may be the winter wonderland you're looking for. For nearly three decades, this AAA Five Diamond hotel has reigned supreme over the North Scottsdale scene with sparkling pools, world-class golf, a refreshing full-service spa, and easy access to parks that let you enjoy the best that the Sonoran Desert has to offer. Guests can go ice skating, roast marshmallows around a campfire in their enchanted forest, and enjoy plenty more family-friendly activities that feel even better with Scottsdale's mild winter weather. Whether you prefer fun outings to Scottsdale's world-famous Barrett-Jackson Collector Car Auction, a chill day exploring the natural wonders of the McDowell Sonoran Preserve, or some quality "me time" at the pool, the Fairmont probably has what you're looking for.
Sunriver Resort
Sunriver, Oregon
Though it's only about a 30-minute drive from Bend (Oregon), the Sunriver Resort feels like it's a world away. This kid-friendly resort offers dog sledding, Takoda Bear plush toy stuffing, family portraits, Nordic skiing, indoor swimming pools, and several more winter wonderland activities and attractions that will keep guests entertained all season long.
Gaylord Opryland
Nashville, Tennessee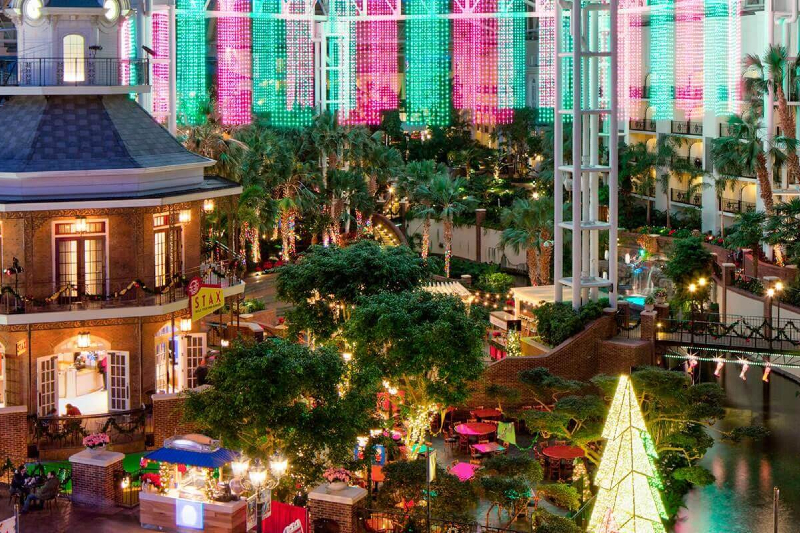 If you're going to Nashville, you might as well go big at the Gaylord Opryland! With nine acres of a truly extraordinary garden atrium, the year-round 84 degree (Fahrenheit) SoundWaves indoor water park, a remarkable collection of tasty bars and restaurants, an oasis of bliss at Relâche Spa, and easy access to Nashville's always-happening downtown, it's hard to get bored at this place.
Coeur d'Alene Resort
Coeur d'Alene, Idaho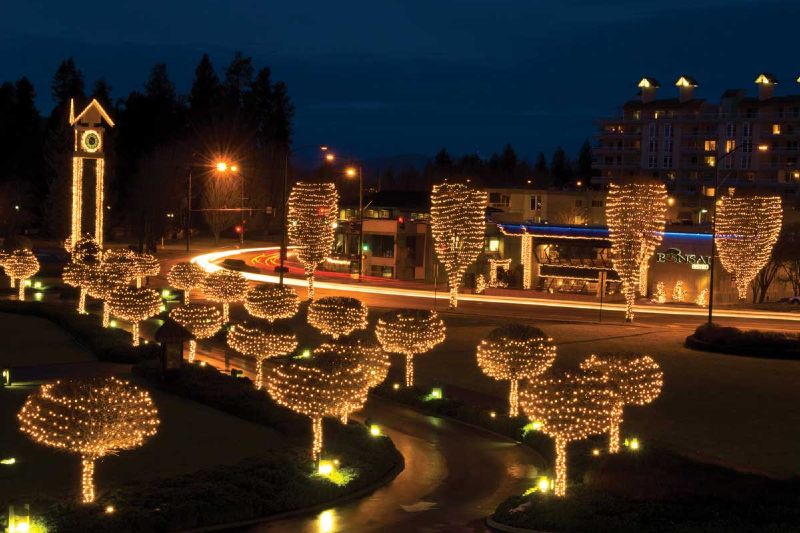 Located on the shores of Lake Coeur d'Alene, this dreamy resort features 10 dining venues, a spa and salon, and golf courses. During this time of the year, the resort is decorated with over a million lights for their winter lights show viewed via a nightly cruise on the lake. If you like heading out, this resort has everything you need to enjoy Idaho's truly great outdoors. If you prefer staying in, their luxurious rooms and suites have everything you want for a warm and toasty night inside. And if you want something truly unique, check out their Hot Winter Nights and Igloos on the Lake experiences.
Tenaya Lodge
Yosemite, California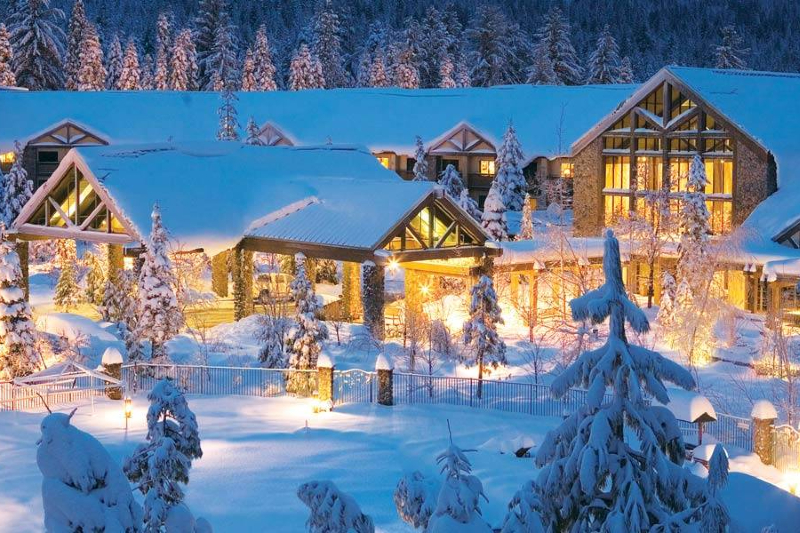 There's never really a bad time to visit Yosemite. But if you're planning to head out this way this winter, then Tenaya at Yosemite has a whole lot in store for you. Fun is always within reach with guided snowshoe flashlight hikes, snow tubing, ice skating, skiing and snowboarding, and guided nature walks. Whenever you're ready to turn in for the night, Tenaya at Yosemite has a wide array of lodge rooms and suites, cabins, and cottages to choose from.
Grand Hyatt Vail
Vail, Colorado
In the lobby of the Grand Hyatt Vail, guests can partake in a champagne sabering and toast, and they can help themselves to hot cocoa and fresh-baked cookies. Giving off all the winter wonderland vibes, the resort features an ice rink, an alfresco ice bar, and outdoor fire pits for daily s'mores roasting. Groups can also opt to rent out the Moët Imperial Yurt, a cozy winter haven that includes two private fire pits, a Champagne sabering, s'mores kit, and a house-made charcuterie spread.
If any of these destinations sound good to you, then congratulations on finding your next winter wonderland getaway! If you can use more ideas for your travel itinerary for the rest of the year, see our ultimate guide to Chiang Mai (Thailand), this nine-stop walking guide to Mexico City's street art, and the surprising off-road travel destination you need to know more about. There are so many cool places to go and experience, and we're grateful that you're bringing us along for the ride.
Editors' Recommendations