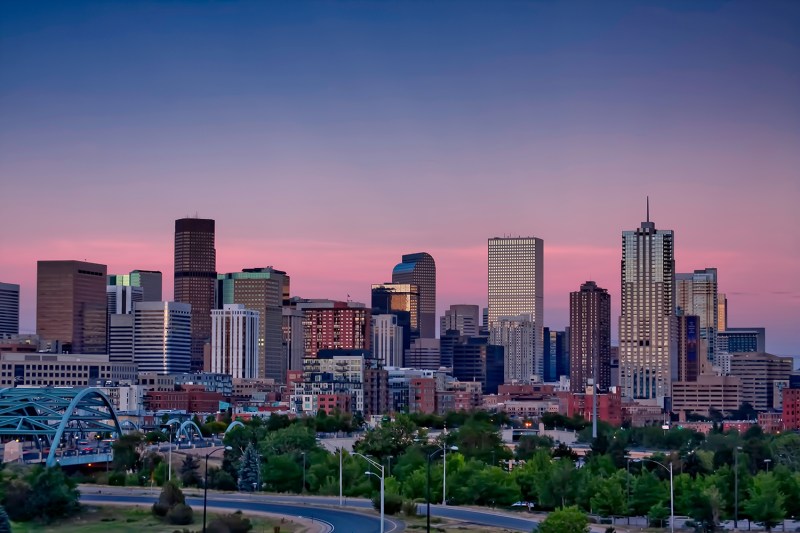 Denver is a one-of-a-kind city. A unique crossover of the Colorado hippie and high plains cowboy cultures, it's got a vibe unto its own. Offering everything from sports to art to the legal sale of weed, Denver has something for everyone in a cityscape that is generally designed well, making it easy to navigate. Traffic is relatively low, app-rented bikes and scooters plentiful, and wide bike lanes abound. Very exploration friendly.
To that end, here are a few suggestions for how to best enjoy your exploration. A lot has changed in Denver over the past few years, but I visited recently and dug into the latest and greatest in regard to where to stay, eat, and have fun.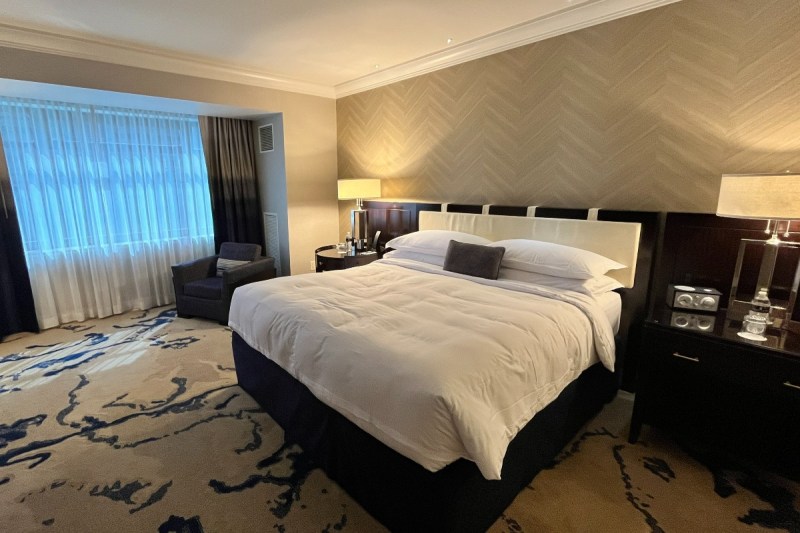 Where to stay
Best downtown: Ritz-Carlton
Simply put, the Ritz-Carlton Denver is outstanding by every metric. Refinement abounds, comfort ensured, and the top-tier service in every way. The location is essentially right in the center of everything, and it's just a handful of blocks from the Colorado Convention Center. The suites in particular are top-notch — exactly the sort of place you want to bring business or romantic guests.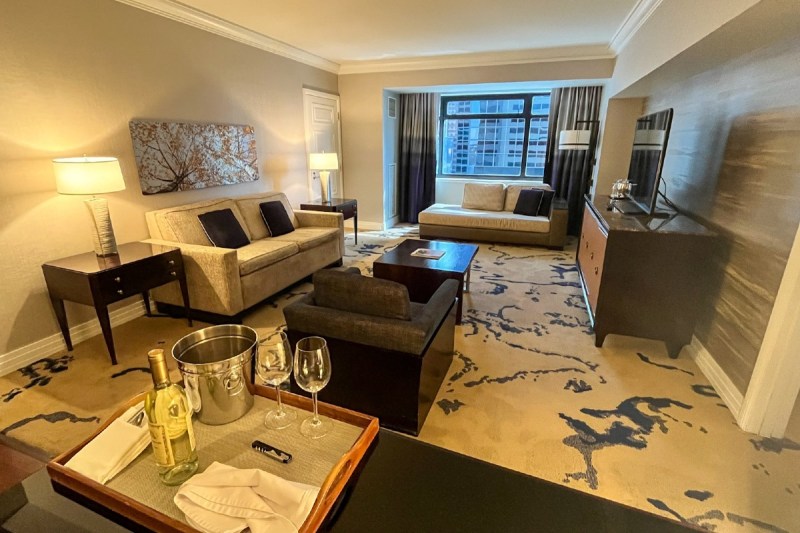 Best in RiNo: Ramble Hotel
Located in the up-and-coming River North Art District — also known as RiNo — the Ramble Hotel offers a slick combination of old-school elegance with contemporary hip vibes. There's a cool industrial coziness to it, with lots of dark refinement to the decor and a hint of steampunk to the lobby bar. It's also adjacent to the neighborhood's Friday Night Bazaar, where you can browse food carts, vendor stalls, and so forth.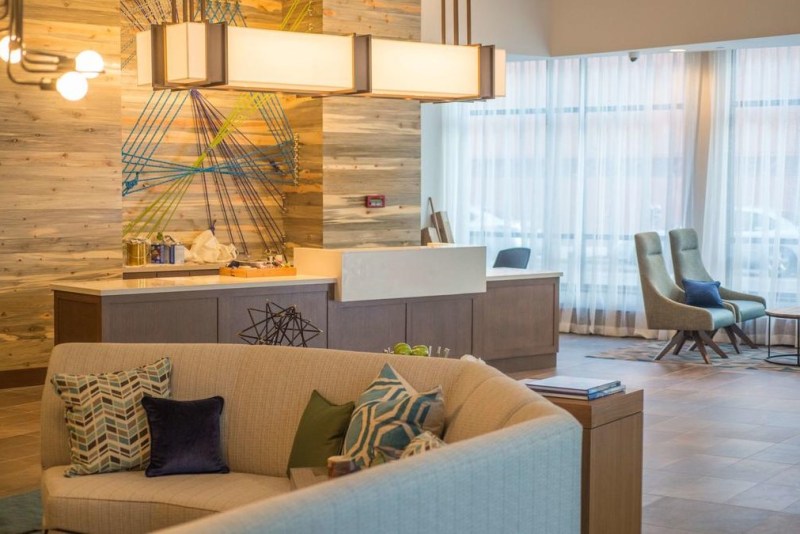 Best for couples: Hyatt Place Denver Downtown
If you're looking for a place that's proven and tested to be an amazing couples' getaway, then Hyatt Place Denver Downtown is the perfect one for you. Located 1,000 feet away from the Colorado Convention Center, this hotel highlights an indoor pool, a bar, and free Wi-Fi. The rooms at the hotel also come with a seating area, a flat-screen TV with cable channels, and a private bathroom with free toiletries and a bath or shower. Best of all, you're only 2 blocks away from the Free MallRide shuttle on 16th Street.
Best budget: Hyatt Regency Denver at Colorado Convention Center
The Hyatt Regency Denver is a 2-minute walk from the Colorado Convention Center. It is also just a few minutes' walk from establishments like the 16th Street Mall, the Denver Art Museum, Union Station, and Coors Field. The hotel highlights 1,100 smoke-free guest rooms, daily housekeeping, a restaurant, two bars/lounges, and a fitness center. It's the perfect hotel for leisure and going around the city without having to spend too much, with rates starting at $100.
What to eat
Uchi Denver
There are a number of places to go in Denver. If you've slowly grown tired of weekly Pizzeria Locale and Tap & Burger deliveries, consider thinking outside the (bento) box. Uchi Denver, from Austin's James Beard Award-winning chef Tyson Cole, is the fourth restaurant under the Uchi banner, and thankfully for sushi lovers, it boasts a bold, Texas-sized menu to boot. The offerings are creative, innovative, and uncommon. So, even if you have a favorite sushi joint in the city, Uchi likely has something you've never tried.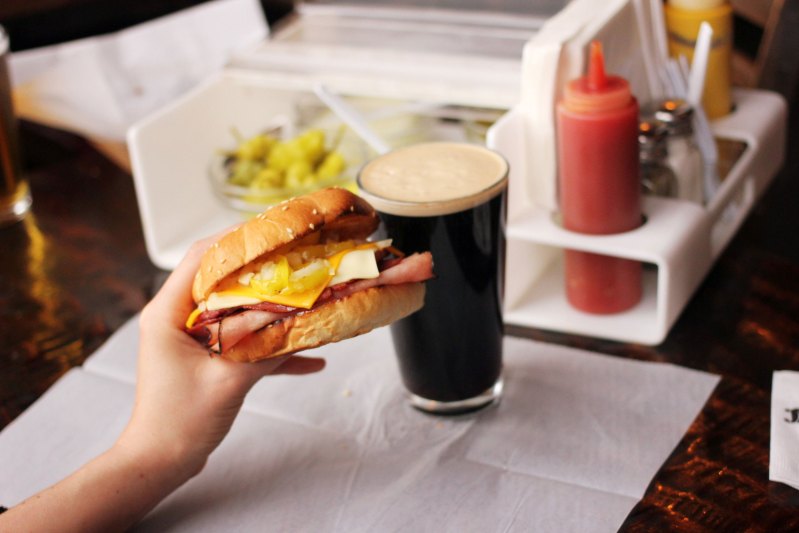 My Brother's Bar
Sure, you've already been. But, My Brother's Bar is still the perfect place to eat (again) for three reasons: It has historic cachet as the oldest bar in Denver (honestly, Kerouac drank here), it serves some of the city's best burgers, and it has two winter-ready outdoor patios available.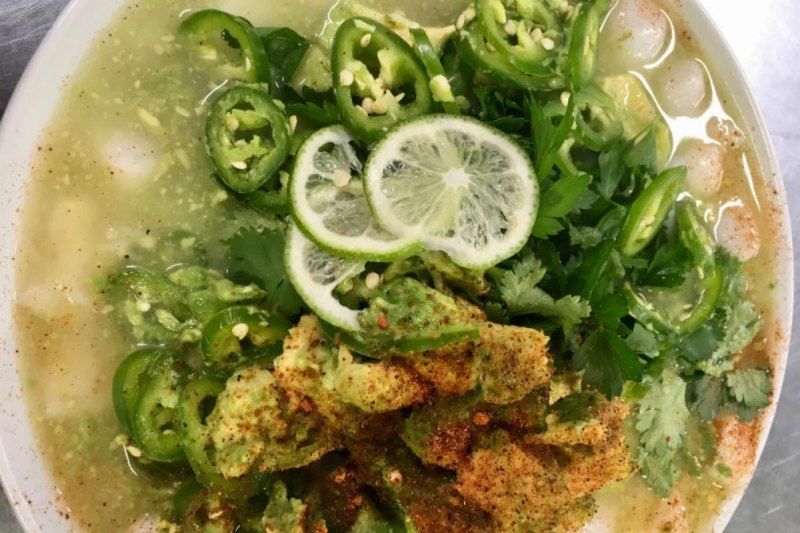 Adobe Denver
If you've spent more than 5 minutes in Denver, you know that green chile is tied with overstuffed breakfast burritos as the city's comfort food. You probably already have a favorite. But why not spend a little time considering a new one? Check out the New Mexico-style green chile at Adobe Denver and savor the SoCal-influenced, masa-thickened variety at North County, or opt for pure, unadulterated chile verde (just like abuelita used to make) at El Taco or La Fiesta.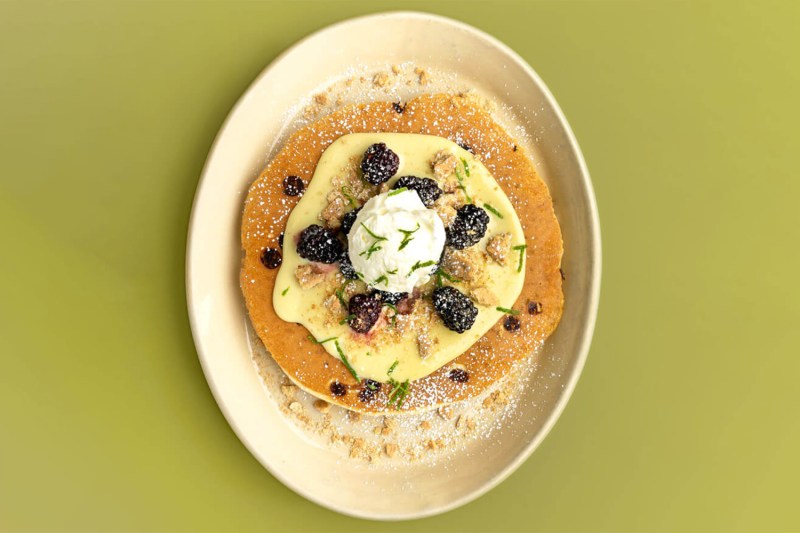 Snooze AM Eatery
Located in Denver's historic Union Station, this breakfast and brunch spot stands out with its delicious pancakes and French toast. If you're a fan, you can create a pancake flight and try them all. Be sure to book ahead of time so you don't miss out on a boozy brunch.
What to do
There are a bunch of things to do in Denver in the outdoors. Check out all those al fresco Denver bucket-list experiences that all the tourists talk about but you've yet to see for yourself. If heading into the mountains for a week isn't in the cards right now, check out these great things to do a little closer to home.
Go play in the snow (and ice)
Playing in the snow doesn't have to involve skiing or snowboarding. You can still find that "zipping down the mountain" experience without strapping things to your feet. Head to Ruby Hill for a free sledding experience (perfect for family and date nights) or go tubing at Fraser Tubing Hill near Winter Park. For something altogether different, Ice Castles has returned to Dillon. This one-of-a-kind installation uses hundreds of thousands of hand-gathered icicles to create frozen sculptures, tunnels, slides, fountains, and of course, castles. They're all lit by LED, so it's best to visit at night. For something a little closer to home, head to Evergreen Lake, where you'll find Colorado's most picture-perfect ice skating rink.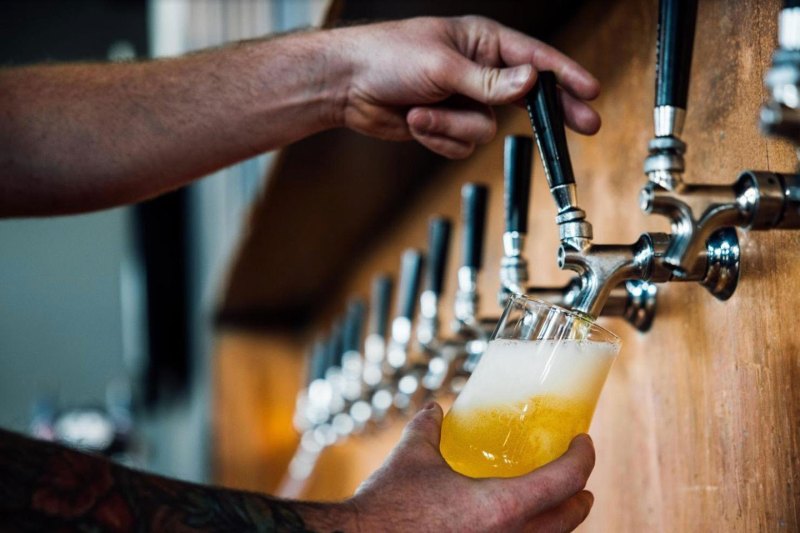 Complete your Denver brewery hop
The number of breweries in metro Denver is dizzying. The actual total is north of 75 and closer to 100 if you take into account neighboring cities. There's hardly been a better time to grab a flight at the few (or dozen) you've yet to visit. Start building your wish list here if you haven't already. The best part is that many breweries like Seedstock are set up with cold-weather-friendly outdoor patios. If you're partial to (or also enjoy) liquor, wine, and cider, you can always make checklists for those as well. Many of the city's distilleries, wineries, and cideries are set up for al fresco tasting if you want to try all the flavors.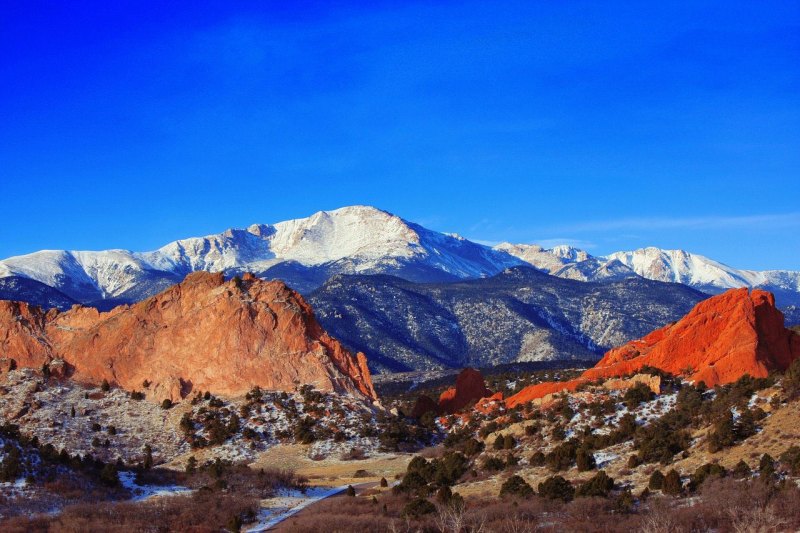 Explore Denver (and beyond) like a tourist
Locals in every city are quick to pooh-pooh the tourist attractions in their hometown, but those attractions are popular and "touristy" for a reason. If you've never explored Denver's most famous spots, now's the perfect time to put on your tourist hat and try to see the city for the "first" time.
Garden of the Gods is an easy first pick, and that's exactly why we're including it. It is the answer to the question "What is Denver known for?" Even among the long list of Colorado's natural wonders, this Colorado Springs attraction ranks near the top. Explore its more than 1,300 acres of sandstone formations with a hike, by bike, or on horseback. The park is situated at the base of Pikes Peak — arguably the state's most famous 14er (that would be a mountain that rises higher than 14,000 feet in elevation) — and the one that inspired the poem America the Beautiful. Round out your visit with a drive to the snowy summit, where you'll find some of the state's best views.
While you're at it, take in the views at Red Rocks, too. It's an incredible destination. Plan a midweek visit if possible, where you can enjoy a leisurely hike around its beautiful sandstone formations, and take in the stunning views without the crowds.
Meow Wolf's Convergence Station
The art and event group Meow Wolf has constructed psychedelic, otherworldly art, installations in a handful of cities across the U.S. in recent years, and Convergence Station is a must-see among them. It's kind of impossible to describe. In an extreme nutshell, you make your way through an ever-changing landscape of elaborate alien infrastructure. If that sounds awesome, it's because it is.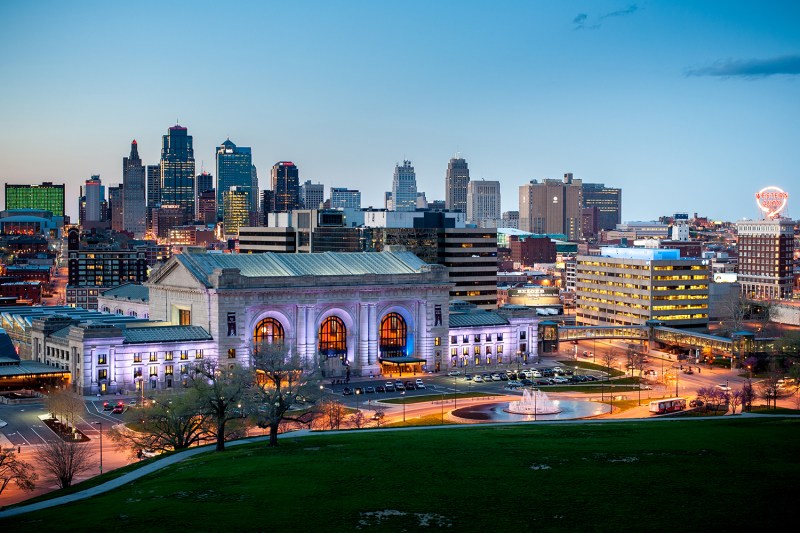 Union Station
Lastly, check out Union Station for indoor things to see and do. The stunning, century-old Beaux-Arts architecture makes this a worthy destination in its own right. But, it's also become something of a foodie destination with everything from authentic Italian eats at Tavernetta to farm-to-table cuisine at Mercantile to cocktails at Terminal Bar located inside the station's historic ticketing office. Plus, the collection of local retailers like Tattered Cover Book Store makes this a spot worth lingering at well past dinnertime.
Editors' Recommendations