Outdoor enthusiasts love Jackson Hole, and who can blame them? It's picturesque, right next to Yellowstone National Park, and has some of the most rewarding winter sports territory you'll ever put skis (or a snowboard) on.
Jackson Hole is a destination, which means you'll have to find a place to stay while you're exhausting yourself on the mountain. There are many options at the resort proper, but we've identified which are best for most travelers.
What is Jackson Hole?
Geographically, Jackson Hole is a valley near the Teton mountain range and very close to the Wyoming and Idaho borders. The reason it's called "Jackson Hole" is because the term "hole" is an old colloquialism trappers used in reference to a valley where beavers, fish, and other wildlife of value to them congregated. Jackson is the closest town to the area.
In modern times, Jackson Hole is a destination ski resort.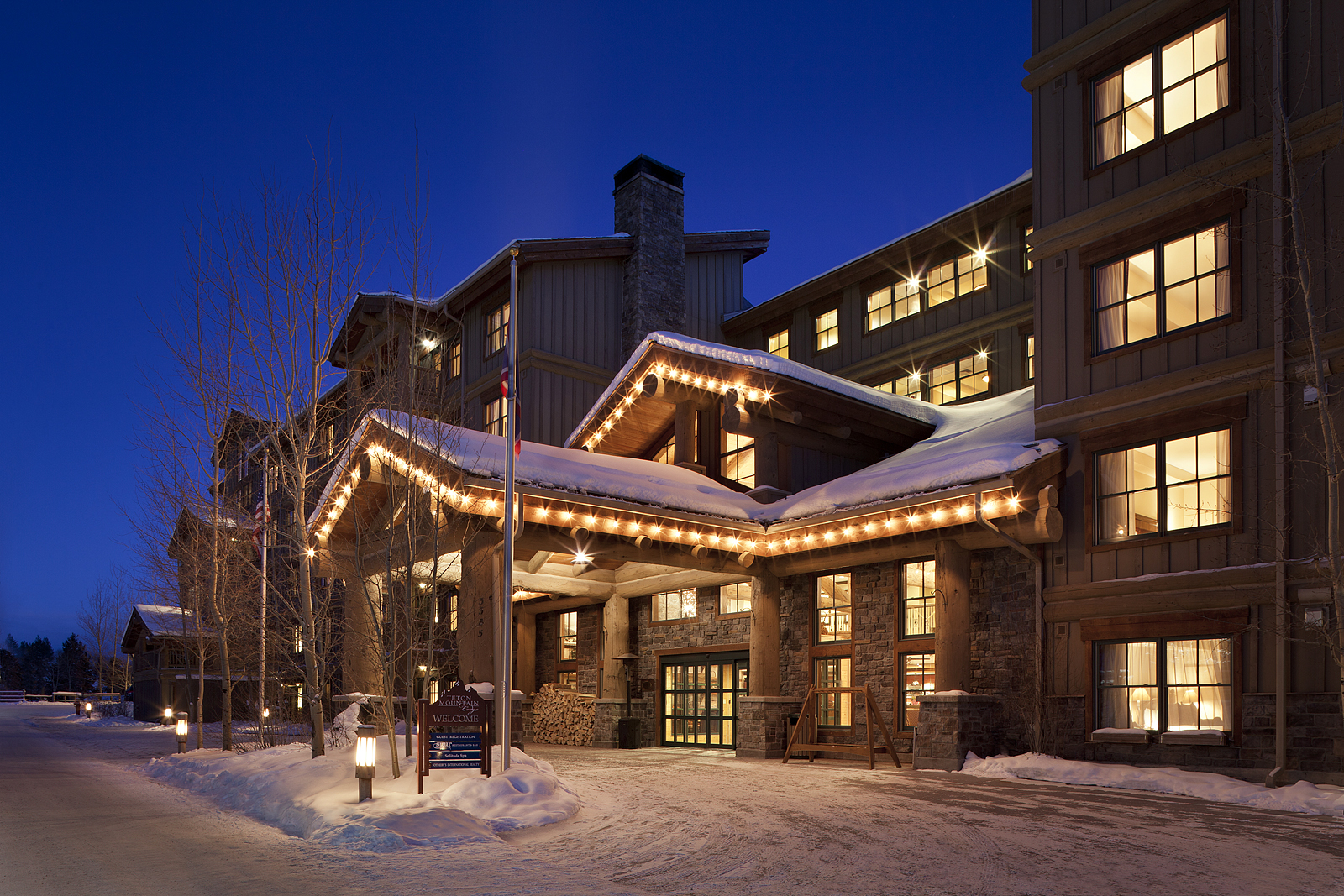 Where you should stay in Jackson Hole
Let's not beat around the bush: Jackson Hole isn't cheap. Most destination resorts are pricier than average. Budget accordingly.
We will also note when we talk about "Jackson Hole," we're referring to Jackson Hole Mountain Resort, which is a small village nestled at the bottom of the skiable terrain at Jackson Hole. The resort keeps you close to the action without compromising comfort or amenities.
The two best places to stay are Hotel Terra and Teton Mountain Lodge. We wouldn't say these two spots are "interchangeable" for all travelers, though.
Hotel Terra
The more "premium" of the two properties, rooms at Hotel Terra are a touch more modern and luxurious. If you want an authentic upscale resort experience during your stay at Jackson Hole, Hotel Terra is where you want to book your room.
We stayed in a Terra King suite, considered the resort's introductory offering. Still, there is plenty of space for two people. A spacious closet, bathroom, and sleeping area make your apres ski time comfortable and relaxing.
All rooms come with boot warmers, too, which is a brilliant touch for snow sports enthusiasts who want to charge hard for consecutive days.
Bathrooms have heated floors, spacious tubs, and tons of counter space.
Hotel Terra has other room options, up to a three-bedroom suite that is more like an apartment than a hotel room.
There's a workout room if you need to keep your sweat going and a pool for use in warmer months. There's a hot tub area overlooking the valley on the top floor near the spa, but it's a touch hard to get to, and the view isn't spectacular from the hot tub itself. This may be our only complaint about Hotel Terra.
If you want amenities, there's a golf simulator for those itching to get back out on the course. Hotel Terra also has some sensational dining options, but more on that later.
Teton Mountain Lodge and Spa
Just behind Hotel Terra lies Teton Mountian Lodge and Spa. Like its sister resort, Teton Mountain Lodge and Spa has many amenities and excellent dining options. It has a more robust spa and a more approachable, comforting vibe.
Where Hotel Terra is more like an upscale hotel, Teton Mountain Lodge and Spa is more like a – well, a lodge. A spacious entry begs you to hang out with friends and family you're traveling with, and the rustic decor screams Wyoming. If you were ever in doubt about how close you are to Yellowstone National Park, Teton Mountain Lodge and Spa reminds you.
This design philosophy flows into the rooms, which are laden with leather furniture and wood accents throughout. We stayed in a one-bedroom suite, which has a small but capable kitchen, a proper living room area, and – you guessed it – a separate bedroom. The suite has two bathrooms (one in the bedroom suite area, the other just inside the front entry) and 750 square feet of total space.
Of particular note here is the Murphy bed hiding in the suite. You could sleep two in the bedroom, two on the Murphy bed, and another person on the couch with ease.
Teton Mountain Lodge and Spa's spa area is top-notch. Unassuming, there's a sauna, hot tub, and all the "normal" spa amenities you're looking for. We suggest booking a spa treatment here after your time on the mountain has concluded, regardless of where you stay. Self-care matters, too.
Here's a great last-day plan for Teton Mountain Lodge and Spa: Breakfast in the Spur Restaurant and Bar (more on that in a moment, too), a 90-minute massage at the spa followed by downtime in the post-massage relaxation room, bouncing between the sauna and hot tub for a while (which, at least in the men's dressing spa area, are adjacent), a long shower, a slow walk back to your room to change, and check out.
Where to eat at Jackson Hole Resort
Rather than give you a rundown of each restaurant, we'll approach this by time of day.
Coffee
Both hotel properties have coffee service available, of course. If you feel like taking a brisk morning stroll, we suggest popping into the General Store at Jackson Hole Resort. This unassuming spot has some of the best coffee drinks at the resort, as well as traditional general store goods.
Breakfast
For our money, it's hard to beat Il Villaggio Osteria at Hotel Terra. Breakfast is hosted in the restaurant's ancillary bar for takeout and in-house dining options. The takeout menu is a touch different from the dining room menu, so we suggest giving both a look before settling on breakfast. You can't go wrong with the eggs benedict or oatmeal, but some little birdies tell us the chorizo burrito on the takeout menu is incredible, too.
Spur Restaurant and Bar on the lower level at Teton Mountain Lodge and Spa is a great option if you want a more polished breakfast ambiance. The overnight oats are delightfully sweet, and the croissant sandwich will have you questioning how many breakfast sandwiches a person should eat without feeling self-conscious – it's just that good. Be careful of the huckleberry pancakes, though; they're huge and craveable.
Lunch
RPK3 is a great spot for a burger or salad while exploring the resort. It has a mix of communal long tables and traditional restaurant seating to accommodate any group size or need.
If the upscale polish of Jackson Hole Resort has you longing for a more old-school apres ski vibe, hit The Mangy Moose. The charming interior is packed with tchotchkes and decorations, and the food is approachable and familiar while also being upscale. You can eat in the restaurant or bar area, but the menus will differ.
If you're in the mood for Mexican food, Teton Village has a cafeteria – but in-season, lines can be long and seating scarce. Plan to eat standing up.
Dinner
Il Villaggio Osteria at Hotel Terra is the perfect pizza spot at Jackson Hole Resort for our money. A woodfired oven and an approachable vibe just can't be beat. We are also big fans of the ahi crudo and roasted chicken here.
If you want to sink into a booth when eating pizza, try Corsa. It has a more mature vibe and a downright sexy bar area. Corsa is equal parts speakeasy and steakhouse, but it serves Italian food, and we're here for it.
Spur Restaurant has a great vibe, too. Outdoor fire pits are a great place to congregate for a drink, and the cozy interior is the best way to round out your day in our book. Get the Kurobuta pork shank or Idaho Red Trout and a spicy margarita (and it's spicy – you've been warned, friends).
Dessert
We love the olive oil cake at Il Villaggio Osteria, but if you want to feel like a real insider when visiting Jackson Hole Resort, get the tiramisu at Corsa. It's house-made and about as good a tiramisu as you'll find at a restaurant. We won't say it's as good as your Nona's, but that's because we don't want to get yelled at by your Nona.
Apres ski
For a cozy, laid-back vibe, go to Corsa. It's a great spot for groups of four or more. Its spacious dining room is relaxing, and its small but engaging bar area is one you'll want to linger at.
The Mangy Moose – both the bar and restaurant side – is an excellent spot for a beer while you reminisce about your skiing or snowboarding exploits from the day.
If you want to venture outside the resort, the town of Jackson has plenty of great bars and restaurants, too.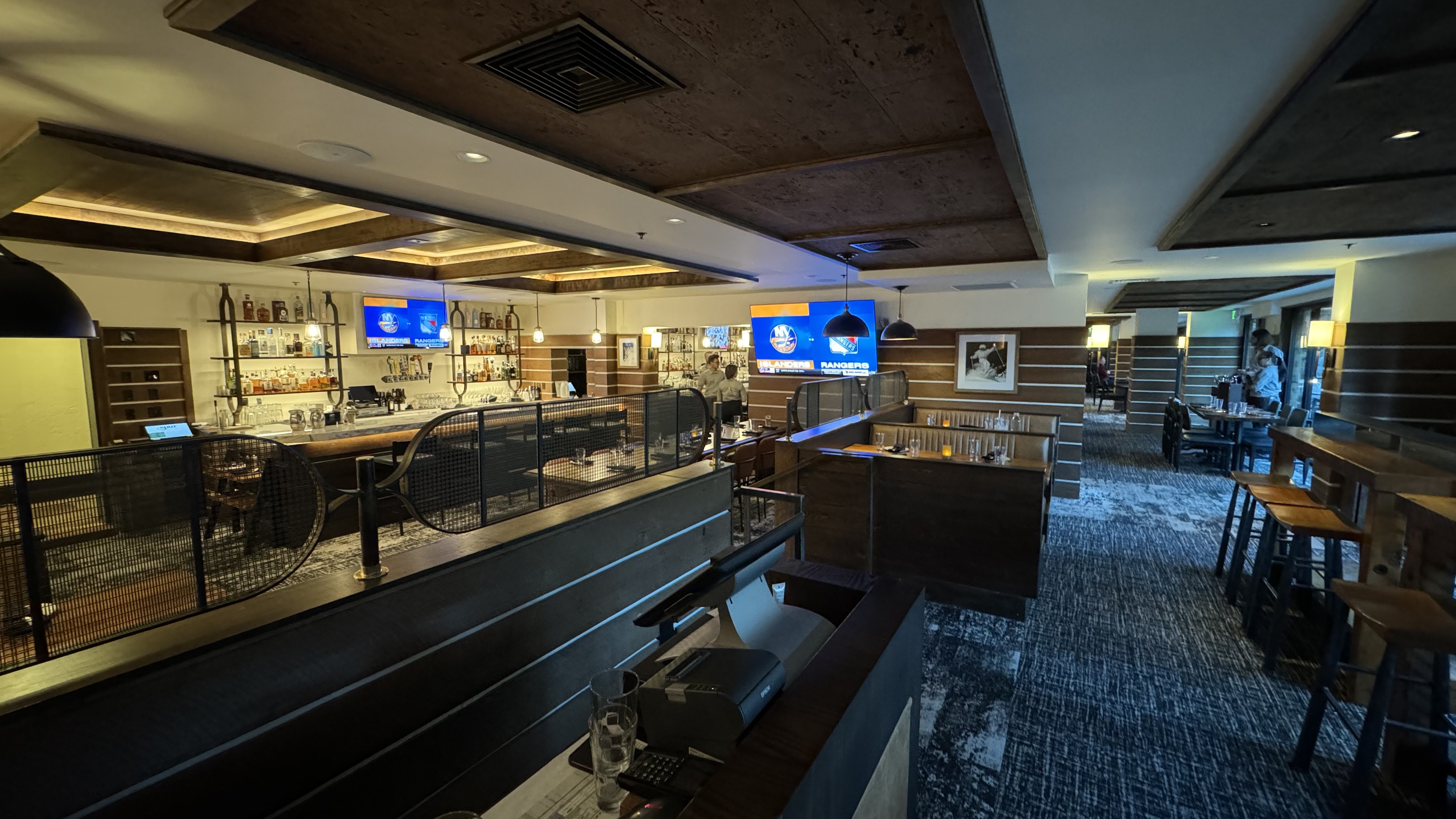 Other notes
Corbet's Cabin, at the summit of Jackson Hole, offers waffles and coffee at 10,450ft. You might not want a waffle and/or coffee, but come on, you have to do it, right?
The ride up the gondola to the summit is comfortable, and the views at the top are incredible. Even if you're not at Jackson Hole Resort to ski or snowboard, take the tram ride up. Remember to bundle up, though – it's much colder at the top!
The waffles are surprisingly good, too. There are savory and sweet options so everyone can get what they want. The cabin is small, and the seating options are meant for larger parties, so play nice and ask to squeeze in with strangers or eat outside.
Given the rugged terrain at Jackson Hole, we also suggest giving your waffle time to settle in before you hit the fall line.
If you're trying to stay at Jackson Hole Resort on a budget, a hostel is available. Those rooms are meant for sleeping after a long day on piste, so don't expect to be met with amenities.
There are several ski and snowboard racks around the resort, so bring a lock if leaving your gear behind or out concerns you.
Staff tell us in the winter months, skiers and snowboarders all enter through the front, so don't worry about traipsing snow and dirt in with you. And remember, rooms have boot warmers!
If you're a bathroom snob (no judgment here), we suggest Hotel Terra. The bathrooms in those rooms are just nicer.
Both resorts we visited provided parking passes, each with dedicated parking areas specifically for those passes. You won't struggle to find parking, and that's a big plus.
If you're not staying at the resort, guest parking is at the other end of Teton Village and takes quite a bit of walking to get to. Skiers, we'd suggest you bring a backpack and some shoes if you plan to do any apres-ski activities.
There are several ski shops on the property in case you forget something. Like all resort shopping, they may not have precisely what you're looking for, but it's a fall-back solution at least.
Jackson Hole Resort has other properties, but we didn't visit them. On the other end of the resort is a Four Seasons, if that's your thing.
Final thoughts
There are two main types of travelers heading to Jackson Hole: the casual and the enthusiast.
If you're visiting Jackson Hole Resort for a bit of skiing or snowboarding and plenty of downtime, we suggest Hotel Terra. It's much more hotel-like than Teton Mountain Lodge and Spa and just a bit more accessible to the shops and restaurants in Jackson Hole Resort. If you golf, the on-site simulator is as much a hang-out room as a golf simulator. The workout room is spacious and packed with equipment, too.
If you plan to spend a ton of time on the mountain, Teton Mountain Lodge and Spa is a better bet. It's not away from the resort by any means, but it does sit at the edge, allowing you to bypass resort business to make your way to the main Aerial Tram and Bridger Gondola lifts if you like. Avid skiers and snowboarders may enjoy the aesthetic of Teton Mountian Lodge and Spa a bit more, too, but that's subjective. For us, Teton Mountain Lodge and Spa just felt more welcoming, which goes a long way after a long day out in the unforgiving elements of Jackson Hole.
We prefer Il Osteria for a casual but upscale dinner and Spur Restaurant for a settle-in affair. You can't go wrong at either, and the menus at both are lovely – we're just trying to help you make sense of it all.
Both are great places to stay; you won't be disappointed, and the amenities offered at each property (like restaurants and spa areas) are not reserved strictly for guests. Best of all, both have plenty of rooms. While you should book as far ahead as possible, there's always a good chance you'll be able to find a room at Hotel Terra or Teton Mountain Lodge and Spa – and you absolutely should book a stay.
Editors' Recommendations