If you've never been to Aspen, certain images come to mind. Mountains, skiing, maybe even Dumb & Dumber.
What you may not know is that the food and drink scene is as lively as the neon colors on everyone's ski suits. From high-quality cocktail bars to everyday places to throw back a beer and a shot, this resort town has a little bit of everything. Below, check out some of the must-see places for beer, wine, and booze.
There's no two ways about it that, Jimmy Yeager, proprietor of both Jimmy's and Jimmy's Bodega, is one of the major tastemakers in Aspen. His decades in the industry as well as his love and expertise for and about agave spirits have made both establishments must-visit spots in town. At Jimmy's, you'll find an American-style bar and grill with a great selection of cocktails, beer, and wine. At Bodega, you'll get the chance to indulge in all things agave, as Jimmy hand picks the tequila and mezcal selection. On top of that, Bodega also has a great raw bar and an extensive wine list.
Even though this is a list about drinks, we have two words for you describing why you should visit Aspen Kitchen: Clothesline Bacon. One of their signature appetizers, you get thick cut candied bacon literally hanging from a miniature clothesline. That enough should get you to go to Aspen Kitchen, but beyond that, the restaurant offers a rooftop patio to take in the beautiful mountain vistas and a cocktail menu that features drinks like The Honey Badger, made with Breckenridge Vodka, lemon, apple cider, and cinnamon agave.
You won't see it on first glance, since Hooch is located down a flight of stairs under a restaurant, but if you know where to go, you won't be disappointed. The best way to describe Hooch is, perhaps, "Rustic Chic." Low-lit with chandeliers in the Colorado equivalent of a speakeasy, Hooch is a great place to go for high quality craft cocktails with farmhouse-style shareable plates. If you're looking for a straight pour, Hooch also has a hefty list of American, Japanese, and Scotch whisk(e)y (plus a few Irish and Canadian options to boot).
Located in the Hotel Jerome, the Living Room is meant to be just as the name implies—a relaxed, homey environment, if your idea of home is the type of place where you can get some nice cocktails or a glass of wine when you want it. There are numerous options for seating, depending on how many people you're with, and the small plates menu allows for perfect pairing for the bar's signature cocktails, like the Irishman's Teapot, a drink made for two which contains Jameson Black Barrel, Giffard Peche de Vigne, honey, lemon, and tea.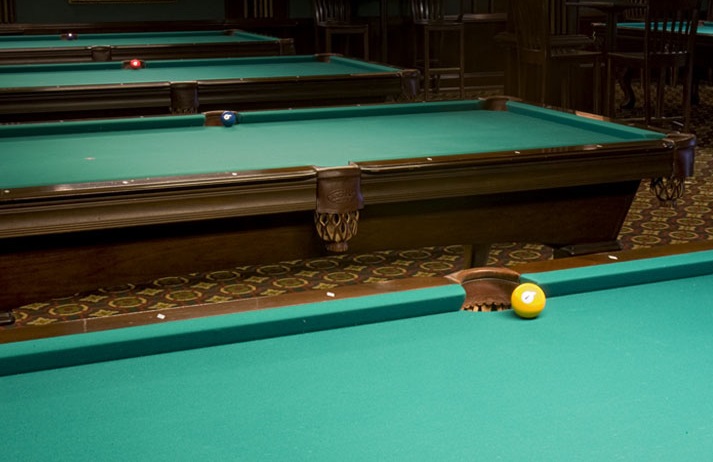 Technically, Eric's is the bar in the front, but the real attraction is Aspen Billiards, located in the back of the establishment, where there are multiple pool tables (rented by the quarter hour), as well as shuffleboard. On top of all that, you can get drinks from Eric's, allowing you to fully enjoy playing a couple of games of eight ball with friends at the end (or beginning) of a long night.