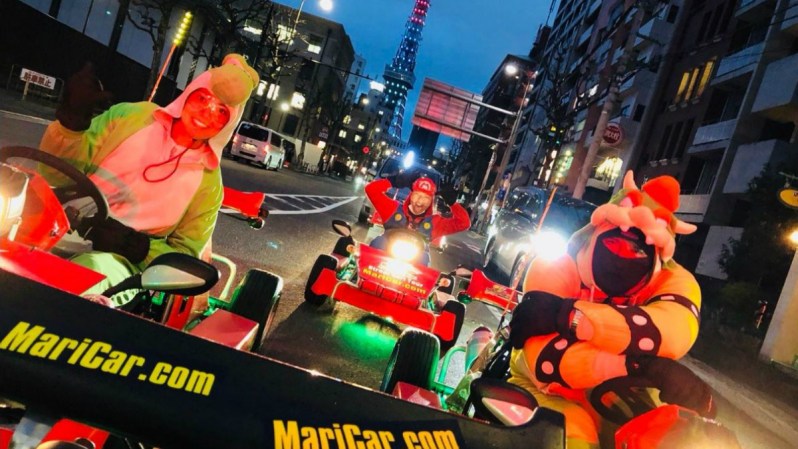 Tokyo grew from a small fishing village to a megacity where you can grab coffee with snakes and race lavish Lamborghinis all in the space of a century. So, it shouldn't be surprising that the place known for creating Nintendo and the super-famous Mario Kart also likes a bit of LARP-ing.
Tokyo's MariCar rents custom-made go-karts to natives and visitors alike. But they don't just set you free on the streets to pull a Tokyo Drift in a go-kart. Instead, MariCar leads drivers through one of three tracks around the city, meaning you finally have an opportunity to test your Nintendo skills in real life.
Or more like your actual driving skills. "Our karts are automatic and very easy to control if you regularly drive a car," says MariCar. (But remember, they drive on the left in Japan).
Each go-kart includes Bluetooth speakers so you can play your favorite Mario Kart music — whether that be Bowser's Castle or the Kalimari Deser — and, of course, MariCar offers costumes. Dress up as Mario, Luigi, Yoshi, Peach, or Bowser (they also have superhero costumes for some reason), but don't bother bringing your own blue shells because they're strictly forbidden. Some of the rules to participate in MariCar include, "Do not throw banana peels or any other garbage on to the streets. Do not throw red turtle shells or any other objects to each other."
Which means that that must have actually happened enough times they had to write about it on their website.
Even if you're not into costumes, you should, at the very least, rent a Mario mustache. I mean, have some respect.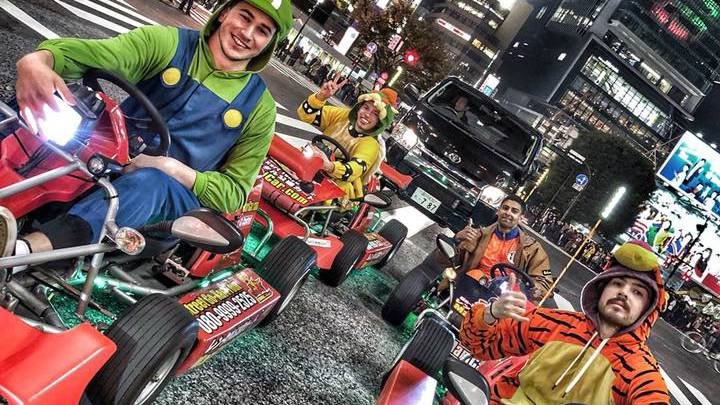 MariCar also offers 4k action cameras to record yourself and your friends on the streets. Since there's a cost to rent an action camera and to buy an SD card ($7-23) at their shop, we suggest bringing your own video equipment and microSD.
All the go-karts comply with local Japanese laws and safety procedures to drive on the streets (just not the highways). All you need to "Woo-hoo!" into first place is a valid Japanese license, international drivers' permit, or a SOFA license; international permits issued by AAA or AATA are gravy.
The three driving courses range in duration and price The starter track, about 1.5 to 2 hours long, takes you to see Asakusa, Tokyo Sky-Tree, Akihabara Shop, Tokyo Station, and Ueno for 900 Japanese Yen (or roughly $80 USD). The second course is longer, about 2.5 to 3 hours, and goes past the Rainbow Bridge, Ginza, Akihabara Shop, and Tokyo Tower. That runs about $108. The third course includes a 45-minute boating tour; for $135 you'll pass Rainbow Bridge, Ginza, Akihabara Shop, and Tokyo Tower, then relax on a boat cruise.
Ride solo or with a group of roughly 10-15. Any more and "Mama mia!" you'll risk being separated at street lights.
Before you go, check out how well The Manual folks fared in a Mario Kart race against real-life racecar drivers.
Editors' Recommendations