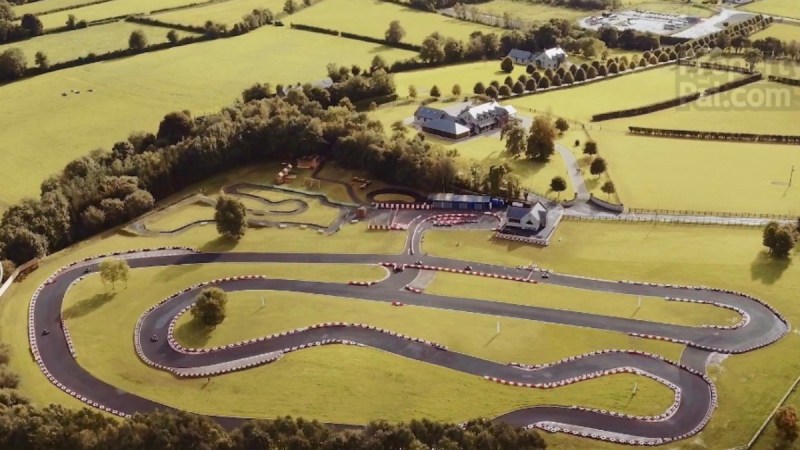 As if we needed one more reason to cut all ties and move to Ireland. When you consider the landscape, the culture, the food, the beer, the liquor (yes, we count those as two separate categories), the healthcare, and now this glorious mansion (emphasis on "man"), the list is getting pret-ty, pret-ty long.
Combining all the best features of a medieval baron's castle and a modern man-cave, this five-bedroom, four-bathroom, 6,900-square-foot home in the appropriately named county of Moneymore features … well, everything you want. We mean everything. Don't believe us? Keep scrolling.
Just one look at the sweeping cobblestone entrance to this property and you're going to throw away all your coffee table books on minimalism. The stately home occupies an elevated setting over the lush countryside of Ulster and is surrounded by 28 acres of pristinely maintained grounds.
Despite its seemingly isolated location, the property is just an hour's drive from most major towns, as well as Belfast International and City airports. The adjacent helipad makes it extra easy to whip in and out of your country estate, whether you're meeting your mates for a pint in the village or swinging into London or Edinburgh to catch a show.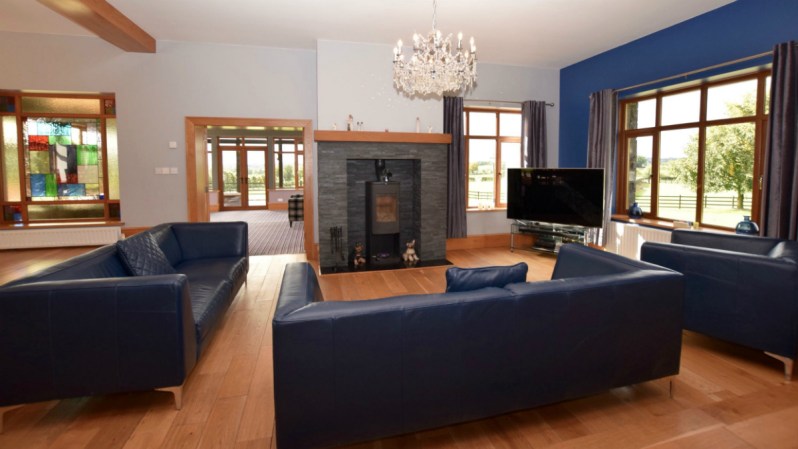 Despite the palatial dimensions of the house, it's really just a country cottage at heart. No Tony Soprano-esque interior design here — with honeyed oak flooring, exposed rafters, a glass-fronted fieldstone fireplace, and lots of big windows, this place feels like home right away.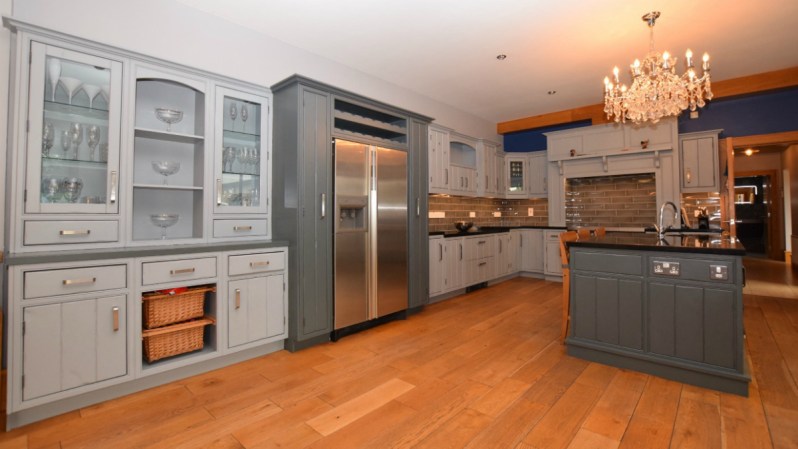 Culinary snobs will swoon over the open-plan kitchen with its granite worktops, sleek storage and ceramic tile back-splashes. We're especially smitten with the pairing of country formal styling with top-of-the-line stainless appliances. Soft claps.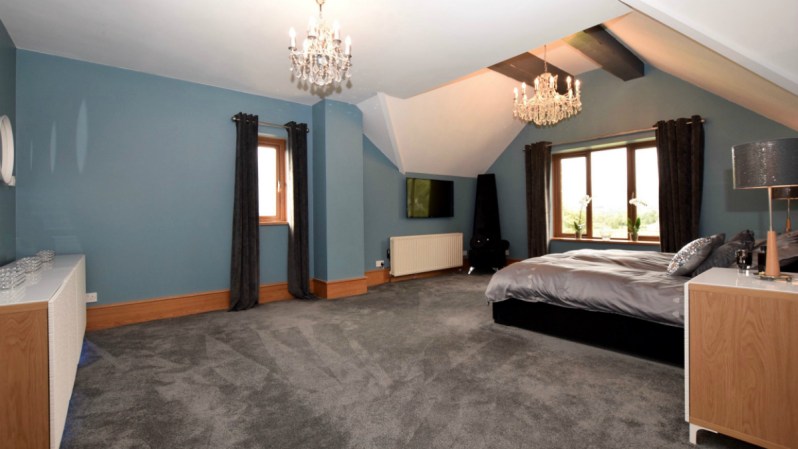 Even with five bedrooms to select from, the master suite is appropriately baronesque. The vaulted ceiling, accented by exposed rafters, makes a perfect focal point for hanging your best taxidermy trophy. Two of the four other bedrooms feature en-suite bathrooms and dressing rooms. Now your guests will know precisely where they rank in your friendship roster.
The master lavatory (deserving of such a name) includes a luxurious circular tub, double vanity, a slate-tiled shower so big you could get lost in it, and a walk-in hot press. We had to look that one up, and it doesn't refer to the venerable Irish culture mag run by Niall Stokes — it's actually a heated storage space used to dry damp clothing. Which, in Ireland, seems like it should be a human right, doesn't it?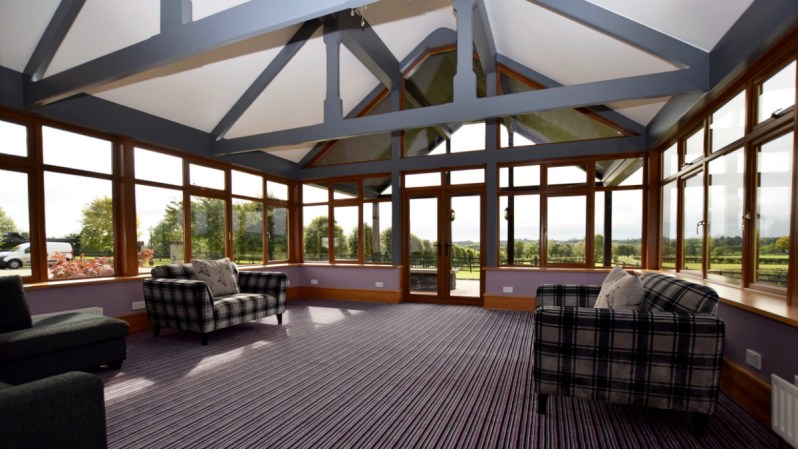 Now we're getting to the good stuff. First, the enclosed sun porch with its feature ceiling, sprawling views of the aforementioned manicured grounds, and double doors leading to a covered patio. Your parents will say it's the perfect spot for sipping coffee in the morning and we won't say they're wrong … but we can't help that the first thing we thought of was a Tullamore DEW-fueled rager. But to each their own.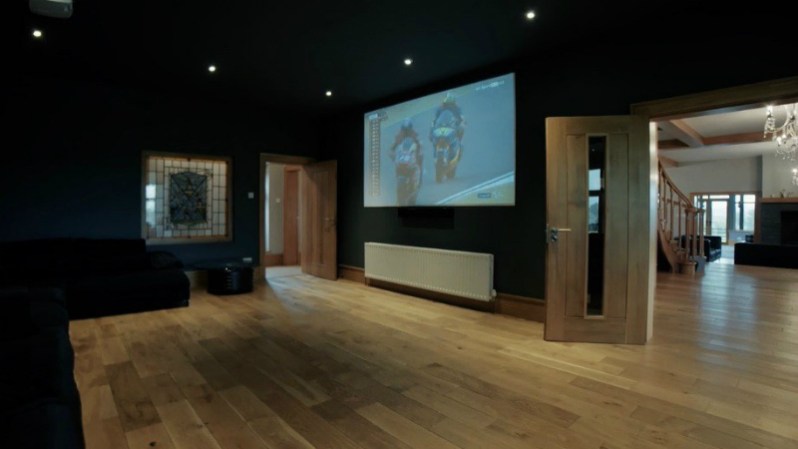 Next, the cinema room, which includes provisions for overhead projector and entertainment system. Please don't miss the accent window with its stained glass coat of arms.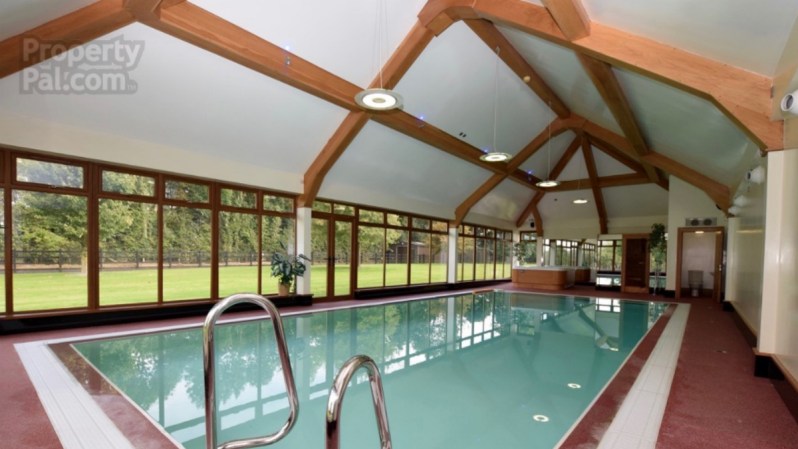 Follow the hallway down from the cinema room and you'll find yourself in the swimming pool complex. Enclosed by tinted windows (so you can get up to God knows what all in perfect privacy), the complex also features a hot tub, sauna, music system and feature lighting.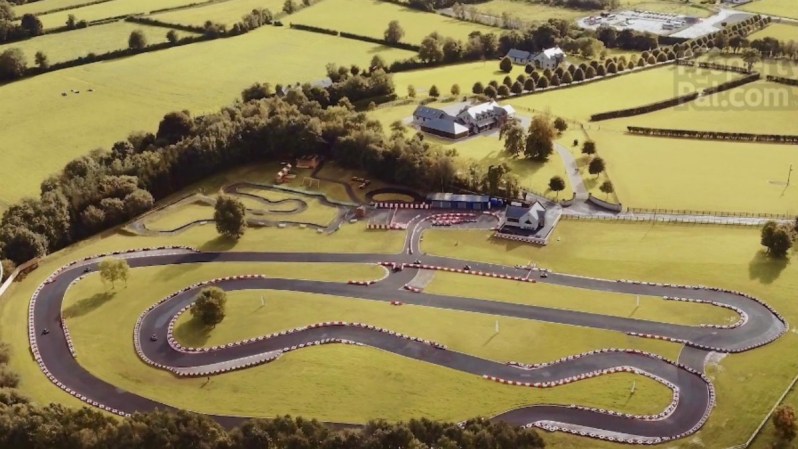 Okay, we admit it — we've buried the lede. All that other stuff is amazing, but the real reason you need to buy this house is the 980-meter go-kart track positioned just outside the house's main entrance. MSA-approved and built to the latest operational specifications, this amenity is the stuff that dreams are made of. It's also surrounded on three sides by a thick row of trees, keeping your shenanigans safe from the prying eyes of jealous neighbors.
In addition to all necessary flags, barriers and other accouterments, the go-kart track complex includes a race control office and a range of garage, parking, and workshop facilities, as well as an exterior viewing and patio area.
We could happily live in the race control office, with its reception area, suit room, kitchen and bathroom, briefing area (which makes it all seem so much more adult), and winners' podium (which immediately does away with the adult factor).
Adjacent to the main track is a separate kids' adventure complex, with a mini go-kart track, a forest walk, playground and picnic area. It's the perfect way to convince your concerned parents that this isn't a selfish purchase. It's actually the perfect place to raise the family they keep pressuring you to start.
Rarely does the opportunity arise to acquire such an exquisite residence and leisure area in the Mid-Ulster Area … or anywhere. It's offered at a starting price of over $2.8 million (£2.25 million) which, at the current exchange rate, is a pretty smokin' deal.
If you should decide to make it your own, just remember we're the ones who told you about it. (We're fine with any bedroom, really.)
Editors' Recommendations