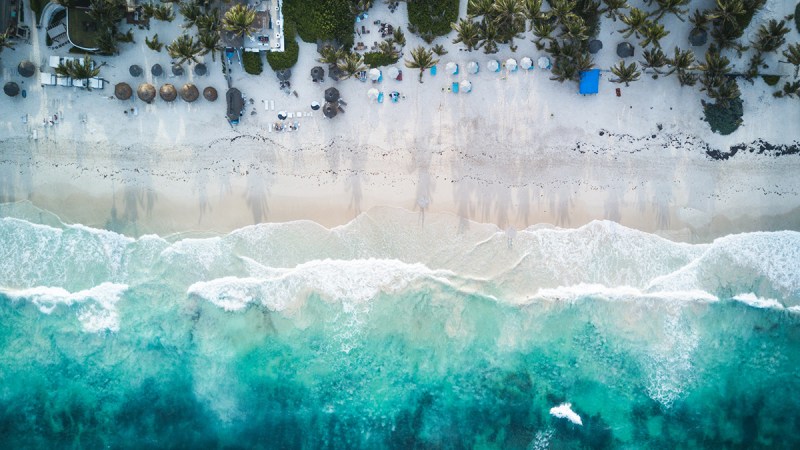 Sick of the damn snow? Us too.
Only two hours south of vacation hot-spot Cancun along the Caribbean coastline is Tulum, conveniently located on Mexico's Yucatán Peninsula. If you head to Tulum, not only will you be fleeing winter weather back home, you'll also be avoiding the crowded beaches of tourist traps and all the headache-inducing techno music and canned buffets that go along with them.
Surrounded by soft, white beaches and Mayan ruins, Tulum offers a truly natural escape from the real world (and dropping temps). We found three Tulum hotels along that blend natural and modern aesthetics, old and new flavors, and exotic treatments for a year-end vacation that (let's be honest) you deserve after 2017.
Be Tulum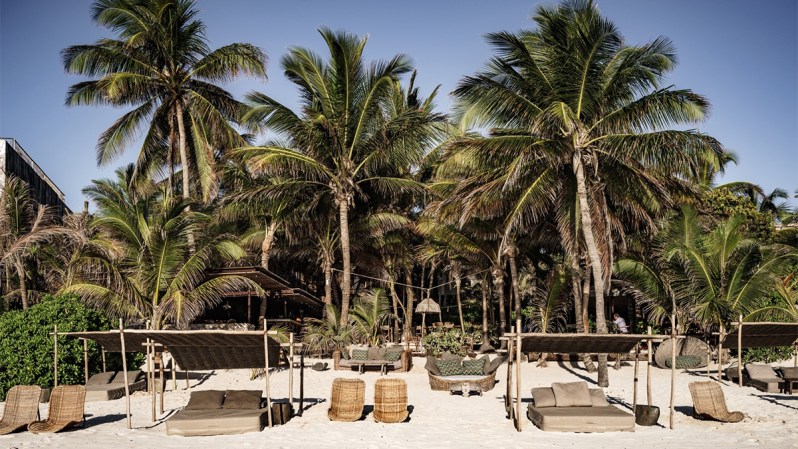 Hidden between Mayan jungle and the white-sand beaches of the Caribbean, Be Tulum— part of the boutique Be Hotels cluster— skips the party pools and 200-plus room designs of its northern neighbors in Cancun for a sophisticated yet bare take on fun in the sun. Housing only 64 suites, Be Tulum is driven by a native aesthetic, drawing from textural stone, worn woods, and leathers to provoke a natural charm that helps you shed your former life and soak in the wild spirit of Tulum. The grounds of Be Tulum resemble a Robinson Crusoe shipwreck shelter blended with ingenious modern touches. Sustain with raw oysters at Maresias open-concept sea bar (can you say Mandarin ceviche?) before indulging in pre-Hispanic indigenous treatments at the Yäan Wellness Spa. Wander through the spa's rooftop garden before or after pampering, where Be Tulum grows sacred herbs and medicinal plants used in traditional energy and body treatments. There are even full-moon Temazcal ceremonies led by a Mayan healer to truly purify, heal, and re-connect. Miss making snow angels? The sand will do just fine. Don't forget to pack your beach towels and totes!
NEST
Along one of the most stunning stretches of the Mexican Caribbean, NEST is built into the landscape like an intricately woven … well, bird's nest. Locally sourced furnishings and a preference for minimalism allows both the craftsmanship of its décor and the natural surroundings to take precedent. NEST becomes quite literally an intimate home-away-from-home you won't want to leave. The individually-styled bungalows are set along lush tropic foliage and provide views to the ocean, private gardens, and hammocked patios secluded from noisy beachfronts. Throughout each room, small yet intentional design details make your experience completely unique from your neighbor's, whether its hand-picked flowers, a hand-woven Mexican blanket, or colorful zebra folk art. Rent a bike and explore Tulum Pueblo with its markets and bakeries, or take a day trip to the surrounding Riviera Maya ruins. Make it back to NEST for cocktail hour at the Bar withtropically-infused spirits and dishes you'll have to see to believe and taste to know the true flavor of region.
The Beach Tulum
The Beach Tulum thinks everyone needs a rooftop Jacuzzi, private heated plunge pool, and palm trees everywhere — and we couldn't agree more. Quite literally feet away from the ocean, the modern yet simple suites at The Beach Tulum open up to soft sand and turquoise surf of Riviera Maya. In fact, you can see the ocean from your king-sized bed. Venture out a few meters down the beach for a day at Ziggy's Beach Club for cushy lounge beds, water-side cocktail service, and a distinct lack of obnoxious techno or electronic music. After sunset, return to The Beach Tulum for a holistic crystal therapy at Naj Naay Spa, where natural crystals are applied to the body to open your chakras and soothe inner tension. Don't worry: Taditional deep-tissue massages are on the menu too. The ancient ruins of Chichen Itza, Tulum, and Coba aren't far from reach, and neither are private tours of Punta Allen, where you can come face-to-face with dolphins, turtles, crocodiles, and rays. More intrigued by under the sea? Scuba dive or snorkel with Sea Turtles in open reefs or hidden caves. Fly fishing and deep-sea fishing is an option too. You just need to get off your beach lounge bed first.
Editors' Recommendations