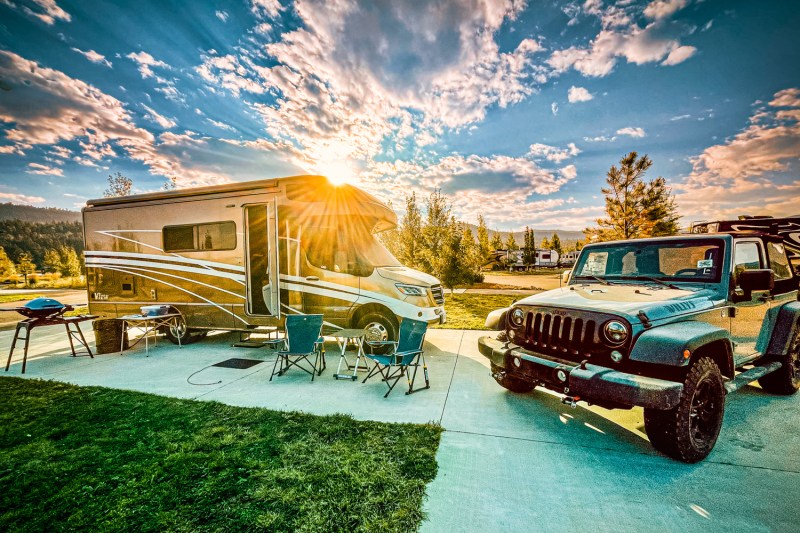 For many of us, camping is the perfect excuse for a proper digital detox. It's a great time to put down the cell phone, leave the tablet at home, and forget about Netflix & Chill for a while. But mixing a little tech with your outdoor adventures isn't always a bad thing, especially if it can make your trip planning faster, easiest, and just plain better. With that in mind, one new company wants to help travelers plan their next great car and RV camping trips using smart, AI-powered search. The robot revolution is here!
AdventureGenie promises to be the "world's first RV and camping travel planning tool powered by Artificial Intelligence." The goal is to answer the three most important questions campers and RV travelers have to ask about every trip: Where to go, how to get there, and which campgrounds and RV parks are worth a stay. Even seasoned travelers know that figuring these out can involve hours, even days, of research with multiple tabs open at once to make sense of it all, especially if it's a destination they've never visited.
That's where the magic of AdventureGenie's AI-powered search steps in to take care of all — or at least most of the work — for them. Users can search for travel options by destination and create a profile to let the algorithm provide detailed, personalized results based on their roadtripping style. The site offers three unique features:
GenieSummaries: A detailed look and description of more than 25,000 public and private campgrounds.
GenieScores: An AI-driven rating system to rank each campground on a proprietary 100-point scale.
GenieMatch: A personalized score that shows how good of a match each campground is for individual users.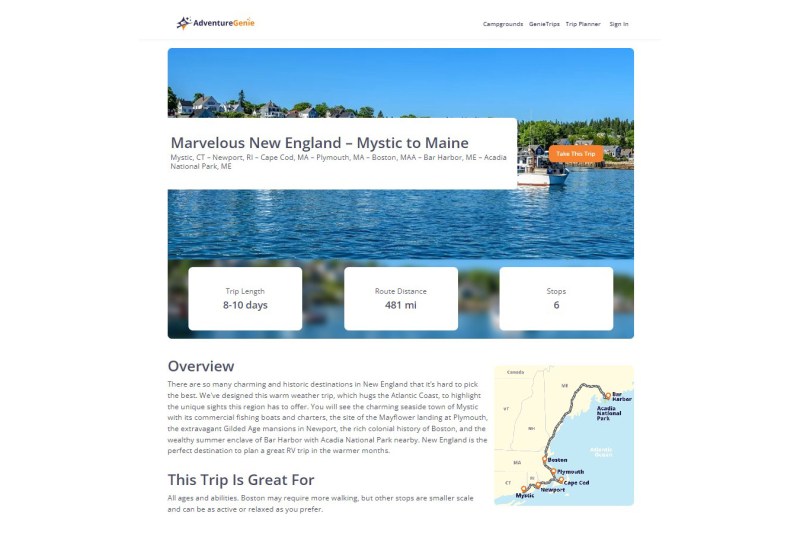 Without creating an account, we took AdventureGenie for a spin to review a complete itinerary we know well to see how it stacked up against our own recommendations. Marvelous New England – Mystic to Maine promises to be a best-of New England highlights tour. With six main stops that span almost 500 miles, it recommends a minimum of 10 days to see the best sights in Connecticut, Rhode Island, Massachusetts, and Maine. While many online itineraries we've seen recommend half that time (causing first-time visitors to rush their entire trip), this is a totally reasonable pace that allows roadtrippers to really absorb the sights. The easy-to-scan itinerary is neatly divided into things to see, where to stay, and general area activities at each stop. Having driven this route countless times, we can say that it's pretty spot-on.
While it's clear the site is still new, it already has a solid base of GenieTrips to search for inspiration. They include many of the best destinations in the United States, like the National Parks, the Colorado Rockies, New Mexico, Gettysburg, and Florida's Gulf Coast. But users can also explore themed trips, like Bourbon & Bluegrass – Kentucky's Whiskey Trail, Follow the Blues – The South's Great Music Towns, and Cruising Crazy Coasters – Indiana, Ohio, & Pennsylvania.
Perhaps not surprisingly, the site was founded by a former Microsoft senior technology executive, Scott Lengel, and veteran CEO/Investor, David Greenberg. "AdventureGenie is the answer to the most vexing question my wife and I encountered while planning RV vacations: Can't there be a one-stop-shop for RVers and campers to plan the trip of their dreams? The answer is an emphatic yes," said Greenberg.
Right now, AdventureGenie is 100% free for users to browse the most popular road trip itineraries, search specific destinations, and create a user profile that allows the AI to help them plan their personal best camping trip. It's perfect timing, too: The summer travel season is well underway, and it's time to get out there!
Editors' Recommendations