For those who enjoy spending time in the great outdoors –– but don't want to totally rough it –– RV camping offers the best of both worlds: you can eat, sleep, and use the bathroom inside while also soaking up nature and enjoying the flexibility of travel. Campers also make adventure weekends easy for busy families; instead of rushing home from work and school on a Friday evening to pack up the tent, sleeping bags, camp stove, and cooking gear, an RV lets you simply hook up and go.
Buying a camper could make sense for a variety of reasons, but before heading over to the dealership, you'll want to know about the different styles and price ranges on the market. We've put together a quick guide to help you get an idea of what you need to know to find the perfect fit for your family's next adventure.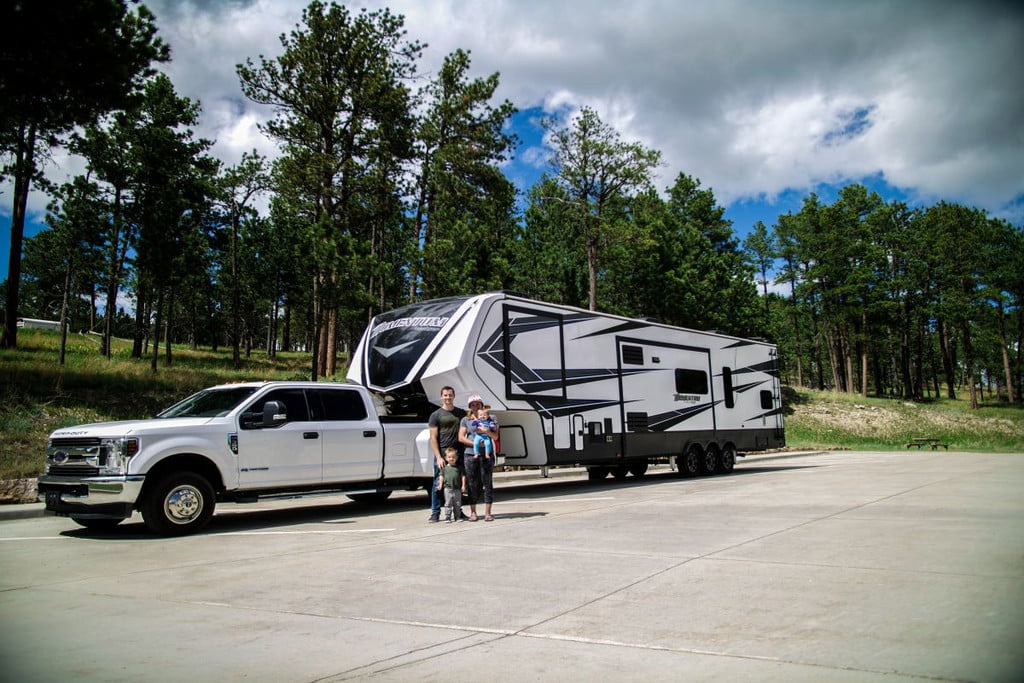 Truck camper
Truck campers sit directly in the bed of a full-size pickup truck. Although compact, they offer many of the same conveniences as other campers. They are easy to maneuver on the road and in the woods, making them popular with outdoor enthusiasts for hunting and fishing trips in remote areas, as well as families who don't want to tow a big load across the state…or the country. Some truck campers sleep up to six people, although most sleep between two and four, and prices range from $8,000 to $40,000.
Pop-up camper
Pop-up campers are the first type of tow-behind camper many families choose for their outdoor adventures. The base and roof are hard-sided like other campers, but the walls of the upper section are soft-sided so that the unit can fold up for easy towing and storage. These lightweight campers are easy to tow behind smaller vehicles like minivans, SUVs, and even sedans. Pop-ups generally sleep four or five people, and pricing starts between $10,000 and $25,000.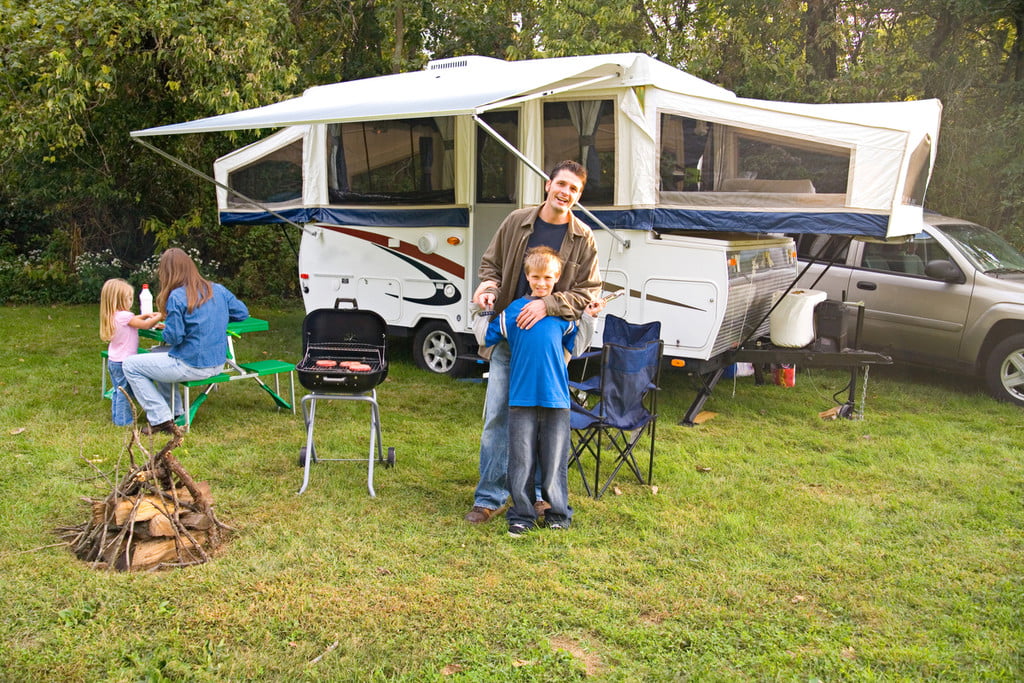 Travel trailer
The travel trailer category is incredibly diverse in sizes, styles, and price ranges. This type of camper offers more living space and amenities than pop-ups and, because the tow vehicle can be detached, they offer more flexibility than motor homes. Small (up to 20 feet long), medium (21 to 30 feet), and large (31 to 40-plus feet) travel trailers, with or without slide-outs, offer nearly endless possibilities for details like furniture, appliances, entertainment, and more. Lower-priced models offer a comfortable night's sleep, while those on the higher end feel like a true home away from home.
The size and capability of the towing vehicle are extremely important considerations when buying a travel trailer. Lightweight models often weigh less than 4,000 pounds, but many of the larger ones weigh well over 10,000 pounds. A few of the smallest ones can be towed by light-duty trucks or crossovers, but most require the power and rugged suspension of a full-size pickup truck.
Smaller travel trailers sleep four to five adults, while mid-sized models sleep up to seven, and the largest can sleep up to eight or more. Size does not always correspond with the price due to the availability of high-end details in smaller campers and the availability of budget-friendly large-model packages. Overall, new travel trailer prices average between $12,000 and $50,000.
Fifth-wheel travel trailers and toy haulers
A couple of unique RV subcategories include the fifth-wheel travel trailer and the toy hauler. Fifth-wheel trailers are pulled by large pickup trucks with the hitch located in the bed of the truck rather than below the bumper. This system makes the trailer much easier to maneuver. The raised forward section of the trailer over the hitch is typically configured as bedroom or living room space. Extended length combined with slide-outs create lots of living space, making fifth-wheel travel trailers popular with full-time campers.
Toy haulers are so named for the rear-loading ramp door and garage space with room to haul ATVs, motorcycles, golf carts, bikes, or other small vehicles. The toy hauler configuration is available in both towables and motorhomes, but most are fifth-wheels. Most of the RVs in the fifth-wheel and toy hauler subcategories sleep six people, and prices average between $20,000 and $60,000.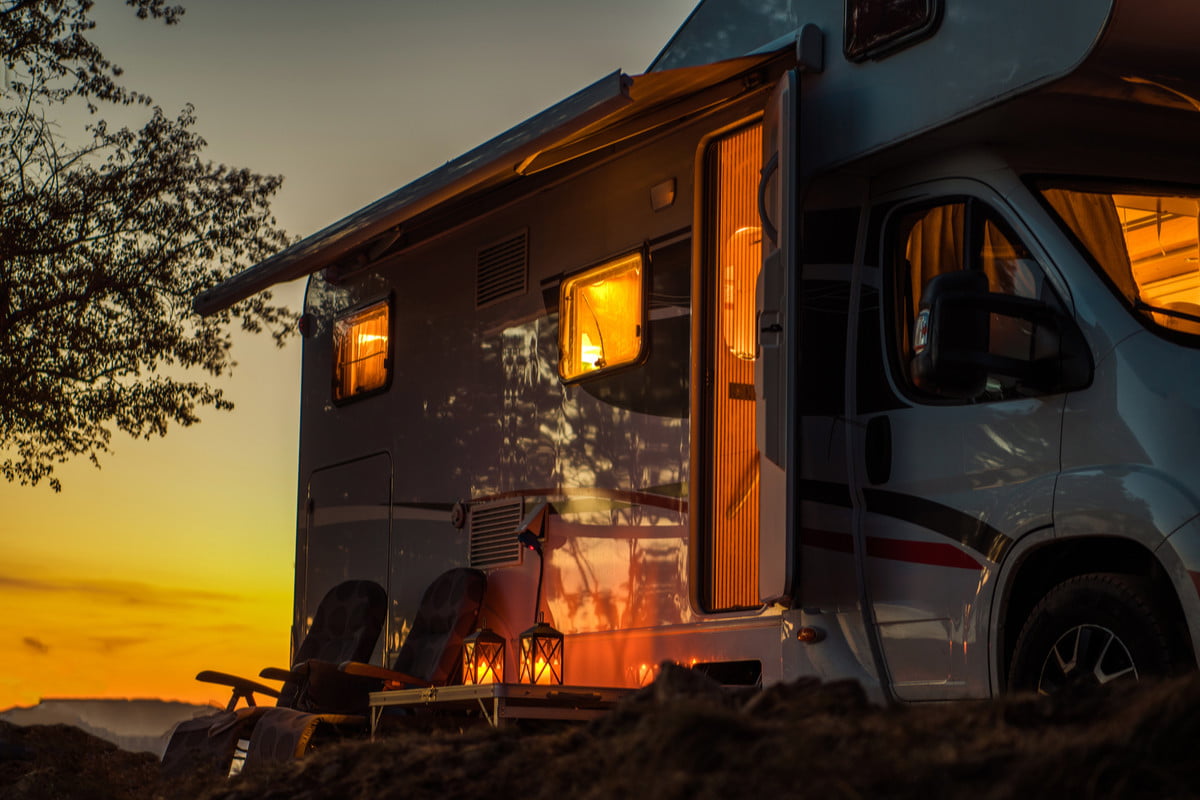 Motorhome
Unlike other campers, motorhomes are built on vehicle platforms. Instead of hooking up to a tow vehicle, motorhomes are driven. Many families who travel in motorhome campers tow a "get-around" car so that they can set up camp while also having convenient mobility.
Another difference between motorhomes and other campers is that motorhomes are categorized as class A, B, or C types based on their size. Diesel- or gasoline-powered class A motorhomes are the largest, most luxurious types. They are popular for extended, cross-country trips and perfect for full-time RVers. Class As offer home-like comforts such as residential-style refrigerators, microwaves, washers and dryers, master bathrooms, designer furniture, and high-quality electronics. Most gain plenty of extended living space from slide-outs. Some class As sleep up to 12.
Class B motorhomes are also known as camper vans. Like the larger class As, these can have either a gasoline or diesel engine. They operate and feel much like conventional vehicles, making them quite nimble to maneuver in town or off-road. Their size makes them most suitable for individuals or couples. Class Bs sleep two.
Built on a truck chassis, the class C motorhome also comes in both gas and diesel options. These RVs are recognized for their unique cab-over design. They offer similar upscale details as the larger class A models but in a smaller package. Class Cs sleep up to six.
As with other broad categories, size alone cannot determine the price of a motorhome. High-end appointments easily drive up costs, even in small class As. On average, the entry price for a new motorhome is about $50,000. On the high end, the price can far exceed $250,000.
Which is right for you?
An RV is the single largest luxury purchase that most campers will ever make, and is a convenient way to travel, explore, and make memories that will last a lifetime. While there's no set formula for determining the best camper for you, in order to make a good choice, take time to learn about the options and the experiences that other RVers have had. Most RV shoppers spend at least a year researching and learning before they finally buy. Social media communities offer invaluable viewpoints and tips on everything from camping hacks to the best places to stay, but they also are some of the best resources for personal experience on all types of RV campers. Plug in, ask questions, and soon you'll be ready to go for it.
Editors' Recommendations