If there was ever a year for spring and summer skiing, 2023 is that year. But from whatever angle you look at it, the change in our climate is pushing our ski seasons later and later into the year, and that means that spring skiing is here to stay. For many, this means skiing slushy ski runs — time to pick up a snowboard, all you skiers — and enjoying long sunny days split between riding and apres. But backcountry skiers and snowboarders look at spring a little differently.
As spring rolls around, the backcountry snowpack tends to become more stable. Lines that have been out of reach throughout winter open up; long and stable gradients that were too risky, or steep flutes that were filled with slough all winter are now in. Combine this with long hours of sunshine, and you've got ski touring paradise, and TREW knows it. To celebrate this year's spring equinox, TREW announced the release of its spring-specific backcountry ski gear, and it's got us more than a little bit excited.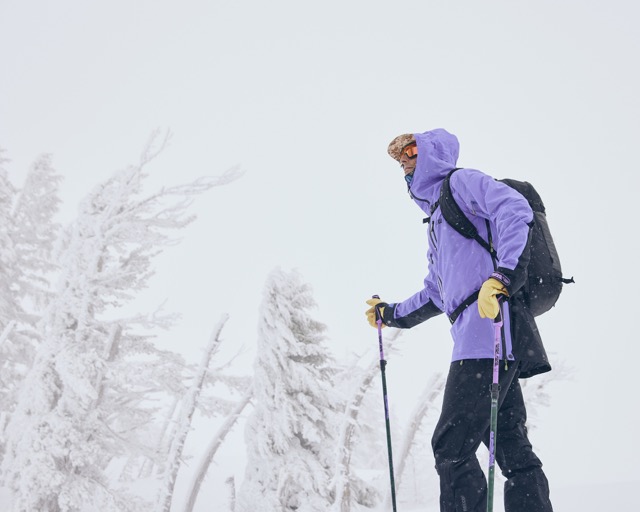 The LW 3L range is the first range of gear to come out of the all-new TREW Gear Experimental Division. This element of TREW is designed to do away with traditional commercial bias and focus solely on what the athletes in their range — and in turn, what you, the snowboarder — truly need out of their snowboarding equipment. The collaborative force alongside TREW for the Lw 3L was Swiss professional mountain guide Gilles Sierro. Accrewing over 125 days per winter in the backcountry, there are few riders who know more about what makes the ideal touring layer, especially for late-season riding.
The principles behind the LW 3L range are simple; Sierro wanted a set of backcountry skiing shell outerwear that matched his personal ability to move smooth and fast on the uphills and still absolutely shred the descents uninhibited. To achieve that, TREW has utilized all the usual features you would expect to find on ski shells — pockets, ventilation zips, hard-wearing waterproof face fabric — but optimized their positioning in a way that works best with backpacks, climbing harnesses, and other backcountry gear. The key to the whole idea of the LW 3L range is the all-new 3L7D fabric, which features a 20k hydrostatic rating and 30k breathability rating, keeping you dry from both the inside and the outside.
Both the Le Skieur LW Anorak and the LW Bibs might have been designed with spring skiing in mind, but it's clear that these are more than just your late-season go-tos. Snowboarding in the backcountry is about layering, it's about moisture management, but most of all, it's about being able to flow through the terrain, send those lines, and shred deep powder with your crew. The LW3L range achieves this and much more while still being a jacket and set of bibs you can not only hit your local resort in but won't look out of place at the apres bar either. If this is a sign of what's to come from TREW's Experimental Division, we can't wait to see more.
Editors' Recommendations