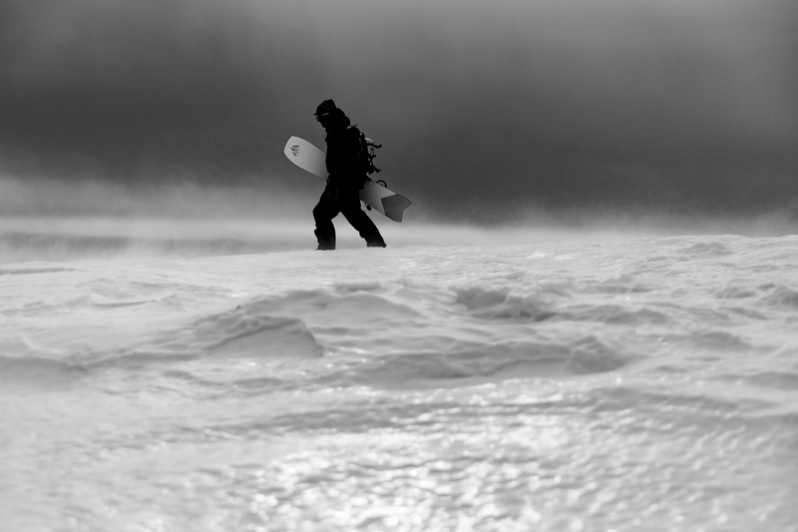 Jones Snowboards, in collaboration with SWS Board Technology, is launching a new program named "Re-Up Tech" that promises to upcycle used snowboards for use in the construction of brand new snowboards. The technology makes its debut in the 2024 Jones Hovercraft 2.0, where boards submitted to the Re-Up Tech program will be used in the nose stringer.
(A "stringer" is a component in snowboards that helps create stability. In many high-end boards, stringers are made of carbon fiber.)
The Jones Hovercraft 2.0 will feature a Re-Up stringer running north of the binding screws reaching almost to the tip of the nose. Jones says Re-Up components are just as reliable and sturdy as new material, providing snowboarders a zero-compromise ride. Further, nearly 1,000 used snowboards were used in the construction process for the 2024 Hovercraft 2.0.
Re-Up Tech is a simple program: you give up your old board, and Jones gives you a $50 credit toward a new Jones snowboard. Jones says it will accept any brand of snowboard for its Re-Up Tech program, but credits are only good for Jones products. You can send your board directly to Jones or take it to one of the following retailers:
EVO
Tahoe Daves
Tactics
Sports Basement
Tahoe Sports Hub
The Ledge @ Palisades Tahoe
Blue Tomato
The only "catch" is you can't submit broken boards – and the board you turn in for recycling must have a wood core.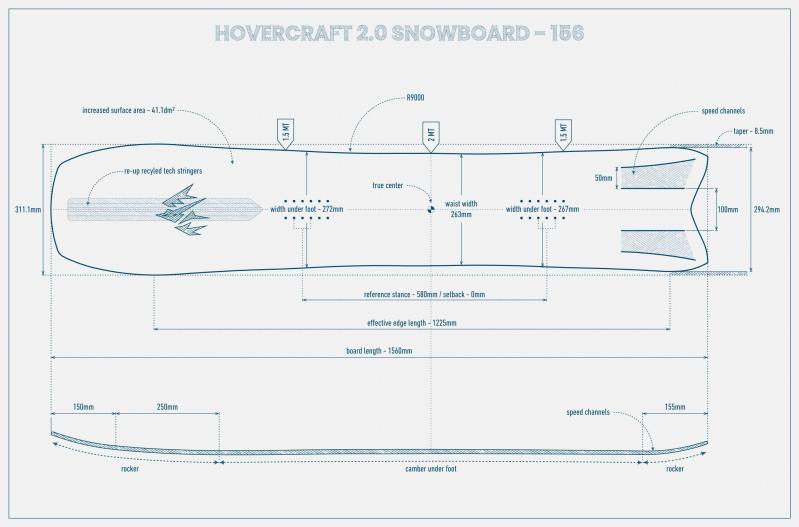 So how does Re-Up Tech work? From Jones:
Re-Up Tech stands for Recycling old snowboards and Upcycling the materials into new snowboards. The process begins by collecting old boards that are no longer usable. We then remove the metal edges and inserts for recycling, lightly sand the topsheet and base to remove oil and dirt, stack and glue six boards together, slice the stack to create a thin piece of material that includes layers from all six boards, then use the slice in the wood core of new boards in place of stringers.

Our goal is to make the ski/snowboard industry more circular by keeping as many boards as possible out of the landfill or incinerator. We strive to find value in old boards by upcycling the collected materials and giving them a second life in a new board.
This program comes on the heels of a 2020 study Jones conducted about the lifecycle of its snowboards. It found that while snowboard production will always have an environmental impact of some sort, there were pathways to reducing the footprint Jones leaves. Re-Up Tech is a huge step forward in reducing the environmental impact snowboarding has and speaks to Jones's continued commitment to sustainability.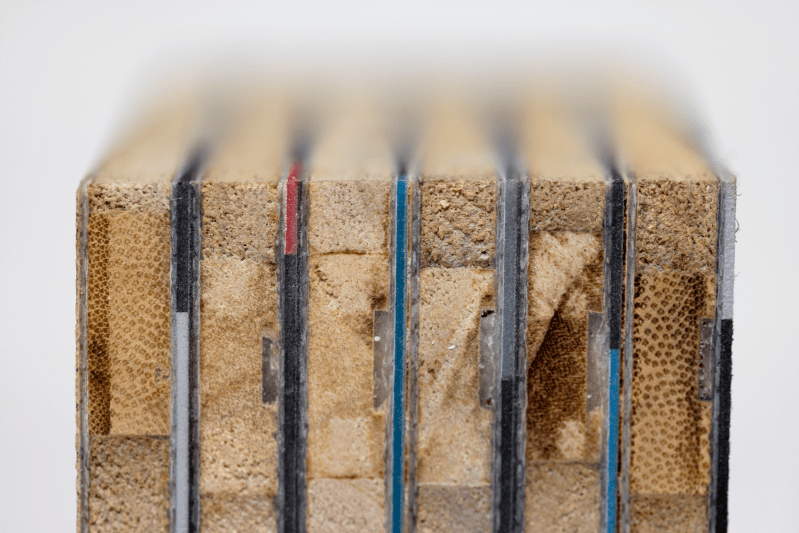 In the study, Jones found that 67 percent of a snowboard's carbon footprint came from materials, and 22 percent came from transportation. Seven percent was due to manufacturing, and four percent was attributed to the "end of life" of a snowboard. With Re-Up Tech, Jones can begin to tear down these figures, specifically "end of life" and materials.
Snowboarding is subject to the same consumerist pitfalls as any other hobby we're passionate about. It's refreshing to see Jones move in a direction no other snowboard company is. Jones says its aim is to use Re-Up Tech in all future models, though it's currently limiting the use of recycled boards to stringers to aid in stability.
How Re-Up Tech may shape snowboard design and manufacturing is another thing we'll be keeping an eye on. Jones is obviously confident recycling is as reliable as new construction, but its use is limited. We hope that, over time, Re-Up Tech from Jones will inspire other brands to do the same, ultimately creating a vacuum for old snowboards that results in nearly 100 percent recycled snowboards.
Editors' Recommendations